Flight cancellations are unfortunately a common occurrence these days, especially around busy periods like holidays.
It's important to know what your rights are when your flight gets canceled. More than that, you also need to know what to do to get compensated fairly.
My family recently vacationed in Hawaii and experienced the process first hand when we found out that our return flight was canceled just as we arrived at the airport. During this time, many other flights got canceled too, so it didn't just happen to us. As it turned out, however, we were actually quite fortunate because the airline compensated us adequately while others we heard from did not fare as well.
Is There a Law That Requires Airlines to Compensate Passengers for Canceled Flights?
I didn't know this when the airline canceled our flight but according to the U.S. Department of Transportation, there is no law that requires airlines to compensate passengers for canceled flights within the United States, nothing else beyond a simple refund of how much you paid.
As a passenger on a domestic flight, you have to accept the possibility that your flight could get canceled or delayed for various reasons.
There is an exception that applies to overbooking, which is when airlines intentionally sell too many seats on a flight and then bump extra passengers, but that's different from an outright cancellation of the entire flight for all the passengers.
Different rules also apply to international flights as those are covered by Article 19 of the Montreal Convention and do in fact require compensation.
That being said, airlines usually care about their reputation and their staff will often make an effort to help passengers even on domestic flights. This starts with offering to get you on another flight, possibly the same day and maybe even with a different airline.
That was also my experience with Alaska Airlines at the Honolulu airport. (Our flight back to California was canceled not because of overbooking but because the flight crew had timed out. Airline regulations required the crew to take a break after working long hours.)
The counter agents initially told us they could book us on another flight departing a couple of hours later. We agreed to that even though it meant we'd get home much later in the day. Then they found that wasn't possible either. The next available flight wasn't available until noon the next day, almost 24 hours later, and it was going to be on different airline, Hawaiian Airlines. At this point, things got more interesting.
Can You Still Get Hotel And Meal Vouchers If the Airline Is Not Required To Provide Compensation for Your Flight Cancellation?
Surprisingly, the answer to this is yes, you can still receive additional compensation from the airline. However, it appears to be up to the airline to do this for you and it is your responsibility to convince them.
When Alaska Airlines offered to rebook us on another flight with Hawaiian Airlines the next day, we immediately asked where we were going to stay then for the night. The airline staff at the counter told us they could get us hotel accommodation and they would also cover the bill for it.
Needless to say, that was a huge relief. December is peak tourist season in Hawaii. Many hotels had low vacancy rates and the rates were quite high. A single room with two beds to accommodate our family, two adults and two kids, would cost us hundreds of dollars. While we were still at the counter, Alaska Airlines sent us an email with a list of hotels we could choose from. They included better 3 star and 4 star hotels. We selected the Outrigger Waikiki Beach because of its prime location. When I checked current rates for the hotel, they were over $500 per night. I figure the airline has contracts with local hotels to get better rates but it still meant a lot.
It didn't stop at the hotel accommodation either. We also received 12 meal vouchers and each was worth $12. The total value of these came out to $144. It was 12 vouchers because there were 4 of us and we'd need 3 meals per day. The vouchers included bar codes but also had credit card details printed on them, including the card number, CVC code and expiration. Each voucher was single use only, which meant it could only be charged once for up to the authorized amount of $12. The merchant needed to punch in the credit card details manually. Most restaurants can do this for you, so it was more straightforward than it seemed at first.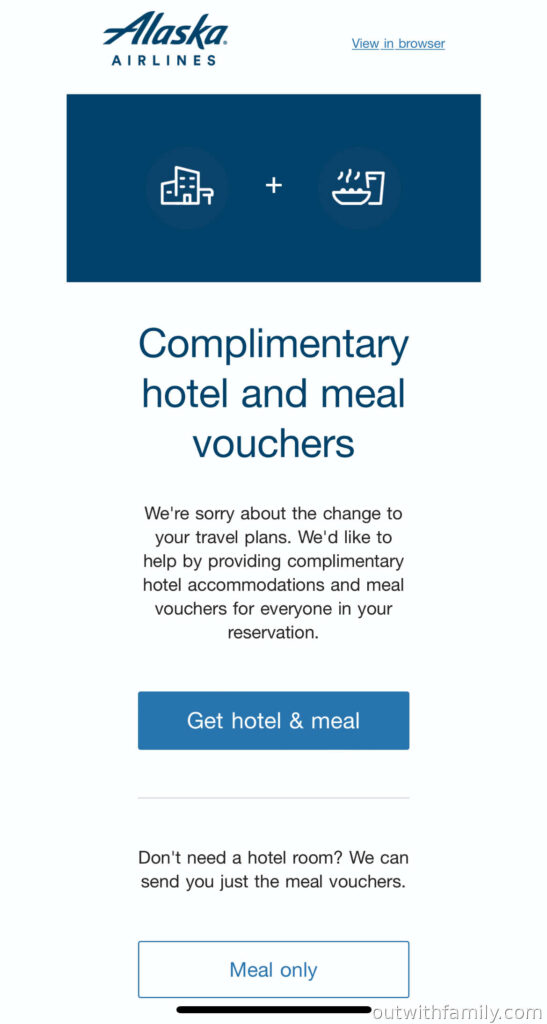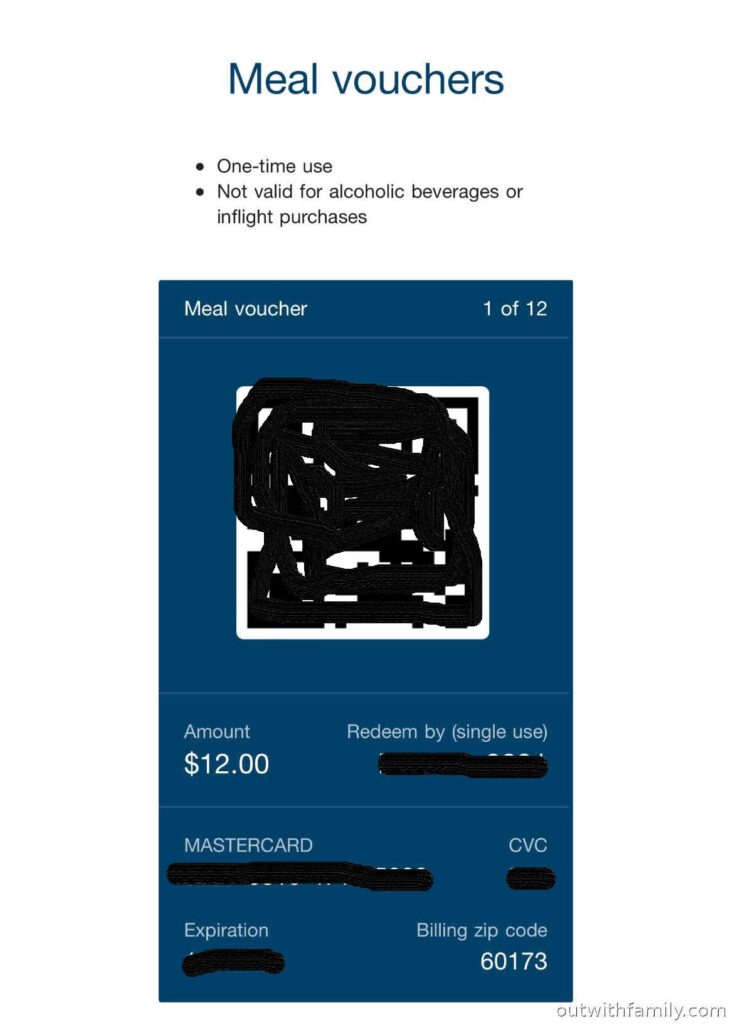 We also asked how we could get to the hotel and back to the airport the next day. The airline staff told us there were no vouchers but we could contact the airline later to get compensated for ground transportation. That was quite reassuring once again.
Now it's quite likely the airline staff went out of their way to help us that day because the law obviously didn't require them to do all this. Maybe they recognized there were special circumstances given that we were a family with small children. At the same time, we also heard from other passengers, which suggests there is much more to it.
The next day, when we checked in for our return flight with Hawaiian Airlines, we met other Alaska Airlines passengers. One person we struck up a conversation with told us that she had been rebooked as well but she did not receive any compensation. Alaska Airlines had contacted her the day before and rebooked her but there was no mention of any other benefits. Apparently, she didn't think to ask them about it either. Her experience wasn't out of the ordinary.
After we returned home, we also heard from friends who had traveled to Hawaii around the same time. They were also a young family with 2 small kids and had booked flights with the same airline as we did though on a different day. In their case, they found out about the flight cancellation while they were still at their hotel. They called Alaska Airlines but only received a credit of $150, which only covered about half the cost of staying at their hotel for an extra day.
This goes to show that if your flight gets canceled, you need to be proactive and preferably talk to airline staff in person. If you are already on your way to the airport, don't go back to your hotel. Definitely take your family with you and let them see you. The agents at the counter may have more authority to offer you special compensation. It may also be easier for you to convince them face to face instead of talking to someone distant on the phone. I'm not saying you should play the sympathy card but if there is an undue burden on your family, you need to be clear about it. Don't be afraid to ask questions. If you don't ask for things like hotel accommodation, meals and ground transportation, then the airline staff may have no reason to discuss such items with you.
One other thing to keep in mind when you talk to airline staff at the counter, and this is probably true for any number of interactions with customer service in other settings too, make a good effort to be very polite. Yes, we all understand that flight cancellations can be quite stressful. Just realize that the airline staff are people too and they are just doing their job. In this situation, they also seem to have a lot of discretion as to what they can do for you. It's okay to express your concerns to them and ask for more details, but don't be rude and start blaming them for things they have no control over. It's not just a matter of common courtesy and mutual respect, but it will likely backfire. Given that they are under no obligation to offer you additional compensation, they can take a tougher stance as well.