1. Kansas City Zoo
The Kansas City Zoo is a destination that promises a wild adventure for families of all ages. Spread across 202 acres, this world-class zoo is home to over 1,700 animals from around the globe.
The zoo's carefully designed exhibits replicate natural habitats, creating an environment that allows the animals to thrive and provides visitors with a unique glimpse into their lives.
The Africa section transports families to the savannas and grasslands of the continent, where they can observe elephants, giraffes, and meerkats.
Families can also explore the "Tiger Trail," a state-of-the-art exhibit that allows for up-close encounters with these elusive and magnificent big cats.
The Australian Outback exhibit invites families to experience the land Down Under, where they can meet kangaroos, wallabies, and emus, among other unique Australian creatures.
The lively and interactive "Penguin Plaza" is a favorite among families, providing an opportunity to observe adorable penguins as they swim and frolic in their icy habitat.
The zoo's "Discovery Barn" is a hit with children, offering hands-on interactions with domestic animals and educational exhibits that teach about farm life and animal husbandry.
To add an extra layer of excitement to the visit, families can enjoy a scenic ride on the zoo's "Zebra Tram" or "Polar Bear Express," providing an easy and fun way to explore the expansive zoo grounds.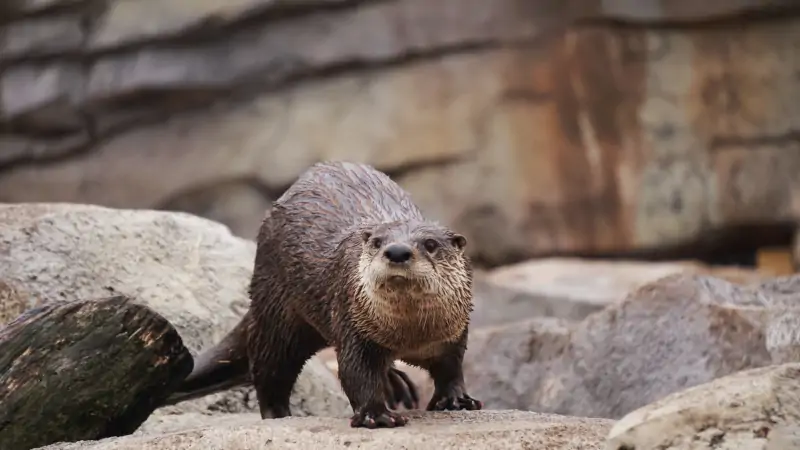 Address: 6800 Zoo Dr, Kansas City, MO 64132
Website: https://kansascityzoo.org/
2. SEA Life Aquarium
SEA LIFE Kansas City offers visitors the chance to explore the mysteries of the ocean and come face to face with an incredible array of marine life.
The aquarium's exhibits are carefully designed to replicate natural aquatic habitats, allowing families to experience the diverse ecosystems and the fascinating creatures that inhabit them.
The ocean tunnel is a highlight of SEA LIFE Kansas City and offers a 360-degree view of an underwater wonderland. Children and adults can walk through the tunnel surrounded by a breathtaking display of sea creatures, including sharks, rays, and tropical fish swimming all around them.
The aquarium's "Touchpool Experience" invites families to interact with gentle sea creatures, such as starfish and sea anemones. It's a hands-on opportunity for children to learn about marine life up close and foster a deeper appreciation for the ocean's delicate ecosystems.
The "Amazon Rainforest" exhibit provides families with a chance to explore the diverse and vibrant world of the Amazon River. They can encounter piranhas, turtles, and other intriguing creatures that call this unique ecosystem home.
Through various interactive displays and educational presentations, SEA LIFE Kansas City Aquarium aims to raise awareness about marine conservation and the importance of protecting the oceans and its inhabitants. Families can learn about the aquarium's efforts to support conservation initiatives and how they can play a role in safeguarding marine life for future generations.
Address: 2475 Grand Blvd, Kansas City, MO 64108
Website: https://www.visitsealife.com/kansas-city/
3. Yaya's Alpaca Farm
As a family-owned alpaca farm, YaYa's Alpaca Farm provides a warm and welcoming environment for families to get up close and personal with these gentle and fascinating animals.
Upon arriving at the farm, families are greeted by the sight of alpacas grazing in the lush pastures. With their big, soulful eyes and soft, fluffy fleece, alpacas instantly capture the hearts of visitors of all ages.
YaYa's Alpaca Farm provides families with guided tours that offer an engaging and educational experience. Knowledgeable guides share fun facts and insights about alpacas, their origins, and their unique characteristics.
During the tour, families have the opportunity to interact with the alpacas, petting and feeding them under the guidance of the farm's friendly staff. Children and adults alike are captivated by the alpacas' friendly and curious demeanor, making the experience both entertaining and enlightening.
Address: 30200 East 275th St, Garden City, MO 64747
Website: https://www.yayasalpacafarm.com/
4. Great Wolf Lodge
With its enchanting indoor water park, numerous attractions, and a range of family-friendly activities, Great Wolf Lodge promises a memorable and action-packed getaway for families seeking fun and adventure.
With over 38,000 square feet of water attractions, families can enjoy a splashing good time, no matter the weather outside. The water park boasts a variety of water slides, lazy rivers, wave pools, and interactive play areas, catering to both thrill-seekers and younger guests.
Great Wolf Lodge takes water park fun to the next level with its signature "Wolf Rider Wipeout" surf simulator. Children and adults alike can test their surfing skills and catch a wave right inside the resort, adding an extra element of excitement to their stay.
Beyond the water park, Great Wolf Lodge offers a plethora of activities and entertainment options. Families can engage in friendly competition at the "Ten Paw Alley" bowling alley or try their hand at arcade games in the "Northern Lights Arcade."
The "MagiQuest" interactive adventure game is a hit with young adventurers, allowing them to embark on a mystical quest throughout the lodge, using magic wands to uncover hidden treasures and secrets.
The resort's "Howl in One" miniature golf course invites families to practice their putting skills in a whimsical and enchanted setting.
Great Wolf Lodge is renowned for its themed character appearances, where children can meet beloved characters like Wiley the Wolf and Violet the Wolf and take photos to cherish the memories.
The lodge's commitment to family-friendly amenities extends to its accommodations. Great Wolf Lodge offers spacious and comfortable suites designed with families in mind. Kids will love the themed suites, featuring bunk beds and separate sleeping areas, creating a cozy and immersive atmosphere for a good night's sleep.
Address: 10401 Cabela Drive, Kansas City, KS 66111
Website: https://www.greatwolf.com/kansas-city
5. Legoland Discovery Center
As an indoor LEGO-themed attraction, this family-friendly center offers an immersive and interactive experience, where children and adults can immerse themselves in the colorful and magical world of LEGO bricks.
The center features a wide array of attractions and interactive zones designed to delight LEGO enthusiasts of all ages. Families can embark on a thrilling adventure through the "LEGO Factory Tour," where they can witness how LEGO bricks are made and even receive a souvenir LEGO brick as a memento of their visit.
In the "MINILAND" exhibit, families can marvel at intricate LEGO recreations of iconic cityscapes, complete with moving parts and captivating details. From Kansas City landmarks to global metropolises, this exhibit showcases the world in miniature form, highlighting the endless possibilities of LEGO building.
The "LEGO 4D Cinema" is a must-visit attraction, where families can enjoy a 3D LEGO-themed movie with added special effects, making it an immersive and entertaining experience for all.
The LEGO-themed play zones offer endless opportunities for children to build, create, and play with LEGO bricks. From building towers and bridges to constructing colorful masterpieces, children's imaginations come alive as they play with the beloved bricks.
Address: 2475 Grand Blvd, Kansas City, MO 64108
Website: https://www.legolanddiscoverycenter.com/kansas-city/
6. Nelson-Atkins Museum of Art
With its impressive collection of artworks spanning centuries and cultures, the Nelson-Atkins Museum of Art offers an enriching and inspiring experience for visitors of all ages. From ancient artifacts to modern masterpieces, the museum's diverse collection spans over 5,000 years of human creativity.
The European Art galleries house an extensive collection of paintings, sculptures, and decorative arts from the Middle Ages to the 19th century. Families can admire the works of renowned artists such as Caravaggio, Van Gogh, and Monet, gaining insight into the evolution of European art.
The Asian Art galleries showcase exquisite artworks from various regions of Asia, including China, Japan, and India. Families can immerse themselves in the rich cultural heritage and artistic achievements of these diverse societies.
The American Art collection features works by prominent American artists, presenting a narrative of the nation's history, identity, and cultural development. Families can explore iconic American paintings, sculptures, and decorative arts that reflect the country's diverse heritage.
The museum's African Art collection celebrates the vibrant and diverse artistic traditions of the continent. Families can appreciate the beauty and symbolism of African sculptures, masks, textiles, and other artifacts that showcase the artistic ingenuity of African cultures.
The Nelson-Atkins Museum of Art also houses an impressive collection of photography, modern and contemporary art, and a special section dedicated to Native American and Oceanic Art.
Families can participate in engaging educational programs, guided tours, and family-friendly activities offered by the museum, providing a deeper understanding and appreciation of the artworks on display.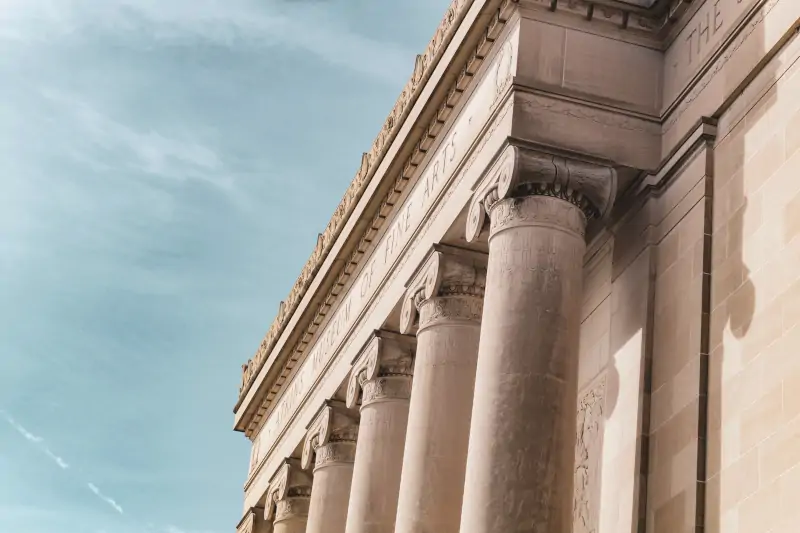 Address: 4525 Oak St, Kansas City, MO 64111
Website: https://www.nelson-atkins.org/
7. National Museum of Toys and Miniatures
Housed in a historic mansion, the National Museum of Toys and Miniatures is a one-of-a-kind museum showcases an extensive collection of toys, dolls, and miniatures that span across centuries, capturing the essence of joy and imagination in every display.
The toy collection features an impressive array of toys from different eras, providing an overview of the evolution of play. From classic board games to vintage dolls and action figures, families can discover toys that have stood the test of time and have brought joy to generations of children.
The doll collection is equally captivating, showcasing an exquisite array of dolls from various cultures and time periods. Families can marvel at the intricately designed and dressed dolls, each telling a unique story of cultural heritage and craftsmanship.
One of the highlights of the National Museum of Toys and Miniatures is its unparalleled collection of miniatures. These tiny replicas of everyday objects and scenes demonstrate exceptional attention to detail and precision. Families can explore miniature rooms, dollhouses, and dioramas that capture life in miniature form, igniting the imagination and wonder of visitors of all ages.
The museum's charming gift shop offers families an opportunity to take a piece of the enchantment home with them. Families can find a delightful selection of nostalgic toys, miniature collectibles, and educational items that inspire creativity and play.
Address: 5235 Oak St, Kansas City, MO 64112
Website: https://toyandminiaturemuseum.org/
8. Union Station Kansas City
Union Station stands as an architectural masterpiece and a historic landmark in the city. Built in 1914, this grand transportation hub has transformed over the years into a vibrant destination with a blend of history, culture, and entertainment.
The exterior of Union Station is a sight to behold, with its majestic Beaux-Arts architecture adorned with ornate details and grandeur. The iconic Grand Hall, with its 95-foot tall ceiling and splendid arches, exudes an air of timeless elegance.
The station still serves as a central transportation hub, connecting travelers to various destinations via Amtrak and offering easy access to Kansas City's public transportation system.
Beyond its role as a transportation hub, Union Station houses an array of family-friendly attractions and experiences, including Science City, the Arvin Gottlieb Planetarium and the Model Railroad Experience.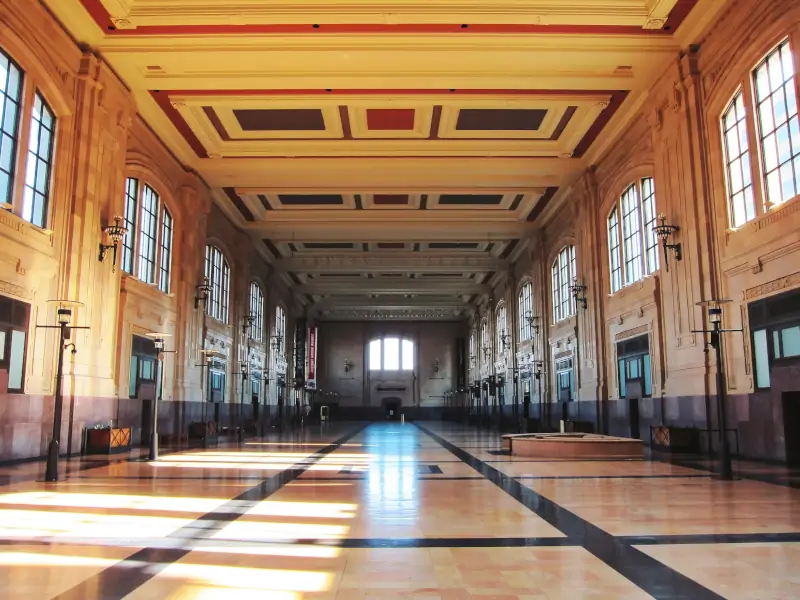 Address: 30 W Pershing Rd, Kansas City, MO 64108
Website: https://unionstation.org/
9. Worlds of Fun
With a delightful blend of exhilarating rides, entertaining shows, and family-friendly attractions, the Worlds of Fun amusement park offers an unforgettable experience for visitors of all ages.
The park's thrilling roller coasters are a major draw for adrenaline junkies and thrill-seekers. From the gravity-defying loops of the "Mamba" to the twisting turns of the "Prowler," the park's roller coasters provide heart-pounding excitement and non-stop fun.
For families with young children, Planet Snoopy is a haven of kid-friendly rides and attractions inspired by the beloved Peanuts characters. Children can take flight on the "Woodstock Gliders" or enjoy a whimsical ride on the "Peanuts 500" miniature cars.
The water park, Oceans of Fun, offers a refreshing escape during the hot summer months. Families can splash around in wave pools, float along lazy rivers, and brave thrilling water slides for a day of wet and wild fun.
Worlds of Fun also hosts special events and seasonal celebrations, such as Halloween Haunt and WinterFest, which offer families a chance to experience the park's attractions in a unique and festive setting.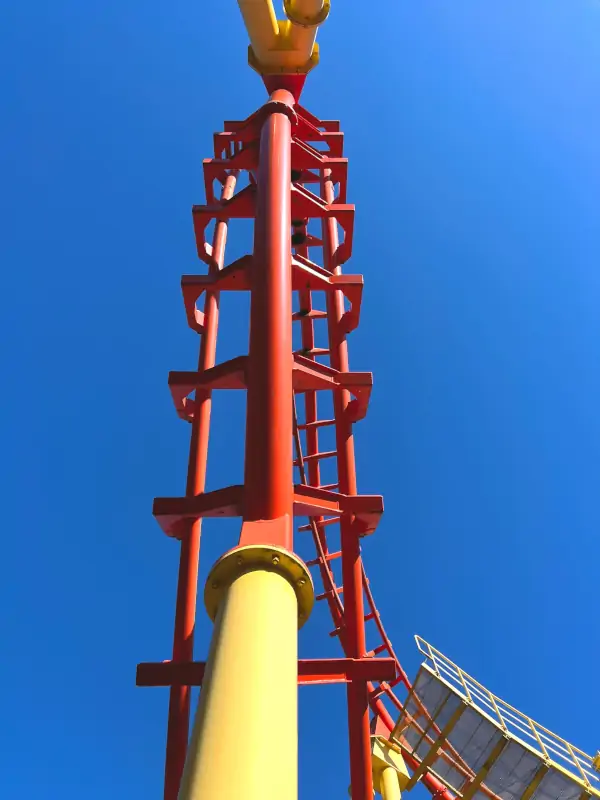 Address: 4545 Worlds of Fun Ave, Kansas City, MO 64161
Website: https://www.worldsoffun.com/
10. Science City
As part of the historic Union Station, Science City offers visitors a dynamic and immersive experience where they can explore the fascinating world of science through hands-on exhibits and engaging activities.
The science center is divided into various interactive zones, each designed to showcase different scientific principles and disciplines.
In the "Simple Machines At Play" area, kids can experiment with levers, pulleys, and gears, discovering the mechanics behind these fundamental machines that shape our daily lives.
The "Test Kitchen" allows aspiring young scientists to explore the wonders of chemistry through hands-on experiments and culinary creations.
Science City's "Engineerium" encourages children to embrace their inner engineers, providing them with opportunities to build, design, and problem-solve using various materials and tools.
The science center also hosts live science demonstrations and interactive shows, where families can witness jaw-dropping experiments and engaging presentations by passionate educators.
Address: 30 W Pershing Rd, Kansas City, MO 64108
Website: https://sciencecity.unionstation.org/
11. Money Museum
The Money Museum at the Federal Reserve Bank offers a fascinating glimpse into the world of money and its role in shaping economies.
From ancient forms of currency like shells and beads to the designs of modern banknotes, the museum's collection spans across centuries, offering a comprehensive perspective on the role of money in human civilization.
One of the highlights of the museum is the "Cash Processing" exhibit, where families can witness the high-tech and secure process of handling, sorting, and authenticating currency. It's a behind-the-scenes look at how the Federal Reserve manages the circulation of money in the economy.
The "Designing Money" exhibit delves into the creative and artistic aspects of currency design. Families can explore the details and symbolism that go into creating banknotes and coins, showcasing how these elements reflect the culture and history of a nation.
The Money Museum also offers families a chance to lift a real gold bar, giving them a sense of the precious metal's weight and value.
The museum's "Wall of Inflation" offers an eye-opening demonstration of the impact of inflation on the purchasing power of money, allowing families to see how prices change over time.
Families can also learn about the role of the Federal Reserve in managing monetary policy and its efforts to maintain stable prices and full employment.
Admission to the Money Museum is free, making it an accessible and educational outing for families seeking a unique and enriching experience.
Address: 1 Memorial Dr, Kansas City, MO 64198
Website: https://www.kansascityfed.org/moneymuseum/
12. Deanna Rose Children's Farmstead
The Deanna Rose Children's Farmstead provides an opportunity for children to connect with nature, learn about farm animals, and experience the joys of the countryside.
The farmstead is designed to resemble a turn-of-the-century Kansas farm, complete with barns, pastures, and farmyard animals.
The highlight of the farmstead is the Animal Encounters area, where families can interact with a variety of farm animals. Children can pet goats, feed chickens, and meet other friendly creatures, creating unforgettable memories of farmyard fun.
The Native Animal Exhibit offers families a chance to observe and learn about indigenous wildlife, including bison, deer, and other local species, promoting an appreciation for the natural environment.
Pony rides are a popular attraction, allowing children to experience the joy of riding on gentle ponies under the supervision of experienced handlers.
The Farmstead also features a beautifully restored one-room schoolhouse, where families can step back in time and experience a glimpse of early education in a traditional school setting.
Families can enjoy leisurely walks through the flower and vegetable gardens, where they can discover a variety of plants and flowers, adding to the farmstead's rustic charm.
Throughout the farmstead, educational exhibits and informative signs provide children with valuable insights into farming, animal care, and rural life, fostering a sense of curiosity and learning.
The Farmstead's "Prairie Playground" offers a safe and fun play area for children, complete with slides, swings, and climbing structures, allowing kids to burn off energy and enjoy active play.
During the summer months, the Farmstead hosts special events and seasonal activities, such as hayrides, live entertainment, and themed celebrations, creating a festive and joyful atmosphere for families to enjoy.
Admission to the Deanna Rose Children's Farmstead is affordable, making it an accessible and family-friendly outing for all.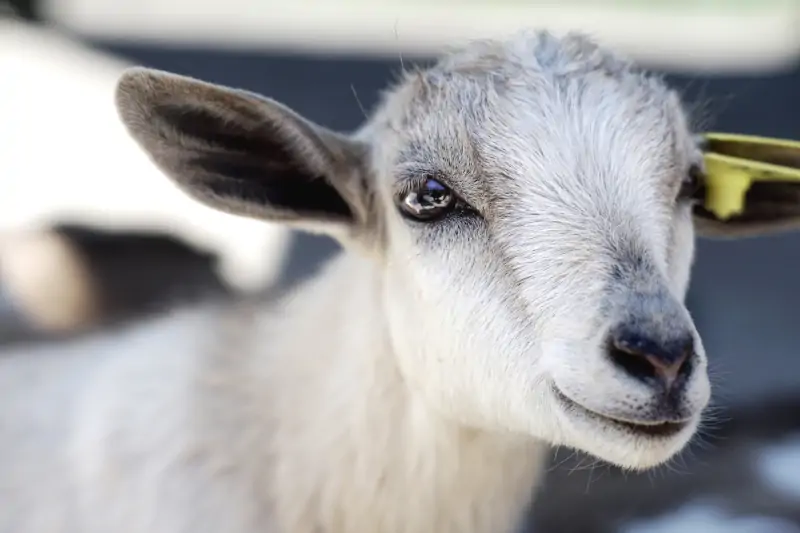 Address: 3800 Switzer Rd, Overland Park, KS 66221
Website: https://www.opkansas.org/recreation-fun/deanna-rose-childrens-farmstead/
13. Stone Lion Puppet Theatre
Founded in 1977, the Stone Lion Puppet Theatre has been a popular destination for generations of families seeking a unique and magical theatrical experience.
The heart of the theater lies in its puppetry performances, where talented puppeteers bring characters to life with skill and artistry. From whimsical marionettes to handcrafted shadow puppets, each show is a mesmerizing display of creativity and imagination.
The theater presents a diverse range of performances, including classic fairy tales, folktales from around the world, and original stories crafted with care. Each show is carefully choreographed, featuring intricate puppet movements, beautiful sets, and music to ensure that children and adults alike are enthralled throughout the performance.
Special events and themed puppet shows during holidays and festive seasons add an extra layer of excitement and joy to family visits.
Address: 2520 W Pennway St, Kansas City, MO 64108
Website: https://www.stonelionpuppets.org/
14. Kaleidoscope
Kaleidoscope is a one-of-a-kind art center that celebrates the joy of creativity and self-expression. A project of Hallmark Cards, Inc., Kaleidoscope provides visitors with an opportunity to immerse themselves in a world of colors, textures, and imagination, where they can turn everyday materials into extraordinary works of art.
The art center offers an array of art stations and interactive exhibits that encourage visitors to explore their artistic potential and let their imagination run wild.
One of the highlights of Kaleidoscope is its "Creative Art Sessions," where families are provided with a diverse range of materials, from colorful paper to ribbons, buttons, and other recycled materials. Guided by enthusiastic facilitators, children and adults can experiment, create, and assemble their masterpieces, transforming everyday items into unique works of art.
The center's art facilitators are skilled artists themselves, providing families with guidance, encouragement, and support throughout their artistic journey. They inspire children to unleash their creativity and build their confidence in their artistic abilities.
Kaleidoscope also offers special events and themed art sessions during holidays and festive seasons, adding an extra layer of fun and excitement to family visits.
Admission to Kaleidoscope is free, thanks to the generous support of Hallmark Cards, making it an accessible and inclusive art destination for families of all backgrounds.
Address: 2450 Grand, Kansas City, Missouri, 64108
Website: https://hallmarkkaleidoscope.com/
15. Culinary Center of Kansas City
The Culinary Center of Kansas City is a culinary mecca that beckons food enthusiasts and aspiring chefs alike. Founded with a passion for culinary arts and a commitment to fostering a love for cooking, the center offers a diverse range of cooking classes, culinary experiences, and delectable events that celebrate the joy of food and community.
The center's modern and well-equipped kitchen sets the stage for a variety of hands-on cooking classes and demonstrations that cater to all skill levels, from beginners to seasoned home cooks.
Children and teens are also catered to with specialized cooking classes designed to nurture their culinary interests and inspire a love for cooking from an early age.
Beyond cooking classes, the Culinary Center hosts special events, chef dinners, and themed cooking competitions that bring together food enthusiasts and foster a sense of camaraderie.
The center's focus on local and seasonal ingredients adds a touch of sustainability and farm-to-table awareness to its culinary experiences, emphasizing the importance of fresh, wholesome produce.
The Culinary Center of Kansas City also boasts a gourmet cooking store, where families can find an extensive selection of culinary tools, gadgets, and gourmet ingredients, allowing them to recreate the magic of the kitchen in their own homes.
Address: 7920 Santa Fe Dr, Overland Park, KS 66204
Website: https://kcculinary.com/
16. Truman Presidential Library and Museum
The Truman Presidential Library is a revered institution that pays tribute to the life and legacy of Harry S. Truman, the 33rd President of the United States.
One of the main highlights of the library is the "Oval Office Replica," a meticulously recreated representation of Truman's office during his tenure. Visitors can step into the shoes of the President and imagine the weight of his responsibilities while gaining insight into the decisions that shaped the nation's history.
The library also houses a vast collection of documents, photographs, and personal mementos, offering a glimpse into Truman's personal life and the challenges he faced during his time in office.
The library's serene surroundings, including beautiful gardens and picturesque landscapes, offer families a tranquil setting to reflect on Truman's legacy and the impact of his leadership.
Address: 500 W US Hwy 24, Independence, MO 64050
Website: https://www.trumanlibrary.gov/
17. Mahaffie Stagecoach Stop & Farm
The Mahaffie Stagecoach Stop and Farm is a living history museum that offers a glimpse into the rugged days of the Wild West. As one of the last remaining stagecoach stops on the historic Santa Fe Trail, the farmstead provides an authentic and immersive experience, transporting visitors back in time to the 19th century.
Upon arriving at Mahaffie Stagecoach Stop and Farm, visitors are greeted by costumed interpreters who portray characters from the past, adding a touch of authenticity and charm to the experience. The farmstead's well-preserved buildings, including the stagecoach stop, barn, and farmhouse, take visitors on a journey through history, providing insights into the daily life of pioneers and travelers along the Santa Fe Trail.
One of the highlights of the farmstead is the stagecoach rides, where families can embark on a bumpy and adventurous journey in a replica stagecoach, reliving the excitement and challenges faced by travelers during the westward expansion.
The farmstead's gift shop offers families a chance to take home a piece of the Wild West, featuring souvenirs, books, and unique items that commemorate their visit.
Address: 1200 E Kansas City Rd, Olathe, KS 66061
Website: https://www.mahaffie.org/
18. KC Streetcar
The KC Streetcar is a sleek and accessible streetcar system that offers a convenient and eco-friendly way to explore the city's vibrant neighborhoods and iconic landmarks.
The streetcar's route takes passengers on a scenic journey through some of Kansas City's most popular districts, including the River Market, the Power & Light District, and the Crossroads Arts District. Families can hop on and off at various stops, making it a flexible and easy way to visit multiple attractions in a single day.
As the streetcar glides along its track, families are treated to views of the city's skyline, historic architecture, and vibrant street life. It's an opportunity to see Kansas City from a unique perspective and soak in the energy of this thriving metropolis.
The streetcar is not just a mode of transportation; it's an experience in itself. Families can immerse themselves in the streetcar's comfortable and spacious interior, designed to accommodate both seated and standing passengers. The modern amenities, such as air conditioning and free Wi-Fi, enhance the overall journey.
The streetcar's accessibility makes it a family-friendly option for visitors of all ages. Strollers, wheelchairs, and bikes are welcome on board, making it easy for families to bring along everything they need for a day of exploration.
The KC Streetcar is free to ride, thanks to its unique funding model, which includes support from local businesses and private partners. Families can enjoy the convenience and benefits of public transportation without worrying about fares or tickets.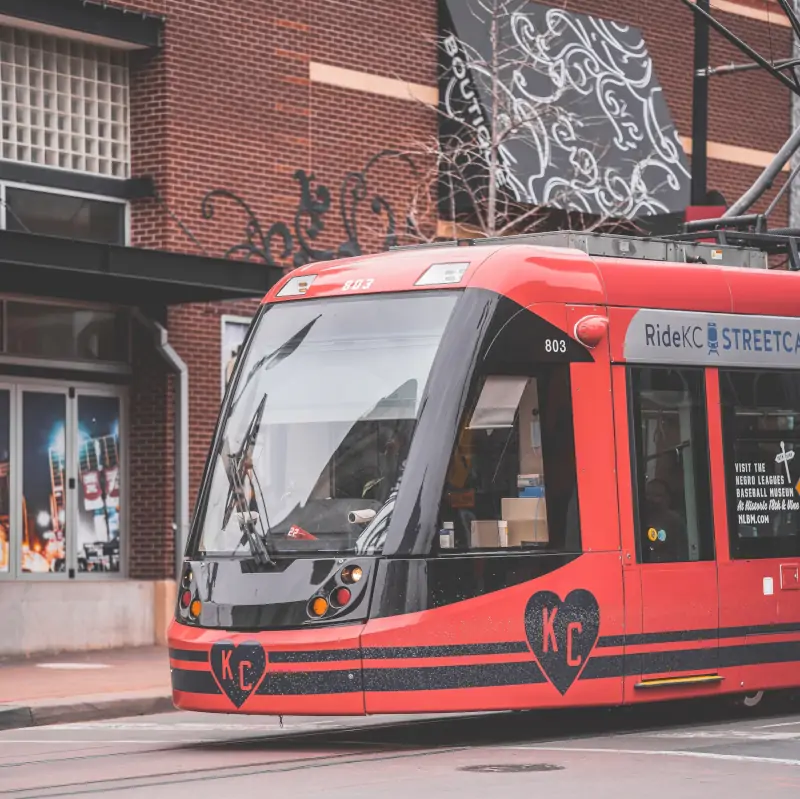 Address: various stops in Kansas City, MO
Website: https://kcstreetcar.org/
19. The College Basketball Experience
The College Basketball Experience (CBE) celebrates the sport of basketball and the rich history of college hoops.
The CBE features state-of-the-art exhibits and interactive displays that allow visitors to engage in various basketball-related activities and challenges.
The "Skills Challenge" offers visitors a chance to test their shooting, passing, and dribbling abilities on a simulated court, giving them a taste of what it's like to be a college basketball player.
The "Slam Dunk Experience" allows aspiring dunkers to test their vertical leap and experience the thrill of slamming down a dunk on a virtual hoop.
The CBE's "Hall of Honor" pays tribute to legendary college basketball players, coaches, and teams, offering families an opportunity to learn about the game's history and the impact of college basketball on American sports culture.
The CBE also houses a full-size basketball court, where families can shoot hoops and play games, fostering an atmosphere of friendly competition and fun.
Beyond its interactive exhibits, the College Basketball Experience hosts basketball clinics, camps, and special events that cater to families and basketball enthusiasts of all ages and skill levels.
Address: 1401 Grand Blvd, Kansas City, MO 64106
Website: https://collegebasketballexperience.com/
20. Wonderscope
Wonderscope Children's Museum of Kansas City is a magical destination that sparks children's imaginations and brings learning to life through hands-on play and interactive exhibits.
From a kid-sized grocery store to a miniature theater stage, children can immerse themselves in different real-life scenarios, allowing them to role-play, use their creativity, and develop essential social skills.
Wonderscope also hosts educational programs, workshops, and special events that cater to different age groups and interests, providing families with a diverse range of learning opportunities throughout the year.
Address: 5700 King St, Shawnee, KS 66203
Website: https://wonderscope.org/
21. National Airline History Museum
Housed in a historic hangar, the The National Airline History Museum showcases a remarkable collection of vintage aircraft and aviation artifacts, preserving the legacy of the early days of commercial air travel.
Visitors can explore the museum's Douglas DC-3, a groundbreaking aircraft that revolutionized air travel and played a vital role in shaping the history of aviation.
The museum's "TWA Moonliner II" exhibit is a recreation of a futuristic rocket ship, originally featured in the 1955 Disneyland attraction, "Rocket to the Moon." Families can step inside and imagine what it was like to dream of space travel during this thrilling era.
The museum also offers opportunities for families to experience a "cockpit tour" and sit in the pilot's seat of a vintage aircraft.
The museum's knowledgeable staff members and volunteers are passionate about aviation history and always ready to share fascinating stories and insights with visitors.
Special events, such as aviation-themed movie nights and aviation history lectures, add an extra layer of excitement and educational opportunities for families.
Address: 201 NW Lou Holland Dr, Kansas City, MO 64116
Website: https://airlinehistory.org/
22. Kemper Museum of Contemporary Art
The Kemper Museum of Contemporary Art offers visitors a chance to immerse themselves in a diverse collection of artistic expressions and thought-provoking exhibits.
The museum's collection boasts a wide range of contemporary artworks, including paintings, sculptures, photography, and mixed-media installations.
One of the highlights of the museum is its commitment to showcasing the works of both established artists and emerging talents.
The museum's "Hands-On" gallery is a delight for children, offering interactive exhibits and art-making activities that encourage creativity and artistic exploration.
The "Kemper at the Crossroads" satellite gallery, located nearby, features rotating exhibitions of cutting-edge contemporary art, making it an extension of the museum's commitment to supporting emerging artists and innovative art practices.
Admission to the Kemper Museum of Contemporary Art is free, thanks to the generous support of donors and patrons, making it an accessible and inclusive cultural destination for families from all walks of life.
Address: 4420 Warwick Blvd, Kansas City, MO 64111
Website: https://www.kemperart.org/
23. Kansas City Chiefs Football
The Kansas City Chiefs football team holds a special place in the hearts of families across the region, uniting generations under a common passion for the game and a love for their team.
Attending a Chiefs game is not just about the action on the field; it's about the whole experience. Families can enjoy tailgating together, sharing laughter and good food before kickoff. The sound of laughter and the aroma of barbecue fill the air, making Arrowhead Stadium feel like one big family picnic.
The Chiefs organization is committed to providing a family-friendly environment at their games. The "Chiefs Kingdom" Kid Zone offers interactive activities, games, and face painting for young fans, ensuring that children have a memorable and enjoyable experience.
Throughout the season, the Chiefs host various family-oriented events, including "Family Fun Day" and "Kids Club Days," where families can participate in fun activities and meet players and mascots.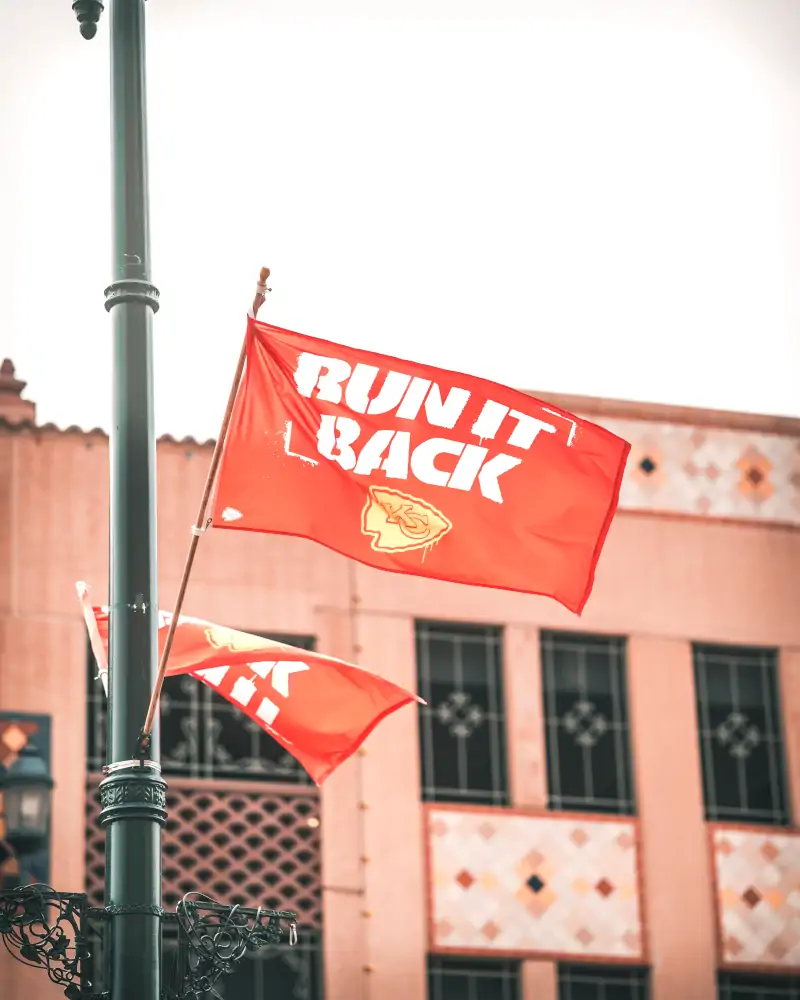 Address: 1 Arrowhead Dr, Kansas City, MO 64129
Website: https://www.chiefs.com/
24. Kansas City Royals Baseball
The Kansas City Royals, a proud member of Major League Baseball, are an iconic franchise with a rich history and a devoted fan base.
Over the years, the Royals have continued to inspire their fans with memorable moments on the field.
The Royals organization is committed to providing a family-friendly experience at the stadium. The "Outfield Experience" offers interactive games and activities for kids, ensuring that young fans have a memorable and engaging time at the ballpark.
Throughout the season, the Royals host various family-oriented events, including "Family Fun Day" and "Kids Run the Bases," where families can participate in fun activities and create special memories with their favorite players.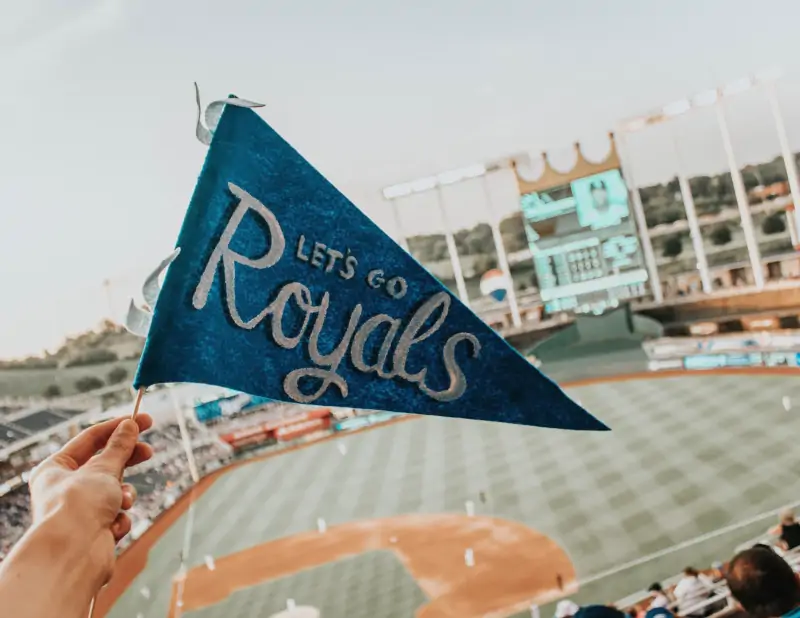 Address: Kauffman Stadium, 1 Royal Way, Kansas City, MO 64129
Website: https://www.mlb.com/royals
25. National WWI Memorial and Museum
The National World War I Museum and Memorial is a tribute to the those who served during one of the defining events of the 20th century.
As the official United States memorial to World War I, the museum serves as a solemn reminder of the human cost of war while preserving the history and lessons learned from this pivotal conflict.
The museum's vast collection includes personal stories, military equipment, and original documents, allowing families to gain a deeper understanding of the war's impact on both soldiers and civilians.
The museum's Liberty Memorial Tower, rises above the Kansas City skyline, symbolizing the nation's gratitude to the men and women who served in World War I.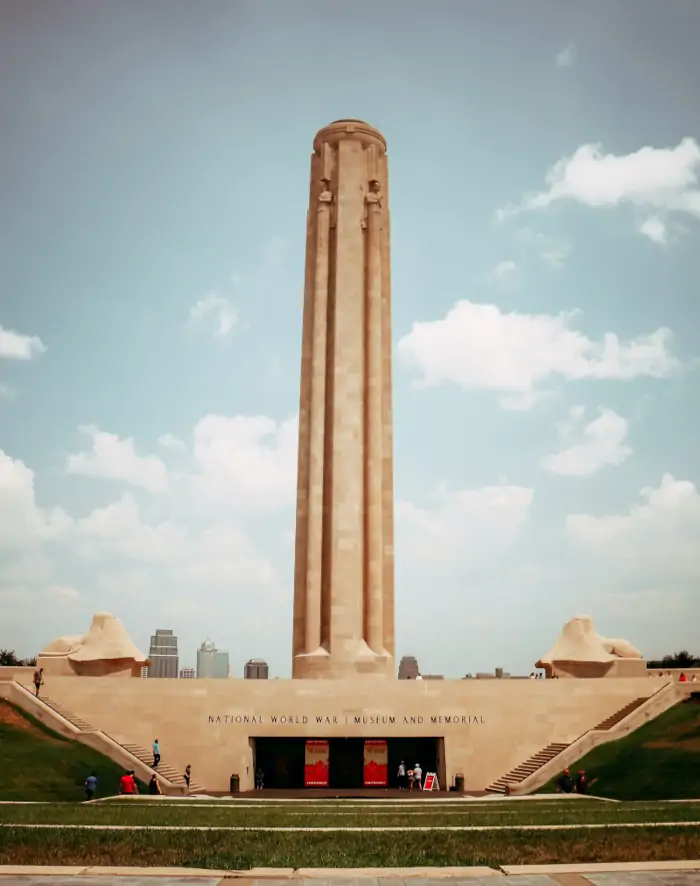 Address: 2 Memorial Dr, Kansas City, MO 64108
Website: https://www.theworldwar.org/