1. Detroit Zoo
The Detroit Zoo is a world-renowned destination for nature enthusiasts and families alike. Established in 1928, it holds the distinction of being one of the oldest zoos in the United States. The zoo features over 2,000 animals from around the globe.
One of the main highlights is the Arctic Ring of Life, an expansive enclosure replicating the Arctic tundra, where visitors can witness majestic polar bears, seals, and arctic foxes frolic in their natural habitat.
Education is at the heart of the Detroit Zoo's mission. It offers a wide range of educational opportunities, including wildlife camps, field trips, and interactive learning stations throughout the park. The "Zoo to You" outreach program brings animal ambassadors to schools and community events, creating a deeper connection between people and wildlife and fostering a sense of responsibility towards the natural world.
For families with children, the Detroit Zoo is an ideal destination. The zoo offers stroller rentals and has numerous picnic areas where families can enjoy a relaxing meal amidst the natural beauty of the grounds. Additionally, special exhibits like the Australian Outback Adventure and the Butterfly Garden provide immersive experiences that captivate young minds, fostering a love for wildlife and nature from an early age.
For the best experience, visitors are advised to plan their visit to the Detroit Zoo on a weekday to avoid crowds. Grabbing a zoo map at the entrance is a wise move to create a customized itinerary, ensuring they don't miss out on their favorite animal exhibits. Catching the engaging live presentations and educational shows led by knowledgeable zookeepers is highly recommended, as they provide fascinating insights into the lives of the animals they care for.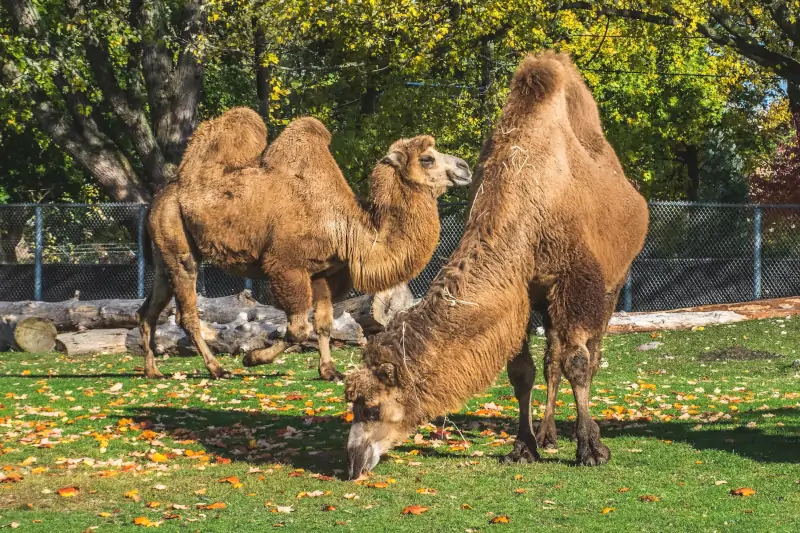 Address: 8450 W 10 Mile Rd, Royal Oak, MI 48067
Website: https://detroitzoo.org/
2. Sea Life Michigan Aquarium
With its immersive exhibits and commitment to marine conservation, SeaLife Michigan Aquarium has become a cherished destination for locals and tourists alike.
Visitors are greeted with a mesmerizing display of marine life from around the world. The aquarium boasts over 5,000 sea creatures, ranging from seahorses and tropical fish to sharks and jellyfish. The carefully designed exhibits mimic the natural habitats of these ocean dwellers, offering an up-close glimpse into their underwater lives.
Beyond entertainment, SeaLife Michigan Aquarium takes its role as an educational institution seriously. Interactive touch pools allow visitors to engage directly with creatures like starfish and crabs, promoting a deeper understanding and appreciation for marine life. Moreover, the aquarium hosts informative talks and feeding sessions, where marine experts share their knowledge and raise awareness about conservation efforts.
One of the standout features of SeaLife Michigan Aquarium is the Ocean Tunnel, a walk-through tunnel that transports visitors into the heart of the ocean. Surrounded by 180-degree views of marine life, guests can marvel at graceful rays gliding overhead and curious sea turtles swimming by. For families with children, the aquarium offers exciting kids' zones with play areas and educational activities.
To make the most of a visit to SeaLife Michigan Aquarium, arriving early is recommended to avoid crowds. Consider purchasing tickets in advance online to skip the lines. Don't forget to check the schedule for interactive talks and feeding sessions to get the most educational value out of the experience. And for those seeking a more personalized encounter, the aquarium also offers exclusive VIP experiences, providing an unforgettable behind-the-scenes look at the world of marine conservation.
Address: Great Lakes Crossing Outlets, 4316 Baldwin Rd, Auburn Hills, MI 48326
Website: https://www.visitsealife.com/michigan
3. Detroit Princess Riverboat
With its enchanting cruises, delectable dining options, and live entertainment, the Detroit Princess Riverboat promises a memorable journey for locals and tourists alike.
The Detroit Princess Riverboat, a four-decked vessel, is an iconic symbol of the city's maritime heritage. Built in 1991, it measures an impressive 222 feet in length and can accommodate up to 1,500 passengers. Its classic paddlewheel design evokes the romance of bygone eras, reminiscent of the grand riverboats that once graced the waters of the Mississippi River.
As the Detroit Princess glides along the Detroit River, guests are treated to views of the city's skyline and iconic landmarks. Whether enjoying the daytime skyline or the magical glow of the city lights at night, the riverboat's cruises offer an extraordinary perspective of Detroit's beauty and history.
The Detroit Princess Riverboat takes entertainment seriously, offering an array of live performances and events. From themed parties and tribute concerts to themed holiday cruises, there's always something special happening on board. Talented musicians and entertainers provide a delightful backdrop to the journey, ensuring guests have a fabulous time while aboard the riverboat.
The Detroit Princess Riverboat caters to the needs of all its guests. It is wheelchair accessible, ensuring that everyone can enjoy the experience without limitations. Families with children will find the riverboat to be a family-friendly environment, with activities and entertainment suitable for all ages.
Address: 625 Westport St., Detroit, MI 48226
Website: https://www.detroitprincess.com/
4. Henry Ford Museum
Founded in 1929 by Henry Ford himself, the Henry Ford Museum showcases an astounding collection of artifacts, ranging from the early days of America's industrial revolution to significant moments in the nation's history. From the Wright brothers' plane to the Rosa Parks bus, each exhibit offers a glimpse into pivotal events that shaped the country's past.
The Henry Ford Museum is a celebration of innovation and creativity. It showcases inventions that have revolutionized industries and changed the course of history. Visitors can explore the evolution of transportation, including iconic automobiles like the Model T.
Address: 20900 Oakwood Blvd, Dearborn, MI 48124
Website: https://www.thehenryford.org/visit/henry-ford-museum/
5. Ford Piquette Avenue Plant Tour
The Ford Piquette Avenue Plant was the birthplace of the iconic Model T, a vehicle that revolutionized transportation and forever changed the way the world moved. Today, the plant has been lovingly restored and transformed into a museum, offering visitors a unique opportunity to step back in time and experience the early days of the automobile.
As visitors embark on the Ford Piquette Avenue Plant Tour, they are transported to the early 20th century, an era of innovation and ingenuity. The plant, originally built in 1904, served as the manufacturing hub for the Ford Model T during its early years. Walking through the preserved assembly lines and workstations, guests can witness the labor-intensive process that went into crafting these pioneering automobiles.
The guided tours offered at the Ford Piquette Avenue Plant are both interactive and informative. Knowledgeable guides take visitors through the various sections of the plant, providing engaging insights into the history of the Ford Motor Company and the evolution of the automotive industry. Guests can ask questions, touch the vehicles, and truly immerse themselves in the rich history that surrounds them.
Address: Ford Piquette Avenue Plant, 461 Piquette Ave, Detroit, MI 48202
Website: https://www.fordpiquetteplant.org/
6. Ford Rouge Factory Tour
The Ford Rouge Factory Tour offers visitors a journey into the heart of American automobile manufacturing. As one of the most iconic and historic industrial sites in the world, the Ford Rouge Complex has played a pivotal role in shaping the automotive industry. Today, the factory tour provides an immersive and educational experience, showcasing the modern-day production of Ford trucks and the rich history of this industrial powerhouse.
The highlight of the Ford Rouge Factory Tour is the walking tour of the state-of-the-art Rouge Assembly Plant, where the iconic Ford F-150 pickup trucks are manufactured. Witnessing the impressive assembly line in action, visitors gain a firsthand understanding of the precision and teamwork that goes into building these renowned vehicles.
For those planning to visit the Ford Rouge Factory Tour, it is recommended to check the tour schedule and book tickets in advance. The guided tours fill up quickly, especially during peak seasons, and early booking ensures a seamless and enjoyable experience.
Address: 20900 Oakwood Blvd, Dearborn, MI 48124
Website: https://www.thehenryford.org/visit/ford-rouge-factory-tour
7. GM Renaissance Center Tour
The GM Renaissance Center, often referred to as the GM RenCen, is a soaring architectural marvel and an iconic symbol of Detroit's resurgence. This impressive complex serves as the global headquarters for General Motors and houses a mix of offices, restaurants, shops, and even a hotel. For visitors curious about the automotive industry and Detroit's rich history, the GM Renaissance Center Tours offer an exciting opportunity to delve into the world of one of the world's largest automotive manufacturers.
The highlight of the GM Renaissance Center Tours is the observation deck on the 72nd floor. From this vantage point, visitors are treated to panoramic views of the Detroit skyline, the majestic Detroit River, and neighboring Windsor, Ontario.
The tour continues with a behind-the-scenes glimpse into the world of automotive design and innovation. Visitors are guided through interactive exhibits that showcase the latest vehicle technologies and design concepts. The opportunity to see concept cars up close and learn about the cutting-edge research and development taking place at General Motors is a highlight for car enthusiasts and tech enthusiasts alike.
Address: GM Renaissance Center, 100 Renaissance Center, Detroit, MI 48243
Website: https://gmrencen.com/play/
8. Michigan Science Center
The Michigan Science Center offers an exciting and educational experience for visitors of all ages, sparking a passion for science, technology, engineering, and mathematics (STEM).
From astronomy and physics to biology and engineering, each exhibit is thoughtfully designed to engage and inspire curiosity.
One of the highlights of the Michigan Science Center is the Dassault Systèmes Planetarium, a state-of-the-art theater that whisks audiences on journeys through the cosmos.
The STEM Playground is another must-visit area within the Michigan Science Center. This dedicated space offers young learners an opportunity to engage in fun and educational activities that promote critical thinking and problem-solving skills. From building structures with giant blue blocks to experimenting with light and sound, the STEM Playground fosters a love for science and learning from an early age.
For those seeking thrilling live demonstrations, the Science Stage is the place to be. Educators and scientists put on engaging shows that showcase scientific principles in action. From explosive chemistry experiments to fascinating physics demonstrations, the Science Stage offers a blend of entertainment and education that leaves audiences both entertained and informed.
The Michigan Science Center is committed to promoting diversity and inclusivity in STEM education. It offers various programs and events that cater to underserved communities and provide access to hands-on science experiences for all. The center's dedication to fostering a love for science among the next generation has earned it recognition as a valuable educational resource in the community.
Address: 5020 John R St, Detroit, MI 48202
Website: https://www.mi-sci.org/
9. Detroit Institute of Arts
Founded in 1885, this world-class museum boasts an extraordinary collection of over 65,000 artworks spanning various cultures and historical periods.
The Detroit Institute of Arts is home to an unparalleled collection that covers a wide range of artistic genres and styles. Visitors can explore masterpieces by renowned artists such as Vincent van Gogh, Diego Rivera, Claude Monet, and Frida Kahlo, among many others. The museum's collection includes European paintings, American art, African art, ancient artifacts, and a vast array of decorative arts that showcase the ingenuity and creativity of humanity throughout history.
One of the most iconic features of the Detroit Institute of Arts is the "Detroit Industry" murals created by the famous Mexican artist Diego Rivera. Spanning four walls of a central courtyard, these frescoes depict the city's automotive and industrial prowess during the early 20th century. Rivera's murals are not only an artistic masterpiece but also an important symbol of Detroit's cultural heritage.
The Detroit Institute of Arts is committed to making art accessible to all. The museum offers a wide range of educational programs, workshops, and tours designed for visitors of all ages. From guided tours that delve into the history of specific artworks to hands-on art-making workshops, these programs enhance the visitor's understanding and appreciation of art.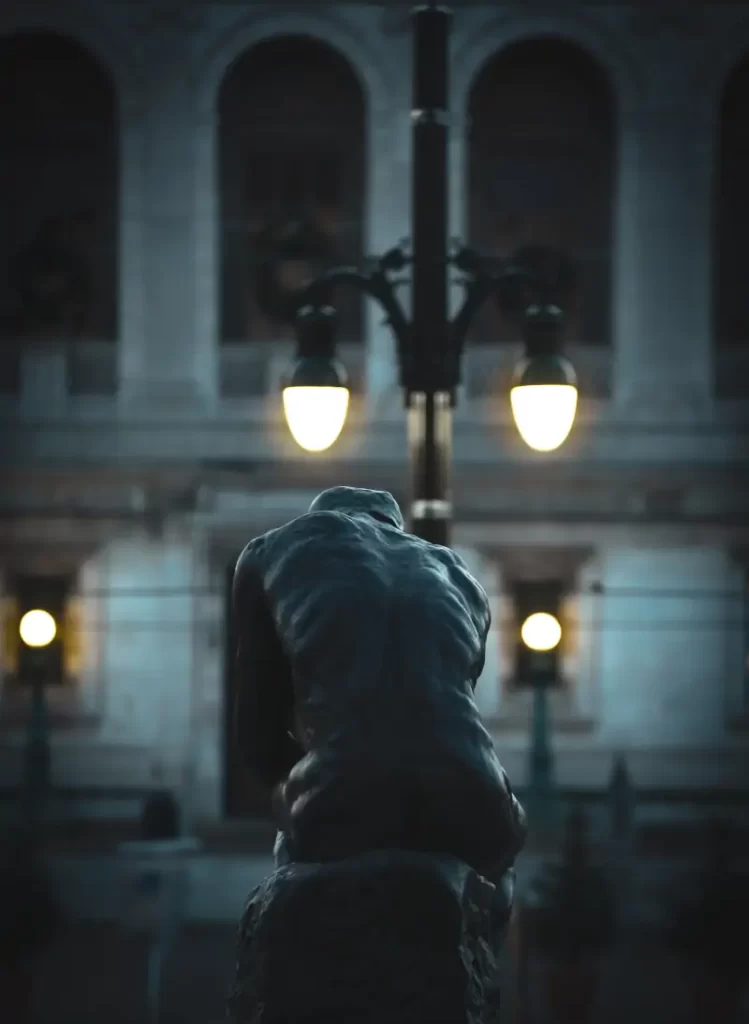 Address: 5200 Woodward Ave, Detroit, MI 48202
Website: https://dia.org/
10. Legoland Discovery Center
LEGOLAND Discovery Center Detroit is an imaginative destination that brings the beloved LEGO bricks to life. As part of the global LEGOLAND family, this indoor entertainment center offers a world of creative fun and educational experiences for LEGO enthusiasts of all ages.
The center is filled with themed play zones, each offering a unique and engaging experience. Whether it's building and racing LEGO cars, exploring the LEGO City, or embarking on a quest through the Kingdom Quest ride, there's no shortage of immersive LEGO fun.
One of the highlights of LEGOLAND Discovery Center Detroit is MINILAND, a miniature LEGO cityscape that showcases iconic landmarks from Detroit and the surrounding region. The attention to detail in these miniature structures is awe-inspiring, and visitors can marvel at the intricate recreations of famous buildings and locations made entirely out of LEGO bricks.
For aspiring LEGO builders, LEGOLAND Discovery Center Detroit offers creative workshops and masterclasses that provide tips and tricks for building with LEGO bricks. Led by the center's Master Model Builder, these sessions inspire young builders to unleash their creativity and construct their own LEGO masterpieces.
The excitement continues with the LEGO 4D Cinema, where 3D LEGO movies come to life with special effects like wind, rain, and snow. This multisensory experience takes movie-watching to a whole new dimension.
Younger visitors can enjoy the Duplo Farm, a safe and fun play area designed specifically for toddlers and preschoolers. This soft play zone allows little ones to explore and interact with larger, soft LEGO bricks, promoting motor skills and imaginative play in a secure environment.
LEGOLAND Discovery Center Detroit caters to families, offering amenities such as baby-changing facilities, stroller parking, and a café with kid-friendly food options. It's a welcoming environment that encourages families to spend quality time together while enjoying the world of LEGO.
Address: Great Lakes Crossing Outlets, 4240 Baldwin Rd, Auburn Hills, MI 48326
Website: https://www.legolanddiscoverycenter.com/michigan/
11. Belle Isle Aquarium
Established in 1904, the Belle Isle Aquarium holds the distinction of being the oldest public aquarium in the United States.
From shimmering freshwater fish to mesmerizing sea creatures, the Belle Isle Aquarium boasts a diverse collection that includes fish from the Great Lakes, colorful tropical fish, majestic seahorses, and even a variety of coral species.
The Belle Isle Aquarium is an ideal destination for families, offering a fun and educational experience for visitors of all ages. Children can marvel at the vibrant colors of tropical fish, learn about various marine species, and gain a deeper understanding of the delicate balance of underwater ecosystems. The aquarium's immersive exhibits and engaging displays make it an exciting and memorable outing for families.
Address: 900 Inselruhe Ave, Detroit, MI 48207
Website: https://www.belleisleconservancy.org/bia
12. Belle Isle Conservatory
The Belle Isle Conservatory is a historic greenhouse that explores a diverse collection of plants from around the world.
From exotic tropical plants to arid desert succulents, each greenhouse within the conservatory showcases unique ecosystems and plant families. Visitors can wander through the different biomes and immerse themselves in the beauty of nature's diversity.
One of the highlights of the Belle Isle Conservatory is the Tropical House. This greenhouse features a dazzling array of tropical plants, including orchids, bromeliads, and ferns, thriving in the warm and humid climate reminiscent of rainforests. The Tropical House is a feast for the senses, offering an immersive experience of the tropics right in the heart of Detroit.
The Belle Isle Conservatory is open year-round, and admission is free. It is recommended to check the conservatory's website for current operating hours and any special events or exhibits before planning your visit. The conservatory also offers guided tours and provides a delightful backdrop for photography enthusiasts.
Address: 300 Riverbank Dr, Detroit, MI 48207
Website: https://www.belleisleconservancy.org/
13. Detroit Tigers Baseball
The Detroit Tigers are known to provide a family-friendly experience at their home games.
One of the highlights for families with kids at Comerica Park is the "Big Cat Court." This area offers a variety of food options, including kid-friendly favorites like hot dogs, nachos, and pizza. The "Build-A-Bear Workshop" in the Big Cat Court is a favorite among young fans, allowing them to create their very own Detroit Tigers-themed plush bear as a memorable keepsake from the game.
Comerica Park also boasts a "Carousel" featuring tigers, lions, and other animals. Kids can take a ride on this beautifully designed carousel, adding to the fun and excitement of the game day experience.
For young baseball fans eager to show their support for the Tigers, the "Kids Clubhouse" offers a merchandise store tailored specifically for children. From jerseys to hats and fun accessories, kids can pick out their favorite gear to cheer on their team in style.
During the game, fans of all ages can catch the "Flying Tigers," a team of acrobatic performers who entertain the crowd with aerial stunts and gravity-defying feats high above the field.
Throughout the season, the Tigers host special events and promotions geared towards families and kids, including "Kids Opening Day," where young fans receive giveaways and have the chance to participate in on-field activities.
The Tigers also offer "Kids Run the Bases" after select Sunday home games, giving children the opportunity to run the bases just like their favorite players.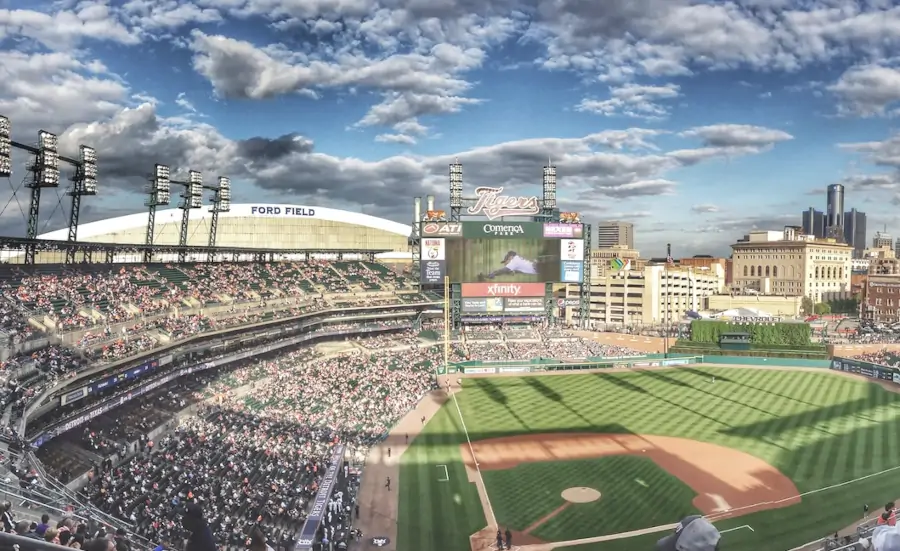 Address: 2100 Woodward Ave, Detroit, MI 48201
Website: https://www.mlb.com/tigers
14. Detroit Lions Football
The Detroit Lions, an NFL football team based in Detroit, Michigan, are not only known for their gridiron prowess but also for creating a family-friendly atmosphere at their games.
The Lions promote "Play 60," which encourages kids to stay active and healthy through various physical activities. This initiative aligns with the NFL's Play 60 campaign, which promotes the importance of 60 minutes of physical activity every day for children.
To enhance the gameday experience for families, Ford Field offers a special "Family Friendly Concourse" with kid-friendly food options and merchandise tailored for young Lions fans. From chicken tenders to soft drinks and Lions-themed souvenirs, families can find everything they need to enjoy the game together.
During halftime, the "Lions Junior Cheerleaders" take the field, showcasing the talents of young dancers as they perform routines for the crowd. This heartwarming display provides kids with a unique opportunity to participate in the game day excitement.
For families interested in behind-the-scenes experiences, the Lions offer stadium tours that provide a glimpse into the inner workings of Ford Field. From the locker rooms to the press box, these tours offer a fascinating look at the day-to-day operations of an NFL stadium.
Address: 2000 Brush Street Detroit, MI 48226
Website: https://www.detroitlions.com/
15. Detroit Pistons Basketball
The Detroit Pistons offer an exciting and family-friendly experience for fans of all ages.
The Pistons have a "Junior Pistons Club," which offers membership to young fans. The club provides exclusive access to special events, player meet-and-greets, and other unique opportunities, making young fans feel like a part of the Pistons family.
For families interested in getting a closer look at the action on the court, the Pistons offer "High Five Tunnels" where kids have the opportunity to high-five players as they run onto the court before the game. This unforgettable experience allows children to feel like they are part of the game day excitement.
Little Caesars Arena has a variety of food options suitable for kids, including classic favorites like pizza, hot dogs, and chicken tenders. The arena also offers kid-sized souvenir cups with refills, ensuring that young fans stay refreshed throughout the game.
Address: 2465 Woodward Avenue Detroit, MI 48201
Website: http://www.nba.com/pistons
16. Detroit Red Wings Hockey
The Detroit Red Wings, a s pride themselves on providing a family-friendly environment at their games.
Throughout the season, the Red Wings host various family-oriented events and promotions, such as "Family Nights" with discounted ticket packages and special activities for kids. These initiatives make it easier and more affordable for families to attend games together and create lasting memories.
The Red Wings organization is also committed to community outreach, with players and staff participating in charitable initiatives that benefit families in need.
During games, families can expect a lively and electric atmosphere at Little Caesars Arena. The cheering crowd, the sound of the organ, and the excitement of live NHL hockey create an unforgettable experience for fans of all ages, including children experiencing their first hockey game.
The Red Wings also offer opportunities for young fans to participate in in-game experiences, such as the "High Five Tunnel," where kids can high-five players as they take the ice. These interactions with players make the game even more memorable for young fans, leaving a lasting impression and fostering a connection with the team.
Address: 2645 Woodward Ave, Detroit, MI 48201
Website: https://www.nhl.com/redwings
17. Motown Museum
Housed in the original Motown recording studio, known as "Hitsville U.S.A.," this iconic museum offers a journey into the world of soulful melodies, unforgettable harmonies, and the birth of the Motown sound.
Founded in 1959 by Berry Gordy Jr., Motown Records quickly became a musical phenomenon, producing chart-topping hits and launching the careers of legendary artists like Diana Ross, Stevie Wonder, Marvin Gaye, and The Jackson 5. The Motown Museum preserves the rich history of this groundbreaking record label, celebrating its significant role in shaping American popular music.
The Motown Museum houses an impressive collection of artifacts, memorabilia, and photographs that showcase the remarkable history of Motown Records and its artists. Visitors can see iconic stage outfits worn by Motown stars, view rare photographs, and immerse themselves in the stories behind some of the most influential songs in music history.
A highlight of the museum is Studio A, where visitors can stand on the very spot where legendary artists recorded their hits. Studio A has been preserved to look as it did during the Motown era, allowing visitors to experience the same ambiance that once inspired musical greatness.
Address: 2648 W Grand Blvd, Detroit, MI 48208
Website: https://www.motownmuseum.org/
18. Campus Martius Park
Campus Martius Park is a 2.5 acre public space that serves as a hub for community gatherings, cultural events, and recreational activities. With its scenic beauty, abundant greenery, and year-round programming, Campus Martius Park has become a favorite destination for residents and visitors alike.
One of the park's most popular features is "The Beach at Campus Martius," an inviting sand-filled area that offers a unique urban beach experience. During the warmer months, visitors can relax on beach chairs, play beach volleyball, or simply soak up the sun while surrounded by the city's skyline.
Throughout the year, Campus Martius Park hosts an array of outdoor activities and entertainment. From live concerts and movie nights to yoga sessions and ice-skating in the winter, the park provides a dynamic and engaging atmosphere for people of all ages.
The Woodward Fountain, located at the heart of Campus Martius Park, is a centerpiece that adds to the park's allure. The fountain's water display, synchronized to music and lights, creates a mesmerizing spectacle and a perfect backdrop for relaxation.
Campus Martius Park buzzes with excitement during public events and festivals. From holiday celebrations and food festivals to art installations and cultural performances, the park fosters a sense of community and camaraderie.
Address: 800 Woodward Ave, Detroit, MI 48226
Website: https://downtowndetroit.org/experience-downtown/downtown-detroit-parks/campus-martius/
19. Outdoor Adventure Center
The Outdoor Adventure Center (OAC) in Detroit, is a destination that brings the wonders of Michigan's great outdoors to the heart of the city.
The OAC is housed in a beautifully restored former warehouse, and upon entering, visitors are greeted with a dynamic and interactive space that celebrates Michigan's natural heritage. The center features engaging exhibits, hands-on activities, and simulated outdoor environments that allow visitors to experience the state's forests, wetlands, and waterways without leaving the city.
One of the main highlights of the Outdoor Adventure Center is the indoor waterfall, which provides a captivating sight and a refreshing ambiance as visitors begin their exploration of Michigan's outdoor wonders.
The OAC offers a wide range of activities that appeal to nature enthusiasts, adventure seekers, and families alike. Visitors can try their hand at archery, practice fly-fishing, or even paddle a kayak in the indoor pond, providing a taste of the outdoor adventures that Michigan has to offer.
Address: 1801 Atwater St, Detroit, MI 48207
Website: https://www.michigan.gov/oac
20. Detroit River Front
The Detroit Riverfront is a revitalized waterfront area along the Detroit River in Michigan.
Stretching over five and a half miles, the Detroit Riverfront is a testament to the city's commitment to urban renewal and creating accessible spaces for its residents and visitors. The riverfront is now a bustling hub of activity, attracting people from all walks of life to its scenic promenades, parks, and attractions.
One of the main highlights of the Detroit Riverfront is the RiverWalk, a beautifully designed pathway that winds along the water's edge. The RiverWalk offers an inviting space for walking, jogging, biking, and rollerblading.
The Riverfront is also home to a series of public parks and plazas, providing green spaces where visitors can relax, have picnics, and enjoy the fresh air. Notable parks include William G. Milliken State Park and Harbor, which is Michigan's first urban state park, and Gabriel Richard Park, offering a stunning view of the Ambassador Bridge.
A visit to the Detroit Riverfront is incomplete without exploring the numerous cultural attractions it has to offer. The Detroit Riverfront Conservancy, in collaboration with the community, has curated a diverse range of events and festivals, showcasing arts, music, and cultural heritage. From concerts and art installations to food festivals and outdoor movie screenings, the riverfront is alive with activity throughout the year.
For those interested in maritime history, the Detroit Riverfront provides access to boat tours and cruises along the river, offering a chance to learn about the city's historic role as a center of trade and commerce.
Address: Detroit Riverfront, Detroit, MI
Website: https://detroitriverfront.org/
21. Detroit Historical Museum
The Detroit Historical Museum stands as a tribute to the rich history and cultural heritage of the city of Detroit.
The museum's exhibits are thoughtfully curated to offer a comprehensive overview of Detroit's past. From its early Native American settlements and French colonial beginnings to its rise as a major industrial center and its contributions to the automotive industry, the Detroit Historical Museum presents a diverse and fascinating narrative of the city's evolution.
The "Streets of Old Detroit" exhibit recreates a street scene from the late 19th and early 20th centuries. Visitors can step back in time as they walk through a series of authentically reconstructed buildings, including a general store, a pharmacy, and a toy shop, offering a glimpse into daily life during that era.
The "Motor City" exhibit delves into Detroit's prominent role in the automotive industry, showcasing the city's historic connection to car manufacturing and innovation. Visitors can learn about the pioneers of the automobile industry, the birth of iconic automobile brands, and the impact of the automobile on Detroit's growth and development.
Another compelling exhibit is the "Glancy Trains" display, featuring an impressive collection of model trains that once belonged to Alfred R. Glancy Jr., a prominent figure in Detroit's history.
The Detroit Historical Museum also offers exhibits that explore the city's contributions to music, sports, and civil rights. The "Detroit: 'The Arsenal of Democracy'" exhibit sheds light on the city's crucial role in supporting the Allied efforts during World War II, contributing to the war effort on an industrial scale.
The museum's commitment to educational programming is evident through its engaging workshops, lectures, and interactive events that provide opportunities for visitors of all ages to deepen their understanding of Detroit's history and culture.
Address: 5401 Woodward Ave, Detroit, MI 48202
Website: https://detroithistorical.org/
22. Blake's
Just north of Detroit, Blake's Orchard and Cider Mill is a popular destination for families, friends, and outdoor enthusiasts.
One of the main attractions at Blake's is its vast apple orchards, offering visitors the chance to pick their own apples straight from the trees. From the classic Red Delicious and McIntosh to more unique varieties, there's an apple for every taste. The experience of picking apples amidst the natural beauty of the orchards is a quintessential autumn activity.
After an enjoyable day of apple picking, visitors can head to the cider mill to savor the taste of freshly pressed apple cider. Blake's is renowned for its flavorful cider, made from a blend of different apple varieties to create a unique and delicious drink. The cider mill also offers a variety of delectable treats, including warm cinnamon donuts, apple pie, and other seasonal delights.
Blake's is not just a fall destination; it offers fun and entertainment throughout the year. In the summer, families can enjoy the sunflower fields, take a wagon ride, or visit the animal farm. During the winter months, visitors can experience the magic of the holidays with Christmas tree cutting and festive activities.
Blake's caters to families with young children, providing a range of activities suitable for all ages. Kids can enjoy the Barnyard Funland, a play area featuring slides, tunnels, and climbing structures. The animal farm is another favorite among children, allowing them to interact with friendly farm animals.
Address: Blake's Orchard and Cider Mill, 17985 Armada Center Rd, Armada, MI 48005
Website: https://blakefarms.com/
23. Petting Farm at Domino's
Operated by Domino's Farms, the Petting Farm offers a delightful experience for visitors of all ages, allowing them to get up close and personal with a variety of friendly and adorable farm animals.
The farm is home to a diverse array of animals, including goats, sheep, cows, pigs, ducks, chickens, and more. Visitors can interact with the animals, feed them, and learn about their care and well-being.
In addition to the animal encounters, the Petting Farm at Domino's also offers other family-friendly activities, including tractor-pulled hayrides and seasonal events. During certain times of the year, visitors can participate in special events like egg hunts during Easter or pumpkin picking in the fall.
Address: Petting Farm at Domino's, 3001 Earhart Rd, Ann Arbor, MI 48105
Website: https://www.pettingfarm.com/
24. Detroit Kid City
Detroit Kid City is a delightful and imaginative play space designed specifically for children. Inspired by the urban landscape of Detroit, this indoor play center offers a safe and engaging environment for children to explore, learn, and have fun.
As soon as kids step into Detroit Kid City, they are transported into a miniaturized version of a bustling cityscape. The play center includes kid-sized storefronts, buildings, and streets. Children can immerse themselves in various role-playing scenarios, from being a chef at a pizzeria to becoming a doctor at a mini hospital.
One of the highlights of Detroit Kid City is the "Imagination Station," where kids can dress up in costumes and let their creativity soar. Whether they want to be a firefighter, a police officer, a chef, or a princess, the play center offers an array of costumes and props to fuel their imaginations.
The play city also features a pretend grocery store, allowing kids to shop for play food and engage in role-playing scenarios of buying and selling goods. This experience not only promotes creativity but also helps children learn valuable life skills in a fun and interactive way.
Detroit Kid City encourages parent-child interaction, with designated play areas where parents can join in on the fun with their little ones. It's a wonderful opportunity for families to bond and create lasting memories together.
Address: 29115 Greenfield Rd, Southfield, MI 48076
Website: https://detroitkc.com/
25. Peppa Pig World of Play Michigan
Inspired by the beloved British children's television show "Peppa Pig," this play center offers young fans the chance to step into the charming world of Peppa and her friends for a day of imaginative fun and exploration.
The play center is designed to resemble key locations from the show, including Peppa's house, the school, the playground, and even the muddy puddles where Peppa loves to jump!
The attraction is structured as a series of interactive play zones, each featuring different activities and experiences. Children can explore Peppa's house, complete with familiar rooms like the kitchen and the living room, where they can role-play and engage in imaginative activities.
The school area allows kids to take part in fun lessons and activities, while the playground offers opportunities for climbing, sliding, and physical play. Little ones can also join Peppa and her friends for a muddy puddle jumping adventure, bringing to life one of the show's most iconic and playful elements.
The staff members at Peppa Pig World of Play are friendly and engaging, guiding children through the various play zones and encouraging them to unleash their creativity and imagination. The play center is thoughtfully designed to be safe and age-appropriate for young children, making it a perfect destination for preschoolers and early elementary-aged kids.
Address: 4236 Baldwin Rd, Auburn Hills, MI 48326