1. Georgia Aquarium
The Georgia Aquarium is a world-class marine wonderland and one of the largest and most impressive aquariums in the world.
Guests can explore numerous exhibits that showcase the beauty and diversity of underwater life, from vibrant tropical coral reefs to the chilly waters of the Arctic and Antarctic.
One of the main attractions at the Georgia Aquarium is the Ocean Voyager exhibit, which features a massive 6.3-million-gallon tank that houses a diverse marine life, including whale sharks, manta rays, and schools of colorful fish. The aquarium's floor-to-ceiling viewing window allows visitors to feel like they are swimming alongside these magnificent creatures.
Another popular exhibit is the Tropical Diver, which transports visitors to the colorful world of the Indo-Pacific region. Here, guests can observe sea dragons, otters, and jellyfish, all living in recreated habitats that mirror their natural environments.
In addition to its diverse marine exhibits, the Georgia Aquarium offers a variety of interactive experiences and activities. Guests can participate in animal encounters, where they can get up close and personal with dolphins, sea lions, and penguins. The aquarium also hosts sleepovers for families and scout groups, offering a unique opportunity to spend the night surrounded by fascinating marine life.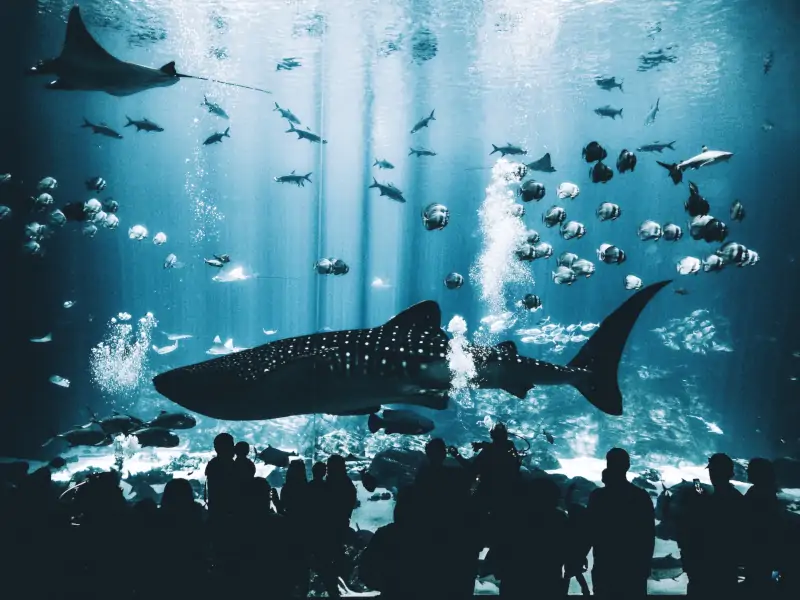 Address: 225 Baker St NW, Atlanta, GA 30313
Website: https://www.georgiaaquarium.org/
2. Zoo Atlanta
Zoo Atlanta has been delighting visitors since its founding in 1889, making it one of the oldest zoos in the United States.
One of the highlights of Zoo Atlanta is the Ford African Rain Forest, a lush and immersive exhibit that transports visitors to the heart of the African continent. Here, guests can observe gorillas, orangutans, and chimpanzees, among other fascinating species.
Another favorite among visitors is the Giant Panda exhibit, home to the lovable giant pandas, Yang Yang and her cub, as well as Lun Lun and her cubs. The Giant Panda Conservation Center at Zoo Atlanta plays a crucial role in the global efforts to protect and conserve these endangered animals.
For families, Zoo Atlanta provides a range of educational programs and interactive experiences. The zoo's Keeper for a Day program allows guests to go behind the scenes and get a firsthand look at the daily activities of animal care professionals. And the Wild Encounter program offers up-close encounters with some of the zoo's friendliest animal ambassadors.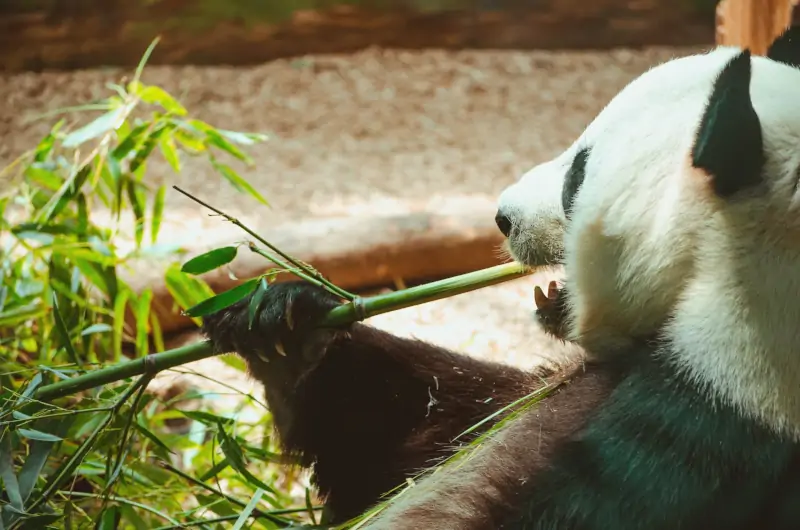 Address: 800 Cherokee Ave SE, Atlanta, GA 30315
Website: https://zooatlanta.org/
3. Fernbank Museum of Natural History
The Fernbank Museum is a renowned institution dedicated to inspiring curiosity and appreciation for the earth's past, present, and future.
The museum's iconic building is an architectural marvel in itself, with a unique design that seamlessly blends nature and modernity. As visitors enter, they are greeted by the awe-inspiring sight of a life-size Argentinosaurus, one of the largest dinosaurs to have ever roamed the earth. This grand entrance sets the stage for the exciting discoveries that await inside.
The Fernbank Museum's exhibits span a wide range of topics, from the prehistoric world of dinosaurs and ancient civilizations to the ecosystems of Georgia's Piedmont region and the biodiversity of the world's rainforests.
One of the museum's most popular attractions is the Giants of the Mesozoic exhibit, featuring a remarkable collection of authentic dinosaur fossils. Guests can wander through the lush indoor forest and encounter life-size replicas of prehistoric creatures.
Another must-see is the Reflections of Culture exhibit, which showcases the rich and diverse cultures of indigenous peoples from around the world. Through art, artifacts, and multimedia presentations, visitors can gain insights into the unique traditions and customs of different societies and understand their connections to the natural world.
For families, the museum offers interactive areas and hands-on activities that encourage exploration and play. The NatureQuest exhibit, in particular, is a favorite among young visitors, allowing them to climb, crawl, and discover the wonders of the natural world through engaging and immersive play spaces.
Address: 767 Clifton Rd NE, Atlanta, GA 30307
Website: https://www.fernbankmuseum.org/
4. Children's Museum of Atlanta
The Children's Museum of Atlanta in downtown Atlanta offers a stimulating and educational environment where kids can learn through play and exploration.
The museum's exhibits are thoughtfully designed to engage children's senses, encourage creative thinking, and foster a love for learning.
One of the museum's signature exhibits is "Fundamentally Food," a delightful play area that introduces young children to the world of food and nutrition. Kids can engage in imaginative play as they shop for groceries, cook in a play kitchen, and serve meals in a restaurant setting, all while learning about healthy eating habits.
The "Step Up to Science" exhibit is another favorite among young visitors, involving hands-on experiences with physics, engineering, and mechanics. Children can explore cause and effect, build structures, and conduct simple experiments.
For budding artists, the "Let Your Creativity Flow" exhibit provides a colorful and inspiring space to unleash their artistic talents. From painting and drawing to sculpting and collage, kids can express themselves and explore different forms of artistic expression.
The Children's Museum also hosts daily programs and special events that further enhance the learning experience. These programs may include storytimes, musical performances, science demonstrations, and more, all designed to engage and entertain young minds.
The museum's dedication to accessibility and inclusivity is evident in its Sensory Room, a peaceful and calming space designed for children with sensory sensitivities. This room provides a sensory-friendly environment where children can relax and explore tactile and auditory activities.
In addition to its indoor exhibits, the Children's Museum of Atlanta boasts a vibrant outdoor play space called "Gateway to the World." This area features a climbing structure, interactive water play, and a garden where children can connect with nature and engage in active play.
Address: 275 Centennial Olympic Park Dr NW, Atlanta, GA 30313
Website: https://childrensmuseumatlanta.org/
5. Centennial Olympic Park
Centennial Olympic Park was originally created as a gathering place for the 1996 Centennial Olympic Games and has since become a popular landmark and a hub of activity for both locals and visitors.
The park covers 21 acres and offers a lush and picturesque setting for relaxation, recreation, and community events. The park's beautifully landscaped grounds feature walking paths, fountains, and inviting green spaces.
One of the park's most iconic features is the Fountain of Rings, a stunning water fountain and light show that delights visitors of all ages. The fountain's interactive water jets create a playful and refreshing experience, especially during the hot summer months. In the evenings, the Fountain of Rings comes alive with light displays.
Centennial Olympic Park also hosts a variety of cultural events, concerts, and festivals throughout the year. From outdoor movie screenings and live performances to food and music festivals, there's always something happening in the park that fosters a sense of community and celebration.
The park's central location makes it an ideal starting point for exploring other nearby attractions in downtown Atlanta. It is surrounded by some of the city's most notable landmarks, including the Georgia Aquarium, the World of Coca-Cola, the CNN Center, and the College Football Hall of Fame.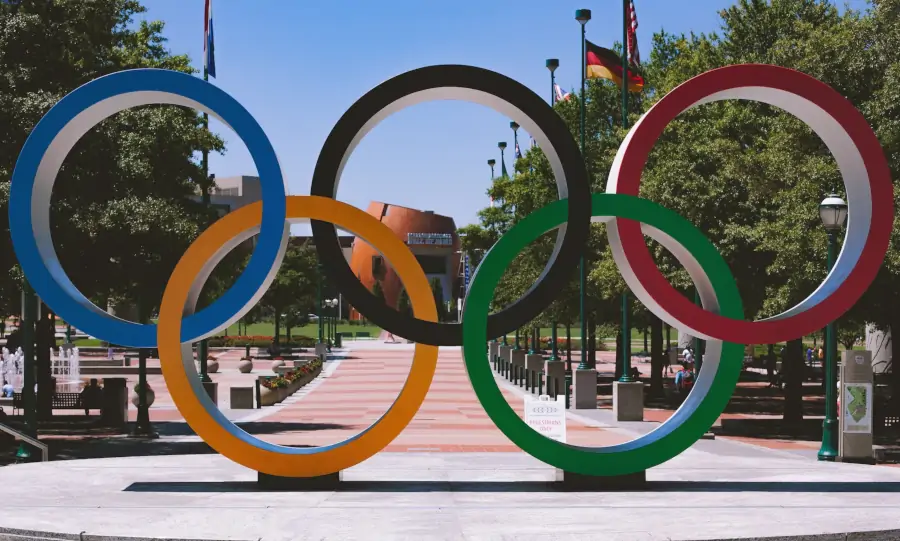 Address: 265 Park Ave W NW, Atlanta, GA 30313
Website: https://www.gwcca.org/centennial-olympic-park
6. World of Coca-Cola
World of Coca-Cola is a must-visit destination for Coca-Cola enthusiasts and curious minds alike.
As you step inside the World of Coca-Cola, you are greeted by the friendly Coca-Cola ambassadors who welcome you to the world of this beloved beverage. The tour begins with a journey through the Coca-Cola Loft, where you can explore the history of Coca-Cola, from its humble beginnings in a small pharmacy to becoming one of the most recognized brands in the world.
At the Coca-Cola Theater, you can watch a short film that takes you on a global tour of Coca-Cola's enduring popularity and its role in shaping cultures and communities around the world.
Next, visitors can indulge in a unique tasting experience at the Taste It! exhibit. Here, you can sample more than 100 different Coca-Cola products from around the world, including exotic and regional flavors that are not available in the United States.
The World of Coca-Cola also houses the Vault of the Secret Formula, a secure and guarded area that houses the legendary Coca-Cola recipe. Visitors can learn about the history and mystery surrounding the secret formula and the efforts taken to protect it over the years.
Another highlight of the World of Coca-Cola is the chance to meet the Coca-Cola Polar Bear. This lovable and playful mascot is always ready to pose for photos and interact with visitors, adding an element of fun and excitement to the experience.
For those interested in the behind-the-scenes magic of Coca-Cola's bottling process, the Milestones of Refreshment exhibit offers a peek into the evolution of Coca-Cola's production and distribution over the years.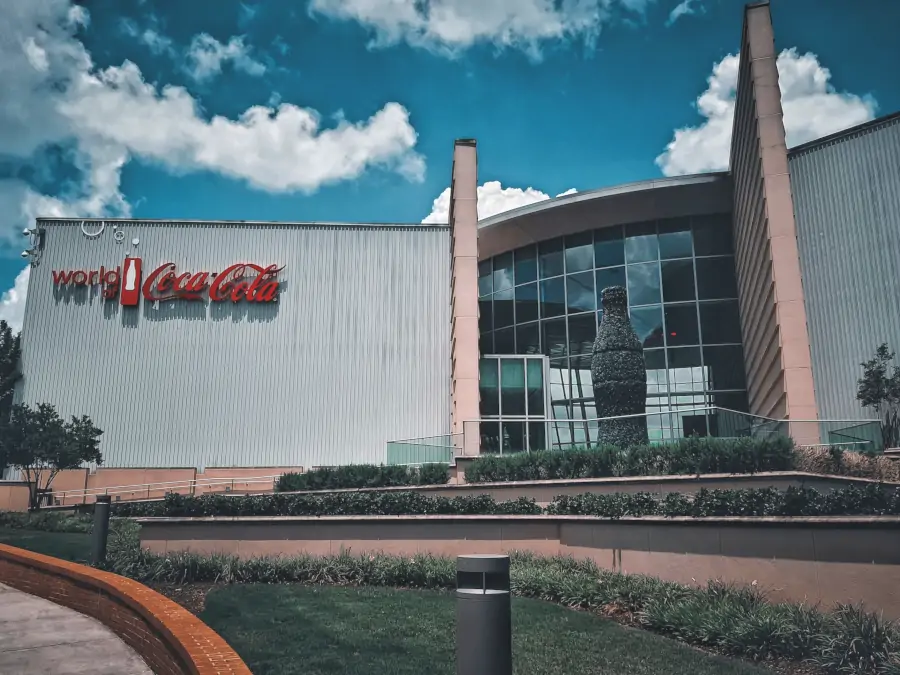 Address: 121 Baker St NW, Atlanta, GA 30313
Website: https://www.worldofcoca-cola.com/
7. Six Flags Over Georgia
Since its opening in 1967, Six Flags Over Georgia has been a popular destination for families and thrill-seekers alike, offering a wide range of rides, attractions, and entertainment that promises a day of fun and excitement.
From classic wooden coasters like the Great American Scream Machine to high-speed steel coasters like Goliath and Twisted Cyclone, there's something for every adrenaline junkie to enjoy.
For families with young children, the park offers a variety of kid-friendly rides and attractions in the Bugs Bunny Boomtown area.
Six Flags Over Georgia also features a water park, Hurricane Harbor, where guests can cool off and have a splash-tastic time. The water park boasts a range of water slides, lazy rivers, and wave pools, to offer refreshing fun for all ages during the hot Georgia summers.
Address: 275 Riverside Pkwy, Austell, GA 30168, USA
Website: https://www.sixflags.com/overgeorgia
8. Medieval Times
Medieval Times offers a unique and unforgettable experience that combines a medieval-themed spectacle with a delicious four-course feast fit for royalty.
Upon entering the grand castle-like structure, guests are greeted by costumed knights, squires, and other characters who set the stage for the evening's adventure. Each guest is assigned to one of the six knightly factions, represented by different colors, in an atmosphere of friendly rivalry and competition.
As the show begins, guests are ushered into the grand arena, a massive space that serves as the stage for the epic tale of chivalry. The show features a series of jousting tournaments, sword fights, and equestrian stunts performed by skilled knights on horseback. The excitement and suspense build as the knights compete in various challenges to win the favor of the king and queen.
Throughout the show, guests are treated to a delicious four-course meal inspired by medieval cuisine. The feast includes hearty portions of roasted chicken, herb-basted potatoes, garlic bread, and savory tomato bisque, all served in traditional medieval style. To add to the medieval ambiance, guests are encouraged to cheer on their designated knight and join in the revelry of the evening.
Address: 5900 Sugarloaf Pkwy, Lawrenceville, GA 30043
Website: https://www.medievaltimes.com/atlanta
9. Topgolf
Topgolf Atlanta is a one-of-a-kind entertainment destination that offers a unique and interactive golfing experience.
Topgolf features a state-of-the-art driving range with a twist. Instead of traditional golf balls, players use microchipped golf balls that are tracked for accuracy and distance. The high-tech system allows players to see instant feedback on their shots and compete in a variety of fun and challenging games.
Beyond the golfing experience, Topgolf offers a lively atmosphere with music, delicious food, and a full-service bar. Guests can enjoy a wide selection of tasty appetizers, shareable dishes, and signature cocktails while they play, making it a great destination for a casual outing or a special occasion.
Topgolf is a family-friendly destination, welcoming players of all ages. Children can participate in age-appropriate golfing activities and games, making it a fun and engaging experience for the whole family.
For those looking to improve their golfing skills, Topgolf Atlanta also offers golf lessons and clinics led by experienced golf pros. Whether you're a beginner learning the basics or an experienced golfer looking to refine your technique, the lessons provide valuable insights and tips to enhance your game.
Address: 1600 Ellsworth Industrial Blvd NW, Atlanta, GA 30318
Website: https://topgolf.com/us/atlanta/
10. Piedmont Park Aquatic Center and Pool
The Piedmont Park Aquatic Center and Pool provides a wide range of aquatic activities for individuals and families to enjoy.
The center boasts an impressive Olympic-sized swimming pool, making it a perfect spot for serious swimmers and those looking to have some fun in the water. The pool's length and depth accommodate various swimming styles and skill levels, making it an ideal destination for lap swimming, training, and recreational swimming.
For families with young children, the Aquatic Center offers a dedicated kiddie pool area with shallow water and gentle water features. This area provides a safe and enjoyable space for kids to splash and play.
One of the highlights of the Piedmont Park Aquatic Center is its water slide, which adds an element of excitement to the pool area. Both kids and adults can enjoy thrilling rides down the slide.
The Aquatic Center also offers swimming lessons for all ages and skill levels. Whether you're a beginner learning to swim or an advanced swimmer looking to improve your technique, the expert instructors at the Aquatic Center provide personalized lessons that cater to individual needs and goals.
The Piedmont Park Aquatic Center operates seasonally, typically from late spring through early fall, giving visitors the chance to make the most of the warm weather and sunshine.
Address: 400 Park Dr NE, Atlanta, GA 30306
Website: https://piedmontpark.org/venue/aquatic-center-pool/
11. Legoland Discovery Center
LEGOLAND Discovery Center is a paradise for LEGO enthusiasts of all ages, offering a day of imaginative play, creative building, and family fun.
The LEGOLAND Discovery Center is filled with a variety of exciting attractions and activities.
The MINILAND exhibit showcases iconic Atlanta landmarks and scenes, all recreated with millions of LEGO bricks. From the Georgia Aquarium to the Atlanta Braves stadium, MINILAND offers a tour of the city's most famous landmarks in miniature form.
One of the main highlights of LEGOLAND Discovery Center is the LEGO Factory Tour, where guests can witness the process of how LEGO bricks are made. From molding to packaging, this behind-the-scenes experience provides insights into the craftsmanship behind these iconic building blocks.
For those looking to put their creativity to the test, the Build & Test Zone is the perfect place to unleash their imagination. Here, guests can construct and race LEGO vehicles, build towering structures, and engage in hands-on activities that encourage problem-solving and innovation.
The 4D Cinema is an attraction that combines the magic of LEGO animation with special effects like wind, water, and bubbles. The 4D movies provide an entertaining experience for the whole family.
LEGOLAND Discovery Center also offers a range of interactive rides and play zones. The Kingdom Quest Laser Ride allows guests to embark on a quest to rescue the captured princess by zapping LEGO villains with laser blasters. The LEGO Friends Heartlake City provides a space for younger visitors to engage in imaginative play and role-playing with their favorite LEGO characters.
For the littlest LEGO enthusiasts, the DUPLO Village offers a safe and stimulating play area with larger bricks that are perfect for tiny hands and growing imaginations.
Address: 3500 Peachtree Rd NE, Atlanta, GA 30326
Website: https://www.legodiscoverycenter.com/atlanta/
12. Atlanta Botanical Garden
The Atlanta Botanical Garden offers a serene escape and a delightful exploration of diverse plant life from around the world.
Spanning 30 acres, the Atlanta Botanical Garden features a variety of beautifully landscaped gardens, each with its own unique theme and horticultural treasures.
One of the highlights is the Fuqua Orchid Center, a stunning glasshouse that showcases a spectacular collection of orchids in full bloom. The orchid displays change seasonally, ensuring there's always something new to admire.
The Garden's Canopy Walk provides visitors with a unique opportunity to stroll through the treetops on a suspended pathway. This elevated walkway offers views of the surrounding gardens and immerses visitors in the beauty of the tree canopy.
The Japanese Garden is a serene and tranquil space, designed to evoke the essence of a traditional Japanese garden. With its carefully manicured landscapes, serene ponds, and meticulously placed stones, this garden provides a sense of peace and contemplation.
One of the most beloved features of the Atlanta Botanical Garden is the Children's Garden. This interactive and imaginative space allows young visitors to engage with nature through hands-on activities, splash fountains, and whimsical sculptures, creating an enriching and fun experience for families.
The Atlanta Botanical Garden also hosts a variety of events and seasonal exhibitions throughout the year. From the dazzling holiday lights of "Garden Lights, Holiday Nights" to the vibrant blooms of the "Spring Blooms" festival, each event adds a touch of magic and excitement to the Garden's already enchanting setting.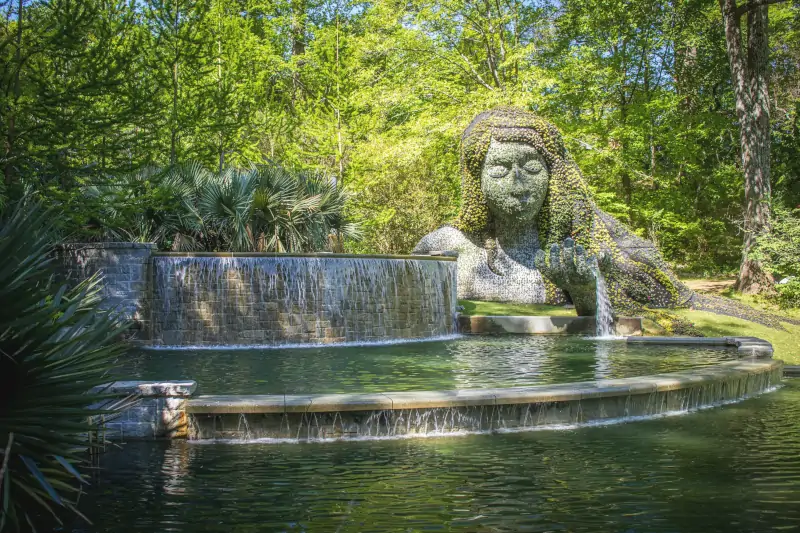 Address: 1345 Piedmont Ave NE, Atlanta, GA 30309
Website: https://atlantabg.org/
13. Atlanta Braves Baseball
Whether you're a seasoned fan or attending your first game, the Atlanta Braves offer a family-friendly atmosphere that is perfect for a fun and thrilling outing.
Truist Park, the Braves' state-of-the-art stadium, offers a wide range of amenities and activities to keep everyone entertained.
Inside the stadium, the Braves have designed a special area called "Hope & Will's Sandlot." This kid-friendly zone features interactive games, a rock-climbing wall, and a mini baseball field where young fans can take swings and catch fly balls. It's a perfect spot for children to burn off energy and indulge in their love for the game.
For families with young kids, the "Chop House" is another fantastic destination. This designated family area includes a wiffle ball field and an oversized glove sculpture, offering opportunities for little ones to play and participate in their own baseball activities.
The Braves' commitment to providing a family-friendly environment extends to the concessions as well. The stadium offers a variety of dining options, including kid-friendly meals and snacks, ensuring that everyone can find something they love to eat while watching the game.
During the game, keep an eye out for the Braves' lovable mascot, Blooper, who entertains fans of all ages with his playful antics and fun interactions. He's always eager to take photos with families and make the game experience even more enjoyable.
The Atlanta Braves also host special family-themed events and promotions throughout the season. From "Kids Run the Bases" to "Family Sundays," these events offer additional opportunities for families to make lasting memories together while enjoying America's pastime.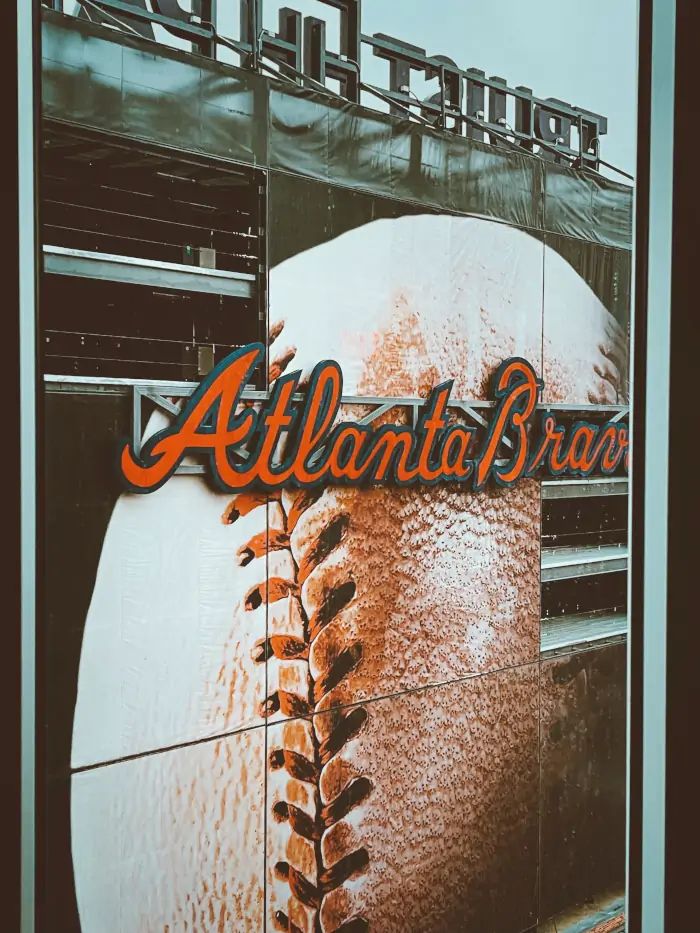 Address: Truist Park, 755 Battery Ave SE, Atlanta, GA 30339,
Website: https://www.mlb.com/braves
14. U-Pick Peaches
Georgia is famous for its peaches, and U-Pick farms in the Atlanta area offer a unique opportunity for families to immerse themselves in the joy of harvesting their own fruit.
When the peach season arrives, usually from late spring to early summer, U-Pick farms open their gates to visitors seeking a fun and hands-on adventure. Families can venture into the orchards, where rows of peach-laden trees beckon with their vibrant hues and sweet aroma.
Picking peaches with your loved ones is not just about harvesting fruit; it's a chance to connect with nature and appreciate the beauty of agriculture. Parents can share the joy of discovery with their children, showing them how peaches grow and teaching them about farming and the importance of fresh, locally grown produce.
U-Pick farms often provide baskets or bags for collecting the ripest and juiciest peaches. Children can engage in a treasure hunt, carefully selecting the perfect peaches to fill their baskets. The excitement of choosing and picking their own fruit fosters a sense of accomplishment and pride among the young harvesters.
Many U-Pick peach farms offer more than just picking. Families can enjoy walks through the orchards, soaking in the scenic views and breathing in the fresh country air. Some farms provide picnic areas, allowing families to relax and savor their freshly picked peaches while basking in the idyllic setting.
Please note that the availability of U-Pick peaches and opening dates for U-Pick farms may vary each season, so it's a good idea to check with the specific farms for their current schedules and offerings.
Address: Various U-Pick peach farms in and around Atlanta, Georgia
Website: Specific websites of U-Pick farms can be obtained by searching for "U-Pick peaches in Atlanta" or "U-Pick peach farms in Georgia"
15. Center for Puppetry Arts
The Center for Puppetry Arts is where imagination comes to life through the art of puppetry. Established in 1978, the Center is a unique cultural institution that celebrates the ancient art form of puppetry.
The Center for Puppetry Arts features a variety of engaging and entertaining performances throughout the year. From classic fairy tales and fables to original productions, the shows combine the artistry of puppetry with storytelling and theatrical performances.
One of the highlights of the Center is the beloved Jim Henson Collection, which pays tribute to the legendary puppeteer behind iconic characters like Kermit the Frog and Miss Piggy. The collection showcases Henson's puppets, props, and behind-the-scenes artifacts, offering a glimpse into the creative genius behind some of the most beloved characters in pop culture.
For families, the Center offers a range of interactive workshops, puppet-building classes, and educational programs. These hands-on experiences allow children and adults alike to explore the art of puppetry and even create their own puppets, fostering creativity and imaginative play.
The Center for Puppetry Arts also houses the Worlds of Puppetry Museum, a fascinating exploration of puppetry traditions from around the world. Visitors can marvel at an extensive collection of puppets from various cultures and gain insight into the diverse styles and techniques used in puppetry across continents and centuries.
For those looking to take a piece of the magic home, the Center's museum store offers a delightful selection of puppets, books, and puppetry-related merchandise. It's the perfect place to find a unique and special souvenir from your visit.
Address: 1404 Spring St NW, Atlanta, GA 30309
Website: https://puppet.org/
16. Delta Flight Museum
The Delta Flight Museum celebrates the rich history of aviation and the legacy of Delta Air Lines. Located near Hartsfield-Jackson Atlanta International Airport, the museum offers a unique and immersive experience for aviation enthusiasts, families, and travelers alike.
The Delta Flight Museum is housed in two 1940s-era aircraft hangars, adding to the nostalgic charm of the exhibits. The museum's collection features artifacts, aircraft, and memorabilia that chronicle the evolution of commercial aviation and the storied history of Delta Air Lines.
Visitors can step aboard iconic aircraft, including the Boeing 767, Boeing 747, and the classic DC-3, to experience the interiors of planes from different eras. These aircraft serve as living pieces of aviation history and give guests a sense of what it was like to fly in the past.
The museum's interactive exhibits offer a hands-on exploration of aviation technology and the inner workings of an airline. From flight simulators that let visitors experience the thrill of piloting a plane to displays that highlight the evolution of in-flight amenities, there's something for everyone to enjoy and learn.
For families, the museum offers special programs and activities designed to engage young visitors and cultivate an interest in aviation. Kids can participate in scavenger hunts, educational workshops, and interactive exhibits that make learning about aviation fun and exciting.
Address: 1060 Delta Blvd, Atlanta, GA 30354
Website: https://www.deltamuseum.org/
17. Museum of Aviation
Located near Robins Air Force Base, the Museum of Aviationis one of the largest aviation museums in the United States, with an extensive collection of aircraft, exhibits, and artifacts that showcase the evolution of aviation and the proud legacy of the United States Air Force.
The museum houses more than 90 historic aircraft, ranging from World War II-era bombers and fighters to modern military jets and cargo planes. Visitors can marvel at the iconic B-17 Flying Fortress, the legendary SR-71 Blackbird, and a host of other historically significant aircraft that have played vital roles in shaping the history of aviation.
The museum's exhibits provide a journey through the history of flight, including the early days of aviation, the development of military aircraft, and the evolution of space exploration. Guests can explore the innovations and technological advancements that have made aviation what it is today.
One of the highlights of the Museum of Aviation is the Georgia Aviation Hall of Fame, which pays tribute to the state's aviation pioneers and their contributions to the world of flight. This exhibit honors Georgia's rich aviation heritage and showcases the achievements of notable aviators from the state.
The Museum of Aviation is not just a static display of aircraft; it also offers dynamic and immersive experiences. The Scott Exhibit Hangar features a "Combat Zone" flight simulator that allows visitors to experience the thrill and challenges of aerial combat. This interactive attraction offers a taste of what it's like to be a fighter pilot.
For families, the museum offers engaging educational programs and activities that inspire curiosity and a love for aviation. Kids can participate in hands-on workshops, interactive demonstrations, and special events that make learning about aviation and science fun and accessible.
Address: 1942 Heritage Blvd, Robins AFB, GA 31098
Website: https://museumofaviation.org/
18. Atlanta Hawks Basketball
The Atlanta Hawks provide a family-friendly environment that celebrates the thrill of the game and the spirit of community.
Going to an Atlanta Hawks game with your family is an experience like no other. From the moment you step into the State Farm Arena, you'll feel the energy and excitement in the air. The Hawks' home games are filled with fan engagement, interactive activities, and lively entertainment that cater to fans of all ages.
The Atlanta Hawks organization is dedicated to making the game-day experience enjoyable and safe for families. The Hawks Kids Club offers young fans exclusive benefits, including opportunities to meet players, attend special events, and receive unique merchandise.
Throughout the season, the Atlanta Hawks host family-themed events and promotions that encourage families to come together and enjoy the camaraderie of the game. From "Family Nights" with discounted tickets to "Kids Day" with special activities and giveaways, there's always something special happening for families at Hawks games.
As part of the NBA's commitment to promoting a family-friendly environment, the Atlanta Hawks offer "Family Rooms" at the arena, providing a quiet and comfortable space for families with young children. These rooms offer amenities such as changing tables, nursing stations, and a designated area for stroller parking, ensuring that families have everything they need for a stress-free game day experience.
The State Farm Arena offers a variety of dining options to suit every taste, including family-friendly concessions that cater to young palates. Families can indulge in classic stadium fare or enjoy a range of cuisines from local vendors, making every trip to the arena a delicious adventure.
Address: State Farm Arena, 1 State Farm Dr, Atlanta, GA 30303
Website: https://www.nba.com/hawks
19. SkyView Atlanta
SkyView Atlanta offers a bird's-eye view of the beautiful cityscape. Situated in the heart of downtown Atlanta, SkyView is a giant Ferris wheel that provides visitors with a thrilling and unforgettable experience high above the city streets.
SkyView Atlanta stands at an impressive height of nearly 20 stories, making it one of the tallest Ferris wheels in the Southeastern United States. The climate-controlled gondolas, each offering comfortable seating, provide a safe and enjoyable ride for guests of all ages.
As you ascend on the SkyView Ferris wheel, you'll be treated to panoramic views of Atlanta's iconic landmarks and skyline. From Centennial Olympic Park to Mercedes-Benz Stadium, the views are truly awe-inspiring and perfect for capturing memorable photos.
The SkyView experience is especially magical during the evening hours when the city lights come to life. The twinkling lights and illuminated buildings create a spectacle that adds an extra layer of enchantment to the ride.
SkyView Atlanta is a family-friendly attraction that caters to visitors of all ages.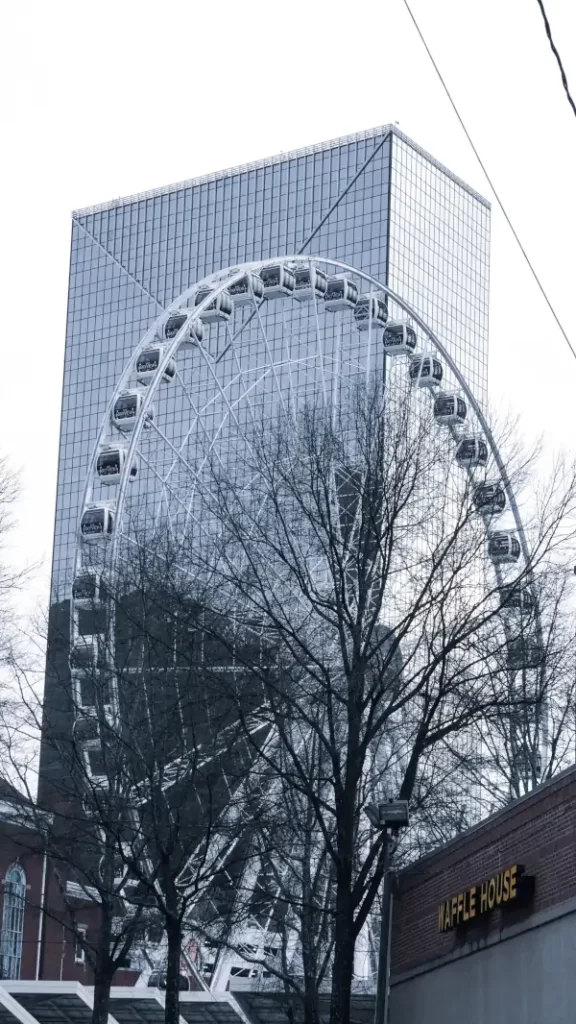 Address: 168 Luckie St NW, Atlanta, GA 30303
Website: https://www.skyviewatlanta.com/
20. The Roof at Ponce City Market
Located on top of the historic Ponce City Market, the Roof is a favorite spot for locals and visitors alike. It offers a variety of entertainment options that cater to all ages and interests.
Visitors can enjoy a thrilling game of mini-golf at Skyline Park, an old-fashioned amusement park that features vintage carnival games and a beautifully designed 18-hole mini-golf course. And for those seeking an adrenaline rush, Skyline Park also offers exhilarating rides, including a thrilling slide and a high-energy ropes course. The panoramic views from these attractions add an extra element of excitement to the adventure.
Of course, the Roof is not just about amusements; it's also a foodie's paradise. Visitors can explore a diverse selection of food and beverage options, ranging from classic carnival fare to gourmet treats.
The Roof regularly hosts a variety of events and live performances, including concerts, themed parties, and holiday celebrations. These events add a lively and festive atmosphere, making the Roof a favorite spot for gatherings and special occasions.
With its open-air setting and inviting ambiance, the Roof at Ponce City Market is an ideal destination year-round. During warmer months, visitors can bask in the sunshine and take in the city's energy, while in the colder months, the Roof transforms into a cozy retreat with fire pits and heaters.
Address: 675 Ponce de Leon Ave NE, Atlanta, GA 30308
Website: https://poncecityroof.com/
21. Jimmy Carter Presidential Library
The Jimmy Carter Presidential Library and Museum is a tribute to the life and legacy of the 39th President of the United States, Jimmy Carter.
This library houses an extensive collection of documents, photographs, and artifacts that document the presidency of Jimmy Carter and his contributions to public service and human rights. Visitors can explore the personal and political journey of President Carter through exhibits that highlight key moments of his life, from his early days as a peanut farmer to his remarkable accomplishments on the world stage.
One of the highlights is the "Oval Office" replica, where visitors can step into a faithful recreation of the President's iconic workspace. This replica offers an opportunity to see the office as it appeared during President Carter's time in office, complete with authentic furniture and historical details.
Address: 441 Freedom Pkwy NE, Atlanta, GA 30307
Website: https://www.jimmycarterlibrary.gov/
22. Stone Mountain Park
Covering over 3,200 acres of natural beauty, Stone Mountain Park offers a diverse range of recreational activities, historical attractions, and family-friendly experiences.
The centerpiece of Stone Mountain Park is the magnificent Stone Mountain itself, a massive granite monolith that rises over 800 feet above the surrounding landscape. The mountain is famous for its striking carving, the largest bas-relief in the world, depicting Robert E. Lee, Thomas J. "Stonewall" Jackson, and Jefferson Davis.
Visitors can take a scenic Skyride to the top of the mountain for breathtaking views of the Atlanta skyline and the surrounding natural beauty.
Outdoor enthusiasts will find plenty to do at Stone Mountain Park. The park features over 15 miles of hiking and walking trails, catering to all levels of fitness and providing opportunities to explore the diverse ecosystems, including serene lakes and lush forests. The nature trails are perfect for family hikes and birdwatching.
Families will find numerous amenities at Stone Mountain Park, including picnic areas, playgrounds, and dining options that cater to a variety of tastes. Whether it's a casual meal by the lake or a hearty Southern feast, there's something to satisfy every appetite.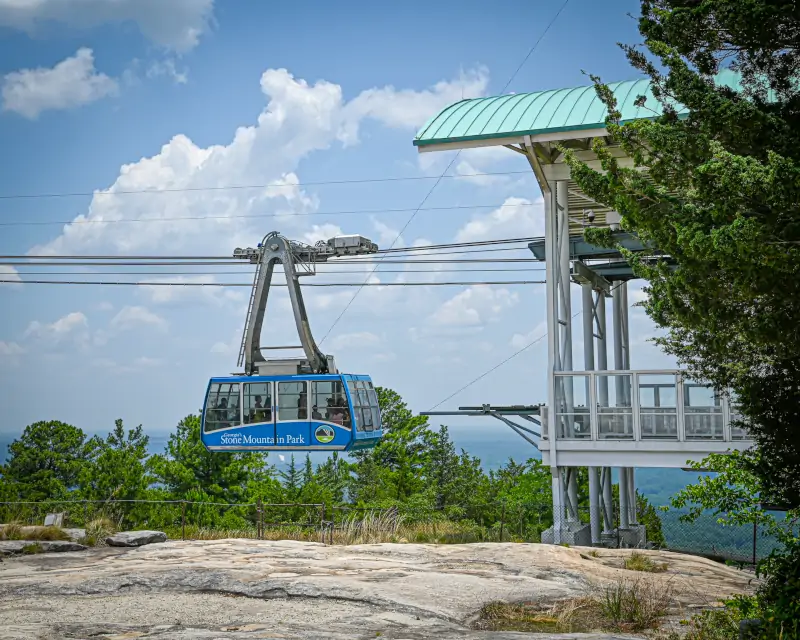 Address: 1000 Robert E. Lee Blvd, Stone Mountain, GA 30083
Website: https://stonemountainpark.com/
23. Martin Luther King, Jr. National Historic Park
The Martin Luther King Jr. National Historic Park is a place of profound significance that honors the life and legacy of one of the most influential civil rights leaders in American history.
The park encompasses several key sites that played pivotal roles in Dr. King's life. One of the highlights is the home where he was born on January 15, 1929. Guided tours offer a glimpse into the early years of Dr. King's life and upbringing.
The park also includes the Ebenezer Baptist Church, where Dr. King and his father, Rev. Martin Luther King Sr., served as co-pastors. This church was a central location for the civil rights movement, and visitors can attend Sunday services to experience the historic atmosphere and hear powerful messages of social justice.
The Visitor Center at the Martin Luther King Jr. National Historic Park features exhibits and multimedia displays that recount Dr. King's life, his leadership in the civil rights movement, and his contributions to American society. The exhibits highlight key moments in history, from the Montgomery Bus Boycott to the March on Washington.
A short walk from the Visitor Center leads to the Freedom Hall Complex, which houses the tomb of Dr. King and his wife, Coretta Scott King. The tomb is a place of reflection and reverence, inviting visitors to pay their respects.
The "I Have a Dream" World Peace Rose Garden, located within the park, is a serene and beautiful space dedicated to promoting peace and unity. The garden features roses representing countries from around the world, symbolizing the dream of a global community united in harmony.
The Martin Luther King Jr. National Historic Park is not only a place of remembrance but also a site of inspiration and education. The park hosts educational programs, exhibits, and special events that engage visitors of all ages and promote the principles of equality, justice, and nonviolence that Dr. King championed.
Address: 450 Auburn Ave NE, Atlanta, GA 30312
Website: https://www.nps.gov/malu/index.htm
24. Atlanta Falcons Football
The Falcons offer a family-friendly atmosphere that welcomes fans of all ages to share in the thrill of the game.
The team's home games at the iconic Mercedes-Benz Stadium provide an electric atmosphere where families can come together to cheer on their favorite players and root for victory.
The Falcons organization is committed to making the game-day experience enjoyable for families. From the moment you arrive, you'll find a variety of activities and amenities that cater to children and parents alike. The Falcons Fan Village outside the stadium features interactive games, face painting, and photo opportunities with the team mascot, Freddie Falcon, adding an extra dose of excitement to the pre-game festivities.
The Falcons' Junior Cheerleaders program allows young aspiring cheerleaders to experience the thrill of performing on the field during halftime, making dreams come true for many young fans. The team also offers opportunities for children to be part of the Falcons Youth Flag Team, where they can participate in pre-game festivities and witness the excitement of being on the field during game day.
The Atlanta Falcons also host special family-themed events throughout the season, such as Family Day at training camp, where fans can get an up-close look at the team's preparations for the upcoming season and enjoy activities designed for families.
Address: Mercedes-Benz Stadium, 1 AMB Drive NW, Atlanta, GA 30313
Website: https://www.atlantafalcons.com/
25. Great Wolf Lodge
The Great Wolf Lodge water park and resort offers thrilling water park attractions, engaging activities, and comfortable accommodations, making it a perfect destination for families seeking fun and adventure.
At the heart of the Great Wolf Lodge experience is the indoor water park, an expansive aquatic wonderland that offers year-round fun regardless of the weather outside. From toddlers to teenagers and parents, everyone can find their favorite water activity at Great Wolf Lodge.
Younger kids will delight in the Cub Paw Pool, a shallow play area with gentle slides and interactive water features designed especially for them. Older children and teens can take on thrilling water slides and challenge themselves in the Fort Mackenzie treehouse play structure. Meanwhile, parents can relax in the warm waters of the Whirlpool Spa, enjoying a moment of tranquility amidst the excitement.
Beyond the water park, Great Wolf Lodge offers a wide range of family-friendly activities and entertainment. Kids can have a blast at the Northern Lights Arcade, where they can play a variety of games and win prizes. The lodge also offers mini-golf, a ropes course, and a laser maze for even more adventures.
Accommodations at Great Wolf Lodge are designed with families in mind. Spacious suites offer a comfortable retreat after a day of fun, and some rooms even feature themed decor, providing an immersive experience for young adventurers.
Great Wolf Lodge takes dining seriously, offering a variety of dining options to satisfy every palate. From casual family-friendly fare to gourmet dining experiences, there's something to please everyone in the family.
Address: 150 Tom Hall Pkwy, LaGrange, GA 30240
Website: https://www.greatwolf.com/georgia