1. Oklahoma Aquarium
Located on the banks of the Arkansas River, this state-of-the-art facility is the perfect place for families, students, and nature enthusiasts to explore and learn about aquatic ecosystems.
The Oklahoma Aquarium is home to a diverse collection of marine life, including more than 300 species from around the globe.
One of the main highlights is the impressive Shark Adventure exhibit, where visitors can walk through a tunnel surrounded by a 500,000-gallon tank filled with sharks, rays, and other fascinating sea creatures.
In addition to the Shark Adventure, the Oklahoma Aquarium features a range of interactive exhibits and hands-on experiences. The "Sea Turtle Island" exhibit offers a close encounter with sea turtles, while "Rays and Lagoon" invites visitors to touch and feed friendly stingrays. The "Aquatic Oklahoma" exhibit showcases the diverse aquatic life found within the state's lakes, rivers, and streams, giving visitors an opportunity to connect with local species.
The aquarium's commitment to education is evident throughout its facilities. The "Discovery Center" provides educational programs and activities for school groups and families, fostering a deeper understanding and appreciation of marine conservation and environmental stewardship.
For families with young children, the "Polynesian Reef" play area offers a safe and enjoyable space for kids to climb, slide, and explore while learning about coral reefs and their inhabitants. This interactive play zone adds an element of fun and excitement for the little ones.
Address: 300 Aquarium Dr, Jenks, OK 74037
Website: https://www.okaquarium.org/
2. Golden Driller
The Golden Driller, standing tall and proud in Tulsa, is a true symbol of the state's rich history in the oil industry. This iconic statue, which stands at a towering height of over 75 feet, is a landmark that has become synonymous with Oklahoma's heritage and spirit.
Constructed in 1953 by architect and sculptor Hugh Davis, the Golden Driller was initially built as a promotional display for the International Petroleum Exposition. The statue's design was inspired by a real-life oil worker named "Wade," who was chosen for his rugged and heroic appearance.
The Golden Driller is an impressive sight to behold, showcasing an oil worker in full gear, holding a giant oil derrick, and sporting a hard hat. The statue is covered entirely in gold leaf, giving it a striking and gleaming appearance that catches the sunlight and captivates the eyes of passersby.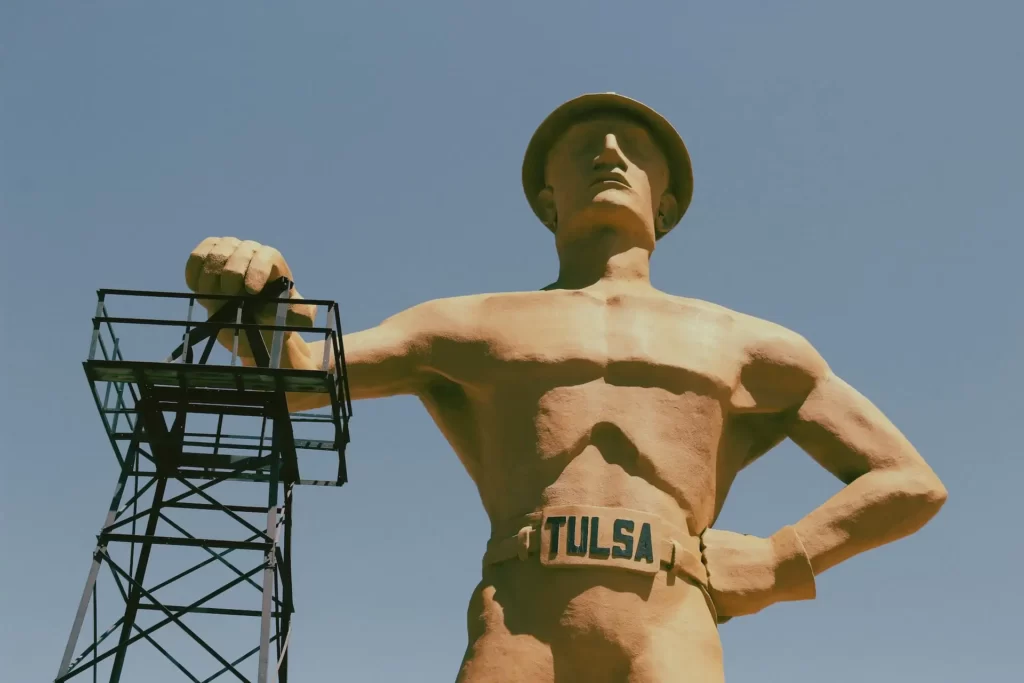 Address: 4145 E 21st St, Tulsa, OK 74114
3. Tulsa Zoo
With over 2,800 animals, the Tulsa Zoo offers an immersive journey through various ecosystems and habitats.
Visitors can explore exhibits like the "Lost Kingdom," which showcases animals from Asia, including tigers, elephants, and snow leopards. The "African Plains" exhibit brings the savannah to life, featuring giraffes, zebras, and rhinos roaming freely in a spacious environment. The zoo's "Lakeside" exhibit offers a refreshing and tranquil setting where visitors can encounter North American animals like bears and bald eagles. For an underwater adventure, the "Mary K. Chapman Rhino Reserve" allows guests to view these magnificent creatures both above and below the waterline.
The "ZooZeum" is a unique feature within the Tulsa Zoo, offering a historical perspective on the zoo's evolution over the years. Visitors can explore artifacts, photographs, and displays that showcase the zoo's rich history and its commitment to animal welfare.
The Tulsa Zoo also hosts a range of family-friendly events and programs throughout the year, including "Zoofari," an annual fundraising gala that provides a magical evening under the stars while supporting the zoo's conservation efforts.
For young visitors, the "Children's Zoo" is a must-visit area, featuring interactive play zones, petting areas, and engaging activities. The "Exploration Station" allows kids to get hands-on with animals and learn about their adaptations and behaviors.
Address: 6421 E 36th St N, Tulsa, OK 74115
Website: https://tulsazoo.org/
4. Discovery Lab (Tulsa Children's Museum)
Discovery Lab is a dynamic and innovative children's museum that sparks curiosity, ignites imaginations, and fosters a love for learning. This interactive space is specifically designed to provide children with hands-on experiences that encourage exploration and discovery across various fields of science, technology, engineering, arts, and math (STEAM).
The museum actively collaborates with educators, schools, and community organizations to offer outreach programs and resources that extend the learning beyond the museum walls.
Address: 560 N Maybelle Ave, Tulsa, OK 74127
Website: https://www.discoverylab.org/
5. Tulsa Botanic Garden
Spread across 170 acres, this expansive garden offers a tranquil and immersive escape into the world of plants, flowers, and serene landscapes.
The Tulsa Botanic Garden showcases a diverse collection of plants, carefully curated to thrive in the region's climate and soil conditions.
The "A.R. and Marylouise Tandy Floral Terraces" is a stunning feature with four terraces that showcase a rotating display of seasonal flowers, providing a colorful and ever-changing backdrop throughout the year.
One of the garden's most captivating features is the "Seven-acre Lake," offering serene water views and peaceful surroundings. Visitors can take a leisurely stroll along the lakeside trails, immersing themselves in the beauty of aquatic plants and the calming ambiance.
For those with a passion for horticulture and plant diversity, the "Cross Timbers" and "Oklahoma Centennial Botanical Garden" areas offer a rich selection of native plants, showcasing the unique flora of the region.
Throughout the year, the Tulsa Botanic Garden hosts a variety of events and activities, including seasonal festivals, plant sales, and outdoor concerts. These events add an extra layer of excitement to the garden experience, creating opportunities for families and friends to come together and enjoy the beauty of nature in a vibrant setting.
Address: Tulsa Botanic Garden, 3900 Tulsa Botanic Dr, Tulsa, OK 74127
Website: https://www.tulsabotanic.org/
6. Tulsa Air and Space Museum & Planetarium
The Tulsa Air and Space Museum and Planetarium (TASM) celebrates the history and wonder of aviation and space exploration.
The museum's main gallery houses an impressive array of aircraft, ranging from vintage planes to modern jets. Visitors can walk among these iconic flying machines, learning about their historical significance and technological innovations. Among the aircraft on display is the renowned "Rockwell B-1B Lancer," a supersonic bomber that played a vital role in the U.S. Air Force's fleet.
In addition to its aircraft collection, TASM boasts interactive exhibits that engage visitors in hands-on learning experiences. The "Flight Simulators" provide a taste of the pilot's world, allowing guests to take control of a virtual airplane and experience the thrill of flying.
The "Planetarium" at TASM is a captivating feature that takes visitors on a cosmic journey through the stars and galaxies. With its cutting-edge projection system, the planetarium offers awe-inspiring shows that explore the mysteries of the universe, making it a hit with both children and adults.
For those curious about space exploration, the "Space Station" exhibit showcases artifacts and replicas from various space missions, offering insights into the fascinating history of human spaceflight.
Throughout the year, TASM hosts family-friendly events, including "Aerospace Adventure" days, where families can participate in educational activities and experiments related to aviation and space.
Address: 3624 N 74th E Ave, Tulsa, OK 74115
Website: https://www.tulsamuseum.org/
7. Tulsa Raceway Park
Tulsa Raceway Park hosts thrilling drag racing events and provides a top-notch experience for both spectators and participants.
As one of the most iconic drag racing venues in the region, Tulsa Raceway Park boasts a quarter-mile drag strip that meets professional NHRA (National Hot Rod Association) standards. The track's smooth surface and expertly maintained conditions make it an ideal location for high-speed racing and record-setting performances.
Throughout the year, Tulsa Raceway Park hosts a variety of drag racing events, from grassroots street car racing to nationally recognized competitions. Spectators can witness the raw power and speed of a wide array of vehicles, from high-performance sports cars to souped-up hot rods, as they roar down the strip.
Address: 3101 N Garnett Rd, Tulsa, OK 74116
Website: https://www.tulsaracewaypark.com/
8. Turkey Mountain
Turkey Mountain offers a diverse landscape of rugged trails, lush forests, and scenic overlooks, making it a popular destination for hiking, mountain biking, and outdoor recreation.
As one of the largest natural areas within Tulsa, Turkey Mountain provides a refreshing escape from the hustle and bustle of city life. The park's well-maintained trails wind through wooded areas, meadows, and rocky terrains, offering visitors a variety of hiking options suitable for all skill levels.
For families with children, Turkey Mountain offers an excellent opportunity to introduce young ones to hiking and outdoor activities. Families can enjoy picnics, nature walks, and educational outings, fostering a love for nature and the outdoors from an early age.
Address: Turkey Mountain Urban Wilderness Area, 6850 S Elwood Ave, Tulsa, OK 74132
Website: https://www.riverparks.org/experience/turkey-mountain
9. Oxley Nature Center
The Oxley Nature Center offers a diverse range of habitats, including wetlands, forests, prairies, and ponds, making it a haven for wildlife and a popular destination for nature enthusiasts and hikers.
Whether it's a leisurely walk through the woods or a more rigorous hike along the prairie, the center offers trails suitable for all ages and fitness levels.
The "Birdwatching Trail" is a favorite among birdwatchers, as it provides excellent opportunities to spot a wide variety of bird species. The nature center is home to numerous resident and migratory birds, making it a prime location for birdwatching throughout the year.
For wildlife enthusiasts, the Oxley Nature Center offers glimpses of deer, foxes, raccoons, and various other animals that call the park home. The park's natural setting and abundance of habitats make it an ideal spot for observing wildlife in their natural environment.
The nature center also hosts educational programs, workshops, and guided tours led by knowledgeable naturalists, providing valuable insights into the park's ecology, wildlife, and conservation efforts.
Address: 5701 E 36th St N, Tulsa, OK 74115
Website: https://www.oxleynaturecenter.org/
10. Tulsa Garden Center
The Tulsa Garden Center (formerly known as the Linnaeus Teaching Garden) is designed to inspire and educate visitors about the world of plants, gardening, and sustainable horticulture.
The garden is not just a place to admire beautiful plants; it is an active learning center that offers a wide range of horticultural classes, workshops, and demonstrations. These educational programs cover topics such as gardening techniques, plant propagation, composting, and sustainable gardening practices, providing valuable knowledge and skills to both beginners and seasoned gardeners.
Address: http://www.tulsagardencenter.com/
Website: http://www.tulsagardencenter.com/
11. Woodward Park
Woodward Park is a historic and picturesque urban park that offers a peaceful retreat for residents and visitors alike. Spanning over 45 acres, this beautifully landscaped park is renowned for its stunning gardens, towering trees, and serene atmosphere.
One of the main highlights of Woodward Park is the "Tulsa Rose Garden," a breathtaking display of thousands of roses in various colors and varieties. This garden is a favorite spot for nature enthusiasts, photographers, and couples seeking a romantic setting for picnics or leisurely strolls.
Woodward Park also features a large and well-maintained playground, making it a popular destination for families with children. The playground's equipment, picnic tables, and shaded areas provide a perfect setting for a fun-filled day of outdoor play and relaxation.
Throughout the year, Woodward Park hosts a variety of events and festivals that showcase the beauty of the gardens and celebrate the changing seasons. The annual "Tulsa Garden Club's Festival of Flowers" is a highly anticipated event that draws visitors with its impressive floral displays and gardening demonstrations.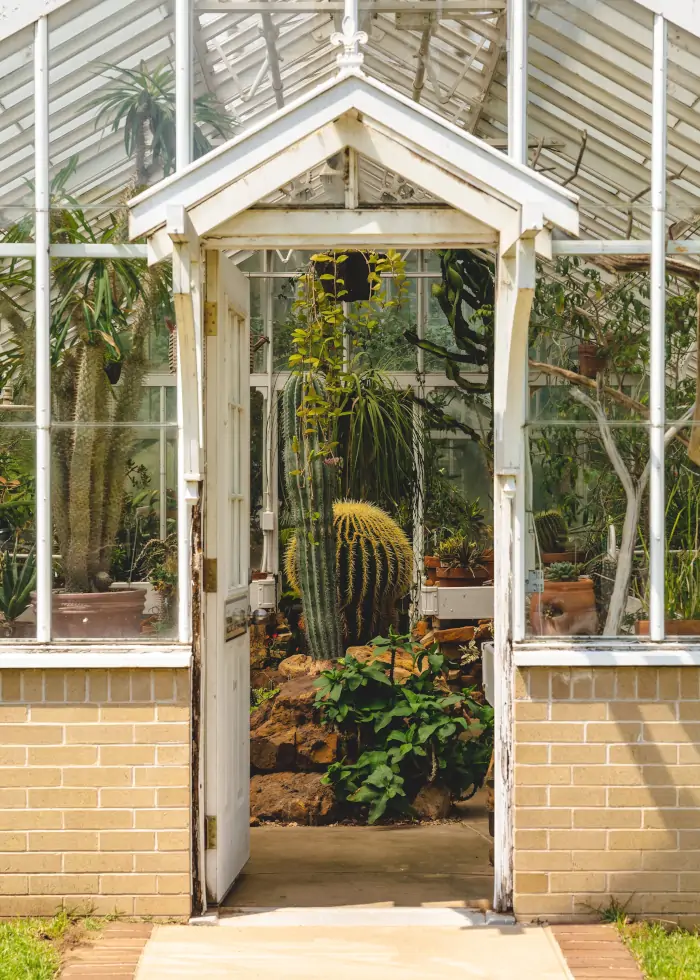 Address: Woodward Park, 2435 S Peoria Ave, Tulsa, OK 74114
Website: https://www.tulsagardencenter.org/park-overview
12. Gathering Place
Spanning over 100 acres, Gathering Place is a world-class park that blends natural beauty, creativity, and recreational opportunities.
Gathering Place's meticulously landscaped gardens and natural areas showcase the rich biodiversity of Oklahoma. From woodlands and prairies to wetlands and lakes, the park's diverse ecosystems offer visitors a chance to connect with nature and appreciate the region's unique flora and fauna.
One of the most remarkable features of Gathering Place is its playgrounds. The park's "Chapman Adventure Playground" is a paradise for children, with towering treehouses, climbing structures, and whimsical sculptures that inspire imaginative play and exploration. The "Frog Pond" area provides interactive water play, allowing kids to splash and cool off on hot summer days.
The park's "QuikTrip Great Lawn" is a vast open space that hosts a wide range of events, concerts, and festivals, bringing the community together for unforgettable gatherings and performances.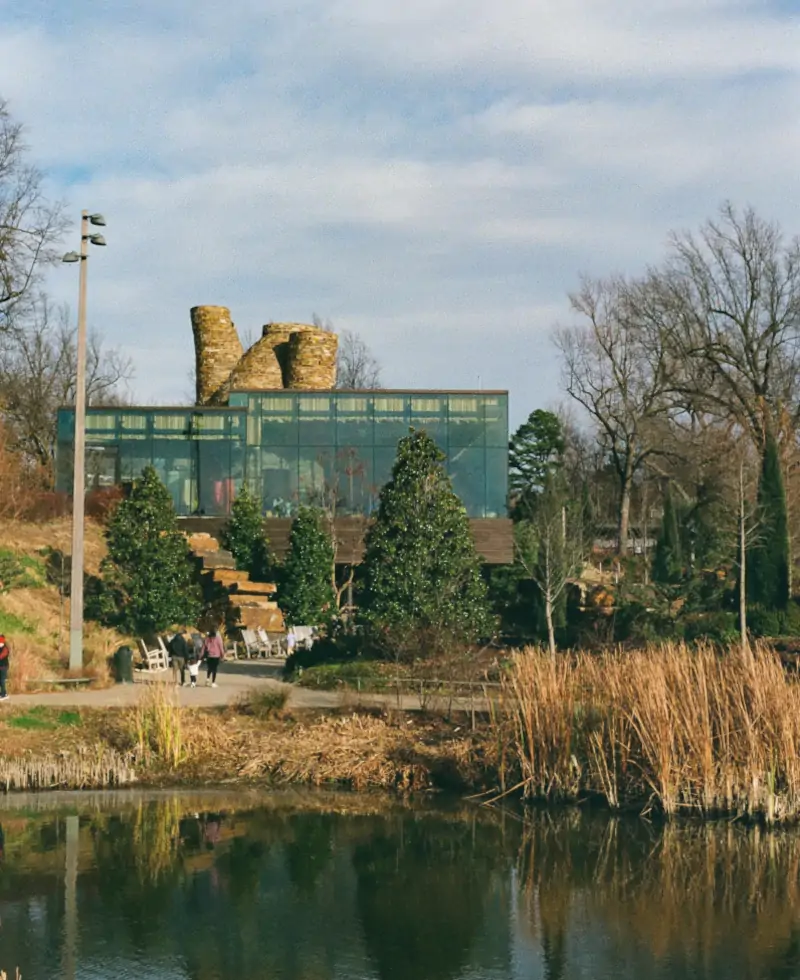 Address: Gathering Place, 2650 S John Williams Way E, Tulsa, OK 74114
Website: https://www.gatheringplace.org/
13. Gilcrease Museum
Gilcrease Museum is a renowned cultural institution that houses one of the most extensive and comprehensive collections of American Western art and artifacts in the world. Founded by Thomas Gilcrease, an avid collector and philanthropist, the museum is dedicated to preserving and showcasing the diverse history and heritage of the American West.
The museum's main galleries are home to a remarkable collection of paintings, sculptures, and artifacts that tell the story of the American West, from its Native American cultures and frontier days to the expansion of the United States. Visitors can immerse themselves in the rich tapestry of American history through works by iconic artists such as Frederic Remington, Charles M. Russell, and Thomas Moran.
For families and young visitors, the museum offers engaging educational programs and activities that bring art and history to life. The "Thomas Gilcrease House" provides a glimpse into the life of the museum's founder, offering a glimpse of the personal history behind the institution.
Address: 1400 N Gilcrease Museum Rd, Tulsa, OK 74127
Website: https://gilcrease.org/
14. Philbrook Museum of Art
The Philbrook Museum of Art, located in Tulsa, Oklahoma, is a cultural treasure and one of the premier art museums in the region. Housed within a grand Italian Renaissance-style mansion, the museum is set amidst lush gardens and offers a blend of fine art, decorative arts, and stunning architectural beauty.
The museum's European collection includes works by renowned artists such as Pierre-Auguste Renoir, Vincent van Gogh, and Giovanni Bellini. Visitors can also explore American masterpieces by artists like John Singer Sargent and Edward Hopper.
For families and young visitors, the museum offers engaging and interactive programs designed to introduce children to the world of art and creativity. The museum's commitment to accessibility is evident in its efforts to make art accessible to all, including individuals with diverse abilities.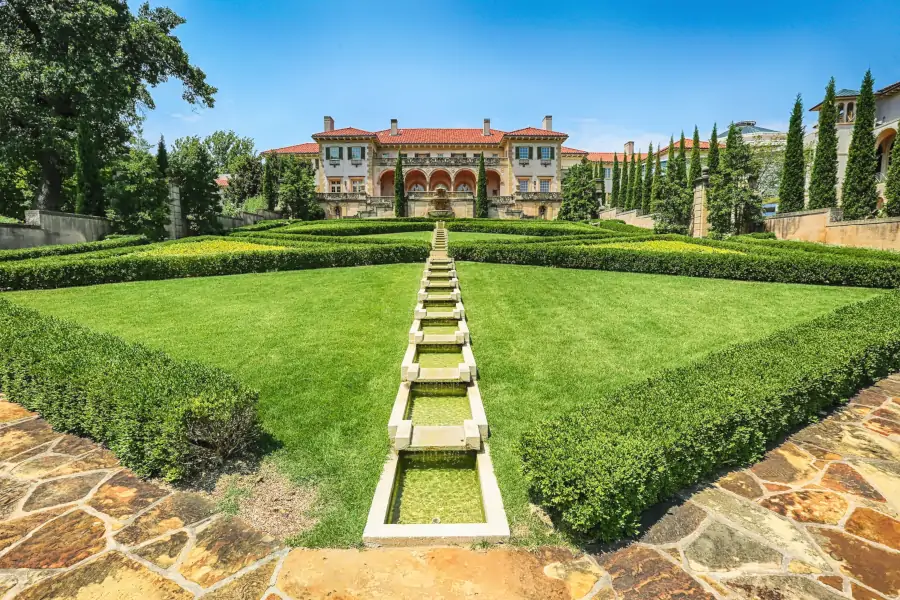 Address: 2727 S Rockford Rd, Tulsa, OK 74114
Website: https://www.philbrook.org/
15. Tulsa Drillers Baseball
The Tulsa Drillers are a professional minor league baseball team based in Tulsa, Oklahoma. The Drillers have a rich history and have been an integral part of Tulsa's sports community for many decades.
The Drillers' loyal and passionate fan base adds to the vibrant atmosphere during home games. Whether it's the enthusiastic cheers for a home run, the sound of cowbells ringing in the stands, or the excitement of mascot Hornsby entertaining the crowd, the game-day experience at ONEOK Field is truly memorable.
The Drillers' season typically runs from April to September, offering fans ample opportunities to catch exciting baseball action throughout the summer. Game promotions, themed nights, and special events enhance the fan experience and make each game a unique and enjoyable outing for families and friends.
Address: 201 N Elgin Ave, Tulsa, OK 74120
Website: https://www.milb.com/tulsa
16. Oklahoma Jazz Hall of Fame
Founded in 1988, the Hall of Fame honors the contributions of talented jazz musicians, educators, and advocates who have played a significant role in shaping the jazz scene in Oklahoma.
The Hall of Fame is housed in the historic Tulsa Union Depot, an architecturally significant building that provides a fitting backdrop for this celebration of jazz history. Inside, visitors can explore exhibits that showcase the achievements and stories of jazz legends and pioneers from Oklahoma, as well as those who have made an impact on the national and international jazz scene.
The Hall of Fame regularly hosts live jazz performances featuring talented musicians from different genres of jazz. From traditional jazz to bebop, fusion, and contemporary jazz, visitors can experience a wide range of styles and performances that highlight the diversity and creativity of jazz music.
Address: 5 S Boston Ave, Tulsa, OK 74103
Website: https://www.okjazz.org/
17. Admiral Twin Drive-In Movies
Admiral Twin Drive-In Movies, located in Tulsa, Oklahoma, is an iconic and beloved entertainment destination that harkens back to the golden age of drive-in theaters. With a history dating back to 1951, the Admiral Twin has been a cherished part of Tulsa's cultural fabric for generations.
The drive-in theater is named after the nearby Admiral Place, and its distinctive twin screens have become a familiar landmark on Tulsa's skyline. The theater's retro charm and nostalgic appeal draw visitors of all ages who seek a unique and enjoyable movie-going experience.
Admiral Twin Drive-In offers a classic drive-in setup, with large outdoor screens and spaces for cars to park and enjoy the show. Families and friends can bring their own blankets, lawn chairs, and snacks, creating a relaxed and cozy atmosphere as they watch movies under the open sky.
The theater features double features, allowing patrons to enjoy two films for the price of one ticket. This provides an excellent value for movie enthusiasts who want to make the most of their evening at the drive-in.
The Admiral Twin Drive-In Movies screens a mix of new releases, classic films, and family-friendly movies, catering to a diverse audience with varied tastes. This selection ensures that there's always something for everyone to enjoy, whether they prefer action-packed blockbusters or heartwarming comedies.
Address: 7355 E Easton St, Tulsa, OK 74115
Website: https://www.admiraltwindrivein.com/
18. Woodie Guthrie Center
Established in 2013, this center pays homage to Woodie Guthrie's contributions to American music, social justice, and cultural expression.
Woody Guthrie was an influential singer-songwriter, known for his powerful and poetic folk songs that often conveyed messages of hope, unity, and social activism. The center honors his commitment to advocating for the rights of the marginalized and his passion for storytelling through music.
The center's exhibits feature a collection of Guthrie's personal items, original writings, and artifacts, providing visitors with a unique insight into the life and thoughts of this iconic artist. From his iconic guitar to handwritten lyrics and drawings, the exhibits offer a comprehensive view of Guthrie's creative process and impact on American culture.
The Woody Guthrie Center also houses the "Bob Dylan Archive," an extensive collection of materials related to the iconic singer-songwriter Bob Dylan. This collection adds to the center's cultural significance and expands its focus on the evolution of folk music and its impact on society.
Beyond its museum exhibits, the Woody Guthrie Center features a performance space known as the "Wanda L. Bass Performance Hall," where concerts, workshops, and lectures take place. This space serves as a hub for live music events and educational programs that continue Guthrie's legacy of using music as a catalyst for change.
The center's dedication to community engagement extends beyond its physical location. It actively participates in outreach programs and collaborations with schools, universities, and community organizations, ensuring that Guthrie's messages of empathy, equality, and social justice reach a wider audience.
Address: Woody Guthrie Center, 102 E Mathew B. Brady St, Tulsa, OK 74103
Website: http://www.woodyguthriecenter.org/
19. The Cave House
Built in the early 1920s, this extraordinary residence is unlike anything else in the city and has become a cherished landmark over the years.
The most distinctive feature of the Cave House is its use of natural stone and rock formations to create the illusion of a cave-like dwelling. The exterior walls are built with native sandstone and rock, giving the house a rustic and organic charm that sets it apart from traditional architectural styles.
While the Cave House is not open to the public for regular visits, its intriguing exterior continues to attract visitors and photographers who admire its one-of-a-kind design. The house serves as a reminder of the power of architectural imagination and the possibilities of creating unique and unconventional living spaces.
Over the years, the Cave House has become a source of local folklore and has inspired many stories and legends. Its mysterious appearance has sparked the imaginations of residents and visitors alike, adding to the allure of this hidden gem in Tulsa.
Please note that the Cave House is a private residence, and visitors should respect the privacy of its current occupants and refrain from trespassing on the property.
Address: 1623 Charles Page Blvd, Tulsa, OK
20. Decopolis – Tulsa Art Deco Museum
Decopolis celebrates the glamour and artistry of the Art Deco era. Located in the heart of the city's Deco District, Decopolis is both a retail store and a museum, offering visitors an immersive experience into the vibrant world of Art Deco design and nostalgia.
As soon as visitors step inside Decopolis, they are transported back in time to the Roaring Twenties and the Golden Age of Hollywood. The store's interior is an exquisite homage to Art Deco aesthetics, adorned with stunning geometric patterns, vintage posters, and stylish furnishings reminiscent of the era.
Decopolis offers an impressive collection of Art Deco-themed merchandise, from books and vintage movie posters to clothing, accessories, and home decor items. It's a treasure trove for those seeking unique gifts, souvenirs, or personal mementos inspired by the iconic Art Deco style.
In addition to its store and museum, Decopolis hosts special events, workshops, and exhibitions related to Art Deco and vintage culture. These events draw enthusiasts and curious visitors alike, further enriching the sense of community and celebration of Art Deco in Tulsa.
Address: 502 S Boston Ave, Tulsa, OK 74103
Website: https://decopolis.net/
21. Tulsa Performing Arts Center
Since its opening in 1977, the Tulsa Performing Arts Center (PAC)has been a treasured destination for both local residents and visitors, offering a diverse range of world-class performances and entertainment.
The PAC comprises multiple venues, each with its own unique charm and capabilities. The Chapman Music Hall, the largest and most iconic theater within the complex, boasts a stunning 2,365-seat capacity and hosts an array of Broadway productions, symphony concerts, dance performances, and other large-scale events.
The PAC serves as the home of several prominent local arts organizations, including the Tulsa Symphony Orchestra, Tulsa Ballet, Tulsa Opera, and Signature Symphony at TCC. These resident companies enrich the center's programming with their stellar performances, educational outreach, and community engagement initiatives.
In addition to hosting traditional performing arts events, the PAC features a diverse lineup of entertainment, including concerts by renowned musicians, stand-up comedy shows, touring theatrical productions, and family-friendly performances.
With its commitment to artistic excellence, community engagement, and enriching experiences for all, the Tulsa Performing Arts Center stands as a cultural beacon in the region, continually inspiring and delighting audiences of all ages and backgrounds.
Address: 110 E 2nd St, Tulsa, OK 74103
Website: https://tulsapac.com/
22. Oral Roberts University
Established in 1965, Oral Roberts University (ORU) is named after its founder, Oral Roberts, a renowned evangelist and educator, and has since become a respected institution known for its commitment to academic excellence and spiritual growth.
ORU's beautiful campus features modern facilities and a safe and nurturing environment, making it an ideal setting for families looking to explore higher education options or simply enjoy a day of exploration and learning.
In addition to academic pursuits, ORU offers a wide range of family-friendly events and activities throughout the year. From concerts, cultural performances, and theatrical productions to sports events, movie nights, and community festivals, there's always something happening on campus that families can enjoy together.
ORU's Athletic Department provides opportunities for families to cheer on the university's Golden Eagles sports teams, which compete in a variety of NCAA Division I sports. Attending an athletic event can be a fun and exciting experience for kids, giving them a taste of collegiate sportsmanship and team spirit.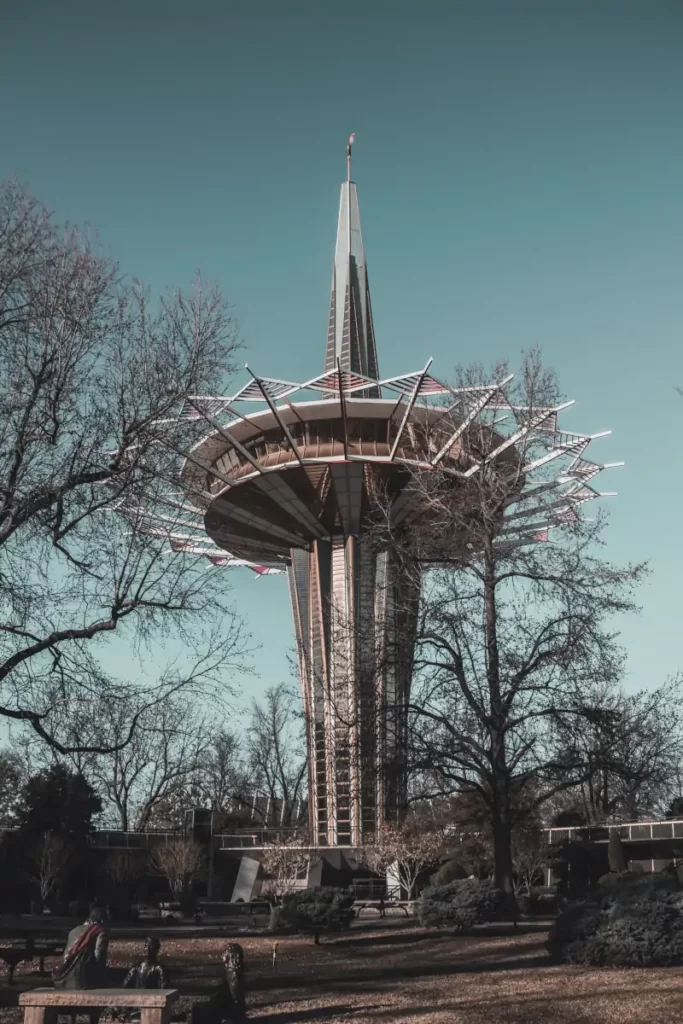 Address: 7777 S Lewis Ave, Tulsa, OK 74171
Website: https://oru.edu/
23. Heart of Route 66 Auto Museum
The Heart of Route 66 Auto Museum, located in Sapulpa, Oklahoma, is a captivating destination that celebrates the iconic Route 66 and the rich history of automobile culture in America. As part of the historic "Main Street of America," the museum pays homage to the classic cars, roadside attractions, and nostalgia that have made Route 66 a beloved symbol of American road trips.
The museum's collection features a wide array of vintage automobiles, beautifully restored to their original glory. From classic Ford Model Ts and Studebakers to sleek Chevrolet Bel Airs and iconic Cadillacs, the museum showcases a diverse range of vehicles that evoke a sense of bygone eras and automotive innovation.
Families with kids will find the Heart of Route 66 Auto Museum to be an exciting and educational experience. Children can marvel at the antique cars, learn about the evolution of automotive technology, and gain a deeper appreciation for the role of automobiles in shaping American history.
Address: Heart of Route 66 Auto Museum, 13 Sahoma Lake Rd, Sapulpa, OK 74066
Website: https://www.heartofroute66.org/
24. Skyzone Tulsa
Sky Zone Tulsa is an exciting and exhilarating indoor trampoline park that promises hours of fun and active entertainment for families and visitors of all ages. Located in Tulsa, Oklahoma, Sky Zone offers a unique and thrilling experience that combines high-flying trampoline jumps with a variety of engaging activities.
The main attraction at Sky Zone Tulsa is the vast expanse of interconnected trampolines that cover the floor, creating a trampoline wonderland where guests can bounce, jump, and flip to their heart's content. The open jump area allows families to enjoy unrestricted bouncing, testing their acrobatic skills and experiencing the joy of weightless leaps.
The SkySlam area offers basketball hoops suspended above trampolines, giving jumpers the opportunity to unleash their inner slam-dunk champion. It's a favorite spot for families to engage in friendly competitions and showcase their best dunks.
For the little ones in the family, Sky Zone has a dedicated Toddler Court where children can safely jump and play with age-appropriate equipment, ensuring a fun and secure experience for the youngest bouncers.
Sky Zone Tulsa also offers special events and themed nights, such as Glow Zone, where the lights are dimmed, and the park is illuminated with blacklights and neon colors, creating an electrifying and neon-filled atmosphere.
Address: Sky Zone Tulsa, 8306 E 61st St, Tulsa, OK 74133
Website: https://www.skyzone.com/tulsa
25. LaFortune Park
LaFortune Park, situated in Tulsa, Oklahoma, is a sprawling urban oasis that offers a wide range of recreational activities and green spaces for families and visitors to enjoy. Spanning over 270 acres, the park is a beloved destination that caters to individuals of all ages, providing a perfect setting for outdoor adventures and relaxation.
One of the main attractions of LaFortune Park is its scenic and well-maintained walking trails. Families can explore the park's beautiful landscapes, walking or jogging along the paved pathways that wind through lush gardens and open green spaces. The trails offer a peaceful and invigorating experience, making it an excellent spot for families to reconnect with nature and enjoy some fresh air.
Address: LaFortune Park, 5501 S Yale Ave, Tulsa, OK 74135
Website: https://www2.tulsacounty.org/parks/parks-facilities/lafortune-park/