1. Shark Reef Aquarium
Located at Mandalay Bay Resort and Casino, the Shark Reef Aquarium features a diverse collection of marine life, including sharks, rays, sea turtles, and a wide variety of fish species.
One of the main highlights of Shark Reef is the massive 1.3-million-gallon shipwreck exhibit. Visitors can walk through a tunnel surrounded by a underwater view of sharks and other marine animals, making it feel like they are submerged in the depths of the ocean.
The aquarium also features interactive touch pools, where kids can get up close and personal with some of the marine life, such as stingrays and horseshoe crabs.
For those seeking an adrenaline rush, Shark Reef offers a way to get closer to sharks with its Dive with Sharks program. Certified divers can take a guided underwater tour.
Address: 3950 S Las Vegas Blvd, Las Vegas, NV 89119
Website: https://mandalaybay.mgmresorts.com/en/entertainment/shark-reef-aquarium.html
2. SeaQuest Las Vegas
The SeaQuest aquarium features a wide variety of marine life and exotic animals from around the world.
At SeaQuest, you can get up close and personal with marine creatures such as sharks, stingrays, and tropical fish. Additionally, you can encounter animals like birds, reptiles, and even capybaras in interactive exhibits. The aquarium offers a range of activities, including feeding and petting certain animals, creating memorable experiences for everyone.
Children will especially love the hands-on exhibits and animal interactions, fostering curiosity and learning about the natural world. SeaQuest's knowledgeable staff is available to answer questions and provide educational insights during your visit.
Address: 3528 S Maryland Pkwy, Las Vegas, NV 89169
Website: https://visitseaquest.com/vegas/
3. Hoover Dam
Hoover Dam is an iconic engineering marvel located on the border of Nevada and Arizona, USA. Built during the Great Depression in the 1930s, it stands as a testament to human ingenuity and determination. The dam was constructed to control the mighty Colorado River and to provide water for irrigation, hydroelectric power, and flood control in the arid southwestern United States.
Visiting Hoover Dam is an amazing experience. The massive structure stretches 726 feet high and 1,244 feet long, with views of the surrounding Black Canyon and Lake Mead, the largest reservoir in the United States.
You can explore the dam's visitor center and exhibits and learn about its construction, history, and impact on the region.
Take a guided tour to delve deeper into the inner workings of the dam and see its enormous turbines in action. Don't miss the observation deck, where you can capture panoramic views of the dam and the Colorado River below.
If you are adventurous, consider taking the Hoover Dam Tour Plus, which includes a raft float along the base of the dam.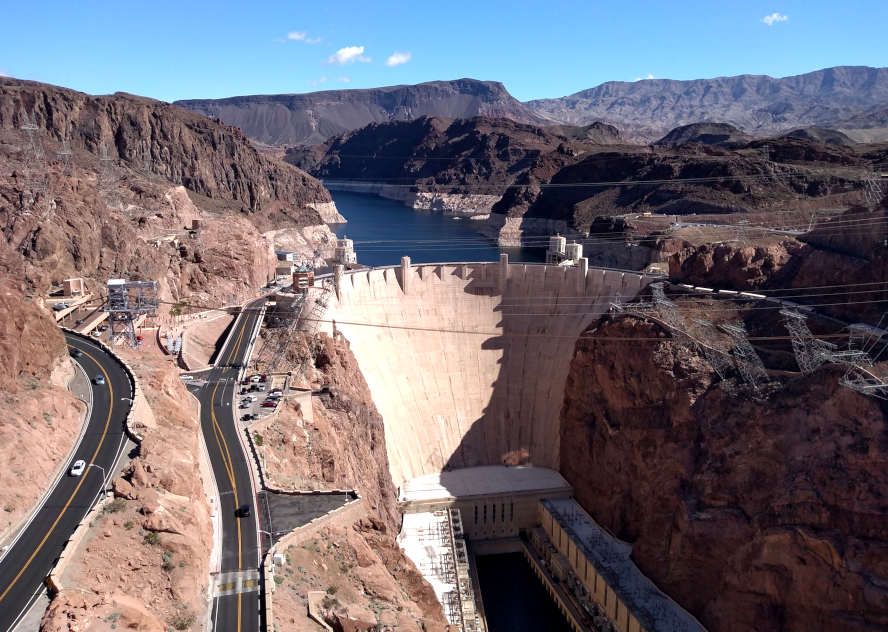 Address: Hoover Dam, Highway 93, Boulder City, NV 89005
Website: https://www.usbr.gov/lc/hooverdam/
4. Grand Canyon Tour
The Grand Canyon is one of the world's most awe-inspiring natural wonders and a must-visit destination for families and tourists.
It is located approximately 270 miles southeast of Las Vegas. While the distance may seem considerable, there are many transportation options and guided tours available for families to make it a day trip.
Carved by the Colorado River over millions of years, the canyon stretches approximately 277 miles long, up to 18 miles wide, and reaches depths of over a mile.
The South Rim is the most popular and accessible part of the canyon, offering numerous viewpoints, visitor centers, and facilities for a comfortable visit.
Families can enjoy scenic drives along the Rim Trail or take advantage of the park's shuttle service to explore different lookout points. For a more adventurous experience, consider hiking down into the canyon on one of the many trails, such as the Bright Angel Trail or the South Kaibab Trail. Remember to plan carefully and bring plenty of water and supplies, as hiking in the canyon can be strenuous.
For an even more unforgettable experience, consider taking a helicopter or airplane tour over the canyon, providing a bird's-eye view of this breathtaking natural wonder.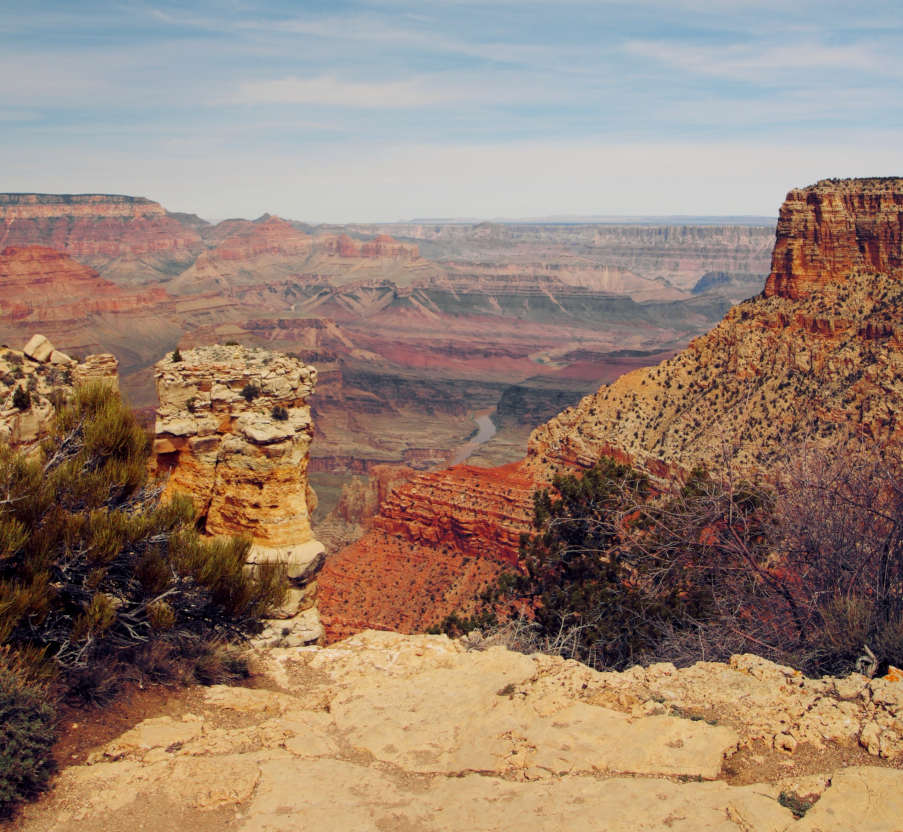 Address: Grand Canyon National Park, AZ 86023
Website: https://www.nps.gov/grca/index.htm
5. Marvel's Avenger Station
Marvel's Avengers S.T.A.T.I.O.N. in Las Vegas brings the Marvel Cinematic Universe to life. Located at Treasure Island Hotel and Casino on the Las Vegas Strip, this family-friendly attraction offers a thrilling experience for fans of the Marvel superheroes.
Upon entering the S.T.A.T.I.O.N. (Scientific Training and Tactical Intelligence Operative Network), families are greeted by S.H.I.E.L.D. personnel and are given access to top-secret intelligence files about the Avengers. The exhibit features a collection of authentic costumes, props, and artifacts from the Marvel movies, allowing visitors to get up close and personal with iconic items like Captain America's shield and Thor's hammer.
There are various interactive activities that test visitors' skills and knowledge to see if they have what it takes to become an Avenger. Families can engage in a simulated flight test using Iron Man's armor, attempt to lift Thor's hammer, and analyze the strength of the Hulk.
Throughout the exhibit, informative displays provide insights into the science and technology behind the superheroes' powers and abilities. The S.T.A.T.I.O.N. aims to entertain and educate visitors about the Marvel universe while promoting STEM (Science, Technology, Engineering, and Mathematics) learning.
Address: 3300 S Las Vegas Blvd, Las Vegas, NV 89109
Website: https://www.stationattraction.com/
6. Lion Habitat Ranch
The Lion Habitat Ranch is located in Henderson, just outside of Las Vegas. This family-friendly destination offers visitors the chance to get up close and personal with majestic lions in a safe and educational environment.
The ranch is home to a variety of lions, including cubs, adolescents, and full-grown adults. Visitors can observe these incredible creatures from observation decks and learn about their behavior, habitat, and conservation efforts from knowledgeable staff and guides.
Visitors have the opportunity to participate in interactive experiences, such as feeding the lions under the supervision of trained professionals. This hands-on experience allows families to see these powerful animals up close and learn about their feeding habits and natural behaviors.
In addition to lions, the ranch is also home to other exotic animals, including giraffes, emus, and ostriches, adding to the diversity of the experience.
The mission of Lion Habitat Ranch is not only to provide a memorable experience for visitors but also to promote awareness and support for lion conservation efforts worldwide. The ranch actively participates in breeding programs and works with wildlife organizations to protect these creatures and their habitats.
Address: 382 Bruner Avenue, Henderson, NV 89044
Website: https://lionhabitatranch.org/
7. Discovery Children's Museum
The Discovery Children's Museum in Las Vegas boasts three floors of interactive exhibits, each designed to engage children in hands-on learning experiences.
From the "Water World" exhibit where kids can learn about the properties of water and its importance in our daily lives to the "Eco City" exhibit that explores sustainable practices and environmental awareness, there is something for every young explorer.
At the "Patents Pending" exhibit, children can unleash their inner inventor and create innovative solutions to real-world problems. This exhibit encourages critical thinking, problem-solving, and creativity, making it a hit among budding young inventors.
For the littlest learners, the "Toddler Town" area offers a safe and stimulating environment where toddlers can explore and play with age-appropriate exhibits.
The museum also hosts various special events, workshops, and performances that add to the excitement of each visit. From science demonstrations to art workshops, these activities offer families the chance to bond while learning together.
Address: 360 Promenade Place, Las Vegas, NV 89106
Website: https://www.discoverykidslv.org/
8. Flamingo Wildlife Habitat
The Flamingo Wildlife Habitat is located at the iconic Flamingo Las Vegas hotel.
The habitat is home to a variety of exotic animals, with the stars of the show being the beautiful Chilean flamingos that gracefully roam the lush grounds. Visitors can get up close and personal with these elegant birds, observe their graceful movements, and even witness their feeding sessions.
In addition to flamingos, the habitat houses a diverse array of other feathered friends, including swans, ducks, and colorful koi fish swimming in the ponds. Children and families will delight in spotting turtles, exotic birds, and other wildlife while exploring the habitat's paths and landscaped gardens.
The habitat is designed to mimic the natural environment of the animals. Alongside the animal encounters, the habitat offers educational signage that provides insights into the habits, behaviors, and conservation efforts of the featured species.
Best of all, the Flamingo Wildlife Habitat is completely free of charge, making it an affordable family-friendly activity during your visit to Las Vegas.
Address: 3555 S Las Vegas Blvd, Las Vegas, NV 89109
Website: https://www.caesars.com/flamingo-las-vegas/things-to-do/wildlife-habitat
9. Bodies The Exhibition
Bodies…The Exhibition is located at the Luxor Hotel and Casino. This exhibition features real human bodies that have been preserved through a process called plastination, which allows guests to see intricate details of the human anatomy like never before.
The exhibition showcases a series of carefully curated galleries that each focus on different systems and aspects of the human body. From the muscular and skeletal systems to the circulatory and respiratory systems, visitors can gain a deeper understanding of the complexity and beauty of the human form.
It's important to note that while Bodies…The Exhibition provides a unique and educational experience, it may not be suitable for all visitors, particularly those who may find the displays sensitive or uncomfortable. As such, parents should use their discretion when considering bringing younger children to the exhibition.
Address: 3900 S Las Vegas Blvd, Las Vegas, NV 89119
Website: https://luxor.mgmresorts.com/en/entertainment/bodies-the-exhibition.html
10. Adventuredome Indoor Theme Park
Adventuredome in Las Vegas is an action-packed indoor amusement park located at Circus Circus Hotel and Casino. With its rides, attractions, and fun-filled activities, Adventuredome offers endless entertainment for families visiting Las Vegas.
From roller coasters that twist and turn to spinning rides that test your sense of gravity, there's something for everyone, no matter your age or thrill level.
The Canyon Blaster, a double-loop roller coaster, and El Loco, a heart-pounding coaster with a 90-degree drop, are among the most popular attractions for adrenaline seekers.
For younger visitors, there are plenty of family-friendly rides and attractions, including a carousel, a mini roller coaster, and bumper cars. The Midway Games area also offers a chance to win prizes and test your skills in classic carnival games.
Adventuredome is not just about rides; it also features a variety of shows and live entertainment that add to the fun and excitement. From magicians and circus acts to special seasonal events, there's always something happening to keep families entertained.
If you're looking for a break from the excitement, Adventuredome has a selection of dining options, including cafes and snack bars, where you can refuel and recharge before heading back to the action.
Address: 2880 S Las Vegas Blvd, Las Vegas, NV 89109
Website: https://www.circuscircus.com/the-adventuredome/
11. Las Vegas Mini Grand Prix
The Las Vegas Mini Grand Prix is an amusement park offers a variety of activities and entertainment options.
One of the main highlights of the Las Vegas Mini Grand Prix is its go-kart racing tracks. Kids and adults can experience the thrill of driving their own mini race cars on the well-designed tracks, complete with twists, turns, and straightaways.
In addition to go-kart racing, the park features a variety of fun rides and attractions suitable for young children. The "Kiddie Karts" provide a safe and enjoyable driving experience for the little ones, while the "Dragon Roller Coaster" offers a mini-roller coaster ride that will excite and entertain young thrill-seekers.
For those who enjoy arcade games and redemption prizes, the park has an arcade area filled with classic and modern games. It's a great spot for kids and parents to challenge each other to some friendly competition.
The picnic area at the Las Vegas Mini Grand Prix is an ideal spot to take a break, enjoy some snacks or refreshments, and relax with the family.
Address: 1401 N Rainbow Blvd, Las Vegas, NV 89108
Website: https://lvmgp.com/
12. Gondola Ride at the Venetian
The gondola rides at The Venetian transport visitors to the romantic waterways of Venice, Italy, right in the heart of the Las Vegas Strip.
Modeled after the iconic gondolas of Venice, these beautifully crafted boats are navigated by skilled gondoliers who serenade guests with traditional Italian songs as they glide through the picturesque canals. The gondola rides are available in both indoor and outdoor settings, each providing a different ambiance and view of the resort.
Children and adults alike will be captivated by the surroundings, including architecture, lovely bridges, and beautiful landscaping that recreate the romantic charm of Venice.
For a more intimate experience, families can opt for the private gondola ride, allowing them to enjoy a personalized tour and create special memories together.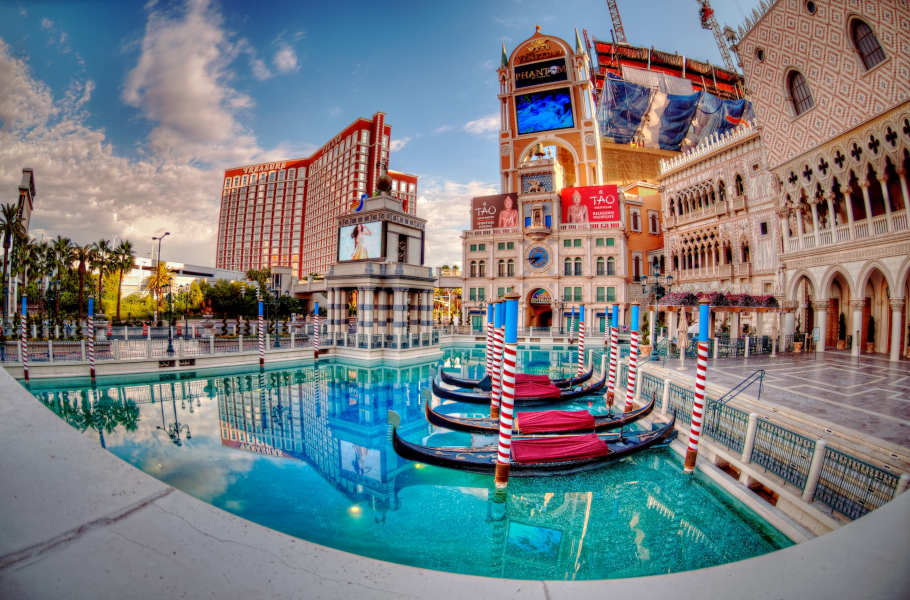 Address: 3355 S Las Vegas Blvd, Las Vegas, NV 89109
Website: https://www.venetianlasvegas.com/resort/attractions/gondola-rides.html
13. High Roller
The High Roller is an iconic observation wheel that stands tall on the Las Vegas Strip and offers breathtaking views of the city's skyline and surrounding landscape.
At a soaring height of 550 feet, the High Roller boasts spacious, air-conditioned cabins that can accommodate up to 40 people each. Families can enjoy a 30-minute revolution on this massive wheel, taking in panoramic views of the famous Las Vegas Strip, the desert, and the mountain ranges beyond.
Located at The LINQ Promenade, the High Roller offers a lively and vibrant atmosphere, surrounded by various dining, shopping, and entertainment options. Families can spend quality time exploring the promenade before or after their ride, making it a complete and enjoyable day out for everyone.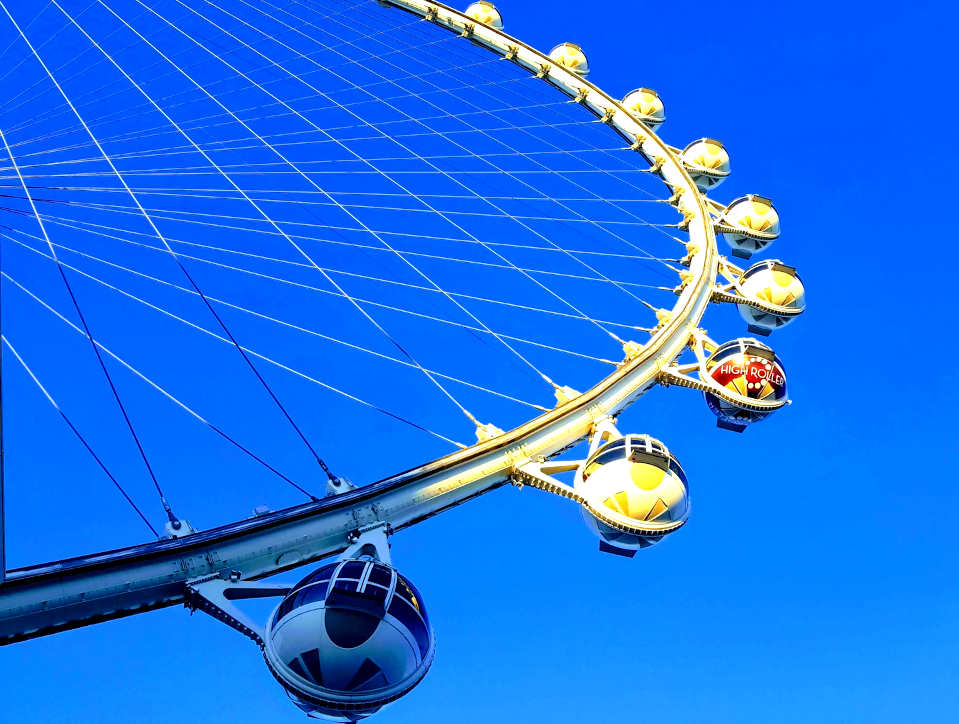 Address: 3545 S Las Vegas Blvd, Las Vegas, NV 89109
Website: https://www.caesars.com/linq/things-to-do/attractions/high-roller
14. M&M's World
M&M's World on the Las Vegas Strip brings the iconic M&M's characters to life in a four-story retail wonderland.
Inside M&M's World, visitors are greeted by a rainbow of M&M's candies and merchandise. The store features an extensive selection of M&M's products, including various flavors and colors of the beloved candies, along with fun and unique M&M's-themed merchandise such as clothing, accessories, and souvenirs.
One of the highlights of M&M's World is the free 3D movie experience called "I Lost My M in Vegas." Families can enjoy this entertaining and interactive short film that follows the adventures of the spokescandies as they search for the missing red M&M's character in the city of Las Vegas.
Another exciting feature is the personalized printing station, where visitors can create their own customized M&M's candies with messages, names, or images of their choice. It's a fun and creative way for families to add a personal touch to their favorite treats.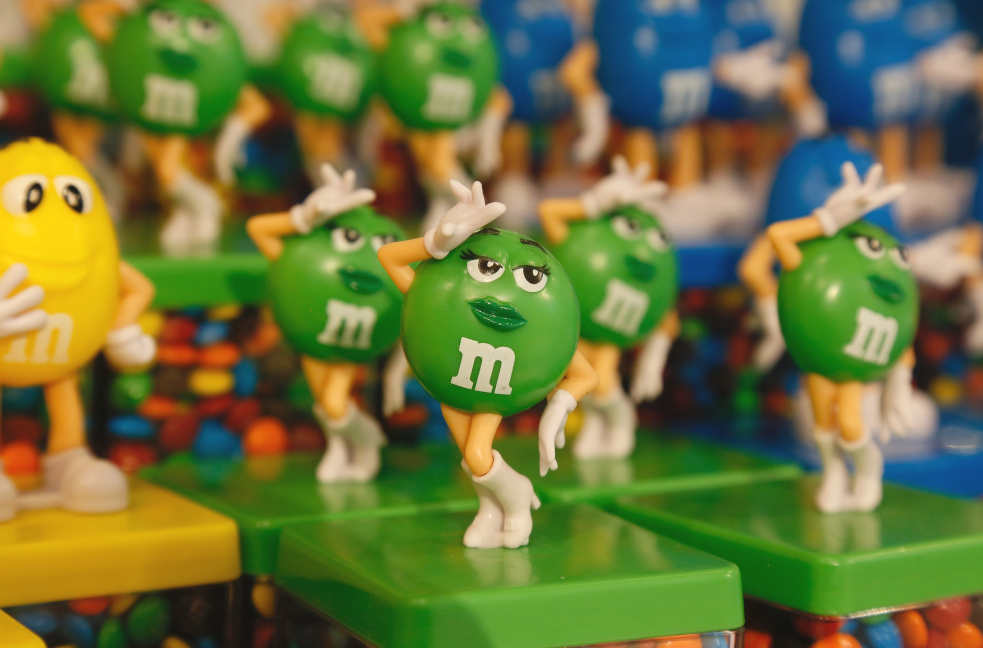 Address: 3785 S Las Vegas Blvd, Las Vegas, NV 89109
Website: https://www.mms.com/en-us/explore/mms-stores/las-vegas
15. Bellagio Conservatory and Botanical Gardens
The Bellagio Conservatory and Botanical Gardens transport visitors into a captivating world of nature and art.
The conservatory is renowned for its seasonal floral displays, which change throughout the year to reflect the different seasons and holidays. Each display is meticulously crafted with an exquisite array of flowers, plants, and botanical elements.
Families can stroll through the gardens, taking in the sights and fragrant scents of the floral arrangements. The conservatory's themes range from blooming spring gardens to festive holiday decorations, making every visit a unique and delightful experience.
The giant chocolate fountain, where guests can witness the flow of rich, melted chocolate, is a favorite among kids and adults alike, and a great spot for photos.
The best part about the Bellagio Conservatory and Botanical Gardens is that it's free of charge!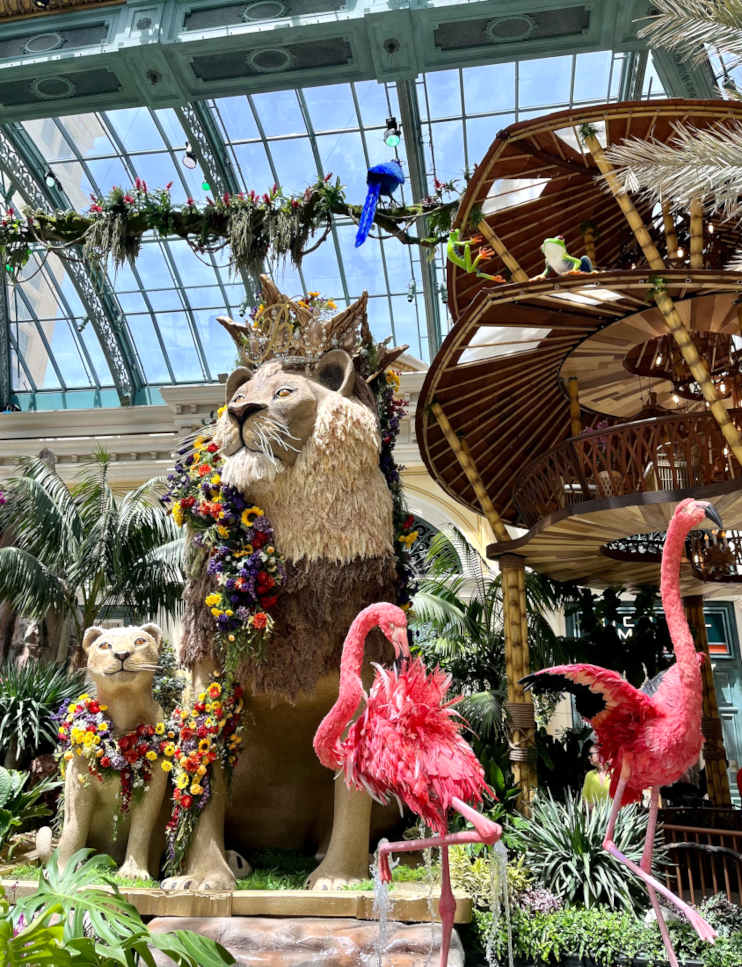 Address: 3600 S Las Vegas Blvd, Las Vegas, NV 89109
Website: https://bellagio.mgmresorts.com/en/entertainment/conservatory-botanical-garden.html
16. Fountains of Bellagio
The choreographed water show at the Fountains of Bellagio in Las Vegas has become a symbol of Las Vegas and is a must-see spectacle for visitors of all ages.
Set on the beautiful eight-acre lake, the Fountains of Bellagio feature a stunning display of water, music, and light. The fountains shoot water as high as 460 feet into the air, dancing and swaying gracefully to a diverse range of music, from classical to contemporary hits.
The performances take place throughout the day and evening, with shows occurring every 15 to 30 minutes depending on the time of day. As the sun sets, the Fountains of Bellagio become even more enchanting with the addition of dazzling lights that illuminate the water.
The best part is that the Fountains of Bellagio are free to watch, making them a popular attraction for families looking to experience the glitz and glamour of Las Vegas without breaking the bank.
Address: 3600 S Las Vegas Blvd, Las Vegas, NV 89109
Website: https://bellagio.mgmresorts.com/en/entertainment/fountains-of-bellagio.html
17. Eiffel Tower Viewing Deck
The Eiffel Tower Viewing Deck in Las Vegas offers visitors the chance to experience a taste of Paris right on the famous Las Vegas Strip. Located at the Paris Las Vegas Hotel and Casino, this half-scale replica of the iconic Eiffel Tower stands at 460 feet tall and provides panoramic views of the city's skyline and surrounding desert landscape.
At night, the Eiffel Tower Viewing Deck comes alive with its sparkling lights, evoking the romance and elegance of Paris. Visitors can witness the Fountains of Bellagio water show from a unique vantage point, adding to the enchantment of the experience.
While the Eiffel Tower Viewing Deck is not as tall as its Parisian counterpart, it still provides an incredible perspective of Las Vegas, making it a popular attraction for families.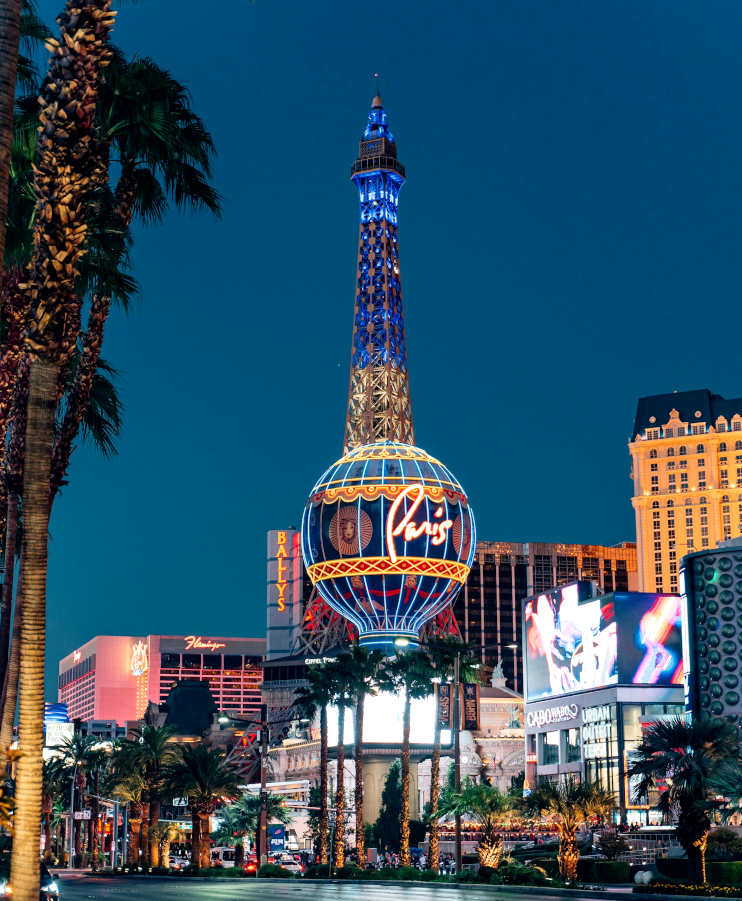 Address: 3655 S Las Vegas Blvd, Las Vegas, NV 89109
Website: https://www.caesars.com/paris-las-vegas/things-to-do/eiffel-tower
18. Magic Shows
Las Vegas is renowned for its world-class magic shows. The city is often referred to as the "Magic Capital of the World," and for good reason.
Many well-known magicians have made Las Vegas their home, performing in various theaters and venues throughout the city.
Magic shows in Las Vegas cater to a diverse audience, and many performances are designed to be family-friendly, making them suitable for children and adults alike.
Some iconic magic shows that have become classics in the city include Penn & Teller at the Rio All-Suite Hotel & Casino, David Copperfield at the MGM Grand Hotel & Casino, Mac King Comedy Magic Show at Harrah's, Nathan Burton Comedy Magic at Planet Hollywood Resort & Casino and Mat Franco – Magic Reinvented Nightly at The LINQ Hotel & Casino.
19. Madame Tussauds Las Vegas
Madame Tussauds Las Vegas is a world-famous wax museum located on the Las Vegas Strip. It is part of the renowned Madame Tussauds franchise, known for its lifelike wax figures of celebrities, historical icons, and pop culture characters.
The museum showcases over 100 incredibly detailed wax figures, carefully crafted to resemble famous actors, musicians, athletes, political figures, and more. Visitors can pose for photos with their favorite celebrities, stand next to movie stars, sports legends, and historical leaders.
Address: 3377 S Las Vegas Blvd, Las Vegas, NV 89109
Website: https://www.madametussauds.com/las-vegas/
20. Springs Preserve
Springs Preserve is a 180-acre preserve that is dedicated to promoting sustainability, conservation, and the rich history of the Las Vegas Valley.
At its Origen Museum, Visitors can learn about the area's desert wildlife, early inhabitants, and the evolution of Las Vegas.
The Desert Living Center is another fascinating area, focusing on sustainable living practices. Families can explore eco-friendly exhibits and discover how to live in harmony with the desert environment.
The Springs Preserve also boasts beautiful gardens, perfect for strolls and picnics. The Botanical Garden features native and desert-adapted plants and also serves as a habitat for local wildlife, making it a great spot for nature enthusiasts.
For families seeking outdoor adventures, the Springs Preserve offers numerous hiking trails that wind through the Mojave Desert landscape. The trails provide an opportunity to observe native flora and fauna while enjoying the fresh air.
Additionally, Springs Preserve hosts a variety of events and activities throughout the year. Families can enjoy seasonal festivals, concerts, workshops, and educational programs that cater to all ages.
Address: 333 S Valley View Blvd, Las Vegas, NV 89107
Website: https://www.springspreserve.org/
21. Dig This
Dig This offers families a chance to experience the thrill of operating heavy machinery in a safe and controlled environment. Whether you're a kid or an adult, this unique attraction allows you to live out your construction dreams.
At Dig This, participants get the opportunity to operate real construction equipment, including bulldozers, excavators, and skid steers. Before starting, certified instructors provide a comprehensive safety briefing and guide you through the controls of the machinery. Donning a hard hat and sitting in the operator's seat, you'll get to dig, scoop, and move dirt, just like a real construction pro.
The experience is not only fun but also educational, as participants learn about the different machines and techniques used in construction. It's a fantastic way for families to bond and have a blast together while also gaining a new perspective on the world of heavy equipment.
Dig This offers various packages to suit different age groups and skill levels. Kids can enjoy a specially designed mini excavator, ensuring a safe and enjoyable experience for younger participants.
Address: 3012 S. Rancho Drive, Las Vegas, NV 89102
Website: https://digthisvegas.com/
22. Tournament of Kings
Tournament of Kings is an epic, medieval-themed dinner show located at the Excalibur Hotel and Casino.
The show features jousting tournaments, swordfights, and stunts performed by brave knights on horseback. The action-packed performances, special effects, and intricate choreography will keep the whole family at the edge of their seats throughout the show.
Guests are treated to a delicious three-course meal served banquet-style as they watch the spectacle unfold. Feast on hearty fare like roasted chicken, savory vegetables, and warm, fresh-baked bread. The interactive nature of the show allows you to cheer for your favorite knight and be fully immersed in the action.
This captivating show has been a favorite in Las Vegas for years, and it continues to draw families from all over the world.
Address: 3850 S Las Vegas Blvd, Las Vegas, NV 89109
Website: https://excalibur.mgmresorts.com/en/entertainment/tournament-of-kings.html
23. The Big Apple Coaster
The Big Apple Coaster at the New York-New York Hotel and Casino offers a thrilling ride that will leave your heart pounding and your adrenaline rushing.
The roller coaster's design is inspired by the skyline of New York City, with towering skyscrapers and famous landmarks like the Statue of Liberty and Empire State Building incorporated into the ride's theming. As you strap in, get ready to embark on a high-speed adventure that takes you through twists, turns, and inversions, all while enjoying views of the Las Vegas Strip.
To add to the excitement, the coaster even features a virtual reality option for an enhanced experience, where you can wear VR goggles and immerse yourself in a high-flying, virtual version of the ride.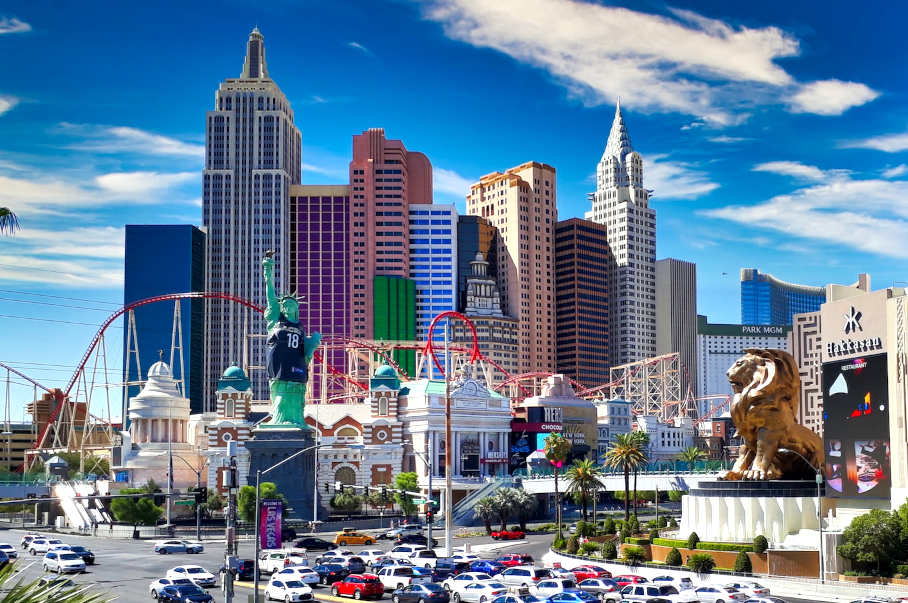 Address: 3790 S Las Vegas Blvd, Las Vegas, NV 89109
Website: https://newyorknewyork.mgmresorts.com/en/entertainment/the-big-apple-coaster-and-arcade.html
24. Cirque du Soleil – Mystere
Cirque du Soleil – Mystère is an extraordinary theatrical production presented exclusively at the Treasure Island Hotel and Casino. The show is a captivating blend of acrobatics, music, dance, and visuals that will leave audiences of all ages in awe.
Mystère showcases the incredible talent of the Cirque du Soleil performers who perform gravity-defying acts, breathtaking aerial stunts, and jaw-dropping contortion feats.
The theater itself is designed to provide excellent views from every seat, ensuring that everyone can fully appreciate the artistry and spectacle of the show.
As one of the original Cirque du Soleil productions in Las Vegas, Mystère has been captivating audiences for years with its timeless appeal and unmatched creativity. It remains a beloved and popular show that continues to receive rave reviews from both locals and visitors alike.
Address: 3300 S Las Vegas Blvd, Las Vegas, NV 89109
Website: https://www.cirquedusoleil.com/mystere
25. Blue Man Group
Blue Man Group is a sensational and innovative theatrical performance that has taken Las Vegas by storm. Presented at the Luxor Hotel and Casino, this unique show combines music, comedy, and technology.
The Blue Man Group consists of three enigmatic and silent performers adorned in vibrant blue paint and donning bald caps. Their performance involves percussive music played on homemade instruments, captivating visual effects, and audience interaction.
Address: 3900 S Las Vegas Blvd, Las Vegas, NV 89119
Website: https://www.blueman.com/las-vegas/