1. OdySea Aquarium
OdySea Aquarium is the largest aquarium in the Southwest United States with an impressive collection of over 30,000 animals representing various marine ecosystems from around the world.
The aquarium features exhibits that allow visitors to explore the wonders of the deep sea, rivers, and coral reefs.
At the Ocean Voyager exhibit, guests can walk through a 180-degree tunnel surrounded by sharks, rays, and other marine creatures swimming overhead.
Another must-see exhibit is the Penguin Point, home to a playful and adorable colony of penguins. Visitors can watch them waddle, swim, and interact with each other in their icy habitat.
The Living Sea exhibit showcases coral reefs, colorful fish, and other marine life and provides a window into the beauty and diversity of the underwater world.
OdySea Aquarium also offers interactive touch pools where kids and adults alike can get hands-on with sea stars, sea cucumbers, and other marine critters. The experience is both fun and educational.
In addition, OdySea Aquarium offers various shows and presentations throughout the day, including animal feedings and educational talks by experienced aquarists. These programs enhance the overall experience and provide valuable insights into the behavior and care of the animals.
Address: 9500 E. Vía de Ventura, Scottsdale, AZ 85256
Website: https://www.odyseaaquarium.com/
2. Phoenix Zoo
The Phoenix Zoo is one of the largest non-profit zoos in the United States, home to over 3,000 animals from around the world.
The zoo features various exhibits that showcase animals from different regions and environments.
One of the highlights is the Africa Trail, where visitors can encounter African elephants, giraffes, lions, and other fascinating creatures.
The Tropics Trail is a tropical rainforest exhibit that houses animals like jaguars, monkeys, and tropical birds, providing a glimpse into the lush rainforest ecosystem.
The Arizona Trail is another must-see section, dedicated to the native wildlife of Arizona and the Southwest. Here, visitors can observe animals like Mexican gray wolves, mountain lions, and desert tortoises.
For families with young children, the Children's Trail offers an interactive and engaging experience. Kids can explore the Harmony Farm, where they can interact with farm animals and learn about sustainable farming practices. The Leapin' Lagoon is a splash pad area where kids can cool off on hot days and have some fun in the water.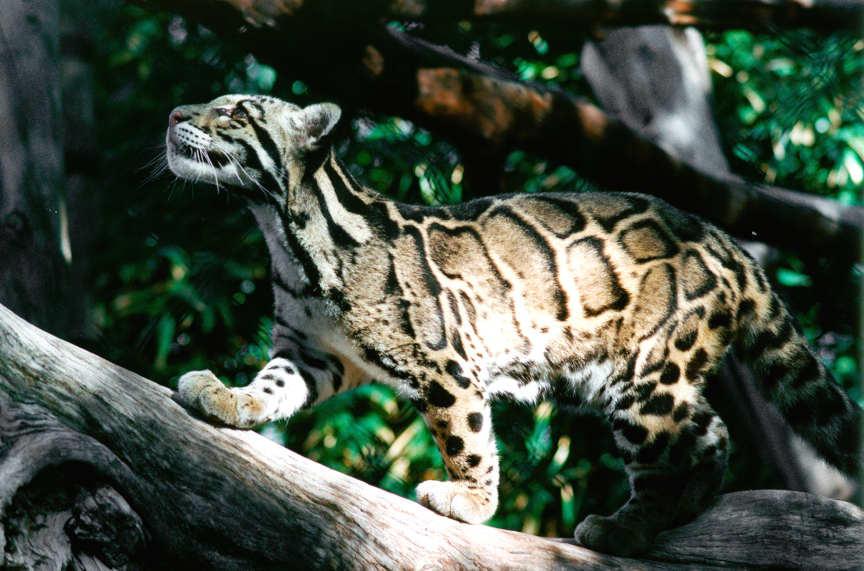 Address: 455 N Galvin Pkwy, Phoenix, AZ 85008
Website: https://www.phoenixzoo.org/
3. Out of Africa Wildlife Park
Out of Africa Wildlife Park is a wildlife sanctuary that offers experiences with a wide variety of exotic animals. It spans over 100 acres and is dedicated to providing visitors with up-close encounters with some of the world's most magnificent creatures.
As part of the African Bush Safari, visitors board a safari vehicle and embark on an exciting journey through the African savannah, where they can witness giraffes, zebras, antelope, and other African animals roaming freely in a natural habitat setting.
The park also features a Tiger Splash show, where majestic Bengal and Siberian tigers showcase their agility and natural behaviors in a specially designed pool area. This interactive and educational show is a favorite among visitors of all ages.
Out of Africa Wildlife Park is home to a diverse range of animals from different continents, including lions, bears, wolves, hyenas, and more.
The Wildlife Preserve allows visitors to observe these incredible animals from observation decks, providing an unobstructed view of their natural behaviors.
One of the park's unique features is the Predator Feed, where visitors can watch from a safe distance as the park's carnivores enjoy their meals. This educational experience offers insights into the feeding habits and behaviors of apex predators.
For families seeking additional adventure, the park offers a zip line across the beautiful landscape, with views of the animals and the surrounding scenery.
Address: 3505 W State Route 260, Camp Verde, AZ 86322
Website: https://outofafricapark.com/
4. Hurricane Harbor Phoenix
Hurricane Harbor is a water park that offers fun and excitement for the whole family. As a part of the Six Flags Hurricane Harbor chain, this water park provides an escape from the Arizona heat with a wide range of water attractions and rides.
At its popular wave pool, visitors can experience riding waves in a simulated beach environment. The giant wave pool is a popular spot for families to cool off and have a blast together.
For those seeking more thrills, the water park offers various water slides, including the Tornado, a high-speed slide that plunges riders into a swirling vortex before landing in a splash pool. The Bahama Blaster is another must-try attraction. Riders are launched down a steep drop and through loops at incredible speeds.
Hurricane Harbor Phoenix also features a lazy river, the Caribbean Water Works play structure, and a Splash Island, with plenty of opportunities for younger visitors to splash and play in a safe and enjoyable environment.
For families looking to relax, the park offers numerous shaded cabanas and lounging areas where they can unwind and take a break from the excitement.
Address: 4243 W Pinnacle Peak Rd, Glendale, AZ 85310
Website: https://www.sixflags.com/phoenix
5. McCormick-Stillman Railroad Park
McCormick-Stillman Railroad Park is dedicated to celebrating the history of railroads.
The park's expansive model railroad exhibit features model trains running through miniature landscapes.
Families can also enjoy a ride on the park's vintage carousel, which adds to the park's nostalgic charm. The carousel features beautifully hand-carved animals and creates a magical experience for young children and the young-at-heart.
Another popular attraction at McCormick-Stillman Railroad Park is the Paradise & Pacific Railroad, a full-size train that takes visitors on a scenic ride around the park. The train ride provides an opportunity to relax and enjoy views of the surrounding landscape.
For kids who love playgrounds, the park offers a large and well-maintained playground area with various play structures, swings, and slides. This ensures that children can have plenty of fun and burn off energy during their visit.
In addition to these attractions, the park hosts various special events and activities throughout the year, including concerts, food festivals, and holiday celebrations. Families can check the park's event calendar to plan their visit around these exciting happenings.
Address: 7301 E Indian Bend Rd, Scottsdale, AZ 85250
Website: https://www.therailroadpark.com/
6. Arizona Science Center
The Arizona Science Center in Phoenix is one of the state's premier science museums.
Located in downtown Phoenix, the Arizona Science Center boasts four floors of engaging exhibits that cover various fields of science, technology, engineering, and mathematics (STEM). From hands-on displays that explore physics and biology to interactive demonstrations of chemistry and space exploration, the center offers a diverse array of learning opportunities.
For families with young children, the "My Digital World" exhibit introduces the basics of technology and coding through fun and interactive games. The "Forces of Nature" exhibit allows visitors to experience simulated natural disasters like earthquakes and hurricanes, providing a thrilling and educational experience.
The Dorrance Planetarium at the Arizona Science Center offers astronomy shows that take audiences on a journey through the cosmos. Visitors can marvel at the wonders of the universe and gain a deeper understanding of the night sky.
The "SkyCycle" exhibit is a special highlight, where visitors can hop on a bicycle and pedal their way across a high wire, simulating the experience of traversing a tightrope above the city.
The "CREATE" makerspace is perfect for families who love to get hands-on and creative. Here, visitors can engage in various DIY projects, tinkering with electronics, and exploring innovative technologies.
Aside from its regular exhibits, the Arizona Science Center often hosts special events and traveling exhibitions, adding even more excitement and variety to each visit.
Address: 600 E Washington St, Phoenix, AZ 85004
Website: https://www.azscience.org/
7. Castles N Coasters
Castles N' Coasters is an amusement park has been a favorite destination for locals and tourists alike since its opening in 1976.
The park offers a wide range of attractions to cater to visitors of all ages. For the thrill-seekers, there are roller coasters that twist, turn, and loop through the air. The "Desert Storm" roller coaster is a must-try, offering an exciting and smooth ride with twists and drops that will leave riders screaming with joy.
Families can also enjoy classic amusement park rides like the bumper cars, carousel, and swinging ship.
The "Sky Diver" ride offers views of the city as it gently spins visitors high above the park.
Castles N' Coasters also boasts a fantastic mini-golf course that is not only challenging but also themed with fun obstacles and delightful scenery. It's an excellent way for families to enjoy a leisurely and competitive game together.
One of the standout features of the park is its Castle of Chaos, an interactive 3D ride that combines elements of a roller coaster and a 3D movie theater. It's an experience that takes riders on a virtual journey through different worlds and scenarios.
For younger visitors, the park offers a Kid's Kingdom section with a variety of age-appropriate rides and attractions to ensure that even the littlest adventurers can have a blast.
Castles N' Coasters is more than just an amusement park; it also features an expansive arcade with a wide selection of games for the whole family to enjoy. Visitors can win tickets and redeem them for exciting prizes, a perfect way to end the day.
Address: 9445 N Metro Pkwy E, Phoenix, AZ 85051
Website: https://www.castlesncoasters.com/
8. Children's Museum of Phoenix
The Children's Museum of Phoenix is an imaginative play space dedicated to providing hands-on learning experiences for children of all ages. Located in downtown Phoenix, this museum offers a wide range of exhibits and activities that encourage children to explore, create, and discover.
The museum's sprawling three floors are filled with exciting exhibits that cater to various interests and learning styles. From a child-sized grocery store and a mini construction site to an art studio and a multi-level climber, there is something for every curious mind. The museum also hosts special themed exhibits that change periodically.
The "Noodle Forest" is an indoor playground made of colorful pool noodles that spark creativity and imagination in young visitors. Kids can build forts, crawl through tunnels, and let their imaginations run wild.
The "Schuff-Perini Climber" is another crowd favorite, with a multi-level climbing structure that challenges children to navigate their way through the maze of platforms, ropes, and slides. It's a great way for kids to develop their motor skills while having fun.
Address: 215 N 7th St, Phoenix, AZ 85034
Website: https://childrensmuseumofphoenix.org/
9. Desert Botanical Garden
The Desert Botanical Garden is an oasis of native desert plants and a must-visit destination for nature lovers and families alike. Spanning 140 acres, this living museum showcases over 50,000 desert plants, making it one of the most extensive botanical gardens dedicated to arid plants in the United States.
The garden's landscapes are divided into various thematic trails, each offering a unique perspective on the diverse flora of the Sonoran Desert. Visitors can explore trails like the Desert Discovery Loop, Plants & People of the Sonoran Desert Loop, and the Desert Wildflower Loop.
One of the special highlights of the Desert Botanical Garden is its vast collection of cacti and succulents. The garden is home to a wide variety of cactus species, including towering saguaros, colorful prickly pears, and unique barrel cacti.
In addition to its remarkable plant life, the Desert Botanical Garden offers engaging events and programs for families. Children will delight in the seasonal butterfly exhibit, where they can witness the magical transformation of caterpillars into butterflies. The garden also hosts family-friendly activities, workshops, and outdoor concerts, creating a vibrant and enriching experience for visitors of all ages.
Aside from the plant displays, the Desert Botanical Garden also boasts stunning art installations that blend seamlessly with the natural surroundings. These sculptures and art pieces add an extra dimension to the garden's beauty.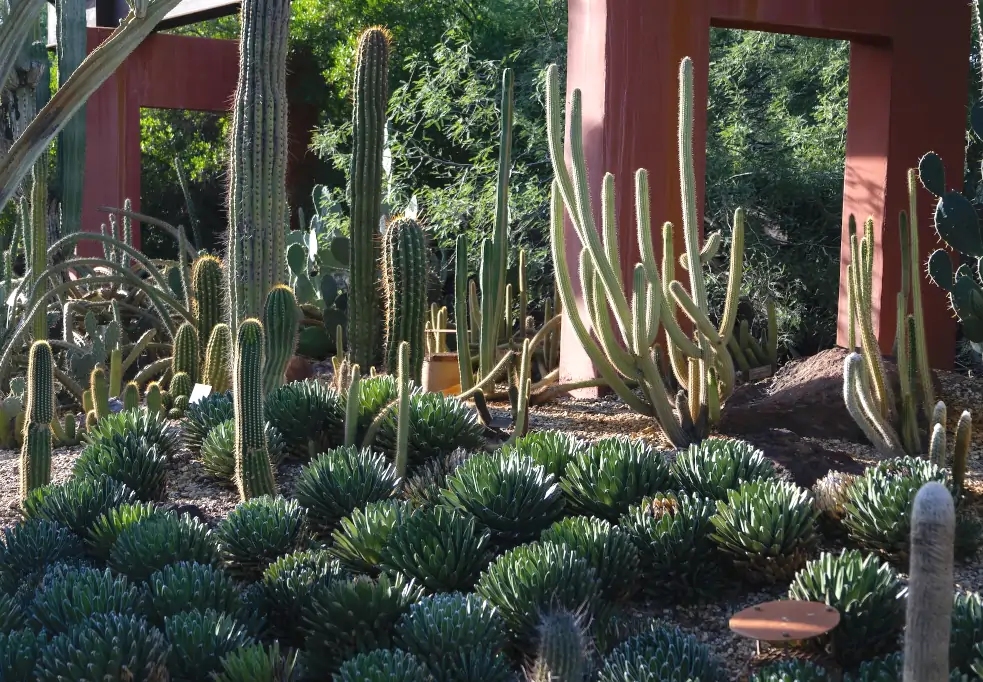 Address: 1201 N Galvin Pkwy, Phoenix, AZ 85008
Website: https://dbg.org/
10. Butterfly Wonderland
Butterfly Wonderland is an indoor rainforest conservatory and butterfly sanctuary that offers a special experience for families. As one of the largest butterfly pavilions in the country, this attraction is a must-visit for anyone seeking an adventure with these beautiful winged creatures.
The Butterfly Pavilion is a lush tropical paradise filled with thousands of free-flying butterflies from different parts of the world. Families can immerse themselves in this environment, surrounded by flowers and foliage, as butterflies gracefully flutter around them.
Children will be thrilled to watch the butterflies up close, observing their movements and intricate patterns. The pavilion offers an educational opportunity for families to learn about the life cycle of butterflies and their vital role in pollination and the ecosystem.
In addition to the Butterfly Pavilion, Butterfly Wonderland features a variety of other attractions.
The Rainforest Reptile Exhibit allows visitors to encounter fascinating reptiles from rainforest regions.
For those interested in the science and wonder behind butterflies, the Butterfly Emergence Gallery is a must-visit. Here, families can witness the incredible transformation of butterflies as they emerge from their chrysalides and take their first flight.
Butterfly Wonderland also offers educational programs and workshops that aim to inspire and inform visitors about the importance of conservation and protecting these delicate creatures and their habitats. Guided tours and interactive experiences ensure that families leave with a deeper understanding of the butterfly world.
Address: 9500 E. Via de Ventura Scottsdale, AZ 85256
Website: https://butterflywonderland.com/
11. Goldfield Ghost Town
Goldfield Ghost Town, located just outside of Apache Junction, is a destination that takes visitors back in time to the Wild West era. The place allows families to step into the past and relive the excitement and adventures of the late 1800s.
As you arrive at Goldfield Ghost Town, you are greeted by an old western-style façade. The town is a recreation of the original Goldfield, which was a bustling mining town during the late 19th century gold rush. Today, it has been lovingly restored to its former glory, with its wooden buildings, saloons, and mining artifacts.
Families can explore the town's streets, visit the historic buildings, and interact with costumed characters who bring the Wild West to life. Kids will enjoy the staged gunfights and other live performances that add to the excitement and entertainment of the experience.
One of the main highlights of Goldfield Ghost Town is the Goldfield Mine Tour. Families can descend underground into a real gold mine and learn about the mining techniques and hardships of the prospectors who sought their fortunes in the region.
For those seeking a more leisurely activity, the town offers various shops and boutiques where visitors can find unique souvenirs, antiques, and crafts. Families can also enjoy delicious meals at the town's restaurants and relax with a refreshing drink at one of the old-style saloons.
The Superstition Zipline at Goldfield Ghost Town is another exciting attraction that kids and adults will love. It provides a bird's-eye view of the town and its surroundings as you soar through the desert landscape.
Address: 4650 N Mammoth Mine Rd, Apache Junction, AZ 85119
Website: http://goldfieldghosttown.com/
12. Legoland Discovery Center
Legoland Discovery Center in Tempe is designed to delight families with young children who adore LEGO bricks. Located within the Arizona Mills Mall, this attraction offers a host of interactive activities.
The center boasts a variety of themed play zones, including Miniland, where visitors can marvel at intricate LEGO replicas of iconic landmarks from the Phoenix area and beyond. Kids and adults alike will be amazed by the attention to detail and craftsmanship displayed in these miniature cities.
During the LEGO Factory Tour, families can get an inside look at how LEGO bricks are made. Guests can even receive a special souvenir brick as a memento of their visit.
For those seeking a dose of excitement, the Kingdom Quest Laser Ride provides an action-packed experience where families can team up to battle villains using laser blasters.
The center also features a 4D cinema that offers special effects and surprises during fun and family-friendly movie screenings.
Address: 5000 S Arizona Mills Cir, Tempe, AZ 85282
Website: https://www.legolanddiscoverycenter.com/arizona/
13. Phoenix Suns Basketball
The Phoenix Suns are one of the most exciting and dynamic teams in the NBA. Playing their home games at the Footprint Center (formerly known as Talking Stick Resort Arena), the Suns provide an electrifying atmosphere for families and fans to experience the thrill of live basketball. The arena's modern amenities and passionate fanbase create an unforgettable game-day experience for everyone.
Watching a Suns game is a great opportunity for families to bond and enjoy the excitement of basketball together. The team's fast-paced playing style, combined with the enthusiasm of the fans, guarantees an action-packed and entertaining experience.
The Suns' mascot, "Go," adds an extra dose of fun and entertainment to the games. Go's antics and interaction with the crowd create a lively and engaging atmosphere that appeals to fans of all ages, especially the younger ones.
Address: Footprint Center, 201 E Jefferson St, Phoenix, AZ 85004
Website: https://www.nba.com/suns/
14. Arizona Diamondbacks Baseball
The Arizona Diamondbacks are a Major League Baseball team based in Phoenix.
Playing their home games at Chase Field in downtown Phoenix, the Diamondbacks offer families an opportunity to experience America's favorite pastime in a state-of-the-art stadium. Chase Field's retractable roof allows for comfortable game-viewing in any weather and ensures an enjoyable experience for families throughout the season.
For families attending Diamondbacks games, the fun extends beyond the action-packed innings. The team's lovable mascot, D. Baxter the Bobcat, brings cheer and excitement to fans of all ages, making every visit to the ballpark a memorable experience.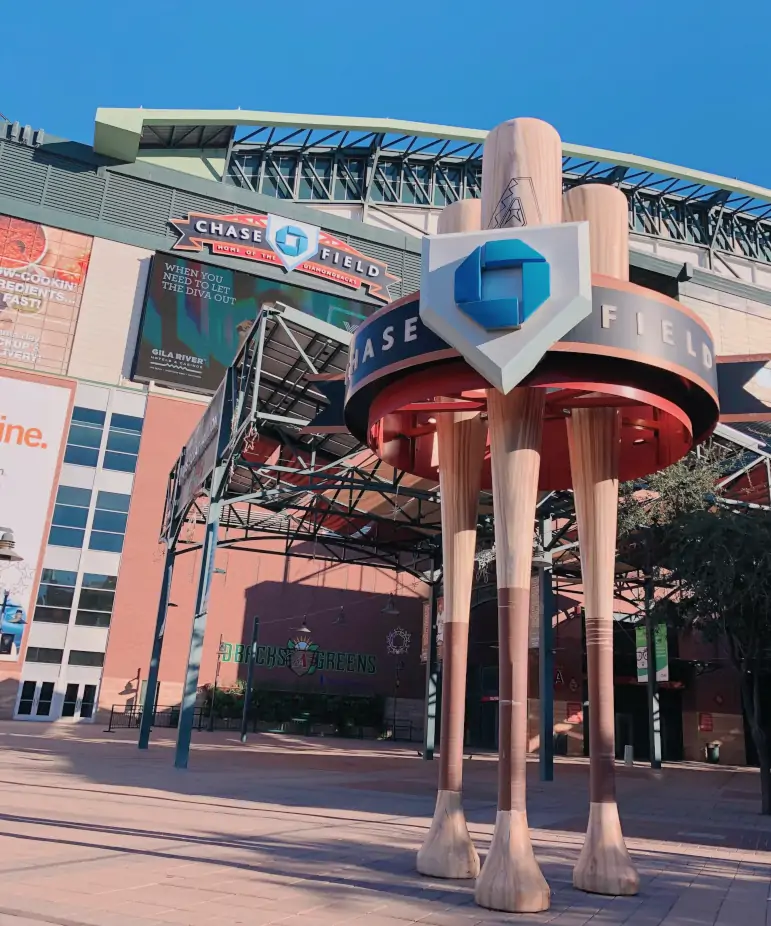 Address: Chase Field, 401 E Jefferson St, Phoenix, AZ 85004
Website: https://www.mlb.com/dbacks
15. Musical Instrument Museum
The Musical Instrument Museum (MIM) in Phoenix is a renowned cultural attraction that explores the diverse musical traditions of the world. Since it opened in 2010, the MIM has quickly become a must-visit destination for families and music enthusiasts alike.
The MIM is home to over 6,800 musical instruments from every corner of the globe. The museum's exhibits feature instruments from various cultures and time periods and showcase the rich history and cultural significance of music across different societies.
Visitors are provided with wireless headsets as they explore the galleries, which allows them to hear the sounds of the instruments on display. This innovative technology enables guests to enjoy high-quality audio recordings and live performances and creates a truly immersive experience.
In addition to its remarkable collection, the MIM hosts a wide range of events and concerts by local and international musical talents. From live performances to educational programs and workshops, the museum offers a dynamic calendar of activities for visitors of all ages.
Address: 4725 E Mayo Blvd, Phoenix, AZ 85050
Website: https://mim.org/
16. Great Wolf Lodge Arizona
Great Wolf Lodge Arizona is a family-friendly resort located in Scottsdale, Arizona. Known for its indoor water park and numerous attractions, the lodge offers a memorable vacation experience for visitors of all ages.
Its massive indoor water park features water slides, wave pools, lazy rivers, and splash pads. Families can spend hours enjoying the water attractions and having a splashing good time. The water park is heated, making it a perfect year-round destination for fun and relaxation.
Beyond the water park, the resort offers a wide range of activities and amenities to keep families entertained throughout their stay. Guests can enjoy mini-golf, an arcade, a ropes course, a climbing wall, and a variety of interactive games and crafts. The lodge also hosts daily character appearances and special themed events that add to the magical experience for young visitors.
Accommodations at Great Wolf Lodge are cozy and spacious, with themed suites designed to create a whimsical atmosphere for families. Some suites come with bunk beds and separate sleeping areas for kids, ensuring everyone has a comfortable and enjoyable stay.
For dining, the lodge offers a selection of restaurants and eateries that cater to different tastes and preferences. From family-style dining to quick bites and sweet treats, there's something for everyone to enjoy.
Address: 7333 N Pima Rd, Scottsdale, AZ 85258
Website: https://www.greatwolf.com/arizona
17. Japanese Friendship Garden
The Japanese Friendship Garden, also known as Ro Ho En, is an oasis nestled in the heart of Phoenix, adjacent to the Margaret T. Hance Park. As a symbol of friendship between Phoenix and its sister city, Himeji, Japan, the garden offers visitors a tranquil escape from the city's hustle and bustle.
The highlight of the Japanese Friendship Garden is its traditional Japanese landscape, carefully designed to evoke a sense of harmony and peace. Strolling through the garden, you'll see beautiful koi ponds, cascading waterfalls, and lush greenery. The stone pathways and traditional teahouse add an authentic touch to the overall ambiance.
The garden features a variety of plant species that are native to Japan, including cherry blossom trees, Japanese maples, and bamboo groves. These elements create a picturesque scene, especially during the cherry blossom season when the garden is adorned with delicate pink blooms.
Throughout the year, the Japanese Friendship Garden hosts cultural events and activities that allow visitors to immerse themselves in Japanese traditions. These events may include tea ceremonies, traditional music performances, and seasonal celebrations.
The garden is a family-friendly destination that also provides a educational experience. Kids can learn about Japanese culture, nature, and the importance of preserving such a special place.
Address: 1125 N 3rd Ave, Phoenix, AZ 85003
Website: https://www.japanesefriendshipgarden.org/
18. Pizzeria Bianco
Pizzeria Bianco is a famous pizza restaurant located in Phoenix, Arizona. Founded by award-winning chef Chris Bianco, this eatery has earned a stellar reputation for serving some of the best pizzas in the United States.
The restaurant's centerpiece is the wood-fired brick oven, where each pizza is crafted using only the finest ingredients. Pizzeria Bianco takes pride in its commitment to quality, and it's reflected in every aspect of their pizzas, from the handcrafted dough to the flavorful tomato sauce and perfectly melted cheese.
The menu at Pizzeria Bianco features a variety of pizza options to cater to every palate. Whether you prefer classic Margherita, Biancoverde with ricotta, or their signature Rosa with red onion, Parmigiano-Reggiano, and pistachios, you're sure to find a pizza that suits your taste.
The restaurant's inviting and rustic ambiance adds to the dining experience for families and friends to enjoy their meal together.
Due to its popularity, Pizzeria Bianco can get busy, and wait times can be long. However, many diners would agree that the delicious flavors and mouthwatering pizzas are well worth the wait.
Address: 623 E Adams St, Phoenix, AZ 85004
Website: https://www.pizzeriabianco.com/
19. Arizona State University
Arizona State University (ASU) is a renowned public research university. Founded in 1885, ASU has grown to become one of the largest universities in the United States, with a diverse and vibrant student community.
As a hub for sports enthusiasts, ASU's Sun Devil Athletics program competes in NCAA Division I, offering exciting football, basketball, baseball, and other sports events that bring the community together.
Families can explore the beautiful campus grounds, which feature numerous green spaces, parks, and fountains.
ASU also hosts family-friendly events and activities throughout the year, such as Family Weekend, where families can participate in fun-filled activities, attend sports events, and connect with other families. The university's arts and cultural programs often include family-oriented performances and exhibits suitable for all ages.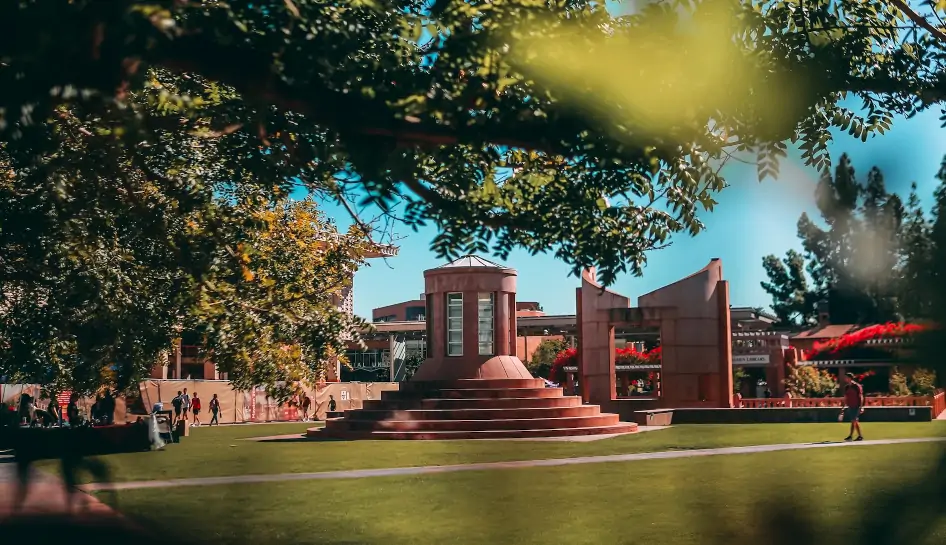 Address: 1151 S Forest Ave, Tempe, AZ 85281
Website: https://www.asu.edu/
20. MacDonald's Ranch
MacDonald's Ranch is a family-owned and operated ranch that offers a Western-themed experience.
At MacDonald's Ranch, families can enjoy a range of activities and experiences. One of the highlights is horseback riding, where riders of all skill levels can saddle up and explore the beautiful desert landscape on guided trail rides. Kids can enjoy pony rides, as a safe and enjoyable introduction to horseback riding.
The ranch offers other fun activities, such as hayrides, which take families on a scenic tour of the property while sitting on bales of hay pulled by a tractor. During the holiday season, families can partake in festive events like the Pumpkin Patch and Christmas tree picking.
Visitors can also experience a petting zoo, where they can interact with friendly animals like goats, sheep, and chickens. This hands-on experience is particularly enjoyable for younger children.
Address: 26540 N. Scottsdale Rd., Scottsdale, AZ 85255
Website: https://macdonaldsranch.com/
21. Bearizona
Bearizona is a wildlife park and drive-thru experience for families and nature enthusiasts alike. The park's main attraction is the opportunity to see North American animals up close in a natural and spacious environment.
At Bearizona, families can drive through the expansive animal enclosures in their own vehicles, providing an up-close encounter with a variety of animals such as bears, bison, wolves, and more. The drive-thru experience allows visitors to witness these magnificent creatures in a setting that closely resembles their natural habitats.
In addition to the drive-thru, Bearizona also features a separate walking area called Fort Bearizona. Here, families can explore on foot and encounter smaller animals like otters, bobcats, and birds of prey. There are also educational animal presentations and shows that provide insights into the lives and behaviors of the animals.
Another highlight at Bearizona is the Bearizona Barnyard, a petting zoo where children can interact with friendly domestic animals. This interactive experience is a hit with younger visitors and allows them to get hands-on with farm animals.
Address: 1500 E. Route 66, Williams, AZ 86046
Website: https://bearizona.com/
22. Grand Canyon
The Grand Canyon is located approximately 230 miles from Phoenix, making it an ideal day trip for families.
Visitors can embark on a scenic drive from Phoenix to the Grand Canyon and enjoy the diverse landscapes of Arizona along the way. Once at the Grand Canyon National Park, families can explore the South Rim, which is the most popular and easily accessible part of the canyon.
The South Rim features numerous viewpoints that offer panoramic vistas of the canyon's vastness, striking rock formations, and the mighty Colorado River winding through the gorge below.
For a more immersive experience, families can take advantage of various hiking trails that lead into the canyon. The Rim Trail, for example, is a family-friendly paved path that offers excellent views without descending into the canyon's depths.
Families interested in learning more about the Grand Canyon's geology, history, and ecology can participate in ranger-led programs and interpretive talks at the visitor centers.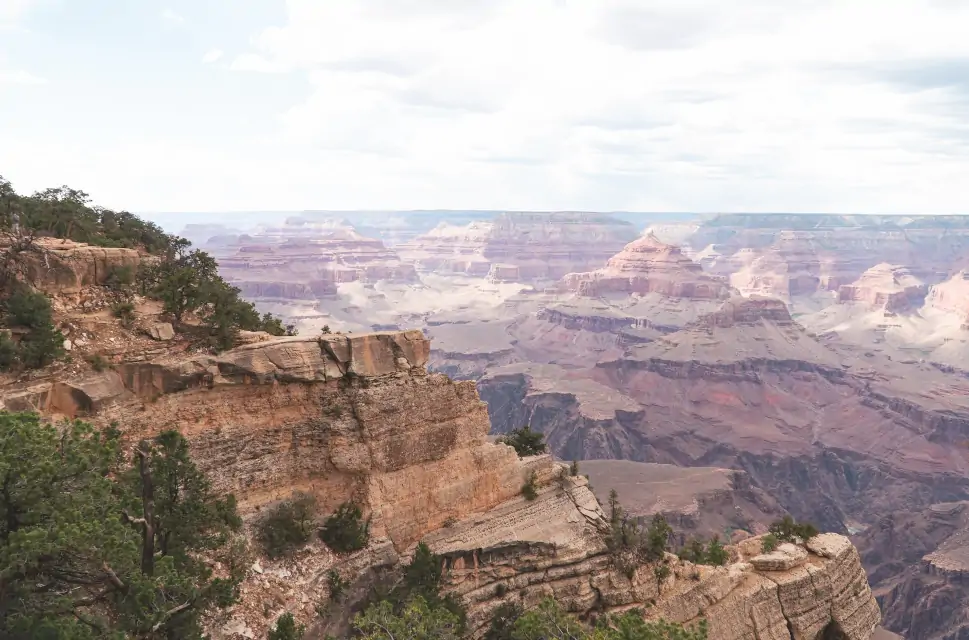 Address: Grand Canyon National Park, AZ 86023
Website: https://www.nps.gov/grca/index.htm
23. Sedona
Sedona is a town located about 120 miles north of Phoenix. Known for its stunning red rock formations, it makes for a fantastic day trip for families seeking natural beauty and outdoor adventures.
The drive from Phoenix to Sedona is a scenic journey through the Sonoran Desert. As you approach Sedona, the iconic red rocks come into view, setting the stage for a memorable family excursion.
One of the best ways to experience Sedona's natural beauty is by exploring the numerous hiking trails in the area. Trails like Cathedral Rock, Devil's Bridge, and Bell Rock offer varying levels of difficulty and lead to breathtaking viewpoints that reward families with amazing vistas of the red rock formations and surrounding landscapes.
Another family-friendly activity is taking a guided jeep tour. These tours are a fun and informative way to navigate the rugged terrain of Sedona and get up close to the red rocks. Knowledgeable guides share interesting facts about the area's geology, history, and Native American heritage.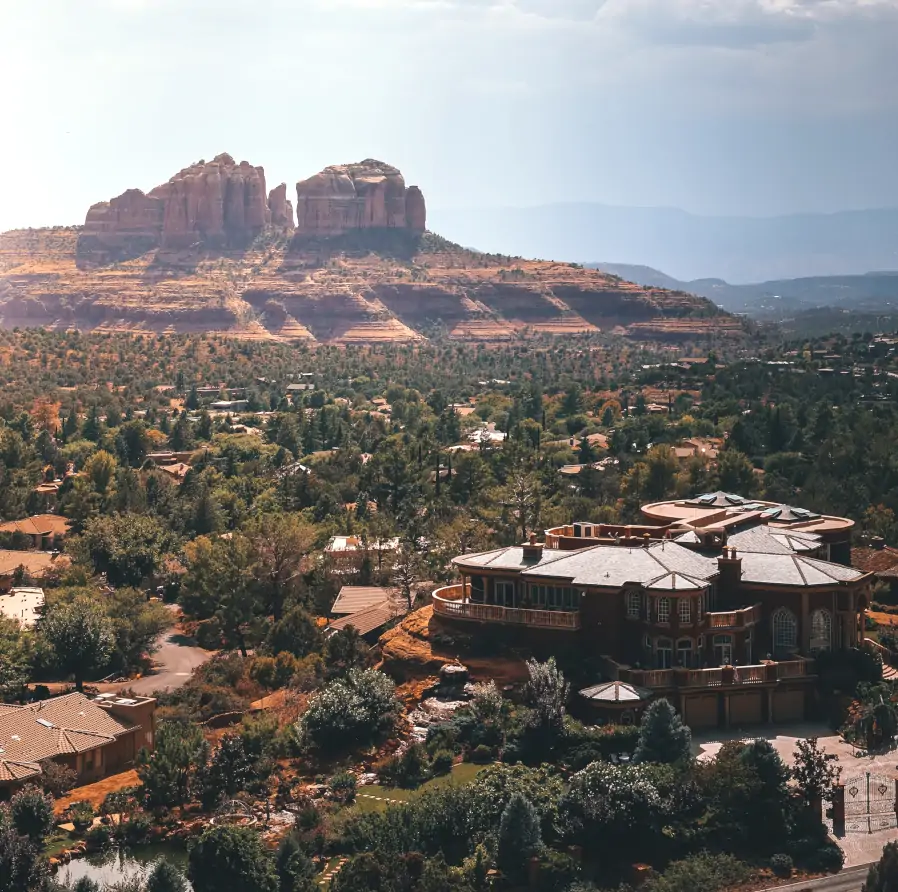 Address: Sedona, Arizona
24. Montezuma Castle National Monument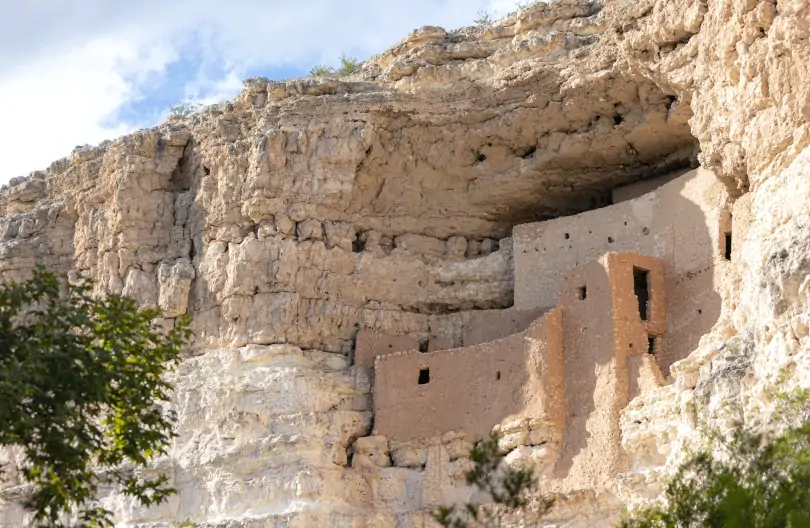 Address: 2800 Montezuma Castle Hwy, Camp Verde, AZ 86322
Website: https://www.nps.gov/moca/index.htm
25. Edge of Nowhere Farm
One of the main highlights of Edge of Nowhere Farm is its focus on sustainable farming practices. The farm takes pride in growing a wide variety of fruits and vegetables and also raises livestock such as chickens and pigs.
Families visiting Edge of Nowhere Farm can enjoy guided tours that provide valuable insights into the world of sustainable agriculture.
For those seeking a more immersive experience, the farm offers fun and educational workshops as well as the opportunity to arrange farm stays.
These activities are perfect for both kids and adults, encouraging a deeper understanding of the connection between food and the environment.
Address: 24215 W Radford Rd, Wittmann, AZ 85361
Website: https://www.edgeofnowherefarm.com/