1. Disneyland Resort
Disneyland is a must-see destination for any family trip in Southern California.
Some say it's what put Orange County on the map.
Disneyland Resort in Anaheim actually includes two major theme parks: Disneyland Park and Disney California Adventure.
Disneyland Park is the original Disney theme park that opened back in 1955.
Disney California Adventure opened in 2001 and was originally envisioned as a theme park to highlight the cultural heritage of California. It has been expanded and renovated in recent years.
Disney usually offers passes to visit both parks, so if you are staying in one of the nearby hotels or are in the area for more than a day, it's worth checking out.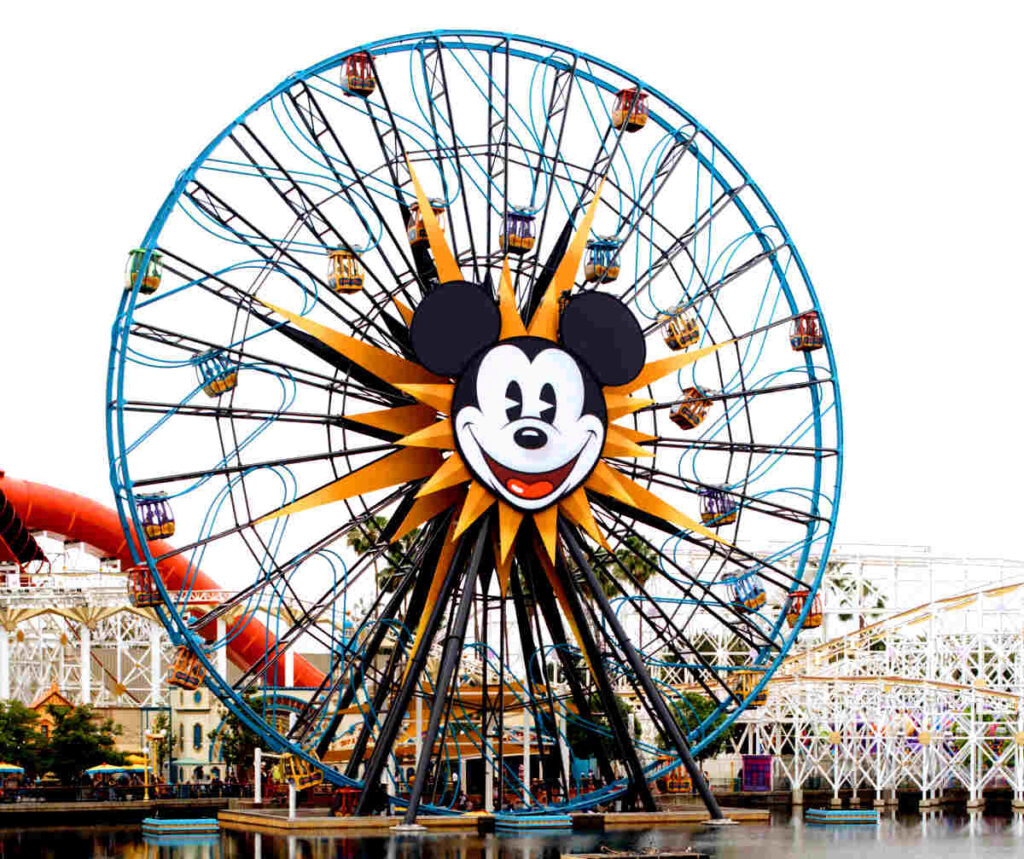 Address: 1313 Harbor Blvd, Anaheim, CA 92802
Website: https://disneyland.disney.go.com/
2. Knott's Berry Farm
Knott's Berry Farm, located in Buena Park, is a world-famous amusement park that has been delighting families for decades. It all started in the 1920s when the Knott family began selling berries and homemade preserves at their roadside stand. As the popularity of their products grew, so did their property, and eventually, it evolved into a full-fledged theme park.
Today, Knott's Berry Farm features over 40 rides and attractions for all ages, making it a perfect destination for families. The park is home to classic roller coasters like GhostRider and Xcelerator, as well as family-friendly rides like the Calico Mine Ride and Timber Mountain Log Ride.
Address: 8039 Beach Blvd, Buena Park, CA 90620
Website: https://www.knotts.com/
3. Fullerton Arboretum
The Fullerton Arboretum is a hidden gem of Orange County. As the largest botanical garden in Orange County, it's a great place to go for a relaxing walk with the family and enjoy the beautiful landscape.
While the arboretum is located on the grounds of California State University, Fullerton, it is open everyone.
Admission is very affordable too (free with just a suggested donation, $5 currently). As for parking, there is paid metered parking is available or you can find free street parking nearby.
Covering 26 acres, this lovely spot is a real treat for plant lovers of all ages. You'll find a diverse collection of plant species from all over the world.
Take a stroll through the themed gardens, each with its own unique charm. From fragrant herbs to exotic Mediterranean plants, there's something delightful to discover around every corner.
And let's not forget the impressive collection of trees. Your kids will love the numerous fruit trees that are found throughout the park.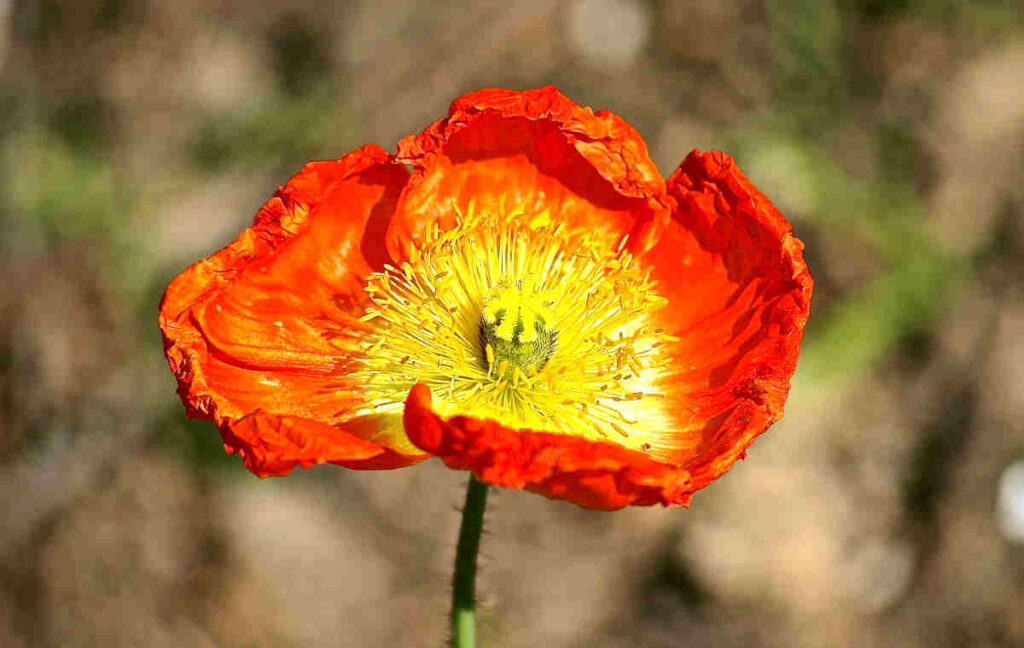 Address: 1900 Associated Rd. Fullerton, CA 92831
Website: https://fullertonarboretum.org/
4. Great Park
The Great Park is a sprawling urban park that offers a wide range of activities for families to enjoy. Formerly the site of the El Toro Marine Corps Air Station, the park now spans over 1,300 acres and features beautiful green spaces, sports fields, playgrounds, and walking trails.
One of the highlights of the park is the Great Park Balloon, a helium balloon that takes visitors 400 feet above the ground, providing amazing views of the surrounding area.
For families looking for outdoor fun, the Great Park offers sports complexes, including soccer fields, baseball diamonds, and basketball courts. There's also a skate park and a giant chessboard for some friendly competition. The Kids Rock Playground is a favorite among young visitors, with its colorful play structures and splash pad to beat the heat on hot days.
Nature enthusiasts can explore the Palm Court Arts Complex, showcasing contemporary art installations amidst the park's natural beauty. The Farm + Food Lab is an interactive area where kids can learn about sustainable gardening and agriculture. The Great Park also hosts various events and festivals throughout the year, like the Great Park Pumpkin Harvest, making it an engaging and dynamic destination for families.
Moreover, the park often hosts family-friendly concerts, cultural performances, and outdoor movie nights, providing opportunities for entertainment and bonding with loved ones. Whether you're looking for a relaxing day in nature or an active outing with the kids, Great Park in Irvine has something to offer every member of the family.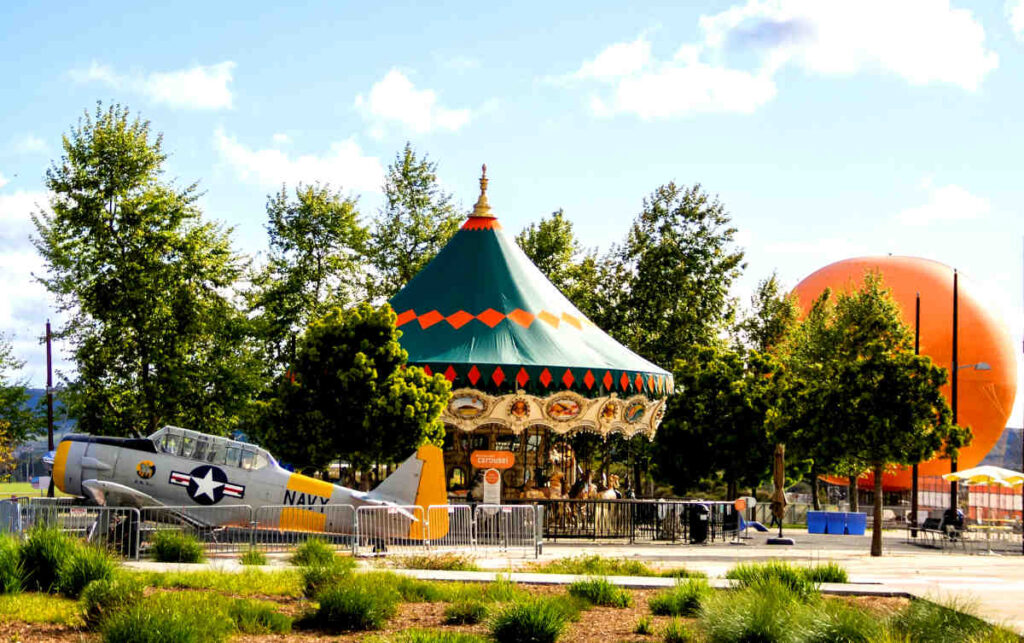 Address: 8000 Great Park Blvd, Irvine, CA 92618
Website: https://www.cityofirvine.org/orange-county-great-park
5. Orange County Zoo
The Orange County Zoo, located in Irvine Regional Park, is a wonderful destination for families seeking an up-close and personal encounter with wildlife. This charming zoo covers 8 acres and is home to a variety of animals, with a focus on native and endangered species found in the southwestern United States.
Families can explore the zoo's different habitats, including the Redwood Forest, which houses black bears and mountain lions, and the Amazon's Edge, home to various monkeys and parrots. The zoo also has a popular barnyard area where kids can get acquainted with domestic animals like goats, sheep, and pigs.
One of the highlights of the Orange County Zoo is its focus on education and conservation. Visitors can learn about the importance of preserving natural habitats and protecting endangered species through informative exhibits and interactive programs.
Families can also enjoy activities like nature walks, wildlife talks, and animal feeding demonstrations, making the visit both educational and entertaining.
Adjacent to the zoo, Irvine Regional Park provides additional family fun with playgrounds, picnic areas, hiking trails, and a lake with paddleboat rentals. Families can make a day of it, exploring the park and enjoying a picnic before or after visiting the zoo.
Address: 1 Irvine Park Road, Orange, CA 92869
Website: https://www.ocparks.com/oc-zoo
6. Newport Beach
Newport Beach boasts miles of pristine coastline and beautiful sandy beaches, where you can build sandcastles, play beach volleyball, or simply bask in the warm California sun.
For a unique adventure, consider renting bicycles and cruising along the scenic Newport Beach boardwalk. Take in views of the ocean on one side and beach houses on the other.
Newport Beach is famous for its harbor, and taking a harbor cruise is a must-do activity for families. Hop aboard a boat and sail through the picturesque Newport Bay, spotting playful sea lions and beautiful waterfront homes along the way.
If your family is keen on marine life, don't miss the chance to visit the Pacific Marine Mammal Center. This rescue and rehabilitation facility cares for injured seals and sea lions, offering an educational experience that'll both entertain and enlighten.
And let's not forget about Balboa Island. Explore the quaint streets, indulge in delicious frozen bananas at the famous Balboa Fun Zone, and take a relaxing stroll along the waterfront.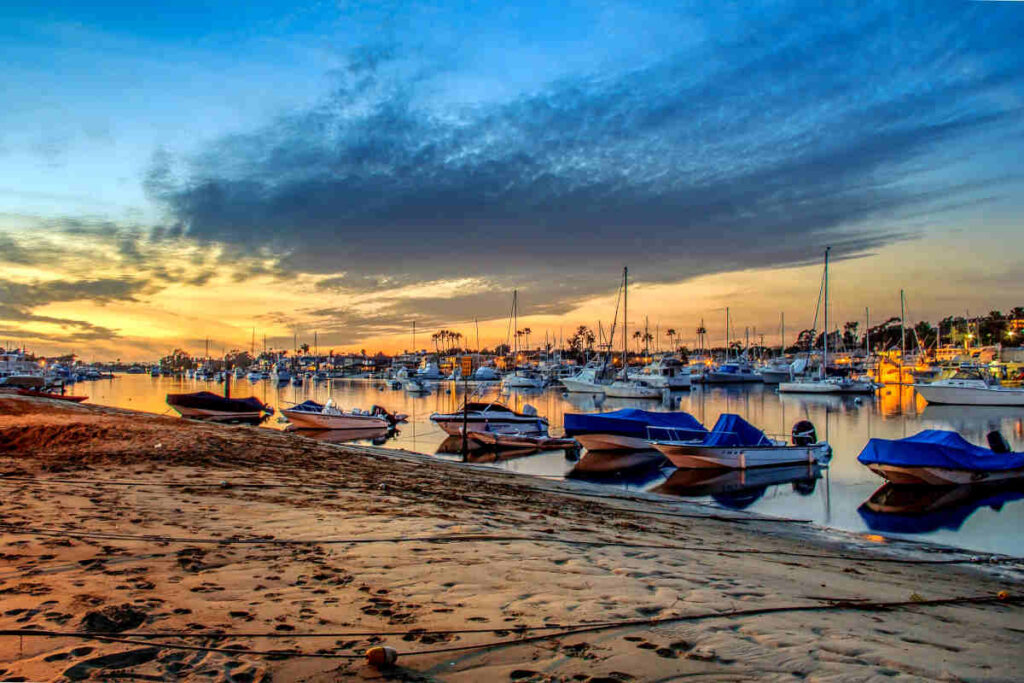 Address: Newport Beach, CA 92662
7. Dana Point Whale Watching
Dana Point is renowned as the "Whale Watching Capital of the World," and for a good reason! From December to April, these waters become a haven for majestic gray whales on their annual migration, and from May to November, you'll be treated to the playful acrobatics of the incredible blue whales.
Board one of the specially designed whale-watching vessels and set sail on an oceanic adventure. Knowledgeable marine naturalists will guide you through this captivating experience, sharing fascinating facts about the marine life you encounter.
But it's not just about whales! Keep an eye out for charming dolphins dancing alongside the boat, or perhaps spot a massive pod of friendly orcas.
When it comes to popular whale watching services and companies in Dana Point, there are some fantastic options to choose from.
For example, Dana Wharf Whale Watching is a well-established and family-friendly service that offers a variety of tours, including special packages for kids that make the experience even more engaging and educational.
Another renowned company is Captain Dave's Dolphin & Whale Watching Safari, known for its eco-friendly and sustainable approach to marine tourism. They provide whale watching experiences aboard a high-tech catamaran, and their experienced crew is well-versed in marine biology, ensuring you get the most out of your adventure.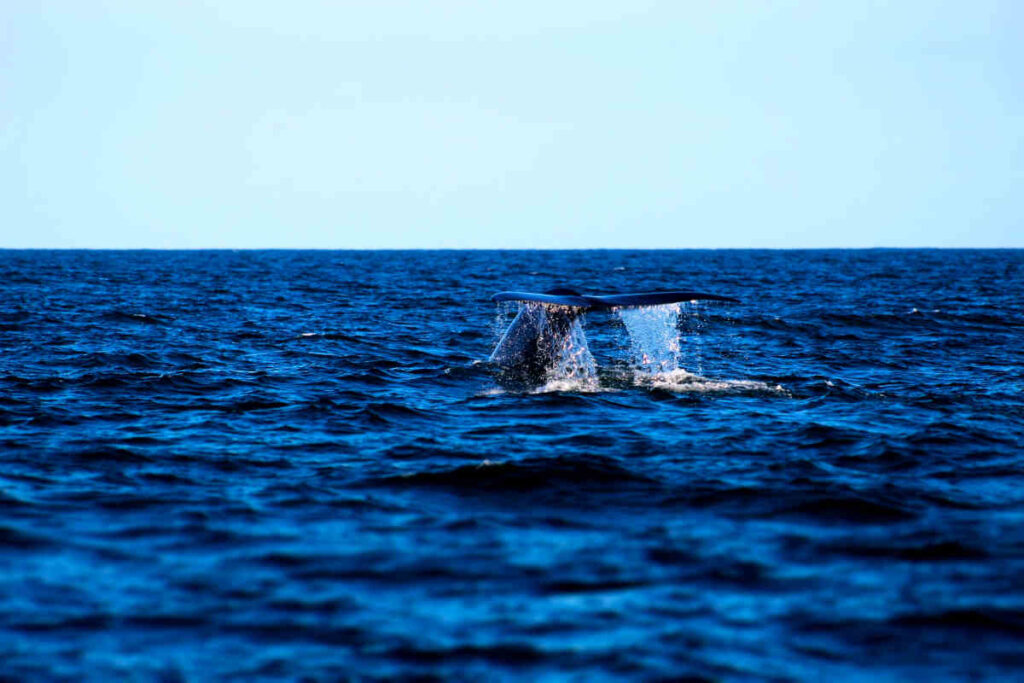 Address: Dana Point, CA 92629
8. Storymakery
Discover the magic of Storymakery in Laguna Hills, California! This enchanting haven lets kids become authors of their own stories, sparking creativity and a love for writing.
From choosing characters to crafting plot twists, every aspect is up to their brilliant minds. And the fun doesn't stop there – they can illustrate their tales and create personalized storybooks.
Storymakery nurtures the love for storytelling through workshops and events, empowering children to express themselves and build confidence in their creativity.
Address: 25292 McIntyre St. Ste Q, Laguna Hills, CA 92653
Website: https://info.storymakery.com/visit/
9. Huntington Beach
Huntington Beach, also known as "Surf City, USA," is a vibrant coastal city in Southern California that attracts families with its beautiful beaches, outdoor activities, and laid-back atmosphere.
The star attraction of Huntington Beach is its iconic sandy shoreline, stretching for miles along the Pacific Ocean. Families can enjoy swimming, building sandcastles, playing beach volleyball, or simply soaking up the sun. The beach's gentle waves make it ideal for beginner surfers and boogie boarders, providing an excellent opportunity for kids to try their hand at riding the waves.
For a taste of local culture, families can stroll along the Huntington Beach Pier, which offers amazing views of the coastline and is a popular spot for fishing and people-watching. The pier is also home to Ruby's Diner, where families can enjoy classic American dishes with a beachfront view.
Huntington Beach is not just about the beach. Families can explore the Bolsa Chica Ecological Reserve, a wetland sanctuary teeming with diverse birdlife and native plants. The Huntington Central Park, one of the largest urban parks in Orange County, offers playgrounds, picnic areas, and a beautiful nature center that hosts educational programs for kids.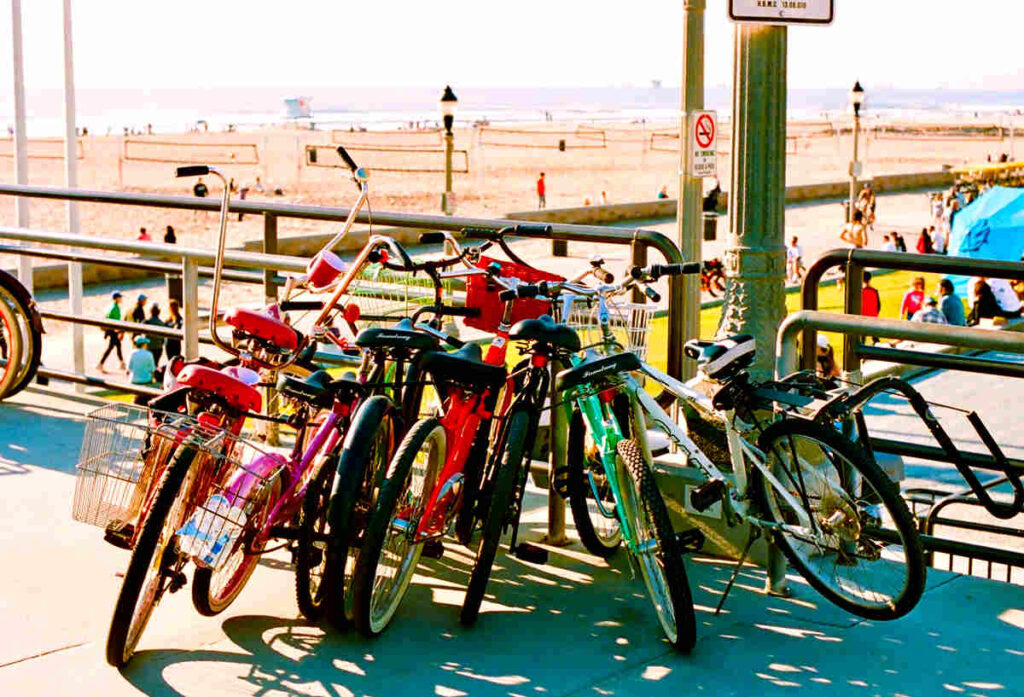 Address: 325 Pacific Coast Hwy, Huntington Beach, CA 92648
Website: https://huntingtonbeachca.gov/residents/beach_info/
10. Medieval Times
Calling all knights, princesses, and adventurers! Medieval Times in Buena Park, California is a journey back in time to the age of chivalry and epic battles!
Get ready for an epic show filled with thrilling jousting tournaments, heart-pounding swordfights, and stunning equestrian displays. Your family will be captivated by the bravery and skill of the noble knights as they compete for honor and victory.
Kids will have the chance to actively participate in the medieval fun! Young squires and princesses can be knighted by the king himself, receiving a special commemorative souvenir.
Delight in a delicious four-course feast served in the true medieval style. Enjoy garlic bread, roasted chicken, sweet buttered corn, and delectable desserts. There's something to satisfy every palate, and kids will love the hands-on experience of dining without utensils!
After the show, take a journey through time at the castle's Hall of Arms. Explore fascinating artifacts and learn about the rich history of the medieval era, adding an educational touch to the adventure.
Medieval Times offers various ticket packages, including VIP upgrades and special celebration packages for birthdays or other special occasions. Booking tickets in advance is recommended, as shows can fill up quickly.
Address: 7662 Beach Blvd., Buena Park, CA 90620
Website: https://www.medievaltimes.com/buena-park
11. Pirates Dinner Adventure
Pirates Dinner Adventure is an exciting and interactive dinner show located in Buena Park.
Set in a magnificent 18th-century Spanish galleon, the show takes guests on a high-seas adventure filled with daring pirates, courageous heroes, and captivating performances. Upon entering the theater, families are assigned to one of six color-coded sections, representing different pirate crews, each led by a charismatic captain.
The action-packed show features acrobatics, daring stunts, and sword-fighting sequences that will keep the whole family on the edge of their seats. Audience members become part of the action as they cheer on their crew, participate in games, and even have the chance to interact with the performers on stage.
As the story unfolds, guests are served a delicious four-course meal fit for a pirate. The menu includes a salad, main course options like roasted chicken or vegetarian pasta, and a delectable dessert.
Pirates Dinner Adventure offers a special experience for families of all ages. The show's humor and engaging storyline make it an ideal outing for families seeking fun, laughter, and an unforgettable evening.
Address: 7600 Beach Blvd, Buena Park, CA 90620
Website: https://piratesdinneradventureca.com/
12. Discovery Cube
Discovery Cube in Santa Ana, California is a wonderland of science, innovation, and hands-on learning for curious minds!
Step inside the captivating cube-shaped building and embark on a journey of discovery like no other. This science center is dedicated to engaging families and young minds in the wonders of STEM – science, technology, engineering, and mathematics.
Explore interactive exhibits and immersive displays that bring science to life. From space exploration to the human body, there's something to ignite the curiosity of every budding scientist.
The Discovery Cube is not just about learning; it's about having fun too! Enjoy hands-on activities and engaging challenges that encourage critical thinking and problem-solving.
Little scientists will love the Discovery Market, a playful and educational grocery store experience where they can learn about healthy eating choices in a safe and interactive environment.
Explore even more interactive exhibits in the outdoor Science Park, connecting kids with nature and adding to the adventure.
With a wide range of educational programs and workshops, Discovery Cube in Santa Ana offers a day filled with wonder, excitement, and learning for all ages.
Address: 2500 N Main Street, Santa Ana, CA 92705
Website: https://www.discoverycube.org/orange-county/
13. Zoomars
Zoomars in San Juan Capistrano is a petting zoo where the magic of farm life comes alive for families and animal enthusiasts alike!
Zoomars offers a delightful experience with a variety of friendly farm animals to meet and greet, including goats, sheep, llamas, pigs, and bunnies. Kids can get up close and personal with these gentle creatures, fostering a love and understanding of animals.
One of the highlights is feeding the animals, where kids can interact with the furry residents and create unforgettable memories. Zoomars also offers a unique "Train Ride Express," where you can hop aboard a pint-sized train for a leisurely ride around the zoo, offering a different perspective of the delightful surroundings.
For more adventure, kids can try their hand at mining for gemstones and treasures in the mining area. It's a fun and exciting activity that adds to the sense of discovery during your visit.
Address: 31791 Los Rios Street, San Juan Capistrano, CA
Website: https://riverstreetranch.com/
14. Tanaka Farms
Tanaka Farms in Irvine, California is a family-owned working farm that offers a delightful agricultural experience for all ages!
Their guided farm tours are a highlight, where you can hop aboard their iconic wagon ride and explore the lush fields. Learn about the various fruits and vegetables grown on the farm, from juicy strawberries to crisp lettuce and vibrant pumpkins, depending on the season.
Kids will love the chance to pick their own produce during certain tours, connecting them with the source of their food and fostering an appreciation for agriculture. Tanaka Farms hosts exciting seasonal events too, such as pumpkin patches in the fall and strawberry festivals in the spring.
For adventure seekers, the Corn Maze during the fall season is a must-visit attraction. Get lost in the twists and turns of this delightful maze, creating unforgettable memories with your loved ones.
Whether you're a local looking for a fun day out or a visitor to Irvine, Tanaka Farms offers an authentic farm experience that'll leave you with beautiful memories.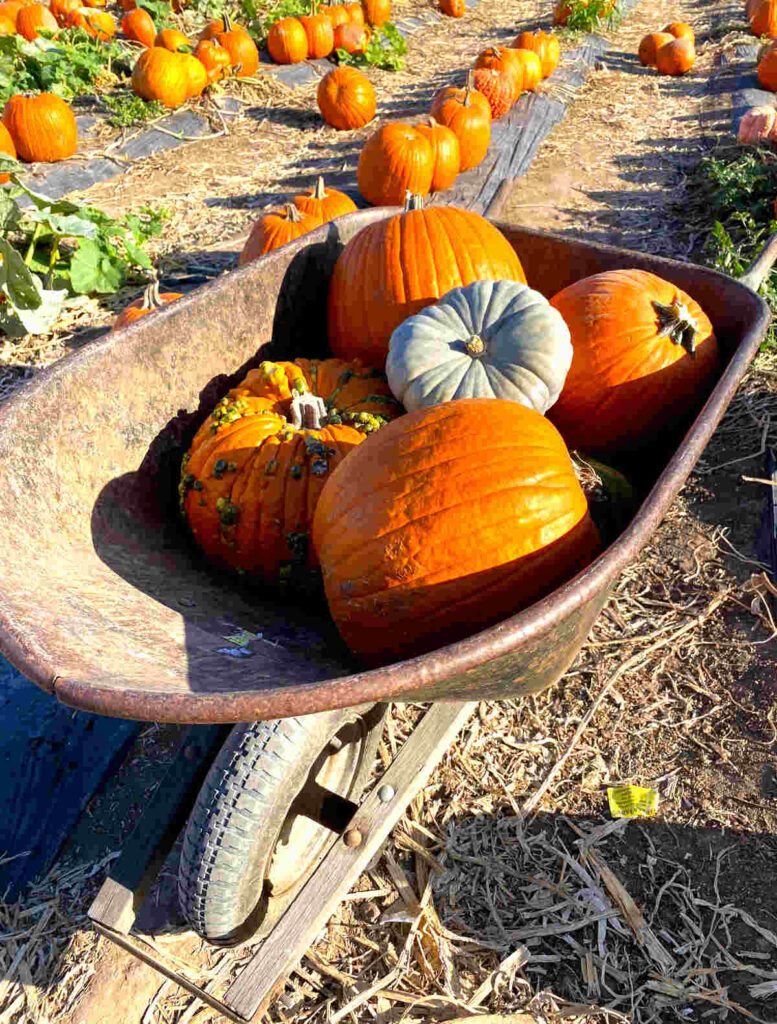 Address: 5380 3/4 University Dr., Irvine, CA 92612
Website: https://www.tanakafarms.com/
15. Pretend City Children's Museum
Pretend City Children's Museum in Irvine, California, is an interactive museum designed for young children to explore and play in a pretend city setting. The museum features themed exhibits, including a grocery store, post office, fire station, and pet hospital, where children can engage in imaginative play and hands-on learning.
The museum aims to foster essential skills in children, such as problem-solving, social interaction, and communication, through play-based learning experiences. It offers various activities and workshops, encouraging children to express their creativity and curiosity.
Address: 29 Hubble Irvine, CA 92618
Website: https://www.pretendcity.org/
16. Corona del Mar
With its beaches, village atmosphere, and an abundance of outdoor activities, Corona Del Mar offers a delightful escape for families and visitors alike.
Corona Del Mar, often referred to as "CdM," is renowned for its picturesque beaches, including the famous Corona Del Mar State Beach and Little Corona Beach. The golden sandy shores and sparkling blue waters make it an ideal spot for sunbathing, beach combing, and creating sandcastles with the little ones.
For the adventurous souls, Crystal Cove State Park is a must-visit destination. This coastal haven features miles of hiking trails that wind through canyons and offer panoramic views of the Pacific Ocean. You can also explore the tide pools, where kids can discover marine life up close.
The village of Corona Del Mar exudes a quaint and welcoming ambiance. Stroll along Pacific Coast Highway and discover a charming array of boutiques, art galleries, and eateries. Don't miss the chance to indulge in coastal cuisine and freshly caught seafood at the local restaurants.
At the heart of Corona Del Mar lies the Sherman Library & Gardens, a peaceful oasis where families can explore botanical gardens and take in the beauty of various plant species. It's a perfect spot for a stroll and a great way to introduce children to the wonders of nature.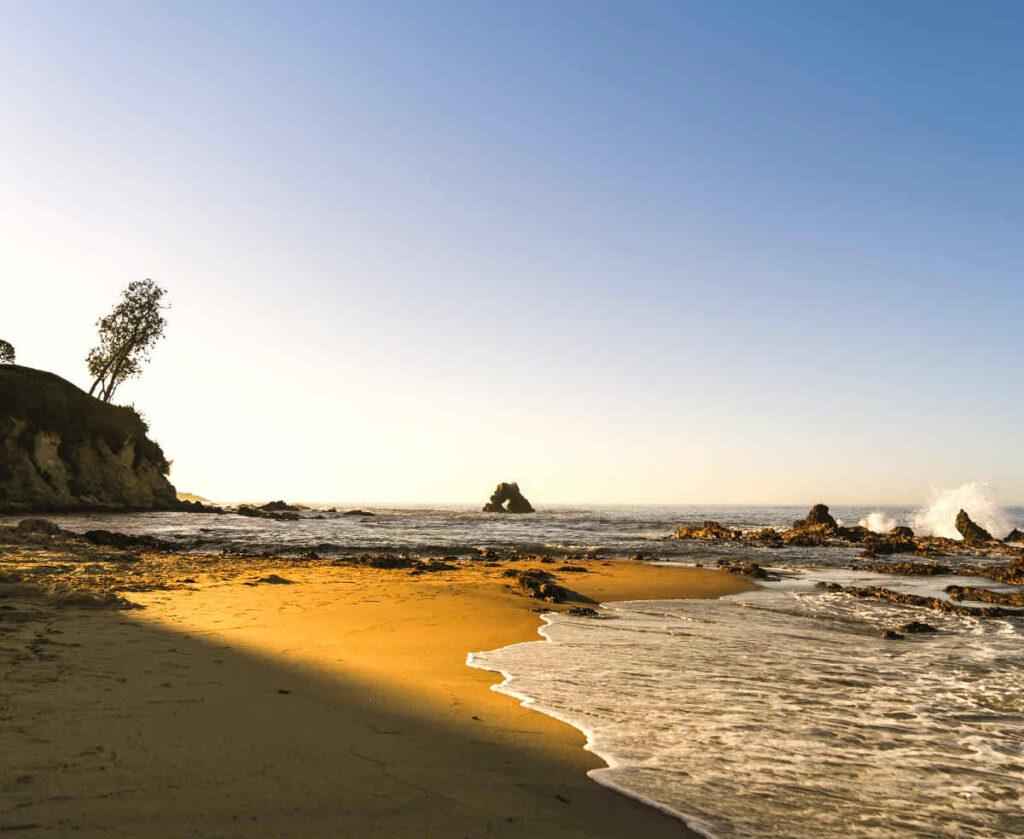 Address: 3100 Ocean Blvd, Corona Del Mar, CA 92625
Website: https://www.parks.ca.gov/?page_id=652
17. Angel Stadium
Angel Stadium in Anaheim, California is the home of the Los Angeles Angels baseball team and a true paradise for baseball enthusiasts and families alike!
Built in 1966, Angel Stadium has a rich history of hosting exciting baseball games and memorable events. With a seating capacity of over 45,000, it's one of the largest and most iconic baseball stadiums in the country.
Stepping into Angel Stadium, you'll be greeted by the electrifying atmosphere of America's favorite pastime. The cheers of passionate fans and the crack of the bat create an energy that's truly contagious.
Beyond the baseball action, Angel Stadium offers a wide range of family-friendly amenities and attractions. Kids will love the KidZone area, where they can play and enjoy interactive games and activities.
And let's not forget about the food! Angel Stadium is famous for its mouthwatering array of ballpark fare. From classic hot dogs to gourmet dishes, there's something to satisfy every craving.
Throughout the season, Angel Stadium hosts various special events and promotions, making each visit a unique and exciting experience. From fireworks shows to fan appreciation days, there's always something extra to look forward to.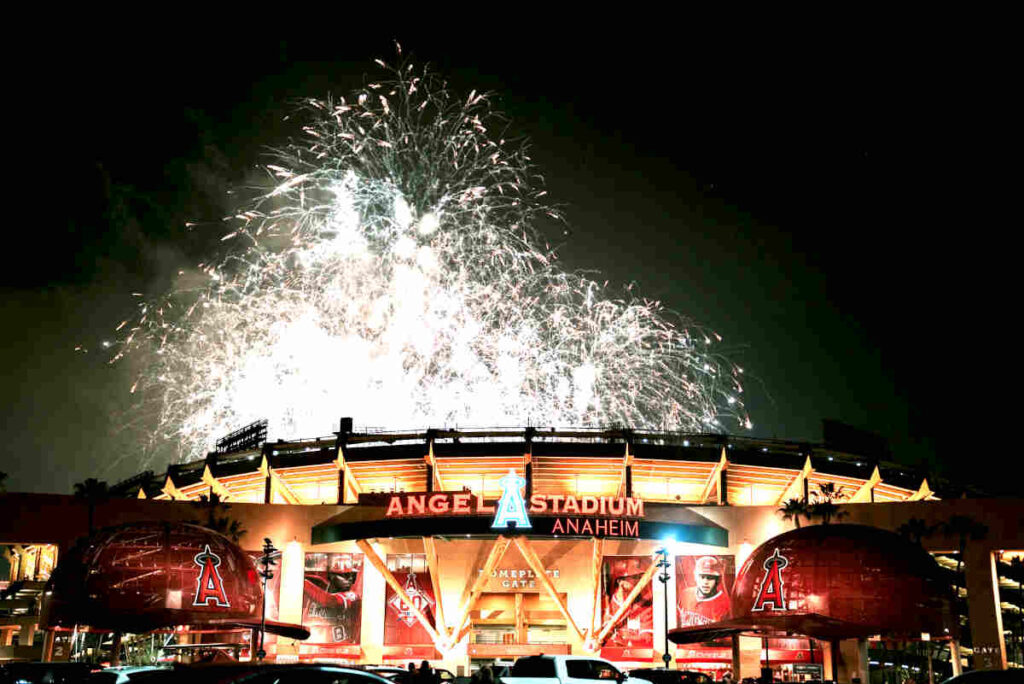 Address: 2000 Gene Autry Way, Anaheim, CA 92806
Website: https://www.mlb.com/angels
18. Anaheim Ducks
As you might have guessed, this professional ice hockey team is based in Anaheim, California!
Established in 1993, the Anaheim Ducks have a dedicated and enthusiastic following, known as the "Ducks faithful," who fill the Honda Center with electric energy and unwavering support.
The Honda Center, where they play home games, is a state-of-the-art arena that provides an electrifying atmosphere for fans to enjoy every heart-stopping moment of the game. With a seating capacity of over 17,000, the arena offers excellent views of the ice, ensuring that every seat is a great seat to witness the thrilling action of Ducks hockey.
The Ducks' season runs from October to April, with the possibility of playoffs extending into the spring months. Whether you're a local or a visitor to Southern California, catching an Anaheim Ducks game at the Honda Center is a must for any sports enthusiast or family seeking an unforgettable outing.
Address: 2695 East Katella, Anaheim, CA 92806
Website: https://www.nhl.com/ducks/
19. Dana Wharf Fishing
Located in the harbor of Dana Point, Dana Wharf is the perfect place to go for exciting fishing activities and whale watching cruises, catering to families with kids of all ages.
Embark on a fishing excursion with your little anglers with one of the trusted companies operating at Dana Wharf. For instance, "Dana Wharf Sportfishing & Whale Watching" is a well-known company that offers family-friendly fishing trips. Whether your kids are seasoned fishermen or trying fishing for the first time, the experienced crew will make sure everyone has a great time. With all the necessary equipment provided, it's easy and exciting to reel in the big catch together.
Address: 34571 Golden Lantern Street Dana Point, CA 92629
Website: https://www.danapoint.org/visitors/things-to-do/dana-point-harbor
20. Adventure City
Adventure City in Anaheim, California is a family-friendly amusement park that promises a day full of adventures and magical memories!
Adventure City may be smaller than other theme parks, but it packs a punch with its exciting attractions and charming atmosphere. One of the park's highlights is the "Freeway Coaster," a kid-friendly roller coaster that offers just the right amount of excitement for younger thrill-seekers.
For little daredevils, the "Crank 'n' Roll" ride and the "Drop Zone" offer exhilarating experiences that will leave them with giggles of joy. There's also the classic "Carousel" that will delight kids and adults alike.
Adventure City also has a petting zoo, where kids can interact with friendly farm animals, fostering a love and appreciation for wildlife.
The park is designed with families in mind, making it easy to navigate with little ones in tow. You won't have to worry about long lines or overwhelming crowds, giving you more time to focus on creating cherished moments with your loved ones.
Address: 1238 South Beach Blvd, Anaheim, CA 92804
Website: https://www.adventurecity.com/
21. Centennial Farm at the OC Fairgrounds
Operated by the OC Fair & Event Center, Centennial Farm is a year-round attraction dedicated to educating and entertaining visitors about farming and agriculture.
Explore the farm and meet farm animals, including sheep, goats, pigs, and chickens. Your kids will be enchanted as they learn about each animal's habits and characteristics, and they might even get the chance to pet and interact with some of the friendly creatures.
The "Field of Education" is an area where you can learn about various crops and plants, discovering the importance of sustainable farming practices and the origins of our food. Centennial Farm is like a living classroom, providing valuable insights into agriculture and farming practices.
Throughout the year, Centennial Farm hosts special events and workshops catered to families and children. From gardening workshops to seasonal celebrations, there's always something exciting happening that engages and entertains the whole family.
The best part? Admission to Centennial Farm is free! It's the perfect opportunity for families to explore the wonders of farming without breaking the bank.
Address: 88 Fair Drive, Costa Mesa, CA 92626
Website: https://ocfair.com/centennial-farm/
22. Lyon Air Museum
Lyon Air Museum in Orange County, California – an aviation enthusiast's dream and a fantastic family destination! Founded by Major General William Lyon, a decorated World War II veteran, the museum houses an impressive collection of fully operational vintage aircraft from the World War II era.
As you step into the museum, you'll be transported back in time, surrounded by iconic warplanes like the B-17 Flying Fortress, the C-47 Skytrain, and the P-51 Mustang. Lyon Air Museum's meticulous restoration of these aircraft gives visitors a real sense of the bravery and ingenuity of the men and women who served during the war.
The hands-on aspect of the museum allows visitors of all ages to climb aboard some of the aircraft and explore the cockpits, making it an interactive and exciting experience for families. Kids will love getting up close to these historic planes and vehicles.
Beyond the aircraft, Lyon Air Museum also features a collection of military vehicles, artifacts, and historical memorabilia, offering a comprehensive look at the aviation history of the 20th century.
The knowledgeable docents at Lyon Air Museum are passionate about aviation history and are always eager to share stories and insights, making your visit educational and engaging for the whole family.
Address: 19300 Ike Jones Road Santa Ana, CA 92707
Website: https://lyonairmuseum.org/
23. Marconi Automotive Museum
The Marconi Automotive Museum in Tustin, California is a haven for car enthusiasts and a great destination for families seeking a unique and exciting outing!
Founded by Dick Marconi, a successful entrepreneur and car collector, the museum houses an impressive collection of rare and exotic cars from different eras. As you walk through the museum, you'll be awestruck by the sight of classic Ferraris, Lamborghinis, Porsches, and other iconic vehicles that have left their mark in automotive history.
What makes the Marconi Automotive Museum truly special is its dedication to giving back to the community. The museum hosts various charitable events and fundraisers throughout the year, with all proceeds going to local organizations and nonprofits. Visiting the museum not only allows you to marvel at magnificent cars but also contributes to making a positive impact on the community.
Address: 1302 Industrial Drive, Tustin, CA 92780
Website: https://marconimuseum.org/
24. Bowers Museum
With an impressive collection of art and artifacts from diverse cultures around the world, the Bowers Museum is the perfect place for families seeking an enriching and fun experience.
From ancient civilizations to contemporary works, the museum offers something to pique the curiosity of visitors of all ages. Young children will be delighted by the Kidseum, which features interactive exhibits and hands-on activities that foster creativity and a love for learning. They can engage in art workshops, explore cultural artifacts, and even dress up in costumes inspired by different cultures.
One of the highlights of the museum is the beautiful and serene "Key Courtyard," where families can relax and enjoy a moment of tranquility.
Address: 2002 North Main Street, Santa Ana, CA 92706
Website: https://www.bowers.org/
25. Pacific Marine Mammal Center
The Pacific Marine Mammal Center in Laguna Beach, California gives families an up-close encounter with ocean wildlife! This center is dedicated to the rescue, rehabilitation, and release of marine mammals.
At the Pacific Marine Mammal Center, you can observe the incredible work of dedicated staff and volunteers caring for injured and sick marine mammals. Kids will be delighted to see playful sea lions and curious seals up close, learning about their behaviors and habitats.
The center offers interactive exhibits and educational programs that engage and inform visitors about the importance of marine conservation.
One of the highlights is witnessing a marine mammal release back into the ocean. Seeing these incredible animals return to the wild after rehabilitation is a heartwarming and unforgettable experience for the whole family.
Throughout the year, the center hosts various family-friendly events and activities, providing a fun and informative way to spend quality time with your loved ones while supporting marine conservation efforts.
Address: 20612 Laguna Canyon Rd, Laguna Beach, CA 92651
Website: https://www.pacificmmc.org/