1. Oakland Zoo
Covering over 100 acres, the Oakland Zoo is home to a diverse collection of animals from around the world. Kids and adults alike will be excited by the wildlife, including elephants, giraffes, meerkats, and more.
The zoo's exhibits are thoughtfully designed to mimic the animals' natural habitats, providing an immersive and educational experience for visitors.
For a dose of excitement, families can hop on the iconic Sky Ride for amazing views of the zoo and the Bay Area. The Outback Adventure section offers a gondola ride high above the treetops.
Kids will also enjoy the zoo's play area and petting zoo, creating even more fun-filled moments.
Throughout the year, the Oakland Zoo hosts various events, such as ZooLights during the holiday season.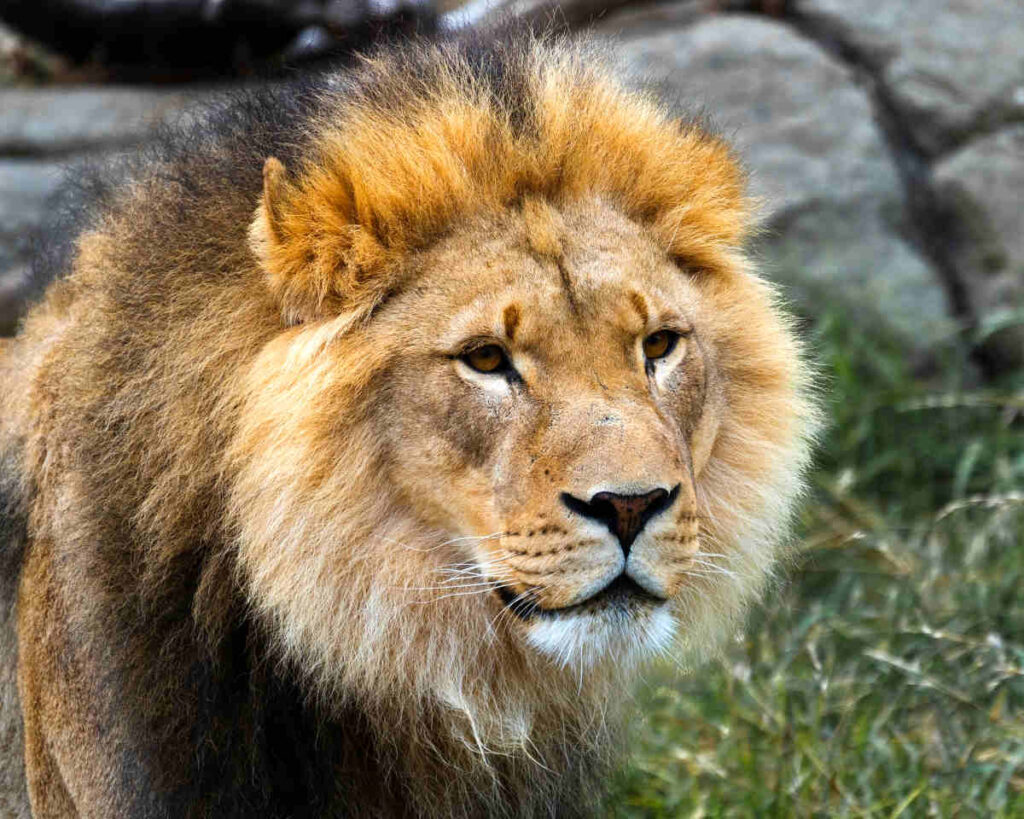 Address: 9777 Golf Links Road Oakland, CA 94605
Website: https://www.oaklandzoo.org/
2. UC Berkeley Campus and Sports
UC Berkeley, known for its prestigious academic programs, also boasts an impressive array of sports teams that compete at the highest collegiate level.
The Cal Bears, as the university's teams are affectionately known, participate in various sports, including football, basketball, baseball, soccer, and more.
The California Memorial Stadium is the heart of UC Berkeley's football program, where fans gather to cheer on the team during games and showdowns with rival universities. The atmosphere at the stadium is electric.
Haas Pavilion is the place to be for basketball enthusiasts, as it hosts exhilarating games with passionate fans. Families can enjoy the fast-paced action and cheer on their favorite players.
Baseball fans can catch the Cal Bears in action at the Evans Diamond, where the team showcases its skills and dedication on the field.
Beyond the traditional sports, UC Berkeley also offers opportunities to witness talented student-athletes compete in sports like soccer, volleyball, swimming, and more.
Attending a Cal Bears sports event is not just about the game; it's about embracing the university's spirit, supporting the athletes, and fostering a sense of belonging. So grab your Cal gear and join in the excitement!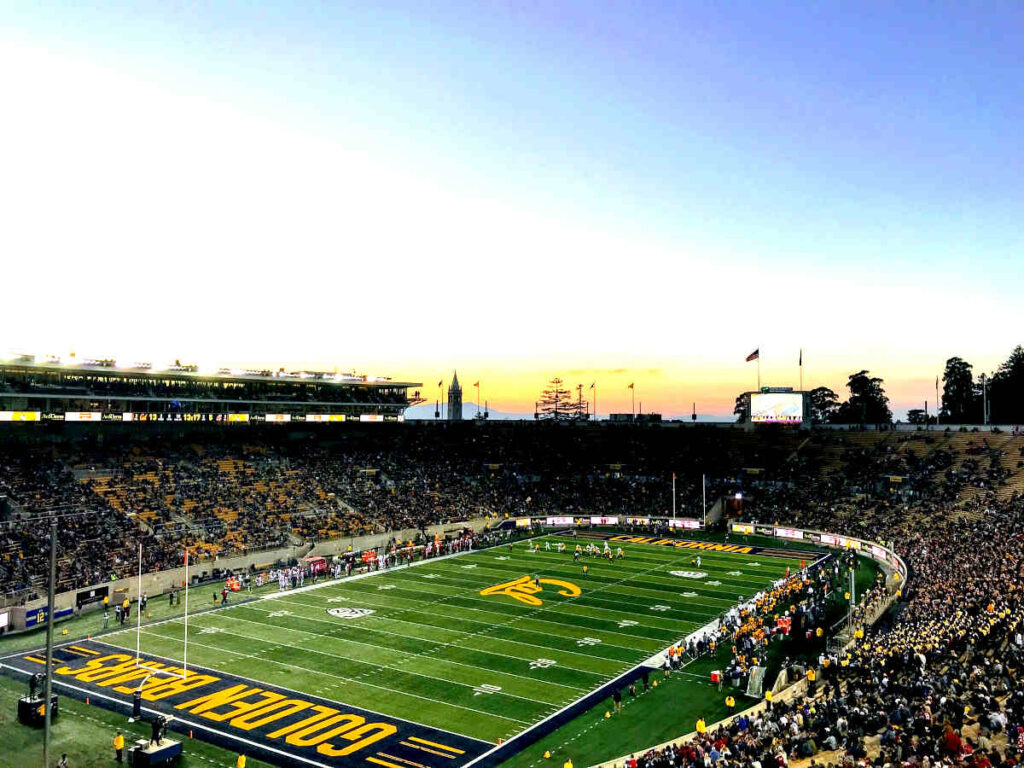 Address: 2227 Piedmont Avenue, Berkeley, CA 94720
Website: https://visit.berkeley.edu/
3. Oakland A's Baseball
The Oakland Athletics, also known as the A's, are a professional baseball team based in Oakland.
The Oakland Coliseum, the team's home stadium, is where fans gather to cheer on their favorite players and experience the thrill of live baseball games.
Throughout the baseball season, families can enjoy a fun-filled day at the ballpark, complete with delicious ballpark food, exciting on-field action, and the camaraderie of fellow fans. The team's mascot, Stomper the Elephant, adds to the festive spirit and is a hit with kids and families.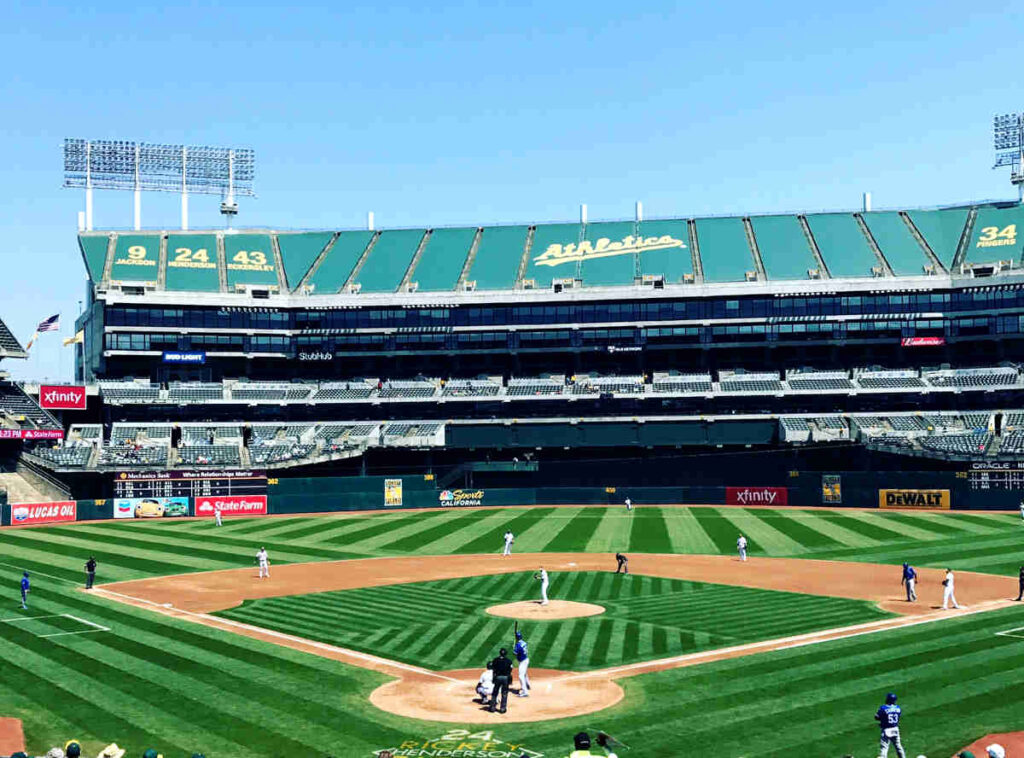 Address: 7000 Coliseum Way, Oakland, CA 94621
Website: https://www.mlb.com/athletics
4. Redwood Regional Park
As the name suggests, Redwood Regional Park is home to towering coastal redwood trees, some of the tallest living organisms on Earth.
The park offers an extensive network of hiking trails, ranging from easy strolls to more challenging treks, great for families with kids of all ages. The Skyline Trail and the Stream Trail are popular choices, offering picturesque views of the redwood forest and babbling streams along the way.
Families can enjoy a picnic at one of the park's designated picnic areas, surrounded by the soothing sounds of nature. The playgrounds are perfect for kids to burn off some energy and have some fun outdoors.
One of the park's highlights is the Redwood Bowl, an amphitheater-like setting surrounded by redwood trees, where occasional concerts and events are held.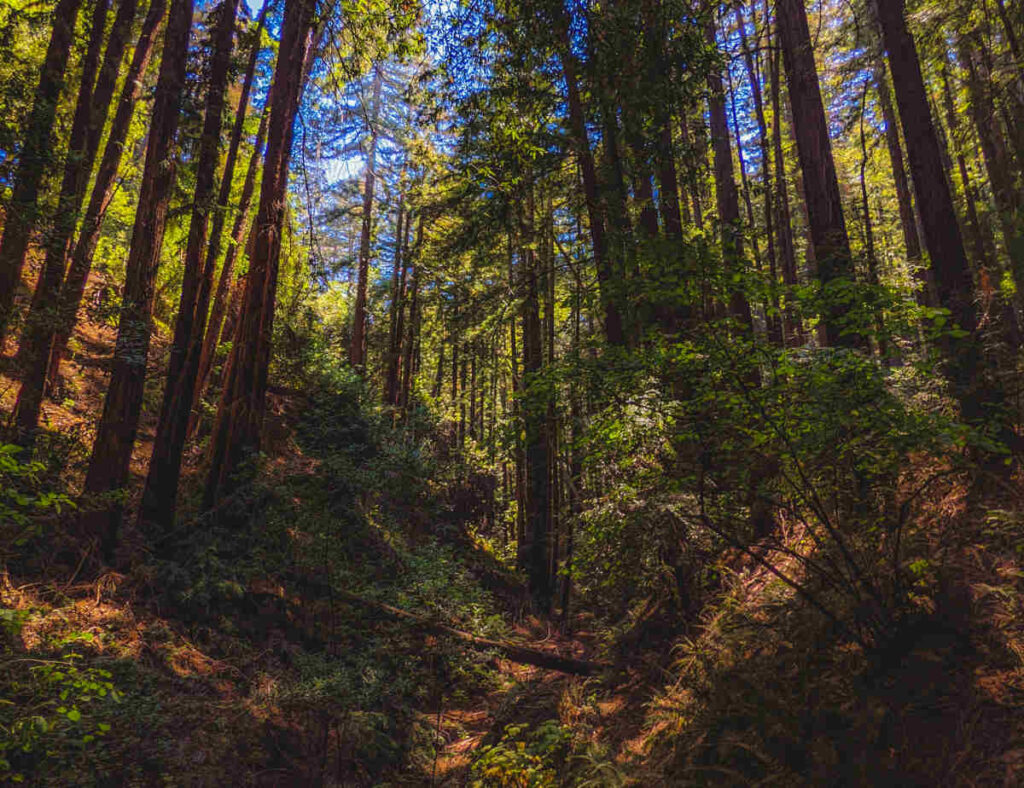 Address: 7867 Redwood Rd., Oakland, CA 94619
Website: https://www.ebparks.org/parks/reinhardt-redwood
5. Chabot Space and Science Center
The Chabot Space and Science Center is dedicated to promoting scientific curiosity and understanding of the cosmos.
The center boasts three powerful telescopes, which allow visitors to observe celestial wonders up close. During special telescope viewings, families can marvel at distant planets, stars, and even galaxies.
The hands-on exhibits provide a special experience for kids and families, encouraging them to explore the realms of astronomy, earth science, and space exploration. From interactive planetarium shows to virtual space missions, there's something for everyone to enjoy.
The center's iconic observatory deck provides views of the San Francisco Bay Area, an ideal spot to enjoy the scenic beauty of the region during the day and stargazing at night.
Address: 10000 Skyline Blvd, Oakland, CA 94619
Website: https://chabotspace.org/
6. Jack London Square
Named after the renowned author and adventurer, Jack London, this bustling square offers a mix of entertainment, dining, shopping, and outdoor activities that appeal to families and visitors of all ages.
Situated along the scenic Oakland Estuary, Jack London Square boasts stunning views of the water, creating a picturesque setting for a leisurely stroll or a relaxing afternoon by the bay. The outdoor spaces and promenades are perfect for families to enjoy the fresh air and take in the beautiful surroundings.
For foodies, Jack London Square is a culinary paradise, with numerous restaurants, cafes, and eateries serving up delicious dishes from around the world. Whether you're in the mood for seafood, barbecue, or international cuisine, there's something to satisfy every palate.
The square also hosts a vibrant farmers' market, where families can explore and sample locally grown produce, artisanal goods, and homemade treats. It's a great place to shop for fresh ingredients or indulge in some gourmet delights.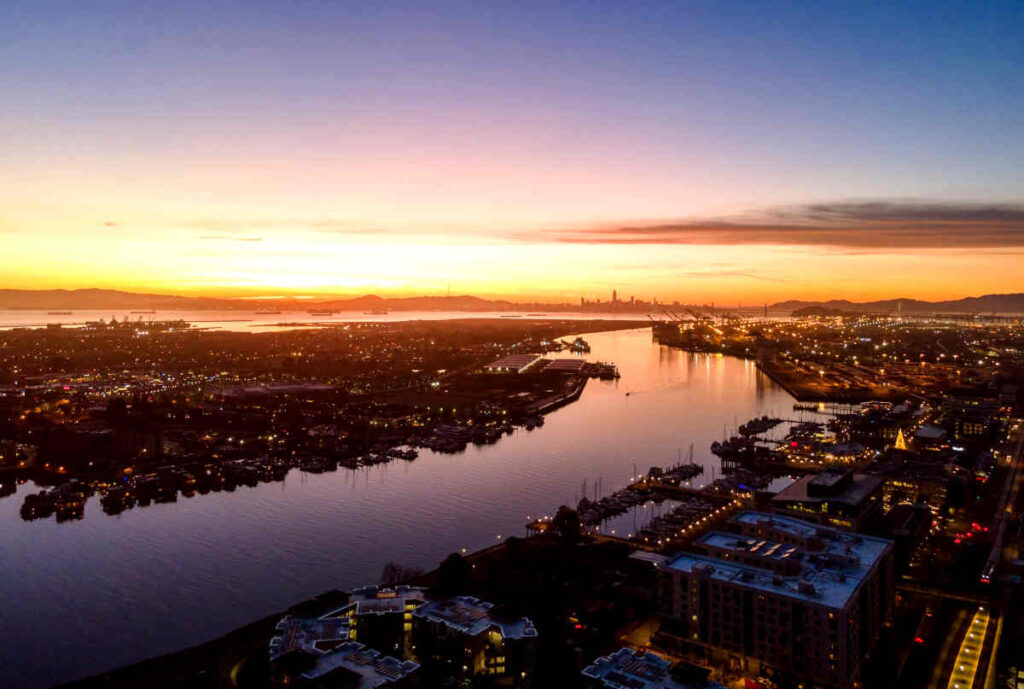 Address: Broadway and Embarcadero, Oakland, CA 94607
Website: https://jacklondonsquare.com/
7. BART Subway
The Bay Area Rapid Transit (BART) Subway, a convenient and efficient transportation system connecting various cities in the San Francisco Bay Area.
For families, BART is a family-friendly mode of transportation, with spacious trains that offer plenty of seating and include designated areas for strollers and luggage. Kids will enjoy the excitement of riding the subway, and parents can appreciate the convenience of traveling with ease.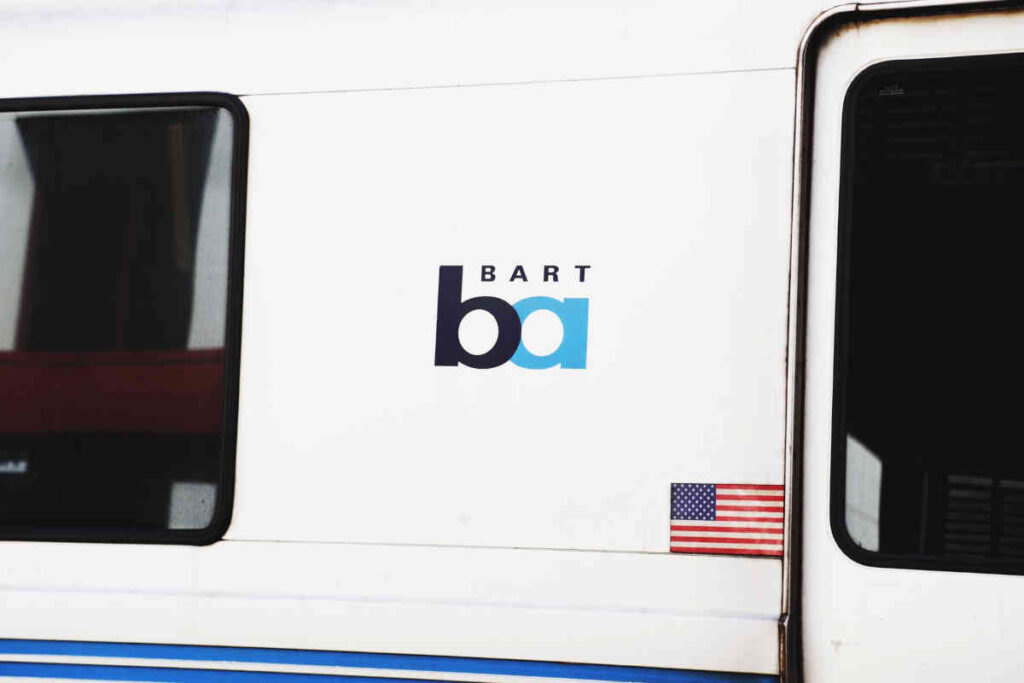 Website: https://www.bart.gov/
8. Lake Merritt
Surrounded by a beautiful shoreline, Lake Merritt is a sanctuary for wildlife and a designated wildlife refuge. Families can enjoy walks or bike rides along the 3.4-mile paved path that encircles the lake, taking in the views of the water and the cityscape beyond.
The lake is home to a variety of bird species, making it a paradise for birdwatchers. Keep an eye out for elegant herons, graceful pelicans, and playful ducks as they frolic in the water.
For a unique experience, families can rent paddle boats or kayaks to explore the waters of the lake. It's a fun activity that allows you to get up close and personal with the natural beauty of Lake Merritt.
Adjacent to the lake, Children's Fairyland is a magical park that offers rides, puppet shows, and storybook sets, enchanting young children and sparking their imagination.
Lake Merritt also hosts a vibrant Farmer's Market on Saturdays, where families can shop for fresh produce, artisanal goods, and treats from local vendors.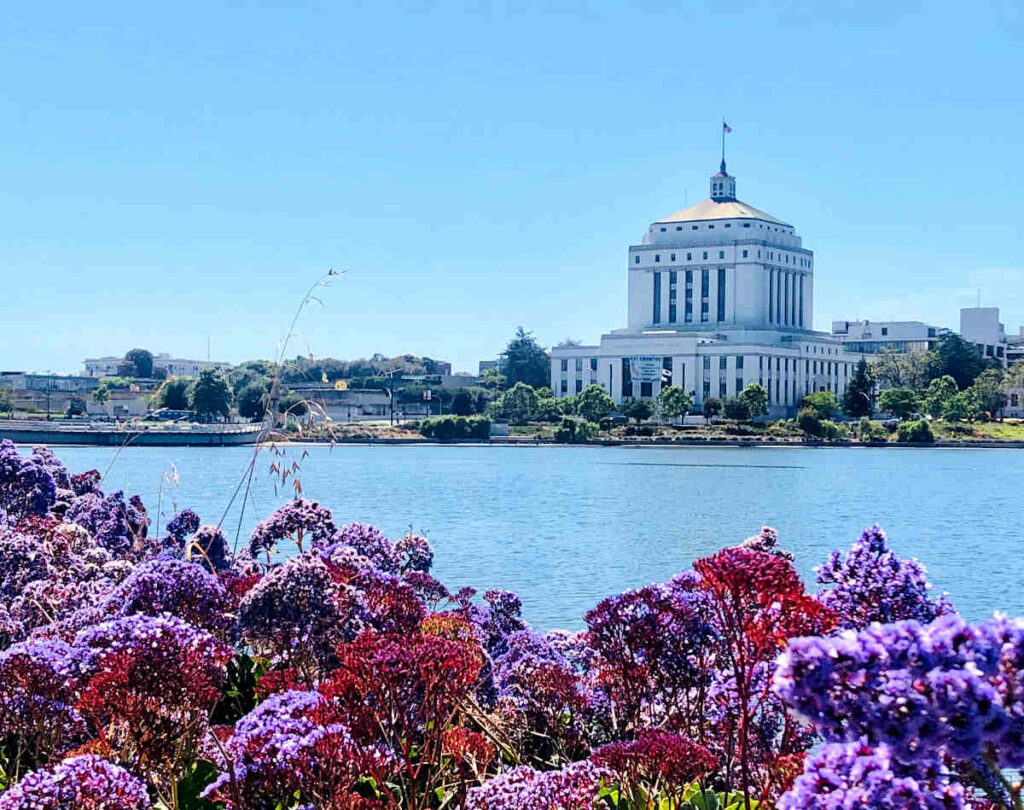 Address: 568 Bellevue Ave, Oakland, CA 94610
Website: https://www.oaklandca.gov/topics/lake-merritt-the-jewel-of-oakland
9. UC Berkeley Botanical Garden
The UC Berkeley Botanical Garden spans 34 acres and features over 10,000 types of plants from around the globe. Families can embark on a journey through different geographic regions, from the Mediterranean to Asia and beyond, all within the garden's curated collections.
For kids, the Botanical Garden offers a wonderful opportunity to explore and learn about various plant species. Educational programs and family-friendly activities are available, engaging young minds and igniting their curiosity about the natural world.
The garden's diverse landscapes and walking trails provide a delightful outdoor adventure for families. Stroll through the redwood grove, marvel at the colorful flowerbeds, and relax in the serene Japanese Pool and Tea Garden.
The UC Berkeley Botanical Garden also hosts special events and workshops throughout the year, to give families a chance to participate in gardening activities, plant sales, and botanical art exhibitions.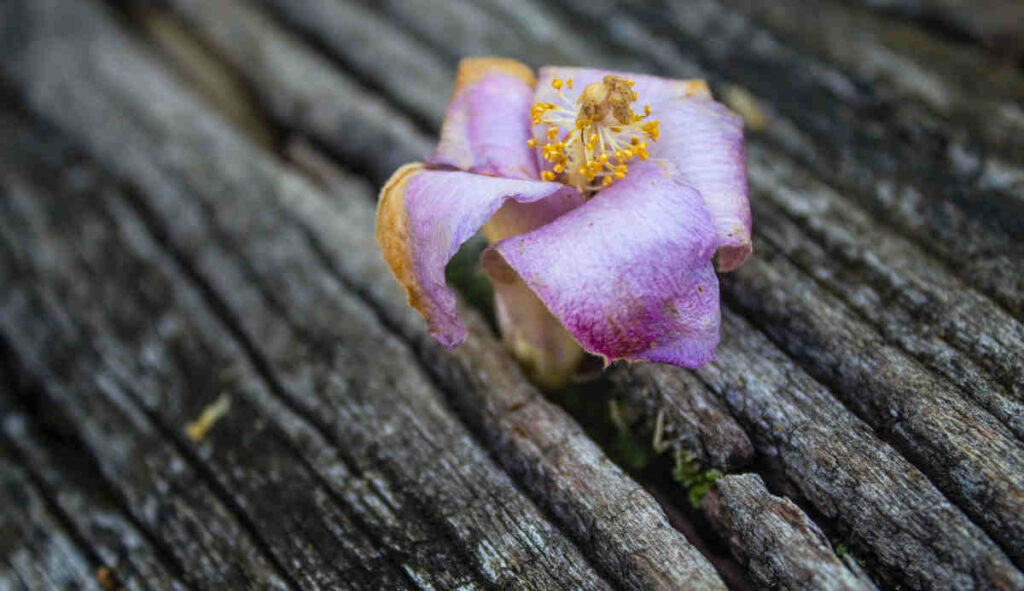 Address: 200 Centennial Drive, Berkeley, CA 94720
Website: https://botanicalgarden.berkeley.edu/
10. Oakland Museum of California
The Oakland Museum of California features three main galleries, each dedicated to showcasing different aspects of the state's culture. The Art Gallery displays an impressive collection of California art, ranging from contemporary works to historical pieces that reflect the state's artistic evolution.
In the History Gallery, families can step back in time and learn about California's past. From the Native American heritage to the Gold Rush era and beyond, the exhibits offer a comprehensive and engaging look into the state's diverse history.
For families with young children, the Museum's interactive exhibits at the California Nature & Science Gallery offer a hands-on learning experience. Kids can get up close and personal with natural wonders, explore ecosystems, and even uncover the mysteries of the universe through interactive displays.
The museum's beautiful garden, known as the Oak Street Plaza, is a lovely spot for families to relax and enjoy the outdoors.
Address: 1000 Oak St, Oakland, CA 94607
Website: https://museumca.org/
11. Takara Sake
Takara Sake USA in Berkeley, CA, is a Japanese sake brewery and museum.
You can learn about the sake brewing process, discover the different types of rice used, and understand the cultural significance of sake in Japanese traditions.
For families, a visit to Takara Sake USA can be an educational and cultural experience. Kids can learn about sake production and its ties to Japanese culture. The museum offers interactive exhibits that engage young minds and provide a unique insight into the art of sake making.
Additionally, Takara Sake USA offers guided tours and tastings that allow visitors to sample a variety of sake and gain a deeper appreciation for this ancient beverage. It's a great way for families to bond over a shared cultural experience and try something new together.
Address: 708 Addison St, Berkeley, CA 94710
Website: https://www.takarasake.com/
12. Telegraph Avenue in Berkeley
Telegraph Avenue is known for its bohemian and artistic atmosphere. As you stroll down the avenue, you'll be excited by the colorful murals, quirky shops, and unique street art that line the sidewalks.
For families, Telegraph Avenue offers a treasure trove of shopping opportunities. From vintage boutiques to record stores and bookshops, there's something for everyone. Kids will love exploring the diverse range of stores and discovering hidden gems along the way.
Address: Telegraph Avenue & Bancroft Way, Berkeley, CA 94704
13. Fenton's Creamery
Fenton's Creamery is famous for its ice cream, made with the finest ingredients and handcrafted in small batches. With a variety of flavors to choose from, including classic favorites and unique creations, there's something to satisfy every sweet tooth.
The ambiance at Fenton's is pure nostalgia. Step inside, and you'll be transported to a bygone era, with retro decor, cozy booths, and a friendly, welcoming atmosphere. It's a place where families can gather and create lasting memories over delicious ice cream.
Fenton's also offers a menu of classic diner fare, making it an ideal spot for a family meal. From burgers and sandwiches to salads and shakes, there's something for everyone on the menu.
Address: 4226 Piedmont Ave Oakland, CA 94611
Website: https://www.fentonscreamery.com/
14. Oakland Aviation Museum
The Oakland Aviation Museum is a treasure trove of aircraft and exhibits to excite aviation enthusiasts of all ages.
The museum showcases a collection of aircraft, from vintage planes to modern marvels.
Step inside and explore the cockpits, wings, and engines of these magnificent flying machines.
Address: 8252 Earhart Rd, Oakland, CA 94621
Website: https://www.oaklandaviationmuseum.org/
15. San Francisco Bay Ferry
The San Francisco Bay Ferry provides a fun and scenic mode of transportation that connects various cities around the bay and offering breathtaking views of the iconic Golden Gate Bridge, Alcatraz Island, and the stunning city skyline.
For kids, the ferry ride itself is an adventure. They can watch seagulls soar above, spot playful sea lions basking on the buoys, and even catch glimpses of dolphins and other marine life.
The open-air decks and spacious seating areas on the ferry allow families to soak in the fresh sea breeze and enjoy the stunning scenery. Whether you choose to sit inside or outside, the ferry ensures a comfortable and enjoyable ride for all passengers.
Families can also take advantage of the ferry's bike-friendly policy, which makes it easy to bring along bicycles and explore the scenic bike paths and trails in various destinations. It's a great way to add an extra dose of adventure to your day out on the bay.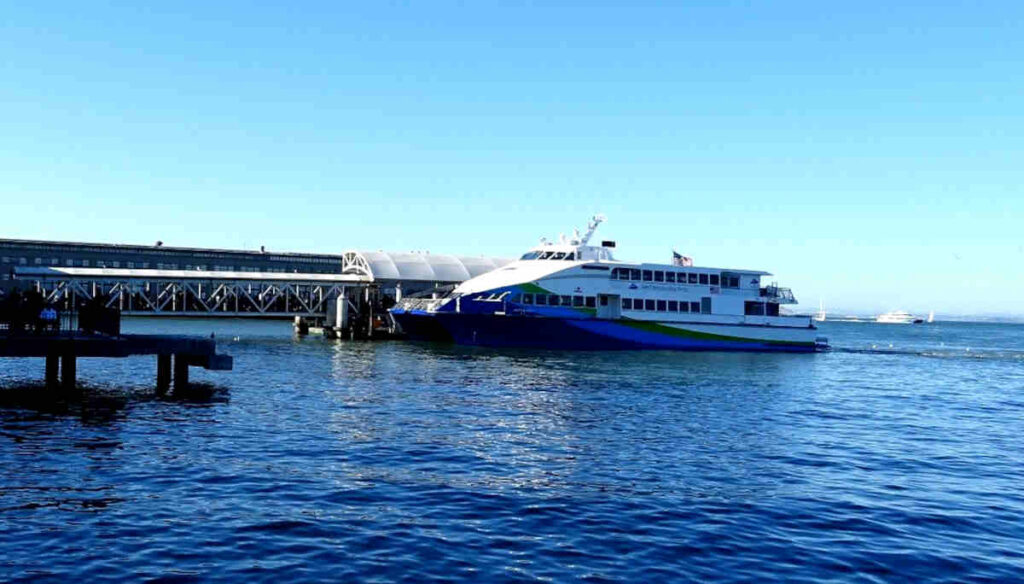 Address: 10 Clay Street, Oakland, CA 94607
Website: https://sanfranciscobayferry.com/
16. Little Farm at Tilden Regional Park
At the Little Farm, children and adults alike can get up close and personal with a variety of adorable farm animals, including cows, pigs, goats, sheep, chickens, and rabbits. The farm is a haven for animal lovers and provides a safe and supervised environment for kids to pet and feed the animals under the guidance of the farm's knowledgeable staff.
When visiting the Little Farm, you will have the chance to witness milking demonstrations, where kids can observe how milk is harvested from cows and gain a deeper appreciation for where their food comes from.
The farm's location within Tilden Regional Park adds to the experience. Families can take strolls along the nearby hiking trails, have a relaxing picnic by the pond, or simply enjoy the scenic beauty of the park's rolling hills and lush landscapes.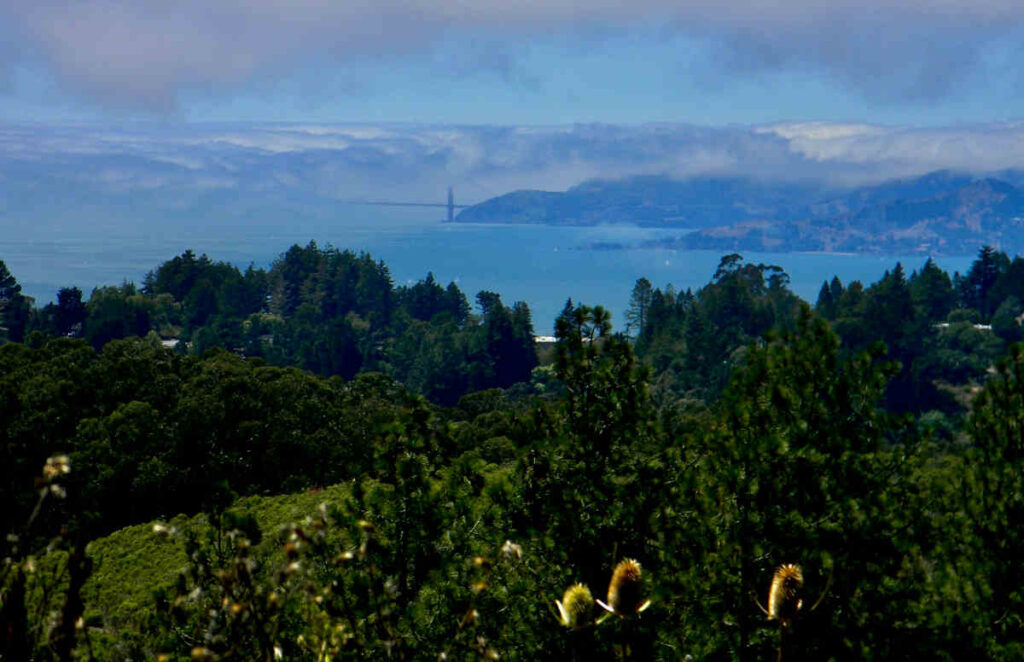 Address: 2950 Peralta Oaks Ct., Oakland, CA 94605
Website: https://www.ebparks.org/parks/tilden
17. Children's Fairyland
Children's Fairyland is a place where kids can meet beloved storybook characters, from fairy godmothers to knights in shining armor. The park's interactive exhibits allow children to step into their favorite fairy tales and nursery rhymes, creating a world of make-believe right before their eyes.
At the Storybook Puppet Theater, young audiences can enjoy delightful puppet shows that bring classic tales to life. It's an experience that sparks creativity and ignites a love for the performing arts.
Throughout the park, families will discover interesting attractions like the Alice in Wonderland-themed Tea Party, the pirate ship adventure, and the King Arthur Carousel.
Each attraction is thoughtfully designed to engage young minds and provide endless opportunities for play and exploration.
Address: 699 Bellevue Avenue, Oakland, CA 94610
Website: https://fairyland.org/
18. Sibley Volcanic Preserve
Sibley Volcanic Preserve is part of the East Bay Regional Park District and is home to a volcanic dome known as Round Top. This dome was formed by volcanic activity millions of years ago and is one of the best-preserved volcanic features in the region.
For families with kids who love hiking and exploring, Sibley Volcanic Preserve offers a network of scenic trails that wind through the park's beautiful landscapes. The Round Top Loop Trail is a popular choice, with amazing views of the Bay Area and the surrounding hills.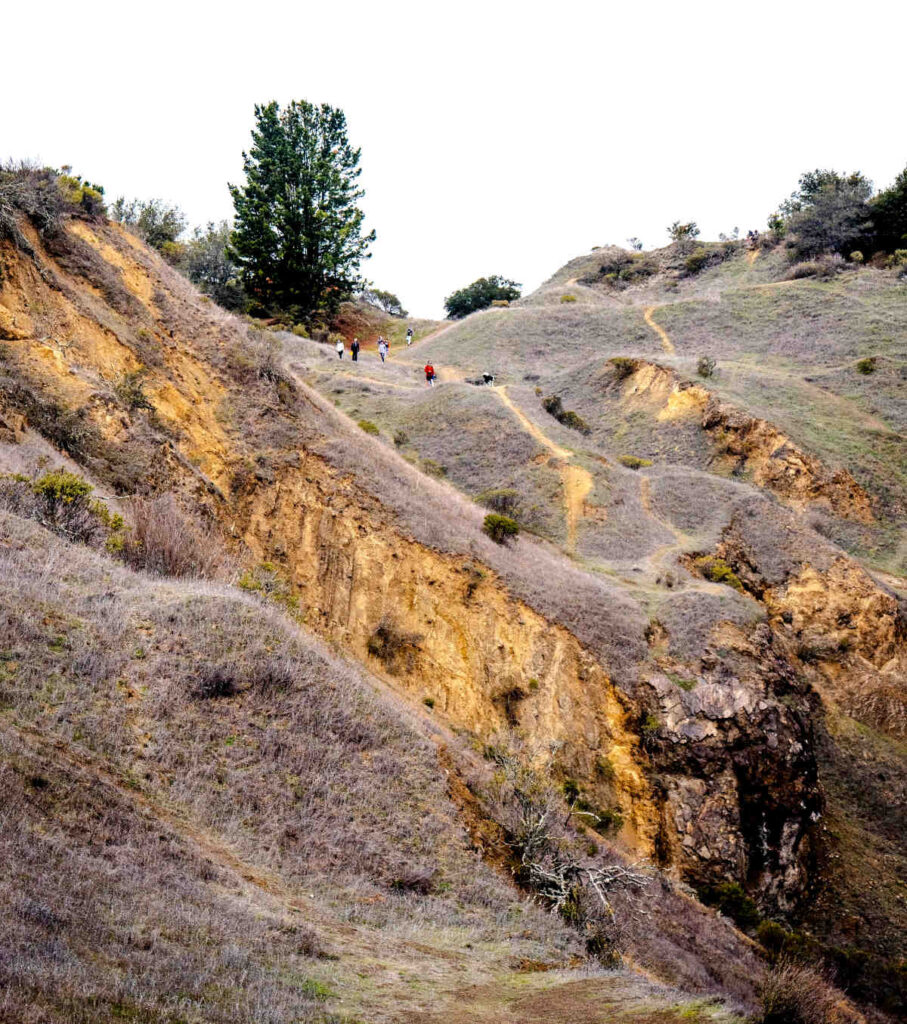 Address: 6800 Skyline Blvd. Oakland, CA 94611
Website: https://www.ebparks.org/parks/sibley-volcanic
19. Cathedral of Christ the Light
Designed by award-winning architect Craig W. Hartman, the Cathedral of Christ the Light stands as a testament to contemporary design and innovation.
The cathedral's impressive design is not limited to its exterior; inside, families will be inspired by the awe-light and art installations. The "Trinity Dome" above the altar features a depiction of the Holy Trinity, created with thousands of LED lights that change colors throughout the day.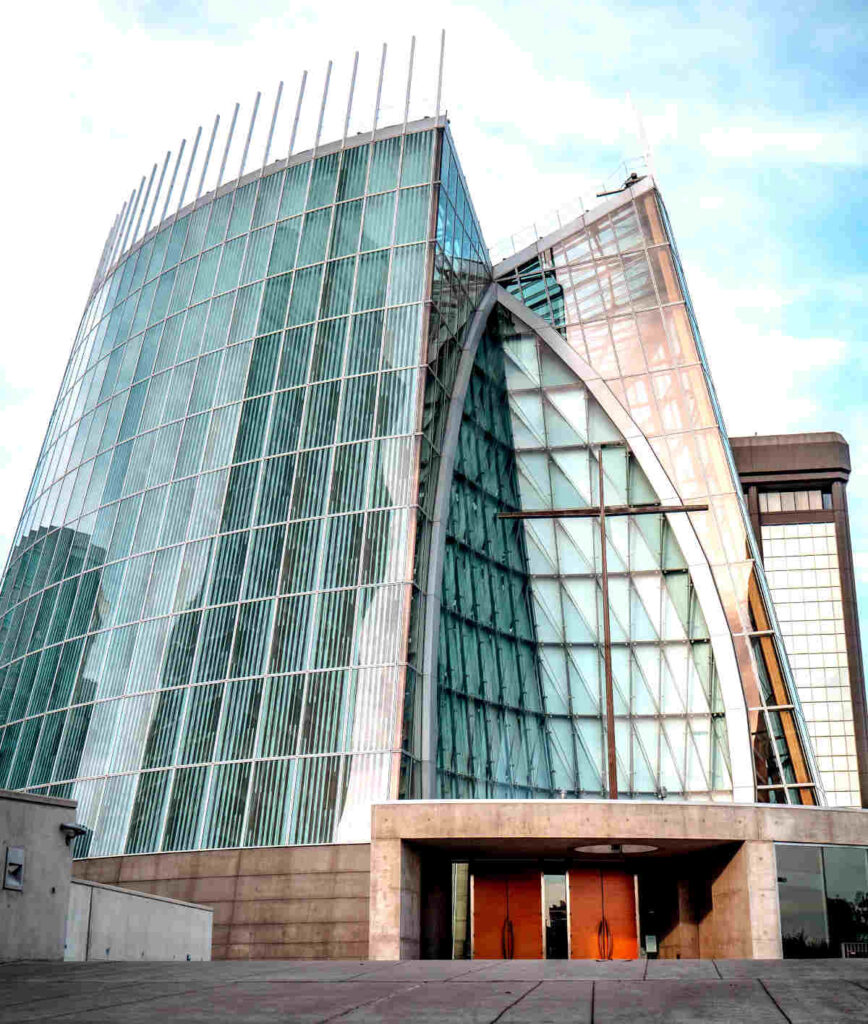 Address: 2121 Harrison St, Oakland, CA 94612
Website: https://www.ctlcathedral.org/
20. Oakland Temple
The Oakland Temple is renowned for its striking architecture and elegant design. Inspired by the Art Deco style, the temple's exterior features intricate carvings and beautiful spires that reach toward the heavens. The surrounding gardens and grounds add to the temple's serene atmosphere.
While only members of The Church of Jesus Christ of Latter-day Saints can participate in the sacred ordinances within the temple, the surrounding temple grounds are open to the public. Families can take strolls through the beautiful gardens to enjoy the peaceful setting and the sense of community that permeates the area.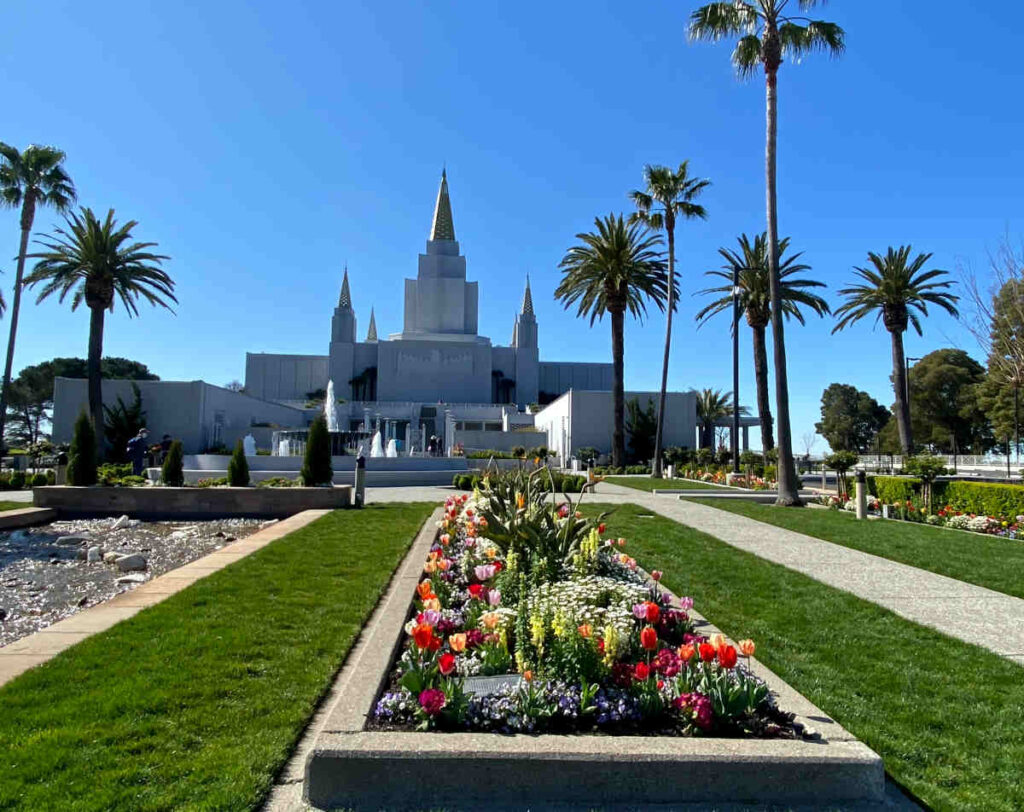 Address: 4766 Lincoln Avenue, Oakland, CA 94602
Website: https://www.churchofjesuschrist.org/locations/oakland-temple-visitors-center
21. USS Potomac
The USS Potomac was originally a presidential yacht that served as the personal vessel for President Franklin D. Roosevelt from 1936 to 1945. It was during Roosevelt's tenure that the ship earned its nickname as the "Floating White House," as it hosted many important events and diplomatic meetings.
Today, the USS Potomac operates as a floating museum and gives visitors a chance to explore its storied past. Families can join guided tours that take them through the ship's luxurious interior, where they can see the very rooms and spaces where President Roosevelt conducted official business and entertained dignitaries.
Address: 540 Water St., Foot of Clay St., Oakland, CA 94607
Website: http://www.usspotomac.org/
22. Middle Harbor Shoreline Park
Middle Harbor Shoreline Park is a haven for nature lovers and outdoor enthusiasts. The park features a network of walking and biking trails that wind through wetlands, marshes, and grasslands. The park's serene atmosphere and abundant wildlife make it a great spot for birdwatching and nature photography.
Families can also enjoy the park's sandy shoreline, where kids can build sandcastles or splash in the calm waters of the bay. In addition, the park's well-maintained picnic areas with bbq grills offer a perfect setting for a family outing or a gathering with friends.
Address: 2777 Middle Harbor Rd, Oakland, CA 94607
Website: https://www.portofoakland.com/port/seaport/middle-harbor/
23. Bonsai Garden
The Bonsai Garden at Lake Merritt is home to a numerous bonsai trees, each meticulously pruned and shaped to create stunning replicas of full-sized trees in miniature form. Strolling through the garden, families will be amazed by the diversity of tree species, from classic pine and juniper to delicate maple and azalea.
This garden is not only a visual delight, but also an educational experience. The garden's volunteers and staff are passionate about bonsai and eager to share their knowledge with visitors. Families can participate in guided tours and workshops to learn about the art of bonsai cultivation and the ancient techniques used to create these living works of art.
Address: 650 Bellevue Ave., Oakland, CA 94610
Website: https://bonsailakemerritt.com/garden/
24. Oakland Fortune Factory
This unique factory offers an experience that combines history, creativity, and of course, delicious fortune cookies.
At Oakland Fortune Factory, families can embark on an engaging guided tour that takes them through the entire fortune cookie-making process. Learn about the history of fortune cookies, how they became synonymous with Chinese cuisine, and the role they play in various cultural celebrations.
Kids will love the hands-on activities where they can try their hand at folding fortune cookies and writing their own personalized messages to place inside.
And of course, no visit to Oakland Fortune Factory would be complete without sampling these freshly made fortune cookies!
Address: 261 12th St, Oakland CA 94607
Website: https://www.oaklandfortunefactory.com/
25. Lawrence Hall of Science
The Lawrence Hall of Science, a world-class science center located in the beautiful hills of Berkeley, CA. This engaging museum is a perfect destination for families seeking a fun and educational experience.
The Lawrence Hall of Science is dedicated to inspiring curiosity and fostering a love for science in visitors of all ages. With over 40,000 square feet of exhibits, there is something for everyone to explore and discover.
Address: 1 Centennial Drive, Berkeley, CA 94720