1. Field Museum
The Field Museum is an awe-inspiring destination that beckons visitors to embark on a thrilling journey through the wonders of natural history. Founded in 1893 as part of the World's Columbian Exposition, this iconic museum houses an impressive collection of artifacts, specimens, and exhibits that showcase the diversity and beauty of our planet's past and present.
As families step through the museum's grand entrance, they are greeted by "Sue," the largest and most complete Tyrannosaurus rex fossil ever discovered. Standing tall and imposing, Sue provides an exciting introduction to the world of dinosaurs, setting the stage for the remarkable exhibits that lie ahead.
One of the museum's highlights is the "Evolving Planet" exhibition, which takes visitors on a journey through the history of life on Earth. From the emergence of early life forms to the rise of dinosaurs and the evolution of mammals, this exhibit offers an immersive experience that fosters curiosity and understanding of our planet's geological past.
For families with young children, the "Crown Family PlayLab" provides a hands-on and interactive learning space. Here, kids can excavate fossils, construct structures, and engage in creative activities that bring natural history concepts to life.
The Field Museum's dedication to scientific research and discovery is evident through its active involvement in field expeditions around the globe. Families can learn about ongoing research and conservation efforts that contribute to our understanding of the natural world and the importance of protecting it for future generations.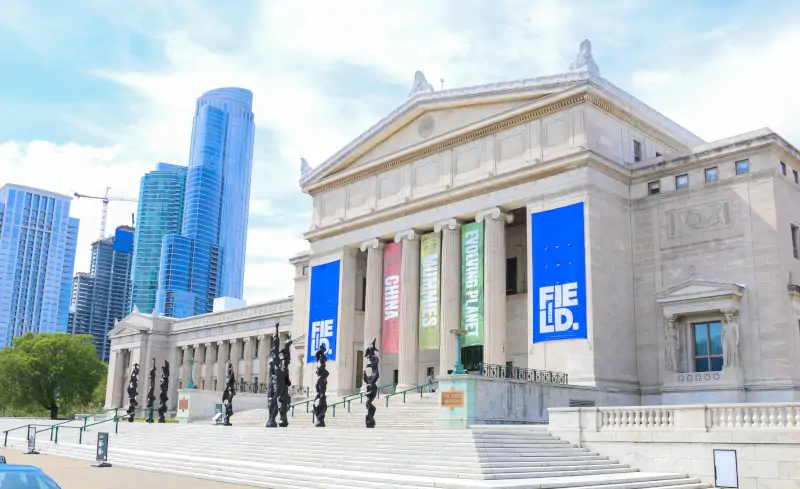 Address: 1400 S Lake Shore Dr, Chicago, IL 60605
Website: https://www.fieldmuseum.org/
2. Adler Planetarium
The Adler Planetarium is the oldest planetarium in the Western Hemisphere.
The planetarium offers cutting-edge exhibits, shows, and interactive experiences that unveil the wonders of the cosmos.
Upon entering the planetarium, families are welcomed by the Grainger Sky Theater, a state-of-the-art digital dome theater that showcases virtual voyages through the universe.
The planetarium also houses an impressive collection of telescopes, including the Doane Observatory, which allows families to peer through powerful lenses and marvel at the moon's craters, distant planets, and star clusters.
A highlight is the "Mission Moon" exhibition which celebrates the iconic Apollo 11 mission that first landed humans on the moon. Families can relive this historic moon landing and gain insights into the daring journey of the astronauts.
For budding astronomers, interactive exhibits like the "Community Design Lab" and "Telescope Park" engage kids in hands-on activities.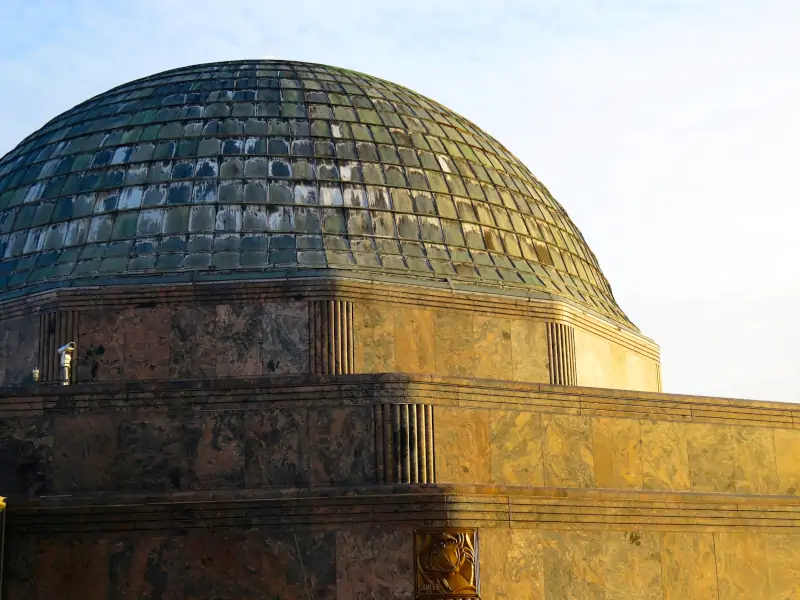 Address: 1300 S Lake Shore Dr, Chicago, IL 60605
Website: https://www.adlerplanetarium.org/
3. Navy Pier
Located along the shoreline of Lake Michigan, Navy Pier stands as a vibrant and iconic landmark in Chicago. Spanning over 3,000 feet, this historic pier has transformed into a year-round destination for families seeking entertainment, dining, and recreational options.
Originally built in 1916 as a shipping and recreational facility, Navy Pier now welcomes millions of visitors each year to experience its diverse attractions. Families can stroll along the scenic promenade, taking in views of the lake and the city's skyline.
The iconic Ferris wheel, known as the Centennial Wheel, stands as a testament to the pier's history and provides families with panoramic vistas of the cityscape and the vast waters of Lake Michigan.
The Pier Park is an amusement area boasting classic carnival rides and games. From the exhilarating swings to the whimsical carousel, kids and adults alike can enjoy delightful moments of laughter and excitement.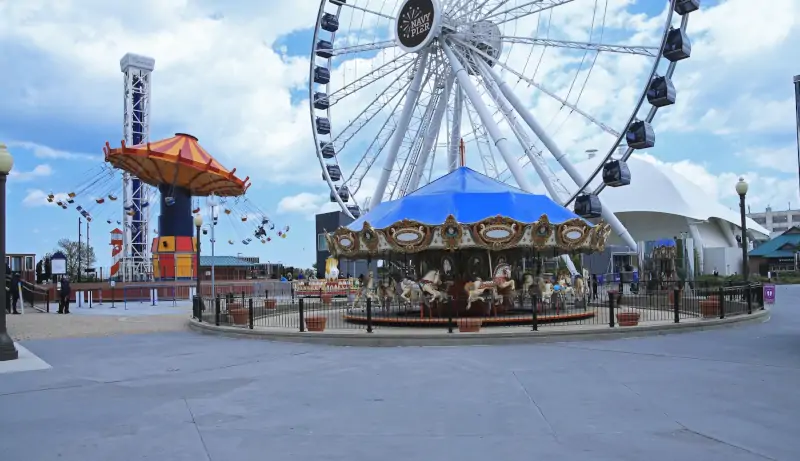 Address: 600 E Grand Ave, Chicago, IL 60611
Website: https://navypier.org/
4. Willis Tower (aka Sears Tower)
Willis Tower, formerly known as the Sears Tower, stands as an iconic marvel and an integral part of the city's skyline.
Completed in 1973, Willis Tower held the title of the world's tallest building for 25 years. Its innovative design, featuring a striking black exterior and a series of distinctive setbacks, has become synonymous with Chicago's skyline.
The main attraction of Willis Tower for families is the Skydeck, an awe-inspiring observation deck located on the 103rd floor. The Skydeck offers unobstructed 360-degree views of Chicago's urban landscape, Lake Michigan, and neighboring states on clear days. Families can step out onto "The Ledge," a series of glass boxes extending from the building's facade, providing a thrilling experience of floating above the city streets.
The Skydeck experience doesn't end with the views and exhibits. Kids can participate in Skydeck Scavenger Hunts, designed to spark their curiosity and engage them in the building's fascinating history and engineering feats.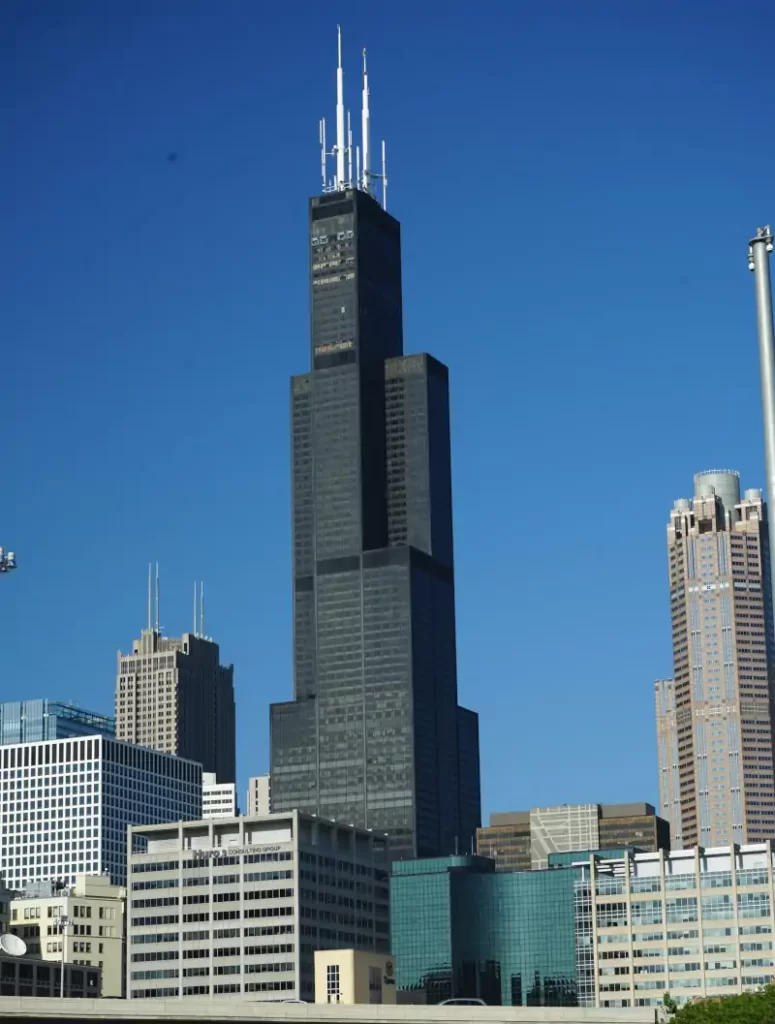 Address: 233 S Wacker Dr, Chicago, IL 60606
Website: https://www.willistower.com/
5. Lincoln Park Zoo
Established in 1868, Lincoln Park Zoo is not only one of the oldest zoos in the United States but also one of the few remaining admission-free zoos in the country, making it accessible and inviting to all.
Lincoln Park Zoo spans 35 acres and is home to over 1,100 animals. The zoo's diverse collection includes everything from majestic big cats and playful primates to fascinating reptiles and colorful birds. Visitors can witness rare and endangered species, such as the Amur leopard and the red panda.
One of the zoo's most popular exhibits is the Regenstein Center for African Apes, where guests can observe western lowland gorillas and chimpanzees in an environment designed to mimic their natural habitat. The Kovler Lion House is another favorite, housing the zoo's resident lions and providing an awe-inspiring experience as visitors observe these magnificent creatures up close.
For those seeking a taste of the wild, the Pritzker Family Children's Zoo provides a fun-filled environment for younger visitors. Children can interact with domestic animals, get hands-on in the play area, and even enjoy a thrilling ride on the Endangered Species Carousel. This area fosters a sense of wonder and appreciation for the animal kingdom, making it an ideal spot for families with kids.
Families will find plenty of amenities and services catering to their needs during their visit to the Lincoln Park Zoo. Stroller rentals and family restrooms are available, ensuring a convenient and comfortable experience for parents with young children. Several dining options are scattered throughout the zoo, offering a variety of snacks and meals to keep everyone energized during their exploration.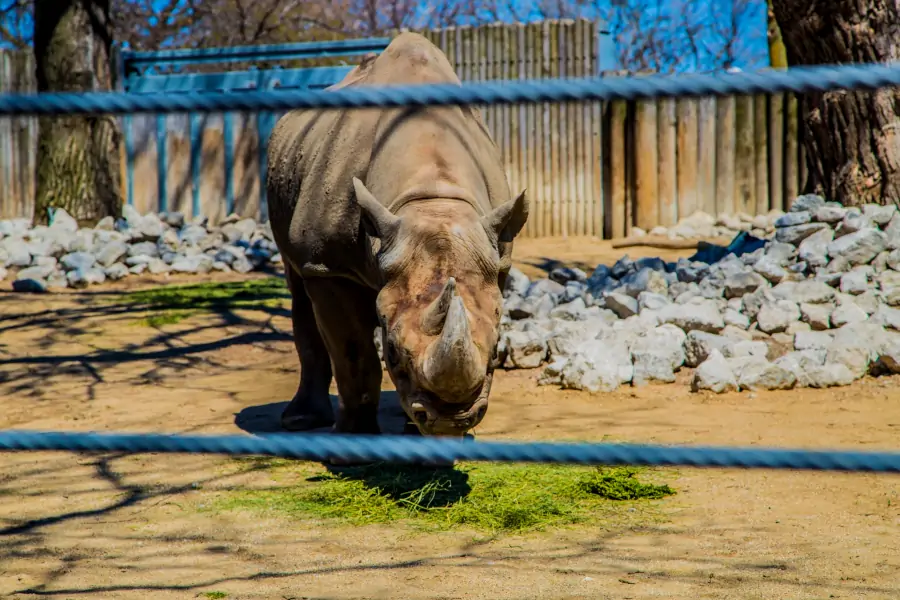 Address: 2001 N Clark St, Chicago, IL 60614
Website: https://www.lpzoo.org/
6. Wrigley Field
Wrigley Field has been home to the Chicago Cubs, one of Major League Baseball's oldest and most storied franchises, since 1916. Steeped in history and tradition, this historic ballpark holds a special place in the hearts of sports enthusiasts and families alike.
Its classic architecture, including the iconic red marquee at the entrance, exudes a nostalgic charm that transports visitors back to a bygone era of baseball.
As visitors step into the stadium, they are greeted by the electric atmosphere of passionate fans, known as the "Wrigleyville Wrigglers," who add to the excitement and camaraderie that defines Cubs games.
The Cubs offer a Junior Cubs Club program which provides young fans with exclusive experiences and opportunities to meet players. Additionally, family restrooms, stroller parking, and nursing rooms are available to ensure that families with young children have a comfortable and enjoyable visit.
For those seeking a deeper understanding of the ballpark's history and significance, guided tours of Wrigley Field are available. Visitors can explore the legendary ivy-covered walls, the dugouts, and even the Cubs' clubhouse.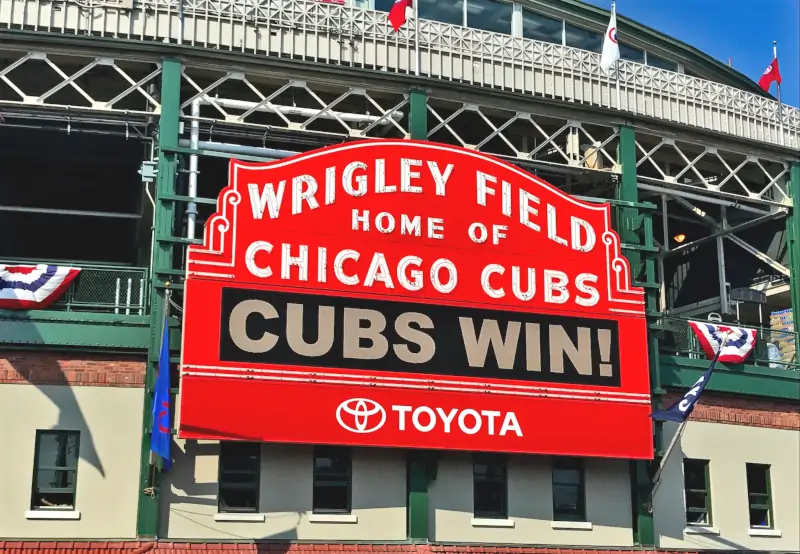 Address: 1060 W Addison St, Chicago, IL 60613
Website: https://www.mlb.com/cubs/ballpark
7. Garfield Park Conservatory
Garfield Park Conservatory is one of the largest conservatories in the United States. Originally established in 1908, Garfield Park Conservatory boasts a rich history and architectural splendor. Designed in the Beaux-Arts style, the conservatory features stunning glass structures and elegant ironwork that add to the allure of the botanical displays within.
The conservatory houses plant species from around the world. Visitors can wander through distinct display houses, each showcasing a different type of vegetation, from tropical palms and ferns in the Fern Room to colorful flowers and seasonal plants in the Show House.
One of the highlights of Garfield Park Conservatory is the Aroid House, which features exotic plants from the Araceae family, including the famed corpse flower. This rare plant occasionally blooms, emitting a pungent smell that draws crowds eager to witness its fascinating but odorous transformation.
For families, the Conservatory offers a range of educational programs and activities designed to spark curiosity and appreciation for the natural world. From interactive workshops for children to guided tours for all ages, visitors can immerse themselves in the beauty and wonder of the plant kingdom.
In addition to the main conservatory, Garfield Park boasts beautiful outdoor gardens, offering more opportunities to enjoy nature's splendor. The Monet Garden, inspired by the works of Claude Monet, is a tranquil spot where families can relax amidst the beauty of water lilies and other aquatic plants.
Garfield Park Conservatory's commitment to sustainability and conservation is evident in its efforts to implement eco-friendly practices and educate visitors on environmental stewardship. Through its various initiatives, the conservatory inspires a deeper connection with nature and a sense of responsibility to protect it for future generations.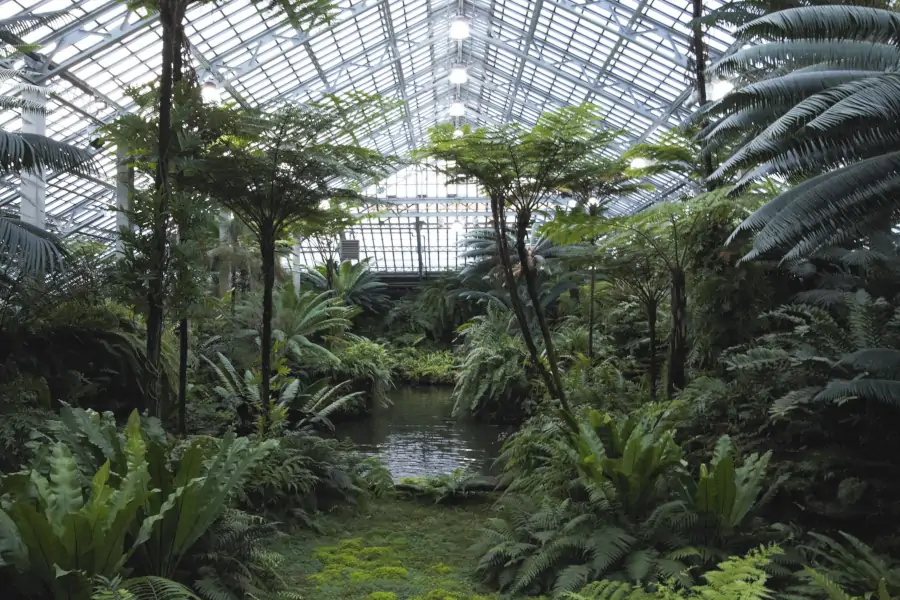 Address: 300 N Central Park Ave, Chicago, IL 60624
Website: https://garfieldconservatory.org/
8. Blue Man Group
The Blue Man Group is a performance art company like no other. The show features a trio of enigmatic, blue-faced performers who communicate with the audience through their acts, combining music, visual effects, and physical comedy. Their distinctive appearance, created with vibrant blue makeup and bald caps, adds a sense of mystique to their dynamic performances.
What sets the Blue Man Group apart is their ability to engage the audience in a participatory and interactive experience. Throughout the show, audience members become an integral part of the performance, joining in on drumming sessions and other interactive segments. This level of engagement ensures that every show is a unique and unforgettable experience for both young and old.
The show's pulsating soundtrack, a fusion of rock, pop, and techno, energizes the theater, creating an atmosphere of excitement and anticipation. From drumming performances on custom-made PVC instruments to splashes of neon paint illuminating the stage, the Blue Man Group guarantees a sensory overload that will leave you amazed and exhilarated.
Families visiting the Blue Man Group in Chicago will be delighted by the show's family-friendly content. The humor and visual storytelling appeal to all ages and make it an ideal choice for a memorable family outing.
Address: 3133 N Halsted St, Chicago, IL 60657
Website: https://www.blueman.com/chicago/
9. Shedd Aquarium
The Shedd Aquarium has been a favorite destination for families and nature enthusiasts since its opening in 1930.
The aquarium is home to an astonishing array of marine life. Visitors can explore the Caribbean Reef, a breathtaking exhibit featuring a vibrant coral reef teeming with colorful fish, rays, and sharks. The Amazon Rising exhibit transports guests into the heart of the Amazon rainforest, where they can encounter piranhas, anacondas, and other species native to this diverse habitat.
One of the most popular attractions at the Shedd Aquarium is the Oceanarium, a massive aquatic show that takes visitors on a virtual journey from the Pacific Northwest to the icy waters of the Arctic. This multisensory experience showcases the intelligence and agility of beluga whales, dolphins, sea otters, and penguins.
For families with young children, the Polar Play Zone provides a hands-on learning experience, where kids can explore a submarine, get up close with penguins, and engage in interactive activities to learn about the importance of conservation and protecting marine life.
The Shedd Aquarium's location near Chicago's Museum Campus places it within walking distance of other cultural attractions, such as the Field Museum and Adler Planetarium, making it an ideal destination for families seeking a full day of exploration and discovery.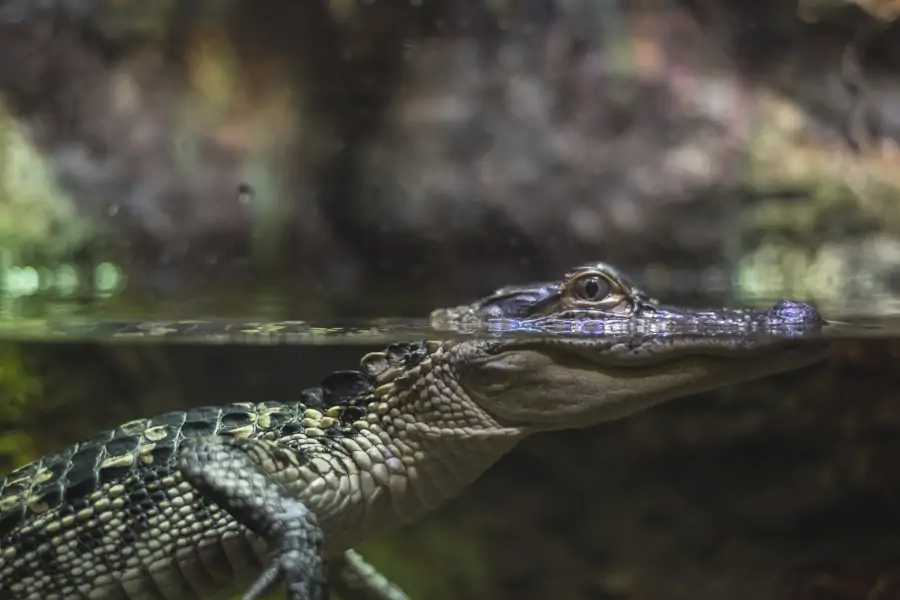 Address: 1200 S Lake Shore Dr, Chicago, IL 60605
Website: https://www.sheddaquarium.org/
10. Legoland Discovery Center
Legoland Discovery Center offers an imaginative experience for LEGO enthusiasts. This indoor playground and attraction is the perfect place for kids and parents to unleash their creativity in a world built entirely of LEGO bricks.
Its MINILAND display shows off Chicago's iconic landmarks recreated with over 1.5 million LEGO bricks. From the Willis Tower to the Navy Pier, this miniature cityscape is a sight to behold and provides a fantastic introduction to the creativity and craftsmanship that awaits.
Families can venture into themed play zones where kids can build, test, and race their LEGO creations. The LEGO Racers: Build & Test zone lets young engineers design and race their custom LEGO cars on various tracks.
The 4D Cinema adds a touch of magic to the experience, as visitors watch LEGO characters come to life in a 3D movie with special effects, adding an extra dimension of fun and laughter to the visit.
For families seeking a challenge, the LEGO Master Builder Academy provides hands-on workshops and building tips from skilled experts.
In addition to the interactive zones, Legoland Discovery Center offers a fun adventure for brave young knights and princesses in the Kingdom Quest Laser Ride. Families can join forces and zap trolls, skeletons, and other LEGO villains on a quest to rescue the captured princess.
Safety and comfort are a priority at Legoland Discovery Center, and the attraction provides stroller-friendly facilities, family restrooms, and nursing rooms for the convenience of parents with young children.
The on-site LEGO store is a paradise for enthusiasts of all ages and offers a vast selection of LEGO sets, minifigures, and exclusive items.
Address: 601 N Martingale Rd, Schaumburg, IL 60173
Website: https://www.legolanddiscoverycenter.com/chicago/
11. Art Institute of Chicago
The Art Institute of Chicago is one of the oldest and largest art museums in the United States.
The Art Institute of Chicago boasts a remarkable collection of over 300,000 artworks, spanning thousands of years and representing various cultures and artistic movements. From ancient artifacts to contemporary masterpieces, visitors can explore a rich tapestry of artistic expression from around the globe.
One of the museum's most iconic pieces is Grant Wood's "American Gothic," a quintessential American artwork that has become a symbol of American culture. Visitors can also marvel at famous works by Vincent van Gogh, Claude Monet, and Pablo Picasso, among other legendary artists.
The museum's collection of Impressionist and Post-Impressionist art is one of the most significant in the world and features masterpieces such as Georges Seurat's "A Sunday on La Grande Jatte" and Pierre-Auguste Renoir's "Two Sisters (On the Terrace)."
For families, the Ryan Learning Center provides interactive spaces and art-making activities designed to engage young visitors and foster a deeper appreciation for art. The Family Trail and audio tours offer family-friendly ways to explore the museum.
With its central location in Chicago, the Art Institute is easily accessible and conveniently situated near other popular attractions.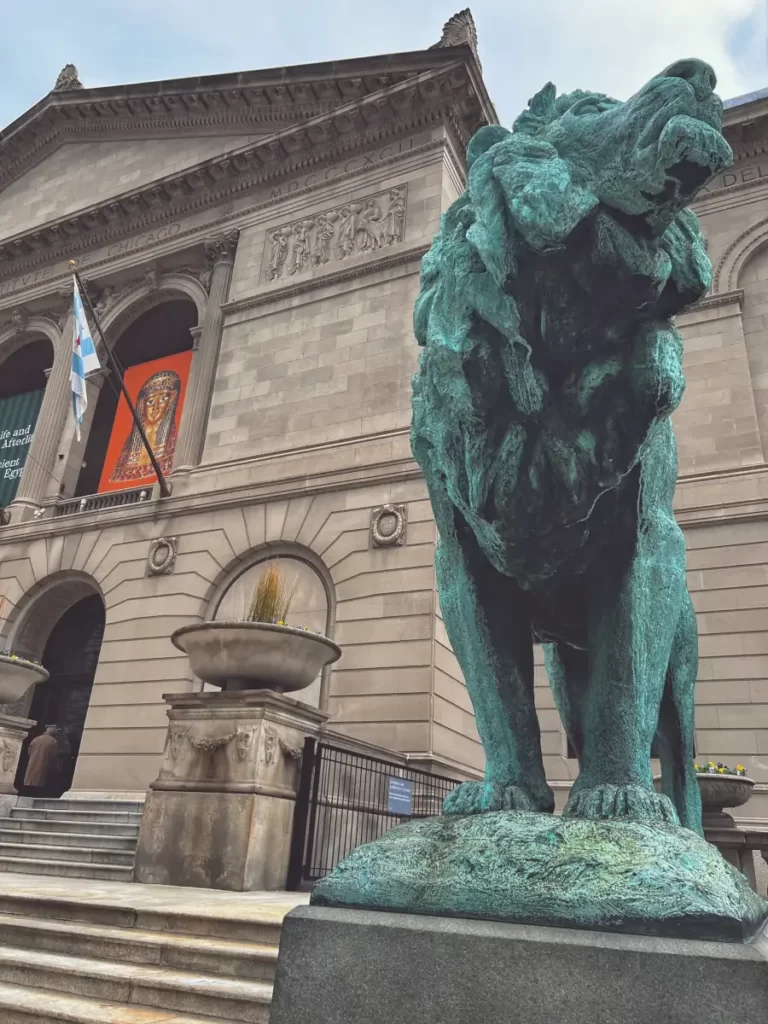 Address: 111 S Michigan Ave, Chicago, IL 60603
Website: https://www.artic.edu/
12. Maggie Daley Park
Maggie Daley Park is a 20-acre public park located in downtown Chicago. The park's expansive fields and open spaces invite families to enjoy picnics, games, and outdoor gatherings on sunny days.
Its Play Garden is a dreamland for kids, complete with imaginative play structures, climbing walls, and splash pads that provide endless hours of fun and exploration. Families can witness the laughter and excitement of children as they navigate the Enchanted Forest and Slide Crater.
The Skating Ribbon, a special feature of the park, offers ice skating during the winter months. Unlike traditional ice rinks, the Skating Ribbon winds its way through the park's landscape and provides skaters with amazing views of the city skyline as they glide along the meandering path.
Maggie Daley Park also offers sports facilities, including a climbing wall and a mini-golf course, to cater to both adventure seekers and competitive spirits.
The stunning "Sea" sculpture, designed by world-renowned artist Jaume Plensa, is a captivating centerpiece of the park. This 40-foot-tall head sculpture, made of intricately woven stainless steel letters, leaves visitors in awe and adds an artistic touch to the park's landscape.
Conveniently located near Millennium Park and other cultural attractions, Maggie Daley Park offers a seamless connection to the vibrant life of downtown Chicago. Families can easily extend their visit to explore neighboring landmarks, making it a perfect addition to a day of city exploration.
Address: 337 E Randolph St, Chicago, IL 60601
Website: https://www.chicagoparkdistrict.com/parks-facilities/maggie-daley-park/
13. Chicago Children's Museum
The Chicago Children's Museum is a place where imagination knows no bounds, and learning is an adventure filled with wonder and excitement.
One of the highlights of the museum is the WaterWays exhibit, where children can experiment with water play and discover the principles of physics and fluid dynamics while having a splashing good time. The Tinkering Lab is another popular attraction, where kids can build, design, and invent using real tools and materials, nurturing their problem-solving and engineering skills.
For younger visitors, the Play It Safe exhibit provides a safe and interactive space to learn about safety and emergency preparedness in a fun and age-appropriate manner. Kids can role-play as firefighters, police officers, or doctors to help them gain a better understanding of these vital professions.
The museum's commitment to inclusivity and accessibility is evident in its All-In Play exhibit, designed for children of all abilities to play side by side. This inclusive space fosters empathy, understanding, and a sense of community among young visitors.
With its prime location on Navy Pier, the museum is surrounded by numerous dining options and other family-friendly attractions, making it a perfect destination for a day of exploration and fun in Chicago.
Address: 700 E Grand Ave, Chicago, IL 60611
Website: https://www.chicagochildrensmuseum.org/
14. Great Wolf Lodge
The Great Wolf Lodge resort is filled with water park adventures, cozy accommodations, and an abundance of family-friendly activities. Located just a short drive from downtown Chicago, Great Wolf Lodge provides families with a one-of-a-kind experience.
The heart of Great Wolf Lodge is its massive indoor water park, which operates year-round, a perfect destination no matter the season. The water park boasts numerous water slides, water play areas, and pools to cater to guests of all ages.
Kids can experience the thrill of the Totem Towers water slides or embark on a family raft ride down the River Canyon Run. The adventurous can take on the Howlin' Tornado, a water slide that takes riders on a breathtaking journey through a massive funnel.
For the little ones, the Cub Paw Pool is a safe and interactive play area with gentle water features, tiny slides, and plenty of splashing fun. The water park also offers a wave pool, lazy river, and a variety of water attractions to ensure a full day of aquatic excitement.
Beyond the water park, Great Wolf Lodge offers activities to entertain the whole family. The resort's centerpiece, the MagiQuest adventure game, allows kids to embark on a quest using interactive wands to unlock secrets and solve challenges throughout the lodge.
The Northern Lights Arcade is a paradise for game enthusiasts, featuring a diverse selection of arcade games that reward players with tickets they can redeem for prizes. Families can also enjoy glow-in-the-dark mini-golf, the Howl in One Mini Golf Course, for an enjoyable and friendly competition.
The Great Wolf Kids Club hosts a variety of interactive activities, including story times, character appearances, and arts and crafts sessions. Kids can even meet the Great Wolf Lodge characters, Wiley the Wolf and Violet the Wolf, which adds an extra touch of enchantment to their stay.
The cozy and inviting accommodations at Great Wolf Lodge Chicago range from standard rooms to themed suites, such as the Wolf Den and KidCabin, which provide separate sleeping areas for kids with engaging interactive elements.
Dining at Great Wolf Lodge is a delightful experience with a range of restaurants and dining options available. From family-friendly eateries to specialty dining experiences, guests can savor a variety of delicious meals and snacks.
Address: 1700 Nations Dr, Gurnee, IL 60031
Website: https://www.greatwolf.com/illinois
15. Six Flags Great America
Six Flags Great America has been entertaining visitors of all ages since its opening in 1976. This iconic amusement park offers roller coasters, rides, shows, and attractions that promise an action-packed day of excitement and adventure.
From the towering and record-breaking Goliath to the high-speed twists and turns of Raging Bull, the park's roller coasters provide a rush of excitement that leaves guests screaming for more.
Families with young children will find plenty of attractions designed for kids of all ages. The Camp Cartoon Network area is a delightful playground featuring characters from Cartoon Network shows, while the Kidzopolis section offers gentle rides and interactive play areas for younger guests.
Throughout the day, visitors can enjoy live shows and entertainment, adding an extra layer of excitement to the park experience. From thrilling stunt shows to family-friendly musical performances, the shows at Six Flags Great America offer a brief respite from the thrills of the rides.
The Looney Tunes characters, such as Bugs Bunny and Daffy Duck, make frequent appearances throughout the park, providing opportunities for meet-and-greets and photo opportunities, much to the delight of young visitors.
Address: 1 Great America Pkwy, Gurnee, IL 60031
Website: https://www.sixflags.com/greatamerica
16. Topgolf
Topgolf is an entertainment venue that blends the excitement of golf with the atmosphere of a lively sports bar. Topgolf offers a unique and interactive experience for individuals and families, making it a perfect destination to unwind and have fun.
Topgolf's signature attraction is its state-of-the-art driving range, which features climate-controlled hitting bays equipped with advanced technology. Golfers of all skill levels can take aim at colorful targets spread throughout the range, scoring points based on the accuracy and distance of their shots. The innovative ball-tracking system ensures a precise and rewarding golfing experience.
The venue offers multiple game modes, making Topgolf suitable for both seasoned golfers and beginners alike. Whether you're aiming for a hole-in-one or simply having a fun time with friends and family, Topgolf delivers an enjoyable golfing experience that caters to all levels of play.
The spacious lounge areas and outdoor patios provide the perfect setting to relax, socialize, and take in the views of the driving range. It's an ideal spot to cheer on friends and family or to watch live sports events on large screens.
Topgolf also offers a variety of events and specials throughout the week, adding an extra layer of excitement to the experience. From themed nights to golf tournaments and live music performances, there's always something happening at Topgolf to keep the energy high and the fun going.
Address: 2050 Progress Pkwy, Schaumburg, IL 60196
Website: https://topgolf.com/us/schaumburg/
17. Medieval Times
Medieval Times Dinner & Tournament offers a blend of history, entertainment, and delicious dining.
At Medieval Times, guests are welcomed into a grand medieval-style castle, where they are greeted by costumed performers.
The centerpiece of the Medieval Times experience is the live tournament, where brave knights compete in jousting matches and engage in epic swordfights for the honor of their kingdom.
Guests are divided into sections, each representing a different knight and kingdom, and are encouraged to cheer for their champion throughout the spectacle.
As the tournament unfolds, guests are treated to a four-course feast fit for a king or queen. The medieval-inspired menu includes garlic bread, roasted chicken, and spare ribs, complemented by sides and desserts.
During the feast, the audience is entertained by a storyline that weaves together a tale of bravery, treachery, and honor. The show incorporates amazing equestrian performances and horsemanship, to create a thrilling and memorable spectacle.
Address: 2001 N Roselle Rd, Schaumburg, IL 60195
Website: https://www.medievaltimes.com/chicago
18. Illinois Railway Museum
The Illinois Railway Museum is the largest railroad museum in America.
The museum boasts an extensive collection of historic railway equipment, including locomotives, passenger cars, freight cars, and other artifacts from different eras of rail travel. Visitors have the opportunity to explore and even ride on beautifully restored vintage trains and get a firsthand glimpse into the bygone days of railroading.
One of the highlights of the museum is its operating trolley line, where visitors can take a ride on a historic electric trolley car and experience the charm and nostalgia of early 20th-century transportation.
In addition to the trolley line, the Illinois Railway Museum offers various train rides. From steam-powered locomotives to diesel-electric engines, these train rides offer a unique and memorable journey back in time.
Address: 7000 Olson Rd, Union, IL 60180
Website: https://www.irm.org/
19. Museum of Science and Industry
Located in the beautiful Hyde Park neighborhood of Chicago, the Museum of Science and Industry (MSI) is one of the largest science museums in the world and a must-visit attraction for families and curious minds.
The museum is housed in the historic Palace of Fine Arts building, a relic from the 1893 World's Columbian Exposition. The architecture provides a magnificent backdrop for the exhibits and experiences that await inside.
One of the museum's most popular exhibits is the U-505 Submarine, a captured German U-boat from World War II. Visitors can step aboard this historical vessel and delve into the life of submariners during the war.
Another highlight of the museum is the Science Storms exhibit, an immersive experience that explores the forces of nature and showcases natural phenomena like tornadoes, lightning, and fire.
The MSI also offers a journey through time and space with the "Yesterday's Main Street" exhibit, a recreation of a 1910-era street, complete with storefronts and artifacts from the past.
The museum's Coal Mine exhibit takes guests on a simulated underground adventure that provides insights into the coal mining industry and the challenges faced by miners.
For families with young children, the Museum of Science and Industry offers a delightful and interactive space known as the Idea Factory. Here, kids can engage in hands-on activities and experiments that foster curiosity and creativity.
The MSI's Omnimax Theater is another crowd-pleaser, offering visual experiences on a five-story, wrap-around screen. Visitors can immerse themselves in films that transport them to stunning landscapes, distant galaxies, and scientific wonders.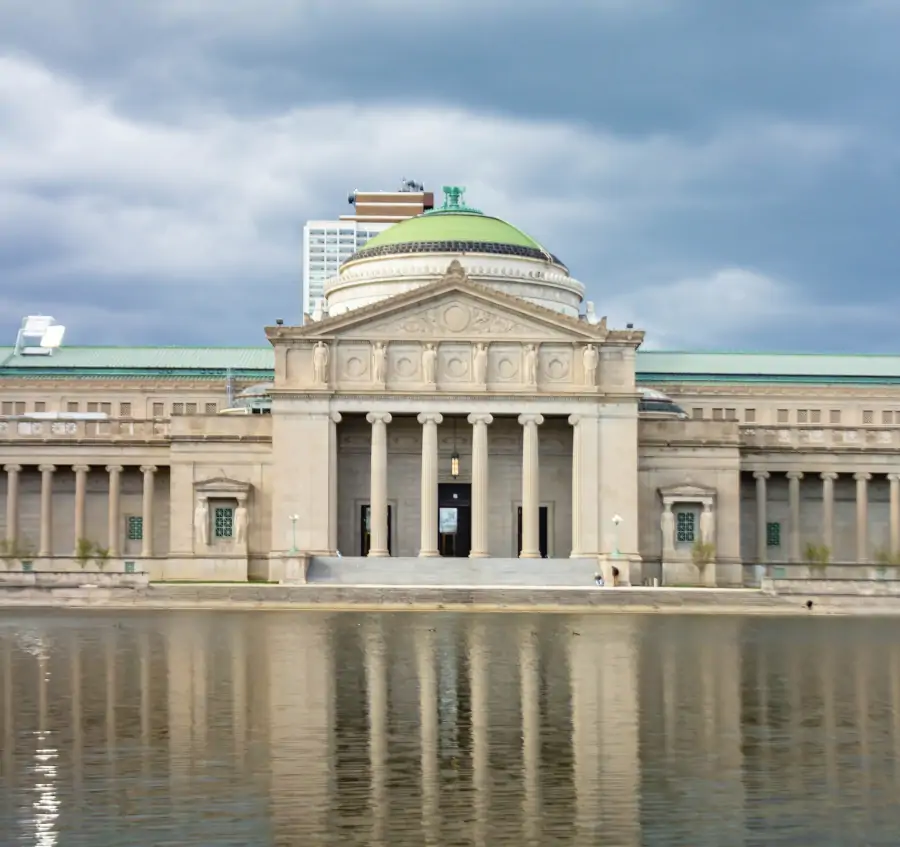 Address: 5700 S Lake Shore Dr, Chicago, IL 60637
Website: https://www.msichicago.org/
20. Chicago Children's Theater
The Chicago Children's Theater (CCT) has been captivating children and families since its founding in 2005, fostering a love for the performing arts and encouraging creativity in young minds.
The Chicago Children's Theater offers a diverse repertoire of productions that cater to children of all ages, from toddlers to teens.
One of the hallmarks of the Chicago Children's Theater is its commitment to presenting socially relevant and meaningful stories. Many of the theater's productions address important themes, such as diversity, inclusion, empathy, and environmental awareness.
The theater's talented and dedicated artists and performers deliver captivating performances that transport young audiences to magical worlds, historical periods, and faraway lands. With colorful sets, imaginative costumes, and mesmerizing music, each production at CCT is a theatrical feast that sparks wonder and delight.
In addition to stage productions, the Chicago Children's Theater offers a wide range of educational and community programs. These programs include acting classes, workshops, and camps that provide children with opportunities to explore their creativity, develop confidence, and hone their performance skills.
Address: 100 S Racine Ave, Chicago, IL 60607
Website: https://chicagochildrenstheatre.org/
21. Chicago Fed's Money Museum
Located at the Federal Reserve Bank of Chicago, the Money Museum offers a special opportunity for visitors to explore the intricacies of our nation's financial system and learn about the role of the Federal Reserve in shaping the economy.
The Money Museum provides an immersive and interactive experience, making it an ideal destination for families, students, and anyone curious about money and economics. Through engaging exhibits and hands-on activities, visitors can gain insights into the history of money, the processes involved in banking, and the ways in which the Federal Reserve influences monetary policy.
One of the highlights of the Money Museum is the chance to see genuine U.S. currency in various denominations, including rare and historical bills. Visitors can marvel at the sight of millions of dollars on display.
The museum's exhibits cover a wide range of topics, from the origins of money and bartering to the evolution of currency and the role of banks in the economy.
The Chicago Fed's Money Museum is free to the public, making it an accessible and enriching destination for all.
Address: Federal Reserve Bank of Chicago, 230 S LaSalle St, Chicago, IL 60604
Website: https://www.chicagofed.org/education/money-museum/index
22. Shoreline Water Taxi
The Shoreline Water Taxi is a delightful and scenic way to explore the beautiful city of Chicago from the water, on a journey along the Chicago River and Lake Michigan.
The water taxis are equipped with indoor and outdoor seating, allowing passengers to bask in the fresh air and soak in the views of the city's iconic skyline and architectural wonders.
As the water taxi cruises along the river, passengers can admire the famous skyscrapers and historic buildings that line the waterfront, including the Willis Tower, the Wrigley Building, and the Tribune Tower.
In addition to offering scenic tours, Shoreline Water Taxi serves as a convenient and efficient mode of transportation between key destinations along the Chicago River. The water taxis make several stops at popular locations such as Navy Pier, Michigan Avenue, and the Museum Campus, allowing passengers to access some of Chicago's most beloved attractions and landmarks with ease.
Shoreline Water Taxi operates seasonally, typically from spring to fall, when the weather is most conducive to outdoor activities and sightseeing.
Website: https://shorelinewatertaxi.com/
23. Millennium Park
Since it opened in 2004, Millennium Park has become one of the city's most iconic and beloved attractions, drawing millions of visitors each year with its stunning architecture, inspiring public art, and vibrant cultural events.
At the heart of Millennium Park stands the Cloud Gate, affectionately known as "The Bean." This stainless-steel sculpture, created by artist Anish Kapoor, reflects the city's iconic skyline and the faces of its visitors. The Cloud Gate has become an instantly recognizable symbol of Chicago and a favorite spot for visitors to snap selfies and capture memorable moments.
Another iconic feature of Millennium Park is the Jay Pritzker Pavilion, an architecturally striking outdoor concert venue designed by renowned architect Frank Gehry. The pavilion's state-of-the-art sound system and open-air design provide a perfect setting for free concerts and performances throughout the summer months, ranging from classical music and jazz to world music and contemporary performances.
The Lurie Garden, a five-acre garden, offers a peaceful respite from the bustling city. The garden's thoughtful design features a combination of native perennials, grasses, and trees that change with the seasons, creating a beautiful and ever-changing landscape.
Millennium Park also hosts a variety of cultural events, festivals, and family-friendly activities throughout the year. From art exhibitions and film screenings to yoga classes and ice skating in the winter, there's always something happening at the park to entertain and engage visitors of all ages.
The park's central location makes it easily accessible to visitors and locals alike. Its close proximity to other major attractions, such as the Art Institute of Chicago and Grant Park, makes it a perfect starting point for exploring the city's cultural treasures.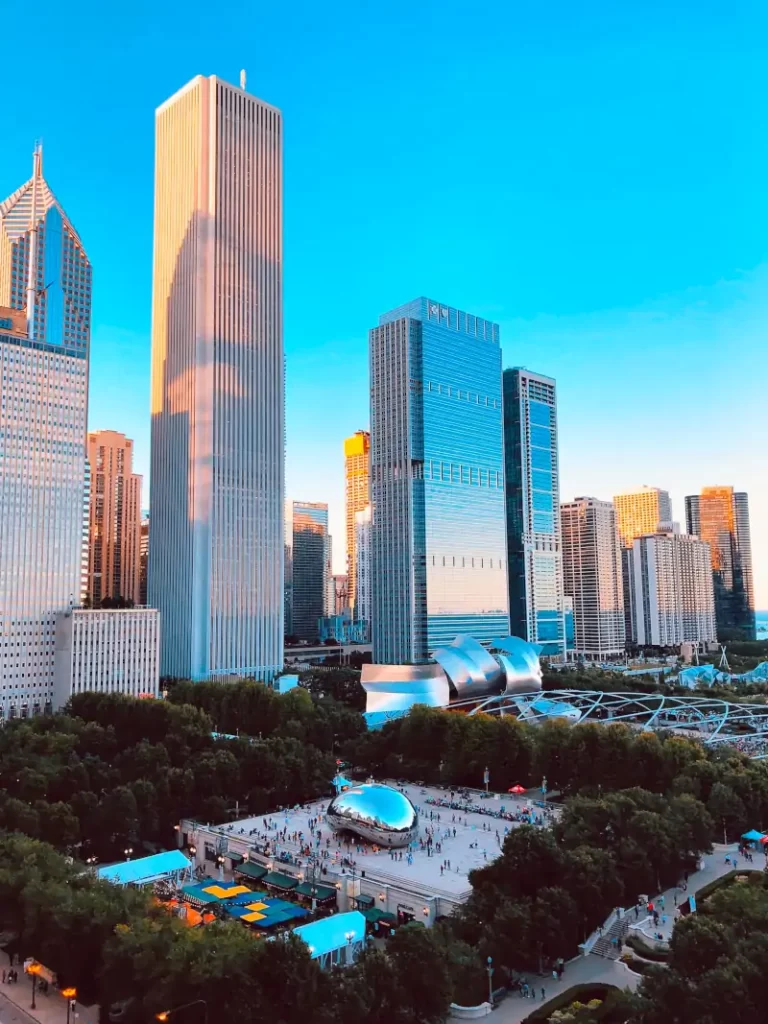 Address: 201 E Randolph St, Chicago, IL 60602
Website: https://www.chicago.gov/city/en/depts/dca/supp_info/millennium_park.html
24. Peggy Notebaert Nature Museum
Te Peggy Notebaert Nature Museum is dedicated to promoting an appreciation and understanding of nature and wildlife.
The museum's exhibits showcase the diverse ecosystems of the Midwest, from the prairies and woodlands to the wetlands and urban environments. Interactive displays, dioramas, and hands-on activities engage visitors of all ages, making learning about nature both enjoyable and informative.
At the Judy Istock Butterfly Haven, visitors can walk among hundreds of butterflies fluttering freely. This unique exhibit offers a serene and magical experience, allowing guests to observe these delicate creatures up close and learn about their life cycle and behavior.
The museum's Birds of Chicago exhibit features an extensive collection of bird specimens to showcase the wide variety of avian species found in the region. Visitors can explore the beauty and diversity of local birds and learn about their habitats, migration patterns, and conservation efforts.
In addition to its engaging exhibits, the Peggy Notebaert Nature Museum offers a range of educational programs and workshops that cater to schools, families, and nature enthusiasts. From field trips and summer camps to citizen science initiatives and lectures, the museum provides valuable resources for fostering an appreciation and understanding of the natural world.
Address: 2430 N Cannon Dr, Chicago, IL 60614
Website: https://naturemuseum.org/
25. McCormick Bridgehouse & Chicago River Museum
The 'Bridgehouse Museum' offers visitors an up-close and personal look at the workings of Chicago's iconic moveable bridges and the significant role they played in shaping the city's development.
The museum is housed within a historic bridgehouse, which once served as a control center for the Michigan Avenue Bridge. Visitors can explore the five floors of the bridgehouse, each offering different exhibits and interactive displays that tell the story of the Chicago River and its bridges.
One of the highlights of the Bridgehouse Museum is the chance to witness the mechanical gears and machinery that operate the historic bridge. Through guided tours, visitors can step back in time and experience the fascinating process of raising and lowering the bridge to allow boats to pass underneath.
The museum's exhibits delve into the history of the Chicago River, from its early days as a vital transportation route for trade and commerce to its transformation into a bustling waterway for recreation and tourism. Visitors can learn about the city's industrial past, the Great Chicago Fire, and the efforts to reverse the river's flow, which had a profound impact on the city's growth and sanitation.
The Bridgehouse Museum is also a prime spot to enjoy views of the Chicago River and the surrounding cityscape. The outdoor Skyline Terrace offers panoramic vistas of the Chicago skyline, providing the perfect backdrop for photos and a moment to take in the beauty of the city from a unique vantage point.
Address: 376 N Michigan Ave, Chicago, IL 60601
Website: https://www.bridgehousemuseum.org/