1. Como Park Zoo and Conservatory
Como Park Zoo and Conservatory, located in St. Paul, Minnesota, is a destination that seamlessly blends wildlife exploration with horticultural delights.
Como Park Zoo and Conservatory traces its roots back to 1897 when the zoo was established as a small collection of animals in Como Park. Over the years, it has evolved into a world-class zoo and conservatory that showcases an extensive range of animals and plants from around the globe.
The zoo boasts a diverse and impressive collection of animals, including lions, giraffes, gorillas, zebras, and many more. Visitors have the opportunity to observe these fascinating creatures up close, while educational displays and informational sessions offer insights into their habitats, behaviors, and conservation efforts.
At the heart of the park lies the Marjorie McNeely Conservatory, an awe-inspiring glass-enclosed structure that houses exotic plants from various climates. The conservatory is divided into distinct themed rooms, such as the Tropical Encounters, Fern Room, and Sunken Garden, each transporting visitors to different botanical worlds.
The zoo offers engaging experiences for families and children. Interactive exhibits, play areas, and special events provide young visitors with a fun and educational day out. In addition, the zoo's beautifully landscaped picnic areas make it an ideal spot for families to relax and enjoy a leisurely meal surrounded by nature.
Throughout the year, Como Park Zoo and Conservatory hosts a variety of seasonal events and festivities. From the dazzling holiday lights during the Winter Flower Show to the vibrant blooms and lively activities in the spring and summer, there is always something special to look forward to at the zoo.
Como Park Zoo and Conservatory is committed to inclusivity and accessibility. The park offers free admission, making it accessible to all members of the community.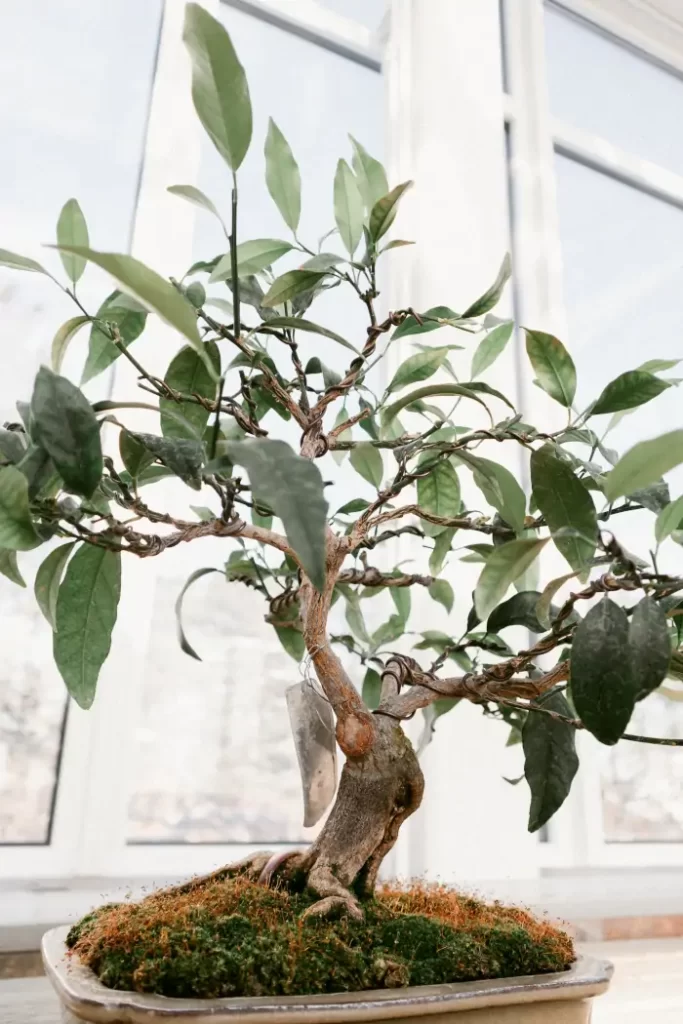 Address: 1225 Estabrook Drive, St. Paul, MN 55103
Website: https://comozooconservatory.org/
2. SEA LIFE at Mall of America
Located within the iconic Mall of America, SEA LIFE is an extraordinary underwater adventure that allows visitors to explore the wonders of the ocean.
One of the highlights of SEA LIFE is the Ocean Tunnel, a walkthrough experience that places visitors right in the heart of the ocean. As they stroll through a clear glass tunnel, they can marvel at sea creatures swimming gracefully above and around them, creating an unforgettable sense of being submerged in the deep blue sea.
SEA LIFE encourages hands-on learning and interaction with marine life through touch pools and interactive zones. Visitors can gently touch starfish, sea urchins, and other fascinating creatures while learning about their unique characteristics and habitats. These interactive experiences provide both education and excitement for guests of all ages.
For those seeking a deeper understanding of marine conservation and animal care, SEA LIFE offers exclusive behind-the-scenes tours. These tours provide a glimpse into the inner workings of the aquarium and offer insights into the care and well-being of the resident marine animals. Additionally, visitors can witness feeding demonstrations that showcase the skills and behaviors of various sea creatures.
Address: Mall of America, 120 E Broadway, Bloomington, MN 55425
Website: https://www.visitsealife.com/minnesota/
3. Minnehaha Park
Minnehaha Park has been a popular destination for both locals and tourists for over a century, and it continues to captivate visitors with its breathtaking waterfalls, scenic landscapes, and diverse amenities.
The park's crowning jewel is Minnehaha Falls, a 53-foot waterfall that cascades into a scenic gorge, surrounded by lush greenery. The falls are at their most spectacular during the spring and early summer when the snowmelt and rainfall result in a roaring rush of water. Visitors can take in the views from various vantage points and enjoy the cooling mist on hot summer days.
Families visiting Minnehaha Park can take advantage of the playgrounds, picnic areas, and open spaces for fun and relaxation. The park's wading pool offers a refreshing respite for kids during the summer months, while the wide expanses of green lawns provide ample space for family games and activities.
During the warmer months, the Minnehaha Park Pavilion hosts concerts, performances, and cultural events, adding an extra layer of entertainment and vibrancy to the park's atmosphere. Families can check the park's schedule to plan their visit around these engaging events.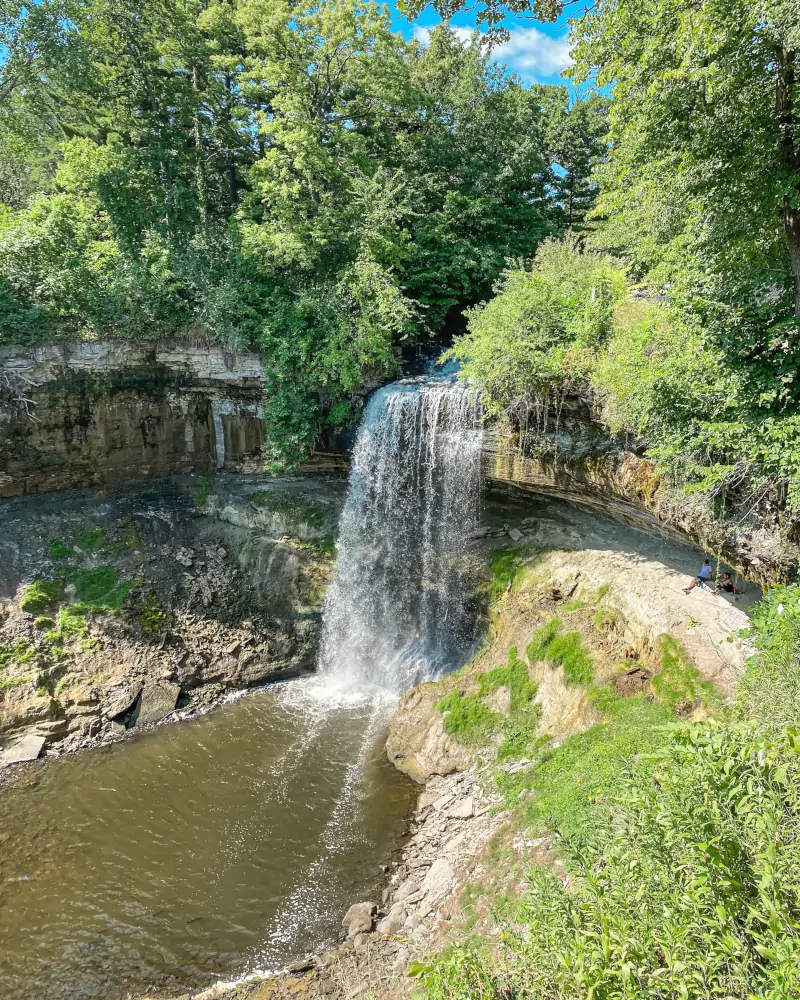 Address: 4801 S Minnehaha Dr, Minneapolis, MN 55417
4. Can Can Wonderland
Can Can Wonderland is a one-of-a-kind entertainment venue that combines the charm of a vintage carnival with the creativity of a contemporary art gallery.
Housed in a repurposed warehouse, Can Can Wonderland features an array of mini-golf courses that are anything but ordinary. Each course is a creative masterpiece, designed by local artists, and offers a journey through imaginative landscapes, colorful sculptures, and interactive elements. Mini-golf enthusiasts of all ages will be enchanted by the playful and artistic twists on this classic pastime.
In addition to mini-golf, Can Can Wonderland boasts a variety of arcade games, ranging from vintage pinball machines to modern video games. Guests can immerse themselves in a nostalgic arcade experience or discover new favorites in this eclectic collection of games.
Can Can Wonderland is a family-friendly destination, providing a welcoming and inclusive space for visitors of all ages. Families can spend quality time together, bonding over games and art, and creating lasting memories in this wonderland of entertainment.
Address: 755 Prior Ave N, Suite #004, St. Paul, MN 55104
Website: https://www.cancanwonderland.com/
5. Minnesota Zoo
The Minnesota Zoo is a premier destination for wildlife enthusiasts and families. Spanning across 485 acres, this world-class zoo is home to animals from various habitats around the globe.
The Minnesota Zoo is divided into several exhibits, each designed to replicate the natural environments of its inhabitants. From the lush tropical forests of the Tropics Trail to the vast and icy landscapes of the Northern Trail, the zoo offers a fascinating journey through different ecosystems.
One of the highlights of the zoo is the Wells Fargo Family Farm, where visitors can interact with farm animals and learn about agricultural practices. This hands-on experience is especially popular with young children, who get the chance to pet and feed the friendly animals.
During the warmer months, the Minnesota Zoo hosts special events and concerts, offering a delightful blend of entertainment and outdoor fun. These events add an extra layer of excitement to the overall zoo experience.
The zoo provides ample amenities to ensure a comfortable visit for families, including dining options, picnic areas, and stroller rentals. The Zoomobile and the Central Plaza Carousel are among the kid-friendly attractions that add to the fun and joy for young visitors.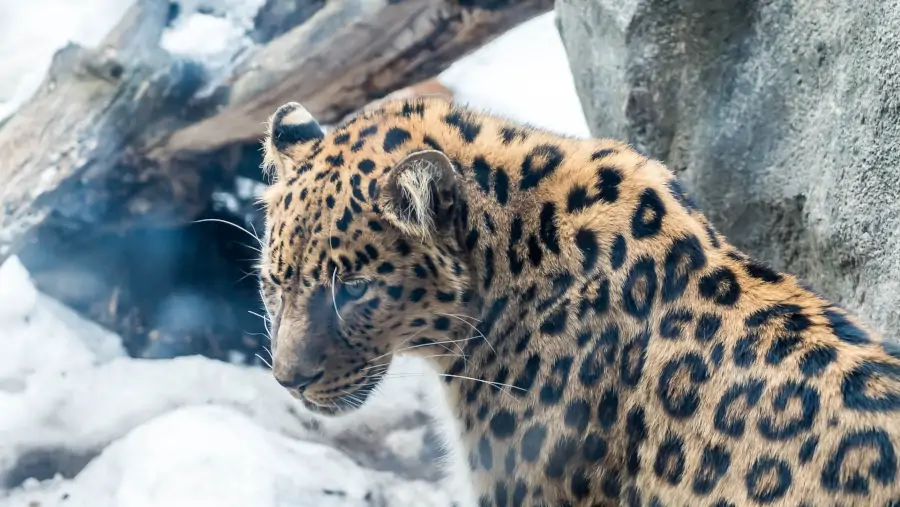 Address: 13000 Zoo Blvd, Apple Valley, MN 55124
Website: https://mnzoo.org/
6. SeaQuest
SeaQuest is an interactive and immersive aquarium experience that offers visitors the chance to explore the wonders of the ocean and beyond.
SeaQuest features a wide range of exhibits, each representing different ecosystems and habitats. From the coral reefs of the Caribbean to the Amazon rainforest, visitors can embark on a journey to discover the remarkable diversity of life on our planet. The interactive nature of the exhibits allows guests to touch and interact with many of the animals, creating a hands-on and educational experience.
One of the highlights of SeaQuest is the chance to meet and learn about animals that are rarely seen in traditional zoos and aquariums. From exotic birds and reptiles to playful otters and fascinating sharks, the aquarium showcases an impressive variety of species.
For younger visitors, the petting zoo and interactive play areas offer a fun and educational experience. Kids can pet and feed gentle animals, engage in educational games, and immerse themselves in the wonders of the natural world.
Address: SeaQuest Rosedale Center, 1595 MN-36, Suite 408, Roseville, MN 55113
Website: https://visitseaquest.com/roseville/
7. Minneapolis Sculpture Garden
The Minneapolis Sculpture Garden is a stunning outdoor museum that showcases an impressive collection of contemporary sculpture and art. Spanning 11 acres, the garden is one of the largest urban sculpture parks in the United States, attracting art enthusiasts, families, and tourists alike.
Managed by the Walker Art Center, the Minneapolis Sculpture Garden blends art, nature, and urban landscape. The garden features over 40 works of art, including iconic sculptures like the "Spoonbridge and Cherry" by Claes Oldenburg and Coosje van Bruggen. This whimsical and iconic piece has become a symbol of the city and a favorite photo spot for visitors.
The garden's carefully curated collection includes sculptures from renowned artists such as Alexander Calder, Frank Gehry, and Mark di Suvero, among others.
Beyond the art, the Minneapolis Sculpture Garden boasts beautifully landscaped grounds, walking paths, and open green spaces. Visitors can enjoy strolls, picnics, or simply relax and admire the sculptures amidst the serene surroundings.
The garden is free and open to the public, making it an accessible and inclusive destination for people of all ages and backgrounds. Families can bring their children to explore the art and enjoy the open space, providing an enriching and creative outing for the whole family.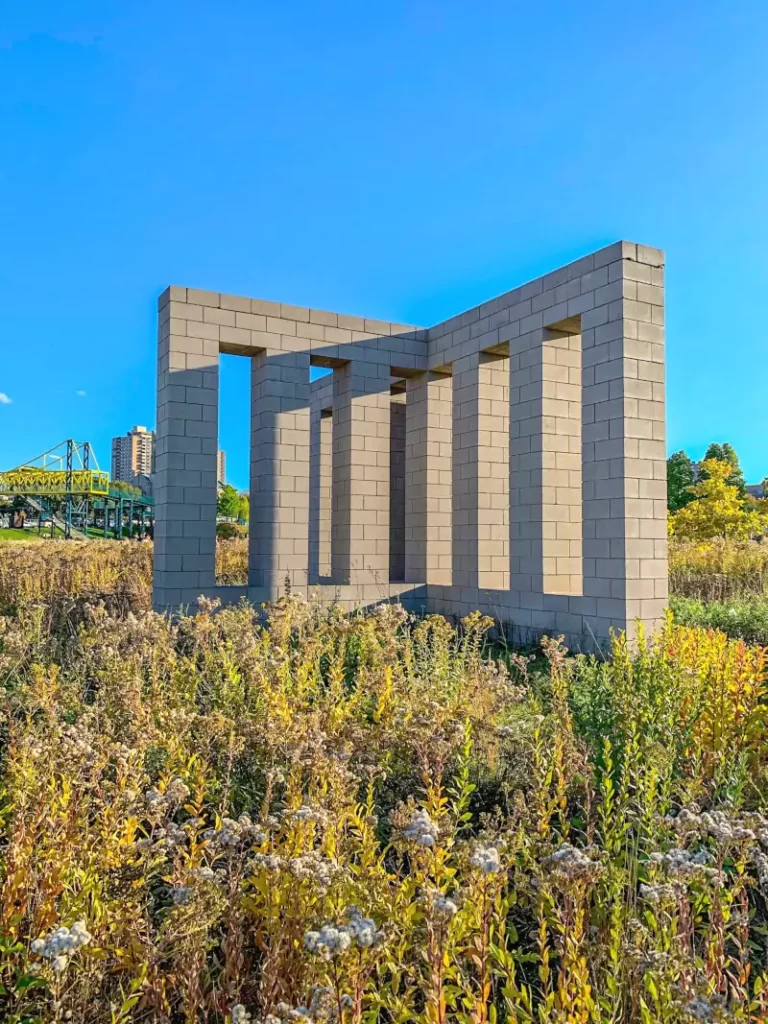 Address: 725 Vineland Pl, Minneapolis, MN 55403
Website: https://walkerart.org/visit/garden
8. Lego Imagination Center
The LEGO Imagination Center, located in the Mall of America in Bloomington, Minnesota, is a haven for LEGO enthusiasts of all ages. This flagship LEGO store is a dream come true for those who love the iconic plastic bricks, offering a vast array of LEGO sets, merchandise, and interactive experiences that ignite creativity and imagination.
Spanning over 5,000 square feet, the LEGO Imagination Center is a visual delight, with towering LEGO sculptures and larger-than-life models of beloved characters and landmarks.
One of the highlights of the LEGO Imagination Center is the Pick-A-Brick Wall, where guests can handpick their favorite LEGO pieces from a vast selection of colors and shapes. This unique feature allows builders to unleash their creativity and build whatever their imagination desires.
Younger visitors are sure to enjoy the interactive play areas, where they can test their building skills and create their own LEGO masterpieces. The store also hosts regular building events and activities, adding an extra layer of excitement and engagement for LEGO fans.
Address: 164 South Ave, Bloomington, MN 55425
Website: https://www.lego.com/en-us/stores/store/mall-of-america
9. Nickelodeon Universe
Nickelodeon Universe, located in the Mall of America, is a one-of-a-kind destination for family-friendly entertainment.
The theme park features over 27 exhilarating rides, ranging from gentle attractions for younger children to heart-pounding roller coasters for thrill-seekers. One of the most iconic rides is the SpongeBob SquarePants Rock Bottom Plunge, a high-speed coaster that takes riders on a journey through Bikini Bottom. Other popular rides include the Teenage Mutant Ninja Turtles Shell Shock and the Fairly Odd Coaster.
Nickelodeon Universe is not just about the rides; it's also a place to meet and greet beloved Nickelodeon characters. Kids and fans of all ages have the opportunity to meet iconic characters like SpongeBob SquarePants, Dora the Explorer, and PAW Patrol's Chase and Marshall.
The park's vibrant and colorful environment is filled with decorations, themed areas, and interactive elements that evoke the spirit of Nickelodeon's most popular shows. From the retro 90s-inspired design to the modern Nickelodeon favorites, the park pays homage to the channel's iconic history while keeping things fresh and exciting.
With its indoor setting, Nickelodeon Universe is the perfect destination for year-round entertainment, regardless of the weather outside. Visitors can escape the cold winters or hot summers and enjoy a day of excitement and amusement in this climate-controlled wonderland.
Address: 5000 Center Ct, Bloomington, MN 55425
Website: https://nickelodeonuniverse.com/
10. Walker Art Center
The Walker Art Center is a world-renowned contemporary art museum and cultural hub that celebrates creativity and artistic innovation. Founded in 1879, the Walker has grown to become one of the most influential art institutions in the United States, attracting art enthusiasts, scholars, and visitors from around the globe.
The Walker Art Center boasts an impressive collection of contemporary art, featuring works by iconic artists such as Andy Warhol, Roy Lichtenstein, Yayoi Kusama, and many others.
The museum's commitment to education and community engagement is reflected in its extensive range of programs and initiatives. The Walker offers guided tours, art-making workshops, artist talks, and interactive experiences that encourage visitors of all ages to connect with art in meaningful ways.
For families, the museum provides kid-friendly activities and resources that make art accessible and enjoyable for young visitors. The Walker's family programs and events cater to different age groups and interests, fostering a love for art and creativity from an early age.
Address: Walker Art Center, 725 Vineland Pl, Minneapolis, MN 55403
Website: https://walkerart.org/
11. Amazing Mirror Maze
The Amazing Mirror Maze, located in the Mall of America, is an enchanting and mind-bending attraction that promises a fun-filled adventure for visitors of all ages. This one-of-a-kind mirror maze challenges guests to navigate their way through a labyrinth of mirrors and illusions.
The Amazing Mirror Maze is a popular attraction for visitors to the Mall of America, offering a break from shopping and an opportunity to engage in a unique and thrilling activity.
Address: Amazing Mirror Maze, 401 E Broadway, Bloomington, MN 55425
Website: https://www.mirrormazes.com/about_us.html
12. Minnesota Children's Museum
The Minnesota Children's Museum is designed to inspire and educate young minds. It features a diverse range of exhibits, each designed to engage children in a different aspect of learning, from science and nature to art and culture.
One of the highlights of the Minnesota Children's Museum is the Imaginopolis exhibit, an ever-changing, multi-level play space that encourages imaginative play and exploration. Children can build, create, and role-play in this dynamic environment, fostering creativity and problem-solving skills.
The museum's Sprouts exhibit is specially designed for the youngest visitors, providing a safe and stimulating space for children under the age of four to explore and play. With sensory activities, interactive displays, and age-appropriate play areas, Sprouts offers an enriching and engaging experience for toddlers and their caregivers.
For children interested in science and nature, the Our World exhibit offers a hands-on exploration of the natural world. From water play to live animals, this exhibit provides an opportunity for children to learn about the environment and the wonders of the natural world.
In addition to its exhibits, the Minnesota Children's Museum offers a range of educational programs and workshops that provide further opportunities for learning and creativity. From art classes to science experiments, these programs cater to different age groups and interests, making learning a fun and engaging experience.
Address: 10 West 7th Street, Saint Paul, MN 55102
Website: https://mcm.org/
13. Crayola Experience
The Crayola Experience at the Mall of America is a vibrant and interactive attraction that brings the beloved world of Crayola to life. This colorful wonderland is a delight for children and families, offering a hands-on and imaginative experience that celebrates creativity and the joy of art.
The Crayola Experience features 25 exciting attractions and activities spread across four floors, providing endless opportunities for artistic exploration. From creating custom crayons to crafting colorful masterpieces, visitors can immerse themselves in a world of color and creativity.
One of the highlights of the Crayola Experience is the Adventure Lab, where children can embark on an interactive and educational journey through the magic of color and chemistry. They can learn how crayons are made, watch the manufacturing process, and even participate in creating their own personalized crayon labels.
The Crayola Experience features numerous interactive stations where children can unleash their creativity and experiment with different art techniques. From digital coloring on interactive touch screens to creating art with melted crayons and modeling clay, the possibilities for artistic expression are limitless.
Address: Crayola Experience, 300 South Ave, Bloomington, MN 55425
Website: https://crayolaexperiencemn.com/
14. Mill City Museum
The Mill City Museum is a fascinating historical site that celebrates the rich history of the flour milling industry in the city. Housed in the ruins of the Washburn "A" Mill, which was once the largest flour mill in the world, the museum offers visitors a glimpse into the past and the impact of milling on the development of Minneapolis.
One of the highlights of the museum is the Flour Tower, an eight-story elevator that takes visitors on a virtual journey through the history of the flour industry. As visitors ascend the tower, they travel back in time to experience the sights, sounds, and smells of the bustling flour mills in their heyday.
The museum also features a baking lab, where visitors can learn about the science and art of baking and even try their hand at baking their own bread or cookies. The baking lab is a fun and interactive experience that allows visitors to connect with the culinary history of the region.
In addition, the museum's location on the banks of the Mississippi River offers views of the riverfront and the iconic Stone Arch Bridge. Visitors can enjoy a stroll along the riverfront and take in the scenic beauty of the area.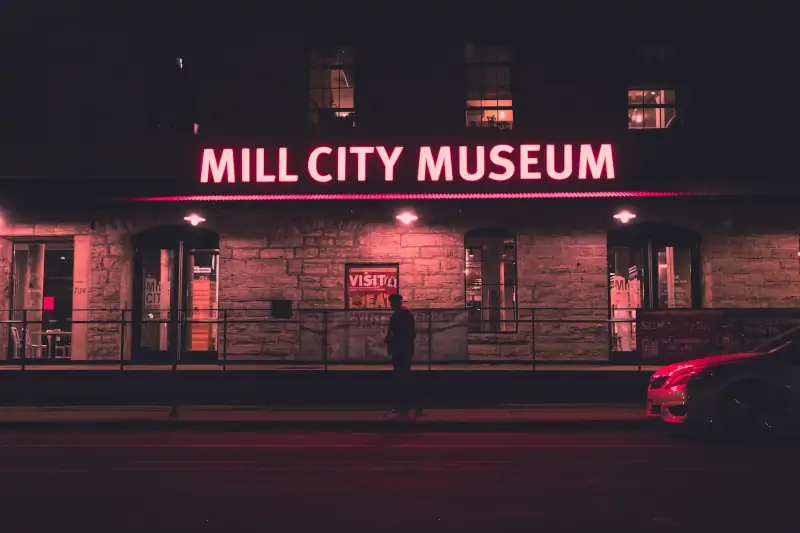 Address: Mill City Museum, 704 South 2nd Street, Minneapolis, MN 55401
Website: https://www.mnhs.org/millcity
15. Foshay Tower Museum and Observation Deck
The Foshay Tower Museum and Observation Deck, located in downtown Minneapolis, offers visitors a opportunity to step back in time and experience the rich history and stunning views of this iconic landmark. The Foshay Tower, named after its original owner Wilbur Foshay, was completed in 1929 and was the tallest building in Minneapolis at the time.
The museum, situated on the 30th floor of the Foshay Tower, provides a glimpse into the tower's history and the life of Wilbur Foshay. Through informative exhibits, visitors can learn about the construction of the tower, the architectural features of the building, and the impact it had on the city's skyline.
The Foshay Tower Observation Deck, located on the 31st floor, offers panoramic views of the Minneapolis skyline and the surrounding area. From this elevated vantage point, visitors can enjoy sweeping views of the city's landmarks, including the Mississippi River, the Stone Arch Bridge, and Target Field.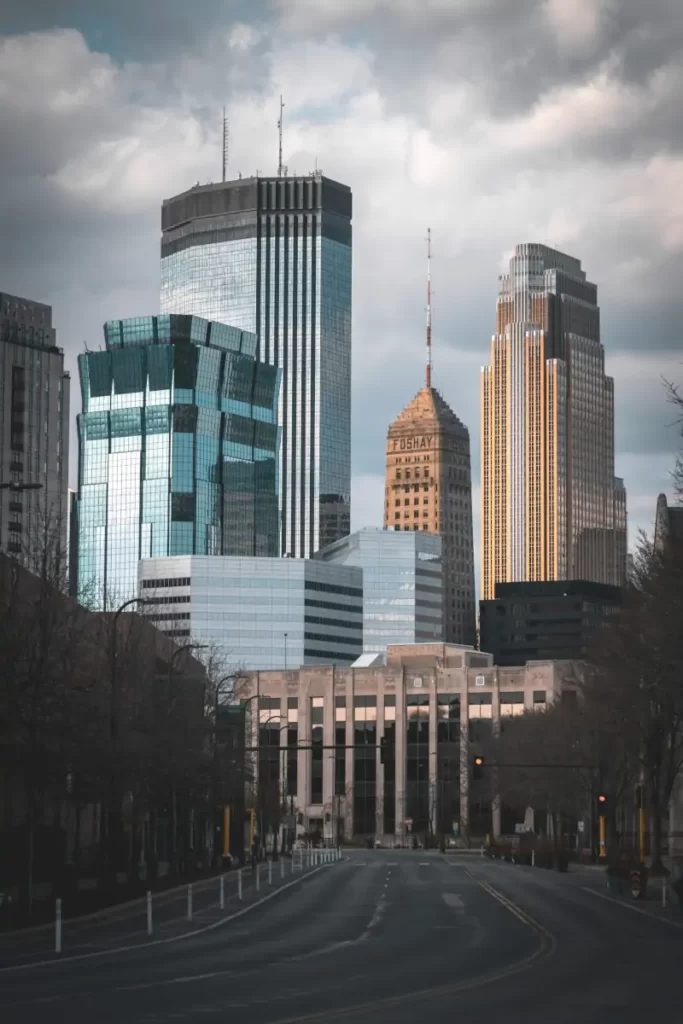 Address: Foshay Tower, 821 Marquette Avenue, Minneapolis, MN 55402
Website: https://www.marriott.com/en-us/hotels/mspwh-w-minneapolis-the-foshay/overview/
16. Science Museum of Minnesota
The Science Museum of Minnesota is an educational destination that celebrates the wonders of science and the natural world. Founded in 1907, the museum has been a beacon of curiosity and learning for generations.
One of the highlights of the Science Museum of Minnesota is its extensive collection of exhibits that cover a wide range of scientific disciplines. From paleontology and geology to physics, biology, and astronomy, the museum offers a diverse and engaging array of interactive displays and hands-on activities.
The museum's iconic dinosaur exhibit, complete with life-sized dinosaur skeletons and fossils, is a favorite among visitors of all ages. It provides a thrilling journey back in time to the prehistoric world, where visitors can learn about the fascinating history of these ancient creatures.
For those interested in space and astronomy, the Science Museum's Omnitheater offers an immersive movie experience on a massive five-story screen. From breathtaking documentaries to thrilling educational films, the Omnitheater takes viewers on a cinematic journey through the cosmos.
The museum is committed to providing educational opportunities for children, families, and educators. It offers a range of educational programs, workshops, and camps that cater to different age groups and interests, making science accessible and enjoyable for all.
Address: 120 W Kellogg Blvd, St Paul, MN 55102
Website: https://new.smm.org/
17. Minnesota Valley National Wildlife Refuge
Minnesota Valley National Wildlife Refuge encompasses over 14,000 acres of diverse habitats, providing a haven for wildlife and offering visitors a chance to connect with nature.
One of the highlights of the Minnesota Valley National Wildlife Refuge is the seasonal spectacle of bird migration. During spring and fall, thousands of birds pass through the refuge as they journey to and from their breeding grounds, making it a prime spot for birdwatching and photography.
Address: Minnesota Valley National Wildlife Refuge, 3815 American Blvd E, Bloomington, MN 55425
Website: https://www.fws.gov/refuge/minnesota-valley
18. Minneapolis Skyway System
The Minneapolis Skyway System is an innovative network of enclosed pedestrian bridges high above the streets of downtown Minneapolis, linking office buildings, hotels, shopping centers, and other landmarks.
For families with young children, the Skyway System offers a unique perspective of the city's hustle and bustle from above. Kids will be fascinated by the sight of bustling streets, tall buildings, and friendly faces passing by as they navigate through the elevated walkways.
Additionally, the Skyway System provides easy access to some of Minneapolis' beloved family attractions. Families can hop from one destination to another, making it convenient to visit museums, theaters, and other entertainment venues.
The walkways of the Skyway System are wide and spacious, offering plenty of room for strollers and young adventurers to move around comfortably. Parents can relax, knowing their little ones are safe from the bustling traffic below while they take in the scenic views of the city.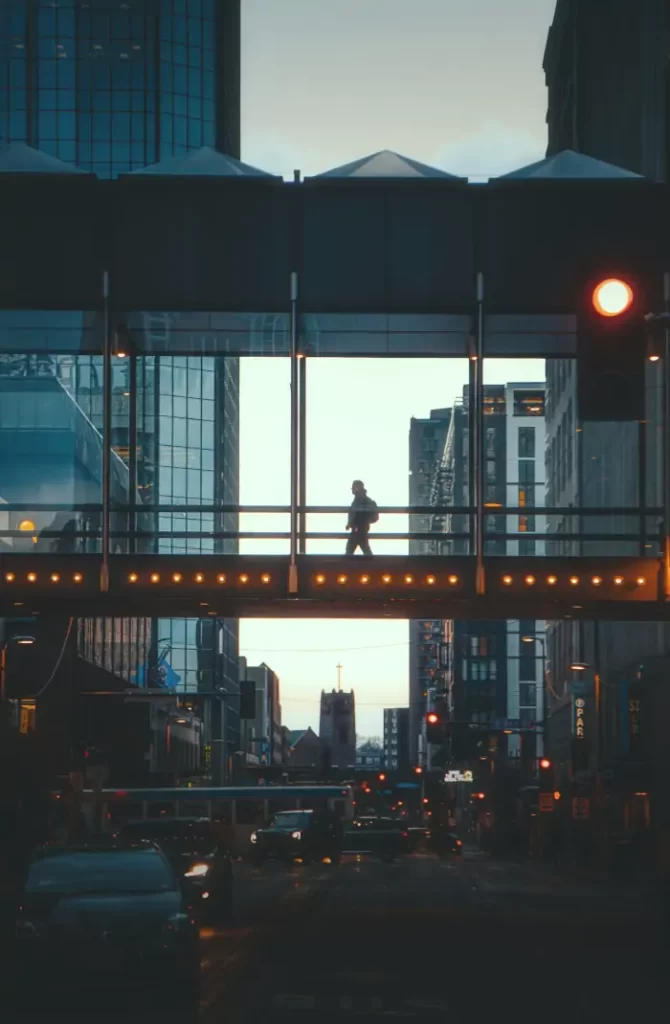 Address: Minneapolis Skyway System, Downtown Minneapolis, Minnesota
19. Great Wolf Lodge
Great Wolf Lodge is a family-friendly resort and water park. Located in Bloomington, just minutes away from the Mall of America, it offers a year-round escape to tropical fun and relaxation, making it a popular destination for families looking to create lasting memories.
The main highlight of Great Wolf Lodge is its expansive indoor water park, where the temperature is always perfect for swimming and splashing, regardless of the weather outside. The water park features water slides, water play areas, and pools suitable for all ages and comfort levels. From exhilarating slides that twist and turn to gentle pools for the little ones, there's something for every member of the family to enjoy.
One of the most iconic features of the resort is the Howlin' Tornado, a massive water slide that sends riders spiraling down a funnel into a pool of water, creating a heart-pounding and laughter-filled experience for adventurous guests. Families can also ride the Alberta Falls, a family raft ride that offers a shared journey of excitement and bonding.
Great Wolf Lodge caters to families with children of all ages, ensuring that even the youngest guests have a blast. The Cub Paw Pool is a toddler-friendly area where little ones can splash and play in shallow water, complete with miniature water slides designed just for them.
For families seeking relaxation, the resort's Northwoods-themed hot tubs offer a soothing escape. Parents can unwind in the warm waters while the kids continue their water park adventures under the watchful eyes of lifeguards stationed throughout the park for added safety.
Accommodations at Great Wolf Lodge are designed with families in mind, with spacious suites that can accommodate different group sizes. Each suite comes with a cozy sleeping area for kids, ensuring a comfortable and restful stay for the entire family.
Address: Great Wolf Lodge, 1700 American Blvd E, Bloomington, MN 55425
Website: https://www.greatwolf.com/minnesota
20. Minnesota Vikings Football
Attending a Minnesota Vikings game at U.S. Bank Stadium is an experience like no other for families.
During the game, the electric atmosphere of U.S. Bank Stadium is contagious. Cheering, high-fives, and chants resonate throughout the stadium as families become part of the Viking's "Purple People Eaters" community. Witnessing the game alongside fellow fans creates a sense of belonging, uniting families with a shared passion for the team.
And the Vikings' mascot, Viktor the Viking, is a hit with kids and families alike. Viktor can be found roaming around the stadium, high-fiving young fans, and posing for photographs, adding an element of fun and excitement to the game day experience.
The Minnesota Vikings go above and beyond to make the game day experience enjoyable for families. From family-friendly concession stands with a variety of food options to kids' zones where young fans can engage in interactive games and activities, the team strives to cater to the needs and preferences of all family members.
Address: U.S. Bank Stadium, 401 Chicago Ave, Minneapolis, MN 55415
Website: https://www.vikings.com/
21. Minnesota Timberwolves Basketball
The Minnesota Timberwolves offer a family-friendly experience that goes beyond the sport. The Timberwolves organization goes above and beyond to cater to families attending games.
The Family Zone section offers specially-priced tickets, making it affordable for families to enjoy the game together. The Family Zone also provides interactive activities for young fans, creating a fun and engaging experience beyond the basketball court.
Before the game and during halftime, families can enjoy various entertainment acts and performances that add to the excitement of the event. From dance routines to acrobatic shows, these entertaining interludes captivate both kids and adults, enhancing the overall experience for families.
And the Timberwolves' mascot, Crunch, is a beloved figure that delights children and families alike. Crunch's playful antics, dance moves, and high-fives with young fans add an element of fun and excitement to the game day experience, creating unforgettable moments for families.
Address: Target Center, 600 N 1st Ave, Minneapolis, MN 55403
Website: https://www.nba.com/timberwolves
22. Minnesota Twins Baseball
The Minnesota Twins bring families together to enjoy America's favorite pastime in a spirited and family-friendly atmosphere.
Going to a Twins game at Target Field in Minneapolis is a beloved tradition for many families. The stadium's inviting atmosphere and views of downtown Minneapolis set the stage for a memorable outing.
The family-friendly section at Target Field offers specially-priced tickets, making it accessible for families to enjoy the game together. This section also provides amenities like family restrooms and designated kids' play areas, ensuring that young fans have a fun and comfortable experience.
The pre-game festivities at Target Field add to the excitement for families. From the singing of the national anthem to meeting the team's mascot, T.C. Bear, there are plenty of engaging activities for families to participate in and capture unforgettable moments.
Address: Target Field, 1 Twins Way, Minneapolis, MN 55403
Website: https://www.mlb.com/twins
23. Padelford Riverboats
Padelford Riverboats offers river excursions along the majestic Mississippi River.
Boarding one of the Padelford Riverboats is like stepping back in time to an era of classic river travel. Families can choose from a variety of scenic cruises, each offering a different perspective of the riverbanks, historic landmarks, and the natural beauty that surrounds the Mississippi River.
For a more immersive experience, families can opt for special themed cruises, such as the Family Fun Day cruise, where kids can enjoy activities like face painting, storytelling, and games. Other themed cruises may include holiday events, brunch cruises, and sunset dinner cruises, providing families with a unique and enjoyable outing for every occasion.
Address: 205 DR Justus Ohage Blvd., Harriet Island, St. Paul, MN 55107
Website: https://riverrides.com/
24. Valleyfair
As one of the region's largest amusement parks, Valleyfair offers an exciting array of rides, attractions, and entertainment for visitors of all ages.
The centerpiece of Valleyfair is its impressive collection of roller coasters, sure to thrill both kids and adults alike. From the adrenaline-pumping Wild Thing coaster that reaches speeds of up to 74 miles per hour to the twisting and turning Renegade wooden coaster, there is a coaster experience for every level of thrill-seeker in the family.
For families with younger children, Planet Snoopy is a whimsical and family-friendly area that brings the beloved Peanuts characters to life. Kids can enjoy gentle rides, interactive play areas, and meet-and-greet opportunities with Snoopy and friends, creating a magical and memorable experience.
Valleyfair also boasts a fantastic water park, Soak City, perfect for cooling off on hot summer days. With water slides, lazy rivers, wave pools, and splash areas, Soak City provides families with a refreshing and fun-filled aquatic adventure.
Address: 1 Valley Fair Dr, Shakopee, MN 55379
Website: https://www.valleyfair.com/
25. Bakken Museum
The Bakken Museum offers an enriching and interactive experience centered around science and innovation. Named after Earl Bakken, the inventor of the first wearable pacemaker, the museum's mission is to inspire a passion for science and technology in visitors of all ages.
The Bakken Museum is housed in a beautiful historic mansion overlooking Lake Calhoun. As families approach the museum, they are greeted by gardens and outdoor exhibits that set the stage for a unique and engaging visit.
Inside the museum, families can explore a variety of hands-on exhibits that showcase the wonders of electricity, magnetism, and other scientific principles. Children can experiment with interactive displays, learning about the fascinating world of energy and its applications in everyday life.
One of the highlights for families at The Bakken Museum is the opportunity to learn about the history of medical technology and innovation. The museum's collection includes a range of historical medical devices and inventions.
The Bakken Museum also offers engaging workshops, demonstrations, and live science shows that cater to families. These interactive programs bring science to life and allow visitors to immerse themselves in exciting experiments and demonstrations led by knowledgeable educators.
Address: 3537 Zenith Ave S, Minneapolis, MN 55416
Website: https://thebakken.org/