1. Space Needle
The Space Needle is an iconic landmark in Seattle. Located at the Seattle Center, the Space Needle stands at an impressive height of 605 feet (184 meters) and offers panoramic views of the city and its surroundings.
The Space Needle was constructed for the 1962 World's Fair and has since become a symbol of Seattle and a popular destination for both locals and tourists. Its futuristic design features a saucer-shaped "flying saucer" observation deck perched on top of a slender, needle-like tower.
Visitors can reach the observation deck via a high-speed elevator that whisks them to the top in just 41 seconds. Once at the top, you'll be treated to 360-degree views of the Seattle skyline, Puget Sound, Mount Rainier, and the Cascade and Olympic mountain ranges.
The Space Needle also houses the SkyCity Restaurant, which offers a rotating dining experience, so guests can enjoy a delicious meal while taking in ever-changing views of the city below.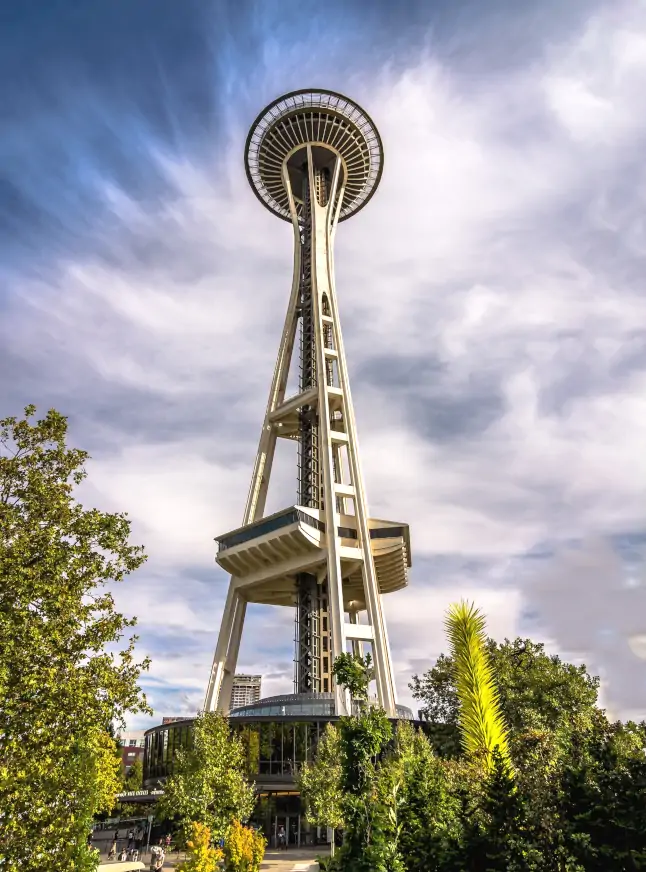 Address: 400 Broad St, Seattle, WA 98109
Website: https://www.spaceneedle.com/
2. Ballard Locks
Ballard Locks, officially known as the Hiram M. Chittenden Locks, is a popular attraction located in the Ballard neighborhood of Seattle. Since it was built in 1917, the locks have played a crucial role in connecting the waters of Lake Washington, Lake Union, and Puget Sound, allowing boats and ships to navigate between the freshwater lakes and the saltwater of Puget Sound.
The locks consist of two separate chambers, one for large vessels and one for smaller boats. When a boat enters the locks, the water level is adjusted to match either the higher freshwater level of the lakes or the lower saltwater level of Puget Sound. This process allows boats to safely pass through and continue their journey.
One of the main highlights of visiting Ballard Locks is the fish ladder viewing area. The locks feature a fish ladder that allows salmon and other fish to swim upstream and bypass the locks as they migrate to their spawning grounds during the summer and fall. This spectacle attracts visitors from all over the world.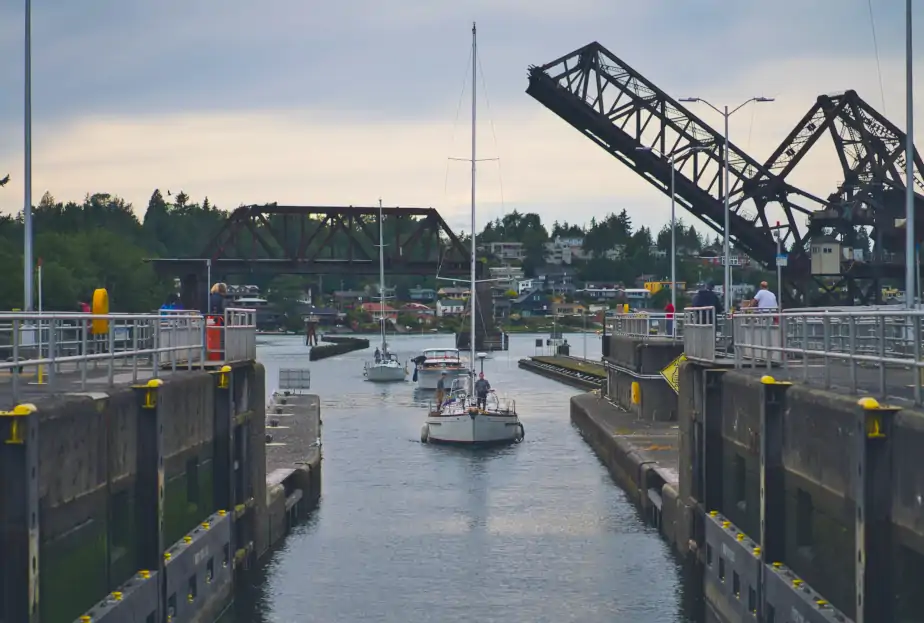 Address: 3015 NW 54th St, Seattle, WA 98107
Website: https://www.nws.usace.army.mil/Missions/Civil-Works/Locks-and-Dams/Chittenden-Locks/
3. Pike Place Market
Pike Place Market is popular public market located in the heart of downtown Seattle. Established in 1907, it is one of the oldest continuously operated public farmers' markets in the United States. The market is a beloved attraction for both locals and tourists, offering a blend of fresh produce, artisanal goods, and lively entertainment.
Pike Place Market is well known for its bustling atmosphere and numerous stalls and vendors. From fresh fruits and vegetables to seafood, flowers, and handcrafted products, you can find an abundance of locally sourced and unique items.
A visit to Pike Place Market wouldn't be complete without witnessing the famous fishmongers at the Pike Place Fish Market. These skilled fishmongers are known for their entertaining routine of throwing and catching large fish to fulfill customer orders, a fun and memorable experience for visitors of all ages.
The market's historic charm is enhanced by its location overlooking the scenic Elliott Bay waterfront. Visitors can enjoy views of the water and watch ferries coming and going.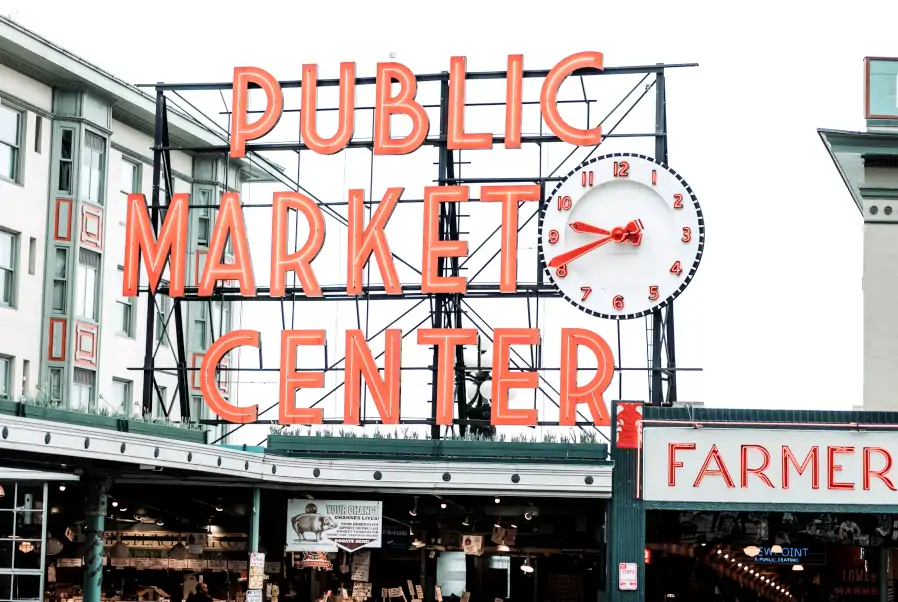 Address: 85 Pike St, Seattle, WA 98101
Website: https://www.pikeplacemarket.org/
4. Seattle Center Monorail
The Seattle Center Monorail was originally built for the 1962 World's Fair. Today the monorail continues to be a popular mode of transport for both locals and visitors. It connects downtown Seattle with the Seattle Center, a cultural and entertainment complex that houses many famous attractions, including the Space Needle, the Museum of Pop Culture (MoPOP), the Pacific Science Center, and the International Fountain.
The monorail's special design features sleek trains that glide above the city on elevated tracks. It offers passengers views of Seattle's skyline and landmarks as they journey between Westlake Center Mall and Seattle Center. The ride takes approximately two minutes and is a convenient and fun way to travel between the two locations.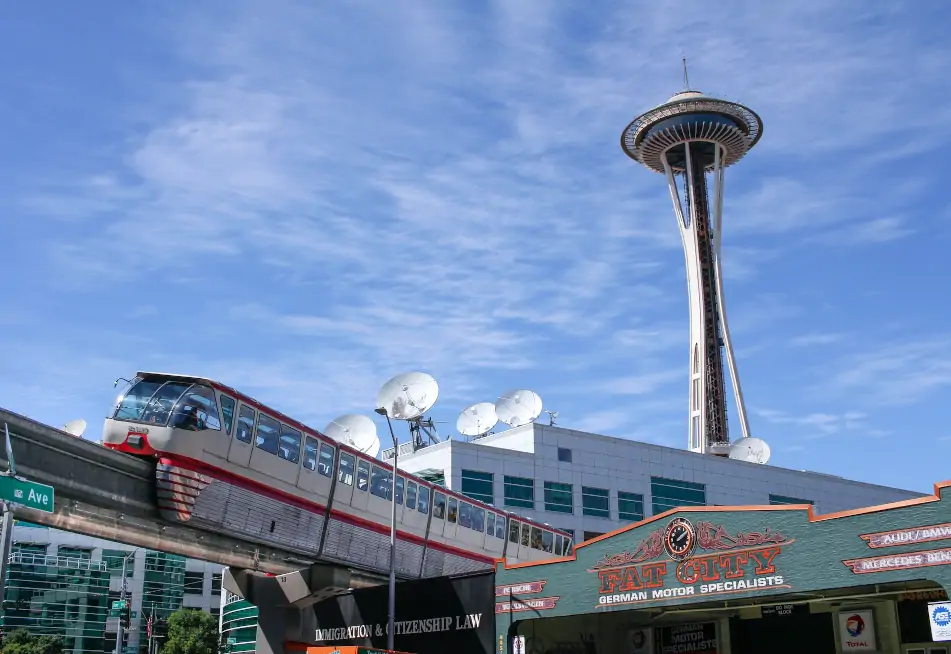 Address: 400 Pine St, Seattle, WA 98101
Website: https://www.seattlemonorail.com/
5. Seattle Children's Museum
The Seattle Children's Museum is an interactive learning space designed specifically for children.
The museum's exhibits are carefully curated to cater to various interests and developmental stages of children. From a mini cityscape where kids can role-play as firefighters, doctors, and shopkeepers, to a water play area that encourages scientific exploration, there is something for every child to enjoy and learn from.
The museum also hosts special events and workshops, which add an extra layer of excitement and educational value to the experience. From storytelling sessions to cultural celebrations, families can participate in various engaging activities that celebrate diversity and encourage learning about different cultures.
For families with younger children, the Tot Spot is a designated area for infants and toddlers to explore and play in a safe and stimulating environment. It provides age-appropriate activities and sensory play to support early childhood development.
Address: 305 Harrison St, Seattle, WA 98109
Website: https://seattlechildrensmuseum.org/
6. Seattle Aquarium
The Seattle Aquarium, situated on Pier 59 along the beautiful waterfront of Seattle, is a destination for families and visitors of all ages. As one of the city's premier attractions, the aquarium offers an immersive and educational experience that highlights the marine life of the Pacific Northwest.
With its underwater exhibits and interactive displays, the Seattle Aquarium provides an up-close look at the diverse marine ecosystems found in the region. From the Window on Washington Waters, which showcases a 120,000-gallon tank teeming with colorful fish, to the Pacific Coral Reef exhibit, featuring vibrant corals and tropical fish, visitors are immersed in a world of underwater wonders.
One of the most popular attractions at the Seattle Aquarium is the Underwater Dome, an acrylic exhibit that offers a 360-degree view of Puget Sound marine life. Visitors can walk through an underground tunnel and witness sea turtles, sharks, and schools of fish swimming overhead.
The aquarium also features outdoor exhibits that allow visitors to observe harbor seals, sea otters, and other marine mammals in their natural habitat. The marine mammal program offers educational presentations that teach visitors about the importance of conservation and protecting these incredible creatures.
In addition to the exhibits, the Seattle Aquarium offers a range of educational programs and activities for families. From touch tanks where children can interact with sea creatures to daily talks and feeding demonstrations, there are numerous opportunities for learning and discovery.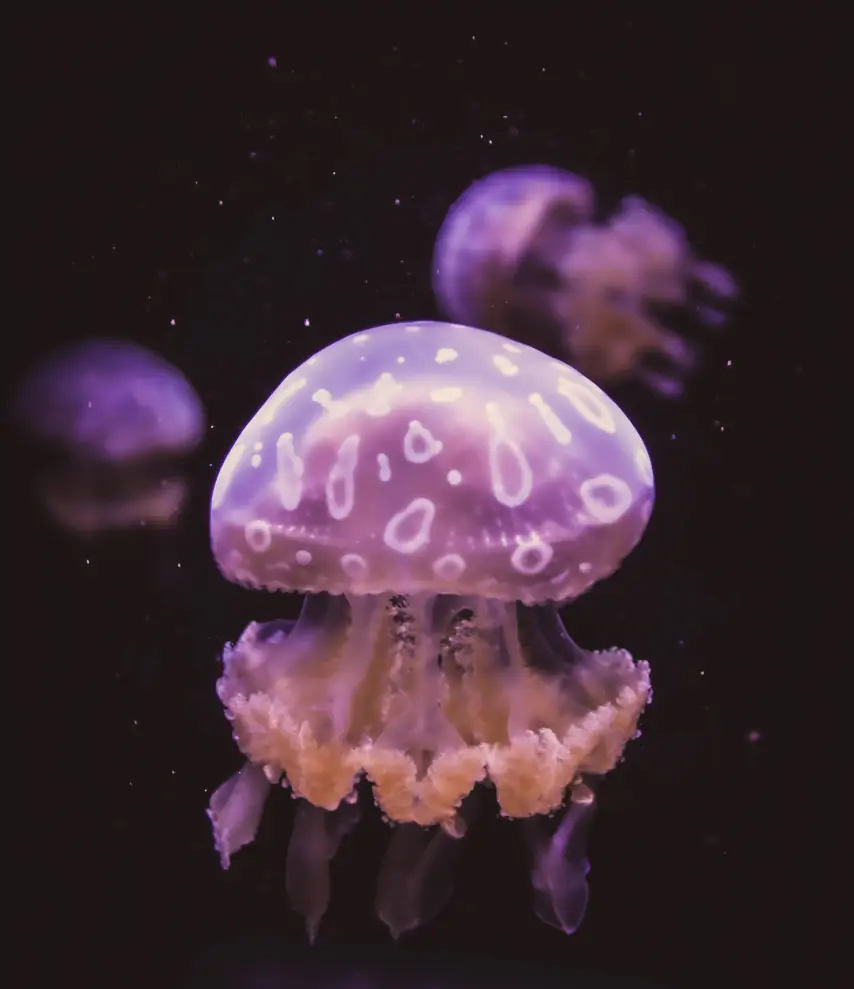 Address: 1483 Alaskan Way, Seattle, WA 98101
Website: https://www.seattleaquarium.org/
7. Boeing Future of Flight
Boeing Future of Flight is a state-of-the-art aerospace exhibit center. As the official public tour facility for the Boeing Company, this attraction provides a look at the cutting-edge technologies and innovations that shape the aviation industry.
The center's main highlight is the Boeing Factory Tour, where visitors can witness the assembly process of Boeing's iconic commercial airplanes. Through a guided tour, visitors get a behind-the-scenes glimpse of the world's largest building by volume, where skilled workers assemble these aircraft.
Apart from the factory tour, the Boeing Future of Flight features interactive exhibits and displays that engage visitors of all ages. Guests can try their hand at operating flight simulators, exploring aircraft design concepts, and learning about the latest advancements in aviation technology.
The center's gift shop allows visitors to take home aviation-themed souvenirs and mementos to commemorate their experience.
Address: 8415 Paine Field Blvd, Mukilteo, WA 98275
Website: https://www.boeingfutureofflight.com/
8. Pacific Science Center
The Pacific Science Center offers an exciting world of science exploration for visitors of all ages. As a leading science museum in the region, it aims to inspire curiosity, foster a love for learning, and ignite a passion for science, technology, engineering, and mathematics (STEM).
The center features a wide range of interactive exhibits, hands-on activities, and live demonstrations that cover various scientific disciplines, from astronomy and physics to biology and environmental science.
One of the center's main highlights is the Tropical Butterfly House, where guests can walk through a tropical environment and observe hundreds of butterflies from around the world.
The Pacific Science Center also boasts two state-of-the-art IMAX theaters, where visitors can enjoy awe-inspiring films on enormous screens that transport them to different worlds and dimensions.
For young learners, the KidsWorks Gallery offers a dedicated space where children can engage in age-appropriate activities that promote critical thinking and problem-solving skills. The center's Tinker Tank provides a maker space where visitors can experiment with engineering and design projects.
Science On a Sphere, another interesting exhibit, presents real-time data from Earth and beyond, projected onto a spherical surface to allow visitors to visualize weather patterns, climate changes, and more.
Address: 200 2nd Ave N, Seattle, WA 98109
Website: https://pacificsciencecenter.org/
9. The Seattle Great Wheel
The Great Wheel is one of the largest Ferris wheels in the United States and is located right on the Seattle waterfront. At 175 feet tall, it offers amazing views of the city and its surroundings.
The Great Wheel consists of enclosed gondolas. Inside the gondolas, large windows provide unobstructed views of Elliott Bay, the Seattle skyline, and the Mount Rainier on a clear day. The gentle rotation of the wheel allows passengers to enjoy panoramic vistas from every angle.
The evening rides on the Great Wheel are particularly delightful as the city lights up.
Located on Pier 57, the Seattle Great Wheel is easily accessible and surrounded by numerous dining options, shops, and entertainment venues nearby. Visitors can explore the area before or after their ride, making it a part of their Seattle adventure.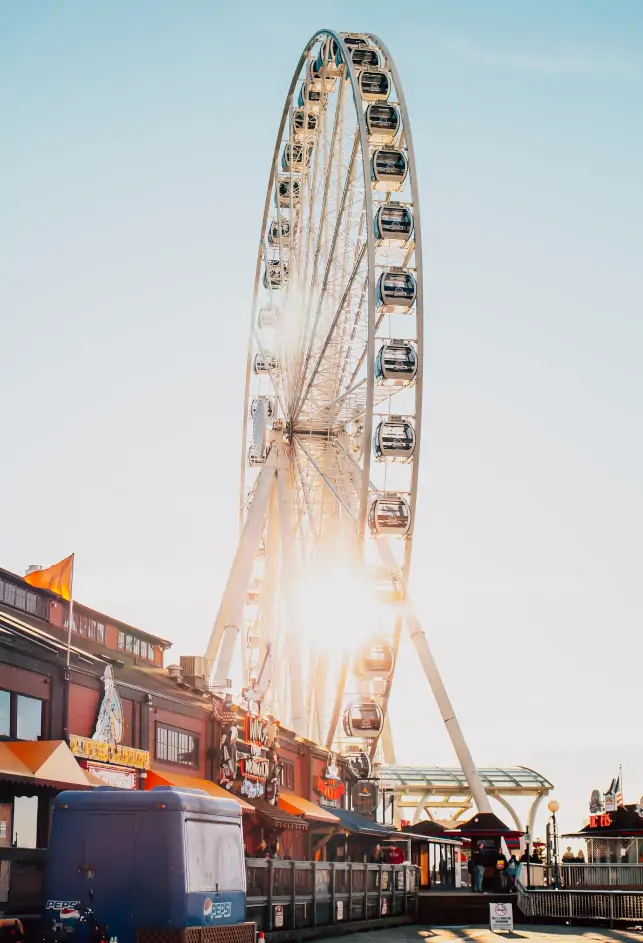 Address: 1301 Alaskan Way, Seattle, WA 98101
Website: https://seattlegreatwheel.com/
10. Museum of Flight
The Museum of Flight is an aviation enthusiast's paradise. As one of the largest air and space museums in the world, it houses an extensive collection of over 175 aircraft and spacecraft, spanning from the earliest days of aviation to modern space exploration.
Visitors to the museum can explore various exhibits that showcase the evolution of flight, from the Wright brothers' first powered aircraft to the iconic Boeing 747 and beyond. The Great Gallery displays a wide range of aircraft suspended from the ceiling.
One of the most popular exhibits is the Space Gallery, which features artifacts from the early days of space exploration, including the Apollo Command Module and a genuine lunar module. Visitors can learn about the history of space missions and the achievements of astronauts through interactive displays and engaging presentations.
The Museum of Flight also offers unique opportunities for hands-on experiences. The Aviation Learning Center allows visitors, especially young ones, to try their hand at piloting a flight simulator and learn the basics of flying. Additionally, the Kid's Flight Zone offers interactive activities and games to spark the imagination of young aviation enthusiasts.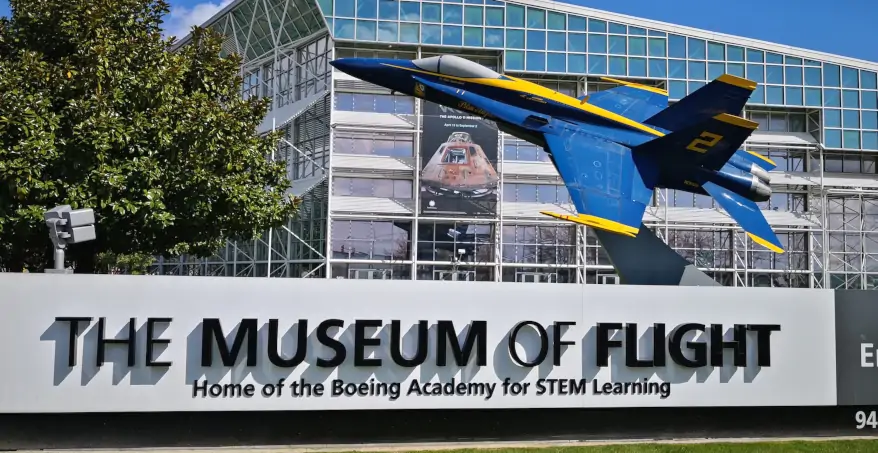 Address: 9404 E Marginal Way S, Seattle, WA 98108
Website: https://www.museumofflight.org/
11. Ferry to Bainbridge Island
Operating from the downtown Seattle waterfront, the ferry to Bainbridge Island offers both locals and tourists a special experience of crossing Puget Sound to reach Bainbridge Island, which is just a short distance from the city.
The ferry ride provides views of the Seattle skyline, the surrounding mountains, and the waterways. It's a great opportunity for families to enjoy the fresh sea breeze and take in the natural beauty of the Pacific Northwest.
Upon arriving at Bainbridge Island, visitors will find a charming island community with a vibrant arts scene, boutique shops, and delectable eateries. The island is also home to several parks and trails, with ample opportunities for outdoor activities such as hiking, biking, and picnicking.
The Bloedel Reserve is a public garden featuring beautifully landscaped gardens, meadows, and tranquil ponds. It's a perfect spot for families to stroll and appreciate the beauty of nature.
Visitors can also explore the Bainbridge Island Museum of Art, which houses contemporary art exhibitions and engaging programs for all ages.
The Kids' Discovery Museum is another family-friendly destination and offers interactive exhibits and hands-on activities for children to learn and play.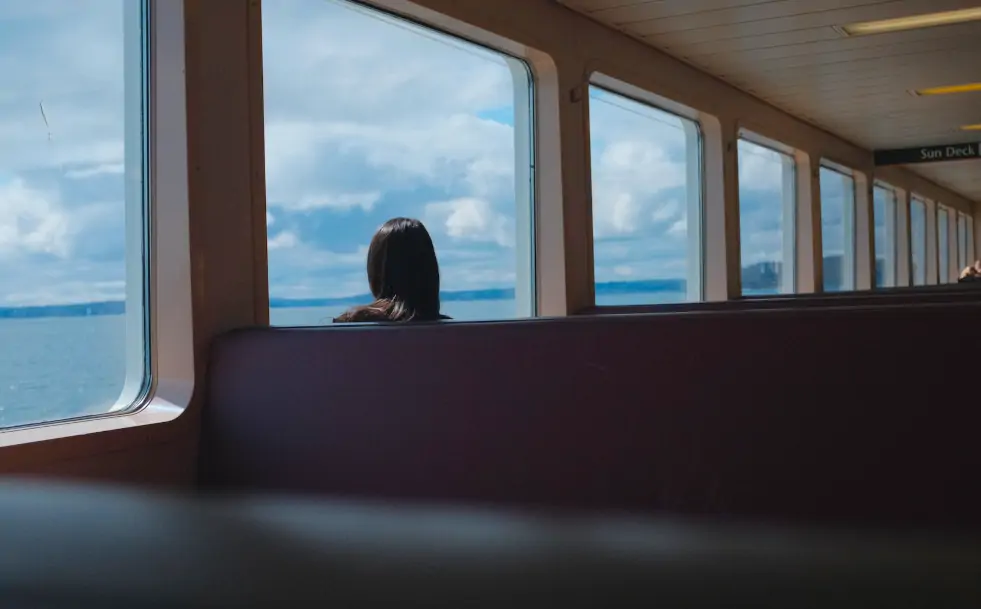 Address: 801 Alaskan Way Pier 52, Seattle, WA 98104
Website: https://wsdot.wa.gov/travel/washington-state-ferries
12. Woodland Park Zoo
Woodland Park Zoo is home to over 1,000 animals from around the world, offering an exciting and educational experience for visitors of all ages.
Families can explore various exhibits. From the Tropical Rain Forest to the African Savanna, and the Temperate Forest to the Northern Trail, visitors can encounter fascinating creatures like gorillas, lions, elephants, penguins, and more.
The Zoomazium is an indoor nature play space designed for children. Kids can engage in interactive activities, climb, crawl, and discover nature through hands-on experiences, making learning about wildlife fun and engaging.
The Woodland Park Zoo also hosts a range of special events and programs throughout the year. Families can attend animal feedings, behind-the-scenes tours, and even overnight campouts.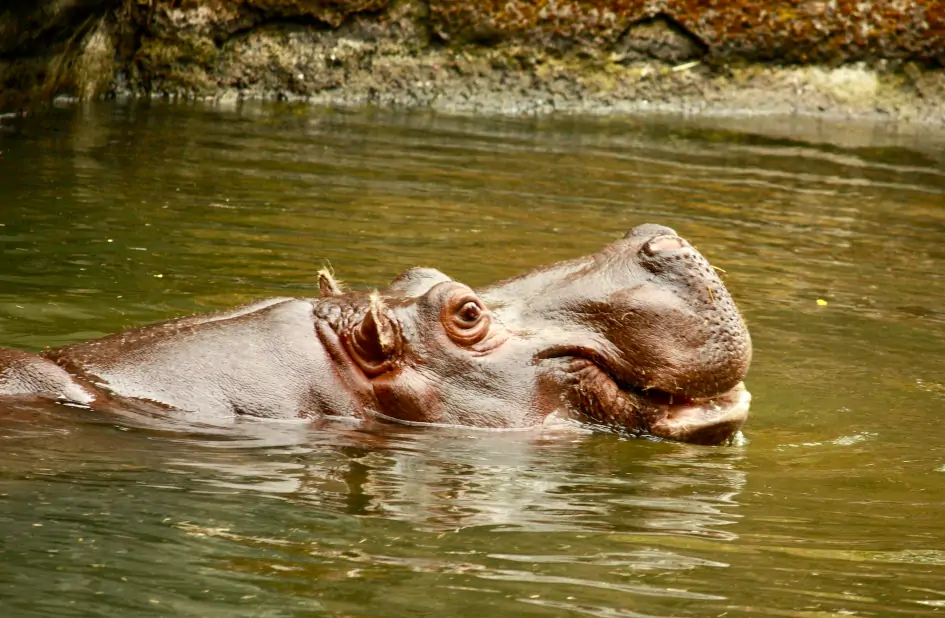 Address: 5500 Phinney Ave N, Seattle, WA 98103
Website: https://www.zoo.org/
13. Seattle Mariners
The Seattle Mariners baseball team is an integral part of Seattle's sports culture with a dedicated fan base.
The Mariners play their home games at T-Mobile Park, located in the heart of Seattle's SoDo (South of Downtown) neighborhood. T-Mobile Park is known for its views of the city skyline and the iconic retractable roof.
For families, attending a Seattle Mariners game offers an opportunity to experience the excitement of Major League Baseball firsthand. The stadium's family-friendly atmosphere ensures that everyone can enjoy the game.
Throughout the season, the Mariners host various promotions and special events to enhance the fan experience. These may include Kids Days, where young fans can participate in fun activities and games, as well as opportunities for autograph sessions with players.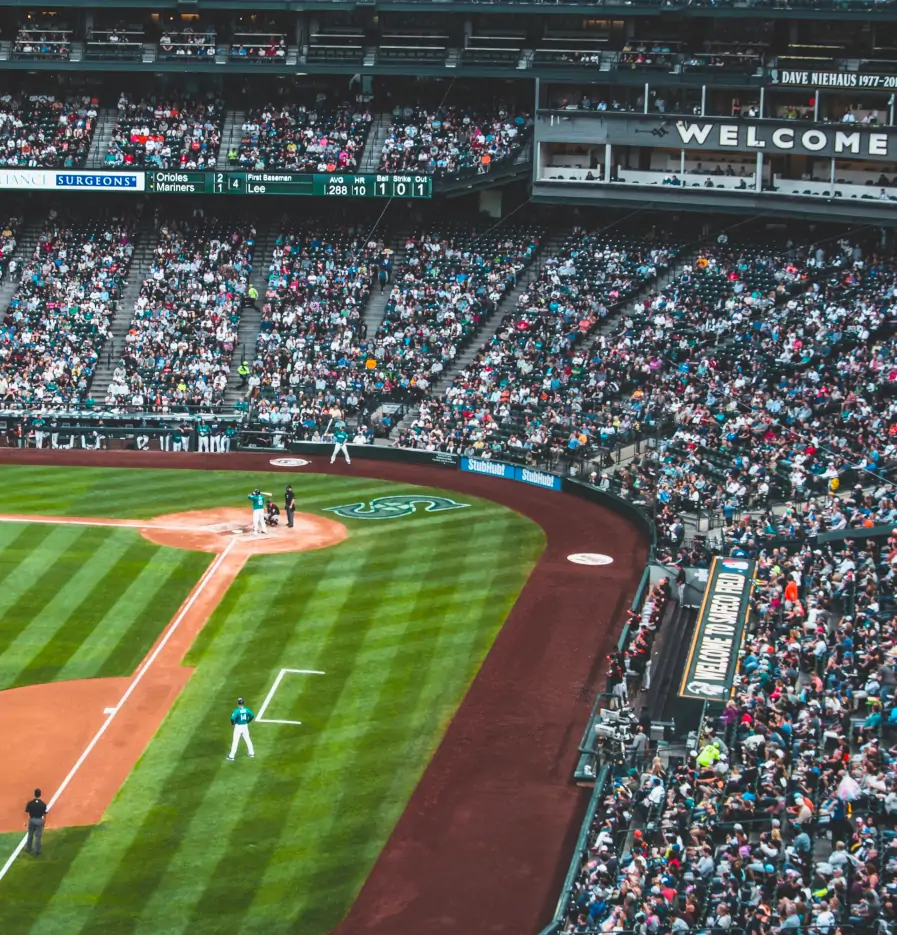 Address: 1250 1st Ave S, Seattle, WA 98134
Website: https://www.mlb.com/mariners
14. Chihuly Garden & Glass
Chihuly Garden and Glass is an art exhibition that showcases the exquisite glass artwork of world-renowned artist Dale Chihuly. Situated at the base of the iconic Space Needle in the Seattle Center, this stunning garden and gallery is a must-visit attraction for families and art enthusiasts alike.
The Chihuly Garden and Glass features a diverse collection of Chihuly's glass sculptures. As you wander through the garden, you'll encounter towering glass flowers, whimsical glass orbs, and dazzling glass chandeliers. The interplay of light and color in each sculpture creates a mesmerizing and magical atmosphere for visitors of all ages.
In addition to the outdoor garden, the exhibition also includes an indoor gallery that houses even more masterpieces by Dale Chihuly. The gallery offers an opportunity to learn about the artist's creative process and his significant contributions to the world of contemporary glass art.
Visitors can complement their experience with a visit to Collections Café, an on-site restaurant offering delicious Pacific Northwest cuisine amid a curated display of Chihuly's personal collections.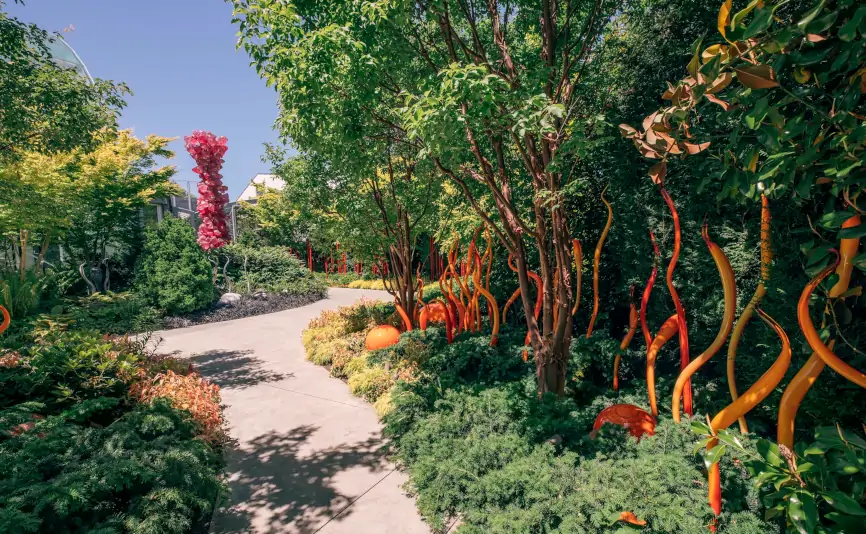 Address: 305 Harrison St, Seattle, WA 98109
Website: https://www.chihulygardenandglass.com/
15. Orca Whale Watching
Seattle is a fantastic location for whale watching. Several companies offer tours for families to witness these magnificent creatures in their natural habitat.
One of the popular companies offering whale watching tours is Puget Sound Express. They provide eco-friendly tours led by knowledgeable naturalists. Their high-speed boats offer comfort and safety as you venture out into the waters to spot orcas, humpback whales, gray whales, and other marine wildlife.
Another reputable company is San Juan Safaris, which offers whale watching tours departing from Seattle to the San Juan Islands. Besides orcas, you may have the opportunity to see seals, sea lions, bald eagles, and other marine animals during the tour.
Please note that whale watching tours are subject to seasonal availability, so it's best to check with the tour companies for schedules and availability before planning your trip.
Website: https://www.pugetsoundexpress.com/
Website: https://www.sanjuansafaris.com/
16. Market Theater Gum Wall
The Market Theater Gum Wall, located in Seattle's historic Pike Place Market, is a quirky attraction that has become a local icon. As the name suggests, it is a brick wall covered in colorful wads of chewing gum, left behind by visitors and locals alike over the years. The Gum Wall's unusual history began in the early 1990s when people waiting in line for the theater started sticking gum on the wall as a form of spontaneous street art.
Over time, the wall grew into a sticky mosaic, with layers upon layers of gum forming an eye-catching display of chewed art. It has become a popular spot for visitors to leave their mark, making it an ever-changing and evolving work of public art.
The Market Theater Gum Wall is easily accessible for families exploring Pike Place Market. Children, in particular, find the colorful gum-covered wall fascinating and often enjoy leaving their own chewed contribution.
The Gum Wall has been thoroughly cleaned on a few occasions, only to be quickly covered in new layers of gum by enthusiastic visitors. It remains one of Seattle's most unusual and Instagram-worthy attractions.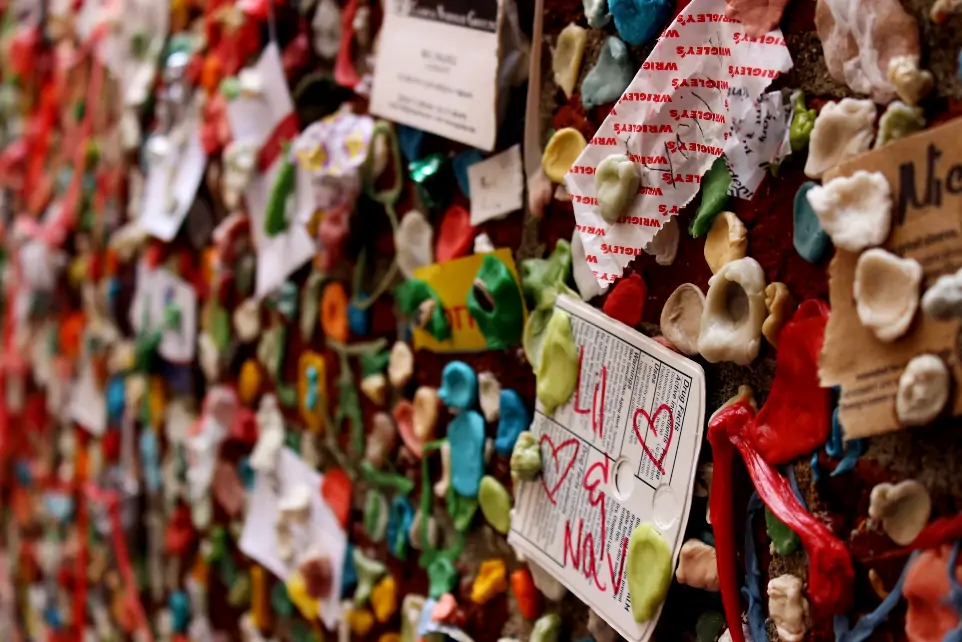 Address: 1428 Post Alley, Seattle, WA 98101
17. Seattle Children's Theatre
Seattle Children's Theatre (SCT) is a renowned regional theater company. Founded in 1975, SCT has been dedicated to providing high-quality, professional theater experiences for children and families for decades.
The theater's mission is to inspire young audiences, spark their creativity, and foster a lifelong love for the arts. SCT achieves this through its exceptional productions, which include classic tales, contemporary stories, and world premieres. Each play is thoughtfully chosen and carefully crafted to engage and captivate children of all ages.
The theater's performances take place in a child-friendly and welcoming environment. The main stage, located at the Charlotte Martin Theatre, offers a comfortable seating arrangement, ensuring that every child has an unobstructed view of the stage.
Address: 201 Thomas Street, Seattle, WA 98109
Website: https://www.sct.org/

18. Museum of Popular Culture
The Museum of Pop Culture (MoPOP) was founded by Microsoft co-founder Paul Allen in 2000. MoPOP celebrates the diverse and ever-evolving world of popular culture. The museum's building, designed by renowned architect Frank O. Gehry, is an architectural masterpiece itself.
MoPOP showcases a vast collection of artifacts, exhibits, and memorabilia from various realms of popular culture, including music, science fiction, video games, movies, and more.
Music enthusiasts can explore the Sound Lab, where they can experiment with different instruments and even record their own tracks. The museum also pays tribute to legendary musicians and bands who have left an indelible mark on the music industry.
Science fiction and fantasy fans will be delighted by exhibits that feature iconic movie props, costumes, and memorabilia from beloved films and TV shows. From Star Trek to Star Wars, visitors can immerse themselves in the captivating worlds of these classic franchises.
Video game enthusiasts can delve into the history of gaming, with exhibits showcasing vintage arcade machines, gaming consoles, and the evolution of video game design and technology.
One of the highlights of MoPOP is the Nirvana: Taking Punk to the Masses exhibit, which honors the iconic grunge band and its profound influence on the music scene.
In addition to its permanent exhibits, MoPOP hosts various temporary exhibitions that rotate regularly, offering fresh and exciting experiences for returning visitors.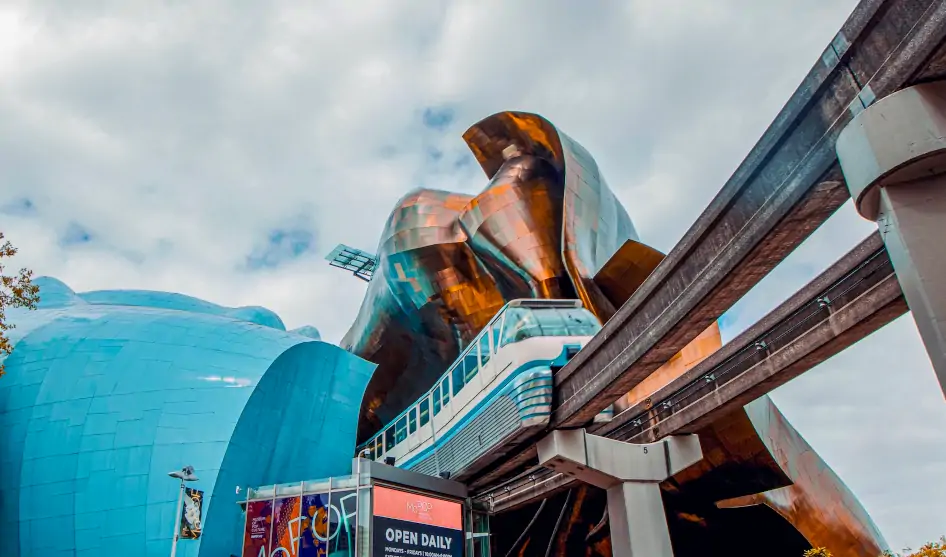 Address: 325 5th Ave N, Seattle, WA 98109
Website: https://www.mopop.org/
19. Golden Gardens Park Tidepools
Golden Gardens Park is a scenic waterfront park located in Seattle, Washington, known for its beautiful sandy beach and views of Puget Sound and the Olympic Mountains.
During low tide, the shoreline at Golden Gardens Park reveals a diverse array of tidepools teeming with marine life. Exploring these tidepools is like embarking on a mini marine expedition, as visitors have the chance to discover fascinating creatures such as starfish, sea anemones, crabs, and small fish.
Tidepooling at Golden Gardens Park is not only enjoyable but also educational for kids and adults alike. Park rangers and volunteers often lead guided tidepool walks, providing insights into the marine ecosystem and sharing interesting facts about the plants and animals found in the tidepools.
Apart from tidepooling, Golden Gardens Park offers a range of recreational activities for families to enjoy. The park features picnic areas, playgrounds, beach volleyball courts, and fire pits for roasting marshmallows or enjoying a beach bonfire.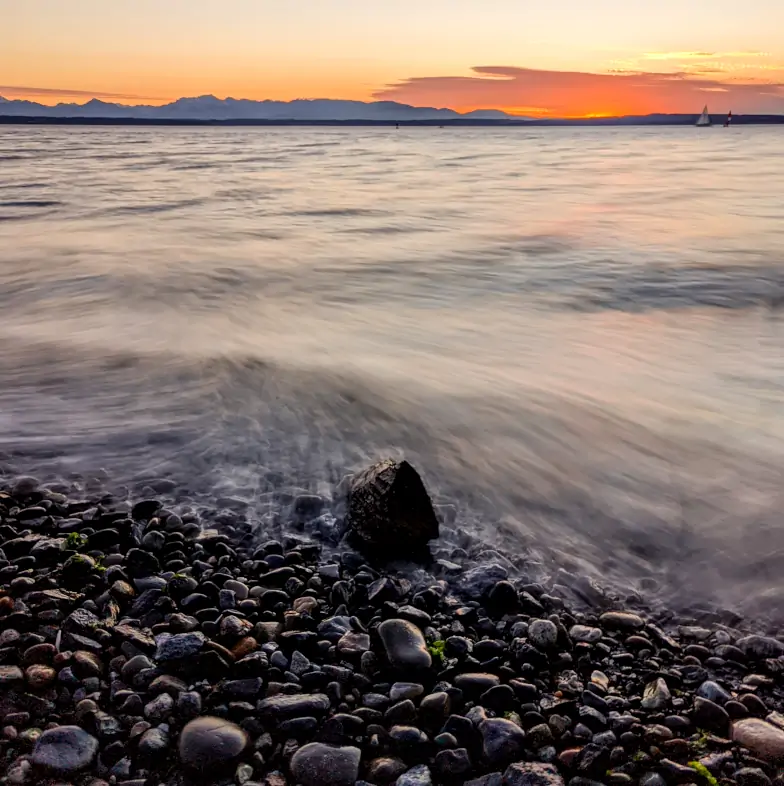 Address: 8498 Seaview Pl NW, Seattle, WA 98117
Website: https://www.seattle.gov/parks/find/parks/golden-gardens-park
20. Olympic Sculpture Park
The Olympic Sculpture Park is an outdoor art museum that combines art, nature, and amazing views of Puget Sound and the Olympic Mountains. Operated by the Seattle Art Museum (SAM), the park spans nine acres and features a mix of sculptures, large-scale installations, and beautifully landscaped gardens.
One of the highlights of the park is the "Eagle," a 39-foot sculpture by Alexander Calder that stands tall against the Seattle skyline. The park also houses artworks by renowned artists such as Louise Bourgeois, Richard Serra, and Tony Smith, among others.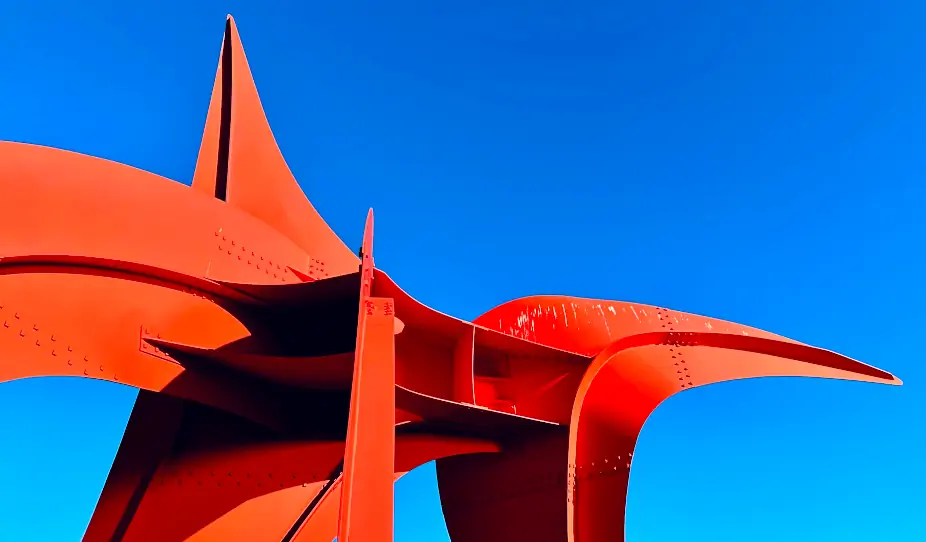 Address: 2901 Western Ave, Seattle, WA 98121
Website: https://www.seattleartmuseum.org/visit/olympic-sculpture-park
21. Burke Museum of Natural History and Culture
The Burke Museum of Natural History and Culture is operated by the University of Washington.
The museum's extensive collection spans over 16 million objects, ranging from dinosaur fossils and gemstones to ethnographic artifacts and archaeological finds.
One of the highlights of the Burke Museum is the Dinosaurs and Fossils Gallery, where life-sized dinosaur replicas and real fossils bring the ancient past to life. Kids will be excited to stand face-to-face with the towering T-Rex and marvel at the giant marine reptiles that once roamed the seas.
Another exciting section of the museum is the Culture Gallery, which showcases artifacts and artwork from various indigenous cultures of the Pacific Northwest and beyond. Families can explore intricately carved totem poles, traditional masks, and other cultural treasures.
The Burke Museum also offers interactive exhibits and hands-on activities that encourage children's curiosity and exploration. Kids can touch real fossils, try on traditional clothing from different cultures, and participate in educational workshops and programs.
Address: 4300 15th Ave NE, Seattle, WA 98195
Website: https://www.burkemuseum.org/
22. Artists at Play Playground
Artists at Play is a playground located at the Seattle Center.
The playground features innovative play structures that resemble giant musical instruments, nature-inspired sculptures, and colorful interactive art pieces. Kids can explore climbing structures, slides, swings, and balance beams.
The "Sonic Bloom" is a collection of towering, solar-powered flowers that emit musical tones when touched. Children can create their own melodies by interacting with these giant blooms, inspiring them to engage with art and music in a playful and fun way.
The playground's design draws inspiration from Seattle's vibrant arts and cultural scene and reflects the city's commitment to creativity and community engagement.
As part of the Seattle Center, families can easily combine their visit to the playground with other nearby attractions such as the Pacific Science Center, the Space Needle, and the Museum of Pop Culture.
Address: 305 Harrison St, Seattle, WA 98109
Website: https://www.seattlecenter.com/explore/attractions/artists-at-play
23. Full Tilt Ice Cream
Full Tilt Ice Cream is a favorite destination for families.
The ice cream shop boasts a diverse and rotating selection of over 30 imaginative and daring flavors, ranging from classic favorites like chocolate and vanilla to more adventurous options like Thai Iced Tea, Ube, and Vegan Horchata.
Beyond their creative ice cream offerings, Full Tilt's locations often double as entertainment venues. Families can enjoy live music, arcade games, and even pinball machines while indulging in their favorite frozen treats. This combination of sweet treats and interactive fun makes Full Tilt a popular spot for families looking for a playful and enjoyable outing.
Additionally, Full Tilt supports local artists by displaying their artwork on the walls, adding to the quirky ambiance of the shop.
Address: various locations
Website: https://www.fulltilticecream.com/
24. Theo Chocolate Factory Tour
The Theo Chocolate Factory Tour is a delicious and educational experience that delights both kids and adults. As the first organic and fair trade chocolate factory in North America, Theo Chocolate is known for its commitment to sustainability and ethical practices.
During the guided tour, visitors get an up-close look at the chocolate-making process, from the sourcing of organic cocoa beans to the meticulous crafting of delectable chocolate bars.
Kids and families can observe the chocolate-making machinery in action, witness the roasting of cocoa beans, and even sample freshly made chocolates right off the production line. The aroma of cocoa fills the air, making the experience even more enticing.
As a bonus, the Theo Chocolate Factory Store offers an extensive assortment of chocolate products, from classic dark and milk chocolate bars to unique and creative flavors like chai spice and coconut turmeric. Families can shop for souvenirs or bring home delectable treats to savor later.
Address: 3400 Phinney Ave N, Seattle, WA 98103
Website: https://theochocolate.com/factory-tours
25. Seattle Seahawks
As a member of the National Football League (NFL), the Seattle Seahawks compete in the league's National Football Conference (NFC) West division. They were established in 1976 and have since become one of the most successful and beloved teams in the NFL.
The Seahawks play their home games at Lumen Field,which is located in the heart of downtown Seattle. The stadium's design and acoustics create a loud and electrifying atmosphere, earning it the nickname "The Clink."
For families, attending a Seattle Seahawks game at Lumen Field is a fantastic experience. The atmosphere is family-friendly, and the team often hosts special events and activities for young fans, making it an ideal outing for families with kids who are avid football enthusiasts or just looking for an exciting and memorable time.
Address: 800 Occidental Ave S, Seattle, WA 98134
Website: https://www.seahawks.com/