1. Palm Springs Aerial Tramway
Get ready for an exciting ascent aboard the world's largest rotating tramcars, carrying you 8,516 feet above the desert floor. As you rise, the views of the rugged Chino Canyon and the vast desert landscape unfold before your eyes. Kids and adults alike will be thrilled by the stunning vistas during the 10-minute ride.
Upon reaching the Mountain Station at the top, a whole new world of wonder awaits. The panoramic views stretching for miles are simply breathtaking.
During the summer months, the cooler temperatures at the summit offer a respite from the desert heat.
And during the winter months, you will be able to experience a winter wonderland. As you ascend, you'll notice a change in scenery, with the desert landscape giving way to a snow-covered alpine forest. Families can enjoy snowshoeing, snowball fights, and building snowmen.
One of the highlights of the Palm Springs Aerial Tramway adventure is the opportunity to explore the hiking trails around the Mountain Station. There are trails suitable for all skill levels.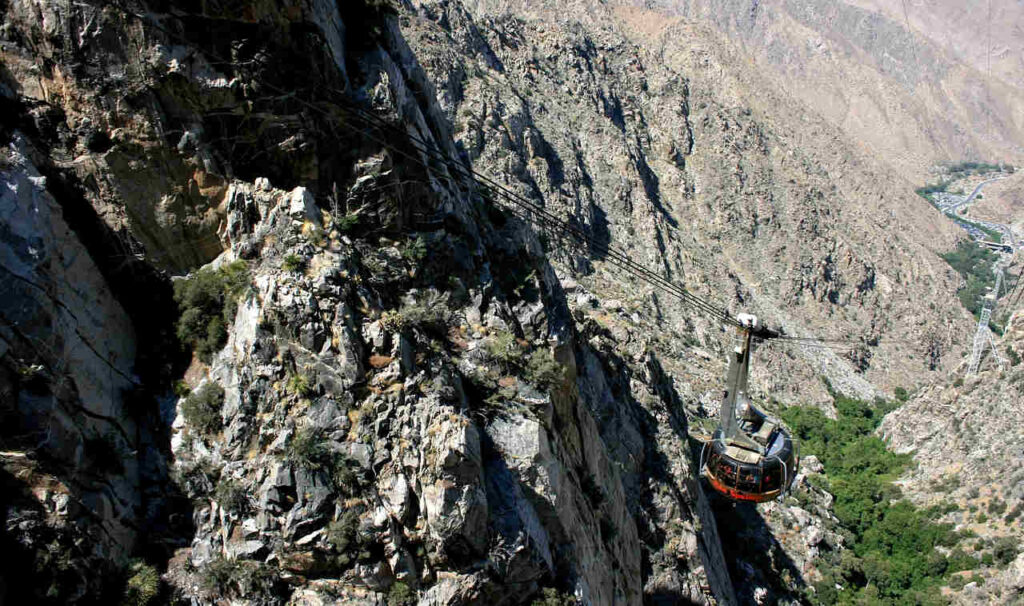 Address: 1 Tramway Rd, Palm Springs, CA 92262
Website: https://pstramway.com/
2. Mt. San Jacinto State Park
Mount San Jacinto State Park is is home to the second-highest peak in Southern California, Mount San Jacinto, standing tall at 10,834 feet above sea level.
For families seeking adventure, the state park offers a variety of hiking trails suitable for all ages and skill levels. From easy nature walks to challenging back country treks, there's a trail for everyone to explore. Keep an eye out for diverse wildlife, including mule deer, bobcats, and a variety of bird species.
Camping enthusiasts will also find plenty to enjoy in the park. There are several campgrounds available for families.
The park is accessible by the Palm Springs Aerial Tramway.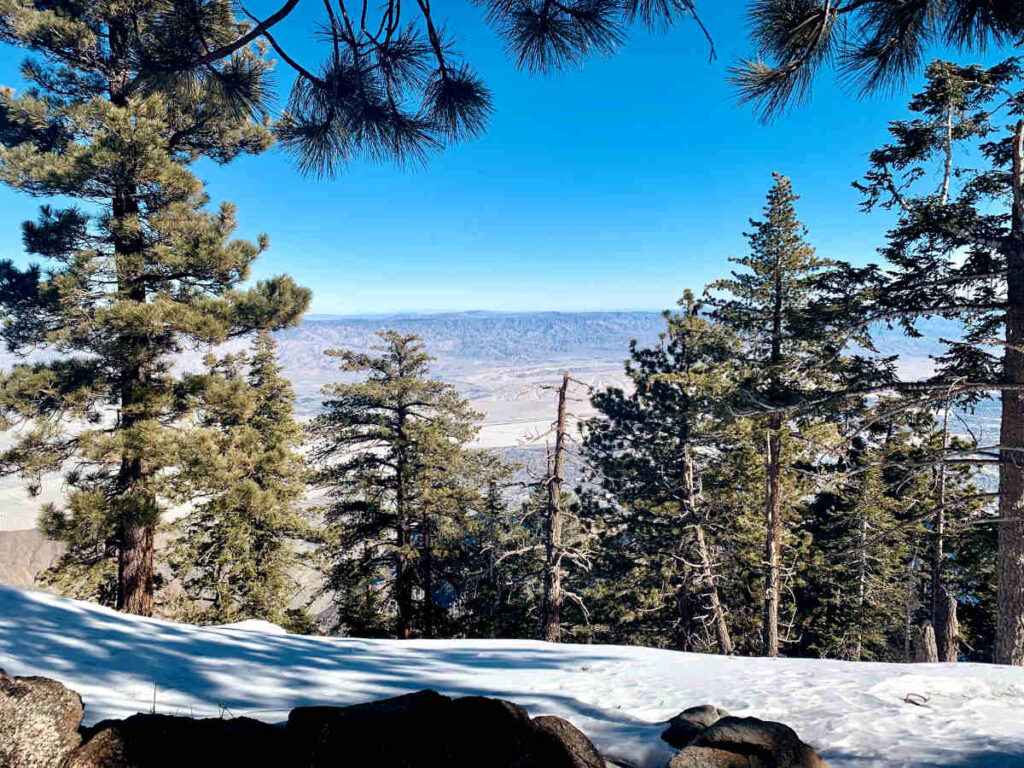 Address: 1 Tramway Road, Palm Springs, CA 92262
Website: https://www.parks.ca.gov/?page_id=636
3. Living Desert Zoo and Gardens
The Living Desert is a combination of both a zoo and botanical garden, where you can experience the diverse flora and fauna of desert ecosystems from around the world.
As you wander through the spacious grounds, you'll encounter a wide variety of animals, including giraffes, meerkats, cheetahs, and more. Kids will be thrilled to see these creatures up close and learn about their natural habitats.
The Living Desert also boasts an impressive collection of desert plants and wildflowers in its botanical garden.
One of the highlights of The Living Desert is the Wildlife Wonders Show, where you can witness animal presentations and learn about the adaptations that allow desert creatures to thrive in harsh environments.
For even more of an experience, consider taking a ride on the carousel or the Wildlife Wonders Train – both of which are favorites among the younger visitors.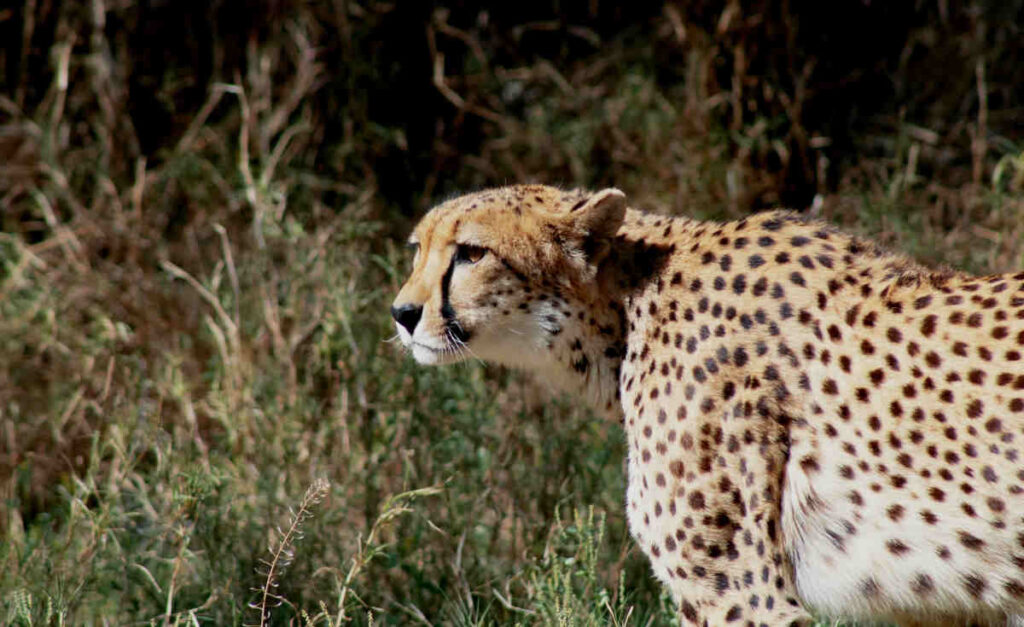 Address: 47900 Portola Avenue, Palm Desert, CA 92260
Website: https://www.livingdesert.org/
4. Children's Discovery Museum of the Desert
Designed with young explorers in mind, the Children's Museum of the Desert offers a treasure trove of interactive exhibits and hands-on activities that cater to kids' natural curiosity and desire to learn.
From the moment you step inside, the excitement begins. Kids can delve into the Desert Maze, an adventure that uncovers the wonders of desert life and teaches them about the unique plants and animals that thrive in this arid region.
With a wide range of exhibits, there's something for every young mind to explore. Budding scientists can experiment in the Science and Space Center, while curious minds can unravel the mysteries of the human body in the Health and Wellness exhibit. For the little artists, the Art Studio is a haven to unleash their creativity.
The excitement doesn't end indoors. The museum's Outdoor Play Area provides a chance for kids to run, jump, and climb and make the most of the fresh air and sunshine as they engage in fun physical activities.
Address: 71701 Gerald Ford Drive, Rancho Mirage, CA 92270
Website: https://cdmod.org/
5. Joshua Tree National Park
This national park is a natural wonderland filled with unique landscapes and fascinating wildlife. Kids will be excited to see the iconic Joshua trees that give the park its name, standing tall with their quirky and outstretched branches.
The landscape is dotted with massive rock formations that create a dreamlike playground for young adventurers to climb, explore, and let their imaginations run wild.
For families seeking outdoor activities, the park offers a variety of hiking trails. Whether you're looking for a nature walk or a more challenging trek, each trail promises breathtaking vistas and the chance to spot wildlife such as bighorn sheep, lizards, and colorful birds.
One of the highlights of a visit to Joshua Tree is experiencing the beauty of the night sky. With its designation as an International Dark Sky Park, the absence of city lights allows for unparalleled stargazing opportunities. Kids will be amazed by the vastness of the universe and the dazzling display of stars.
And don't forget to bring along your rock climbing gear! Joshua Tree's unique rock formations provide an ideal setting for families to try their hand at rock climbing, of course under the guidance of experienced and safety-conscious instructors.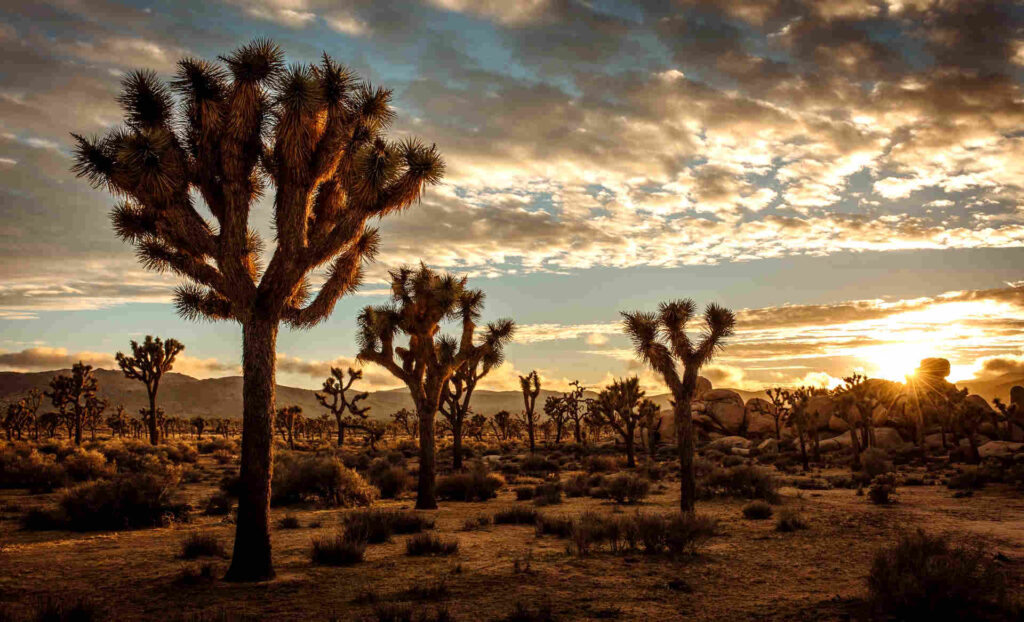 Address: 74485 National Park Drive, Twentynine Palms , CA 92277
Website: https://www.nps.gov/jotr/index.htm
6. Indian Canyons
Indian Canyons is not just a place of breathtaking beauty; it's a natural playground that offers a plethora of activities for families to enjoy. Let your kids' imaginations run wild as they explore the three stunning canyons – Palm Canyon, Andreas Canyon, and Murray Canyon – each with its own unique charm and opportunities for exploration.
In Palm Canyon, your little adventurers will be amazed by the palm trees and vegetation that create a shaded oasis amidst the desert landscape. The short and easy trails make it accessible for all ages.
Andreas Canyon is a feast for the senses, with its vibrant tapestry of colors and rock formations. Your kids will love spotting the plants and wildflowers that add splashes of color to the rocky terrain. The gentle trails in Andreas Canyon are perfect for younger children, an introduction to the beauty of the desert.
For families seeking a more adventurous experience, Murray Canyon is the place to go. The longer trails wind through rocky landscapes and lead to a waterfall, offering an opportunity for older kids to test their hiking skills while being rewarded with stunning vistas.
Beyond the beauty of nature, Indian Canyons holds a rich cultural history. The canyons have great spiritual and historical significance for the Agua Caliente Band of Cahuilla Indians, who actively participate in preserving and interpreting this sacred land.
Throughout your adventure, be on the lookout for native wildlife, including bighorn sheep, roadrunners, and various bird species. The canyons are a haven for wildlife and provide an excellent opportunity for your kids to connect with nature and learn about the diverse desert ecosystem.
Address: 38500 S. Palm Canyon Drive , Palm Springs , CA, 92264
Website: https://www.indian-canyons.com/indian_canyons
7. Tahquitz Canyon
Tahquitz Canyon is home to the Tahquitz Falls, a 60-foot waterfall that will leave your family in awe.
The excitement continues with a variety of hiking trails. Whether you're a seasoned hiker or a novice explorer, there's a trail for everyone to enjoy. Each trail promises amazing vistas of the rugged desert landscape, ideal for family photos and unforgettable moments.
Address: 500 W. Mesquite Avenue, Palm Springs , CA, 92264
Website: http://www.tahquitzcanyon.com/canyon
8. Palm Springs Art Museum
The Palm Springs Art Museum is a haven for art enthusiasts of all ages, with a diverse collection that spans modern and contemporary art, Native American artifacts, photography, and more.
For families, the museum offers engaging and interactive exhibits that make learning about art a fun and immersive experience. Kids can participate in hands-on activities, workshops, and art programs designed to foster their creativity and appreciation for the arts.
Don't miss the chance to explore the Architecture and Design Center, a part of the museum dedicated to the appreciation of architecture and its impact on our daily lives. It's a fascinating and eye-opening experience for the whole family!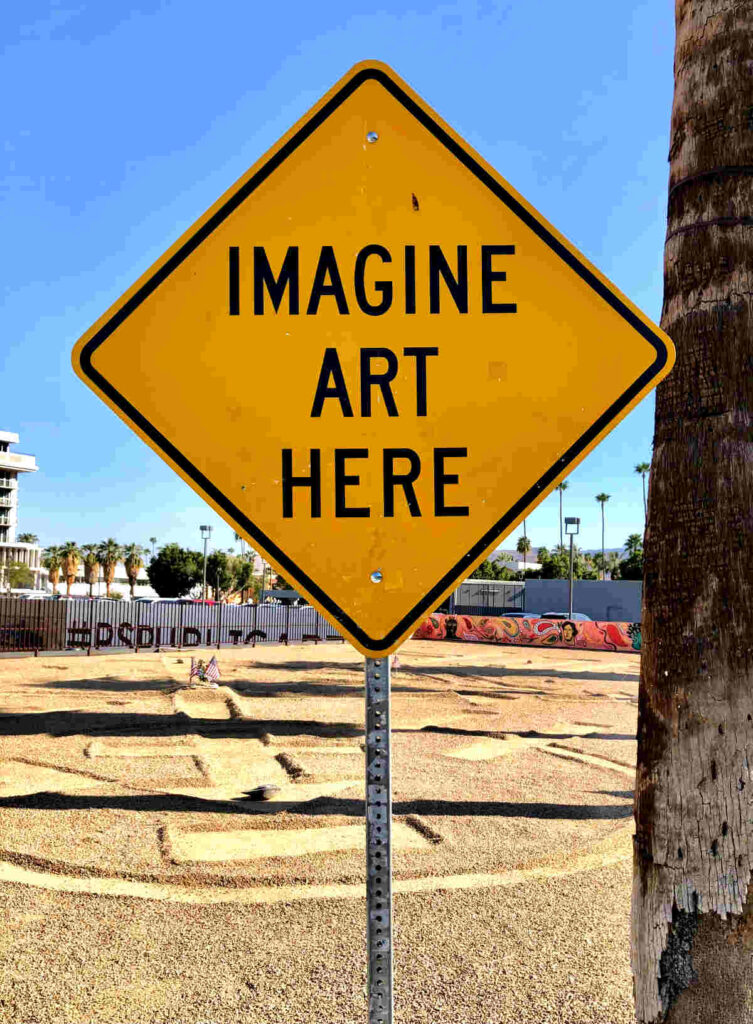 Address: 101 Museum Drive, Palm Springs , CA, 92262
Website: https://www.psmuseum.org/
9. Palm Springs Air Museum
From iconic World War II planes to modern jets, the Palm Springs Air Museum offers a special opportunity for families to get up close and personal with aviation history.
One of the highlights is the chance to take a flight in some of the vintage aircraft. Imagine the excitement as your kids soar through the sky in a vintage plane, experiencing the thrill of flying.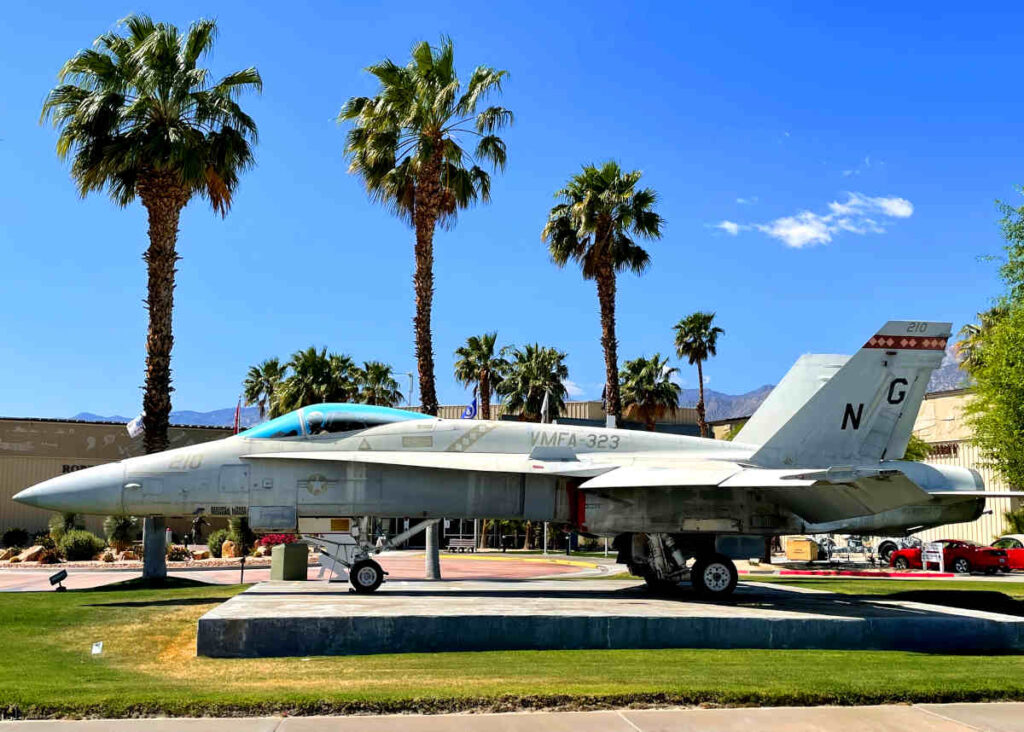 Address: 745 N. Gene Autry Trail, Palm Springs , CA, 92262
Website: https://palmspringsairmuseum.org/
10. Moorten Botanical Garden
Moorten Botanical Garden is a destination that showcases desert plants from around the world.
The Cactarium is a must-visit highlight that will captivate the entire family. This indoor greenhouse is home to an incredible collection of cacti and succulents.
Throughout the garden, you'll find informative signs and displays that provide valuable insights into each plant's characteristics and origin.
It's a fun and educational way to learn more about desert botany together as a family.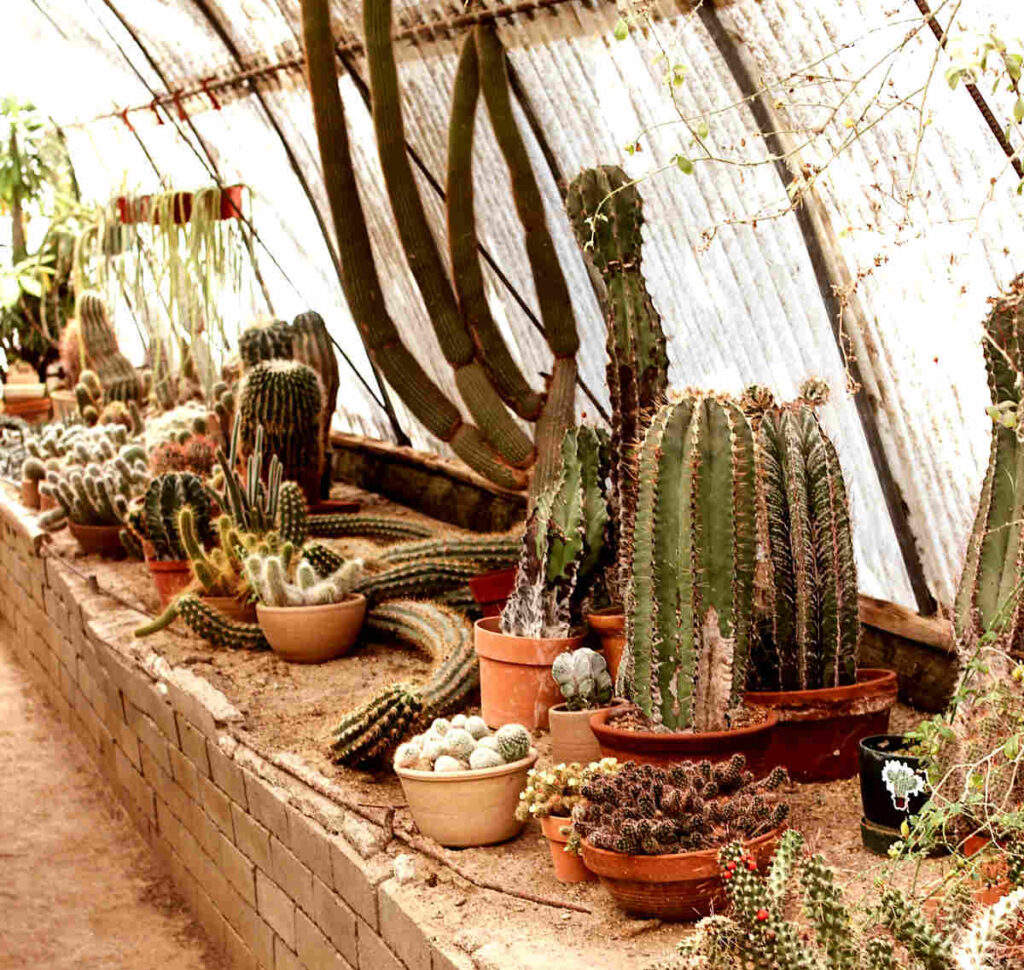 Address: 1701 S. Palm Canyon Dr. , Palm Springs , CA, 92264
Website: http://www.moortenbotanicalgarden.com/
11. Smoke Tree Stables
Smoke Tree Stables offers a beautiful setting for families to experience the joy of horseback riding. Whether your family members are seasoned riders or first-timers, the stables cater to all skill levels.
Beyond trail rides, Smoke Tree Stables offers various equestrian experiences for families, including riding lessons and special events. Your kids can learn the basics of horse care and riding techniques.
The stables also host memorable events, such as sunset rides and moonlight rides under the stars, which add a touch of enchantment to your family's equestrian adventure.
Address: 2500 Toledo Avenue, Palm Springs , CA, 92264
Website: https://www.smoketreestables.com/
12. Shields Date Garden
Shields Date Garden offers an educational experience for families interested in dates and desert agriculture. Take a stroll through the date groves, where you and your kids can learn about the different varieties of dates and the cultivation process.
The Garden Cafe offers mouthwatering date shakes and a delightful menu of date-inspired dishes. Treat your taste buds to a date-filled culinary adventure, and don't forget to take some delicious dates home as a sweet souvenir!
Shields Date Garden also features a charming gift shop, where you can find a selection of date-based products, from date candies to date-infused snacks and treats.
Address: 80225 California Highway 111 , Indio , California, 92201
Website: https://shieldsdategarden.com/
13. Sam Cobb Farms
Sam Cobb Farms offers a hands-on experience for families, allowing you and your kids to pick fresh and ripe fruits straight from the orchards.
Depending on the season, you can enjoy picking a variety of fruits, such as juicy peaches, sweet nectarines, succulent plums, and more!
Don't forget to visit the farm stand for freshly picked fruits and a selection of local goodies, including homemade jams and preserves.
Address: 22325 Henry Rd, Desert Hot Springs, CA 92241
Website: https://www.samcobbfarms.com/
14. Sunnylands Center and Gardens
Sunnylands Center is linked to the historic Sunnylands estate. The estate was originally the winter residence of Walter and Leonore Annenberg, renowned philanthropists and diplomats, who welcomed influential figures from politics, entertainment, and international relations to their home.
As you explore the center, you'll discover the rich history of Sunnylands and its role as a meeting place for world leaders and dignitaries. The Visitor Center provides insights into the influential figures who have visited Sunnylands over the years, including presidents, royalty, and celebrities.
The center is surrounded by landscaped gardens, creating an oasis in the heart of the desert. Families can enjoy walks through the gardens, bask in the serene atmosphere, and appreciate the beauty of nature.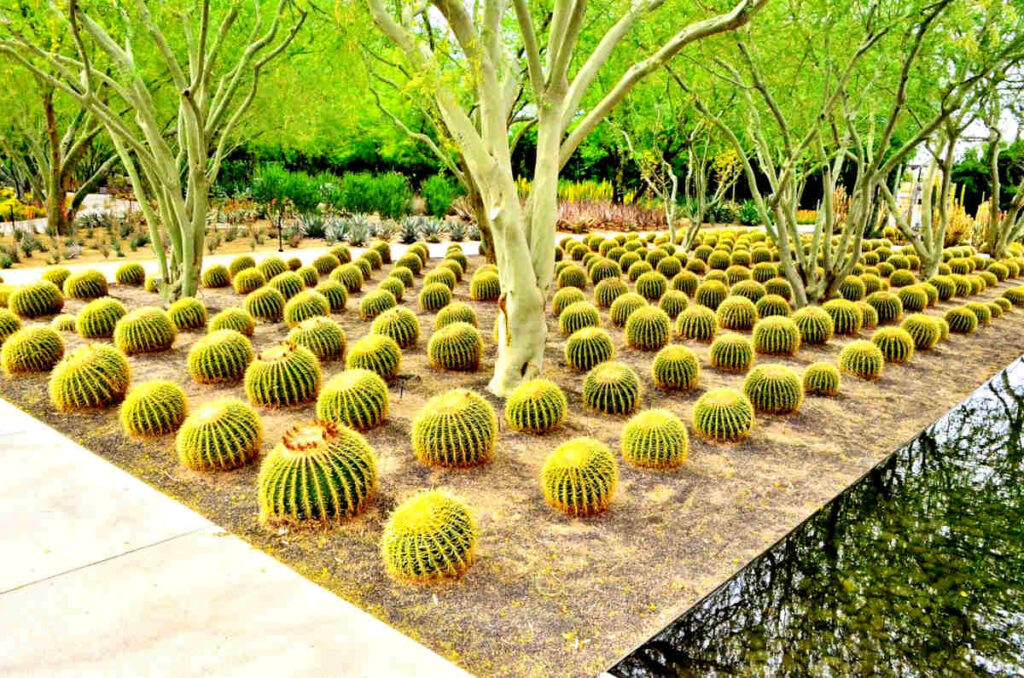 Address: 37977 Bob Hope Drive, Rancho Mirage , CA, 92270
Website: https://sunnylands.org/
15. Cabot's Pueblo Museum
Cabot's Pueblo Museum is a historic landmark showcasing a remarkable four-story hand-built pueblo created by Cabot Yerxa himself. Kids and parents can marvel at the architectural wonder and learn about Yerxa's adventurous life.
As you journey through the museum, you'll discover Yerxa's travels across the American West and his encounters with Native American cultures. It's a chance for families to delve into history and appreciate the vision of this extraordinary man.
The museum also features Native American artifacts and artwork. Kids can learn about the traditions and stories of the indigenous people.
The beautiful desert landscape surrounding the museum adds to the experience. Families can take guided tours through the pueblo and enjoy panoramic views of the desert from the rooftop.
Address: 67616 E. Desert View Avenue, Desert Hot Springs, CA 92240
Website: https://www.cabotsmuseum.org/
16. Red Jeep Tours
Red Jeep Tours offers guided tours that take you off the beaten path and into the heart of the desert's natural beauty.
As you venture through the rugged terrains, your guide will share insights into the local history, geology, and wildlife.
Red Jeep Tours offers various tour options, each with its unique charm. Whether you're exploring the scenic canyons, discovering hidden oases, or witnessing breathtaking desert sunsets, there's something for everyone to enjoy.
Address: 67616 E. Desert View Avenue, Desert Hot Springs, CA 92240
Website: https://www.red-jeep.com/
17. Palm Springs Windmill Tour
The Palm Springs area is known for its iconic windmills, and this tour offers an opportunity for families to get up close and personal with these massive turbines.
The guided tour takes you on a journey through the wind farm, where you'll learn about the history and importance of wind energy in the region.
Your knowledgeable guide will share interesting facts about how wind power is harnessed and its impact on renewable energy efforts. It's a chance for kids and parents to discover the environmental benefits of wind energy and its role in creating a sustainable future.
As you explore the wind farm, you'll have the opportunity to take photos of the towering windmills against the backdrop of the beautiful desert landscape.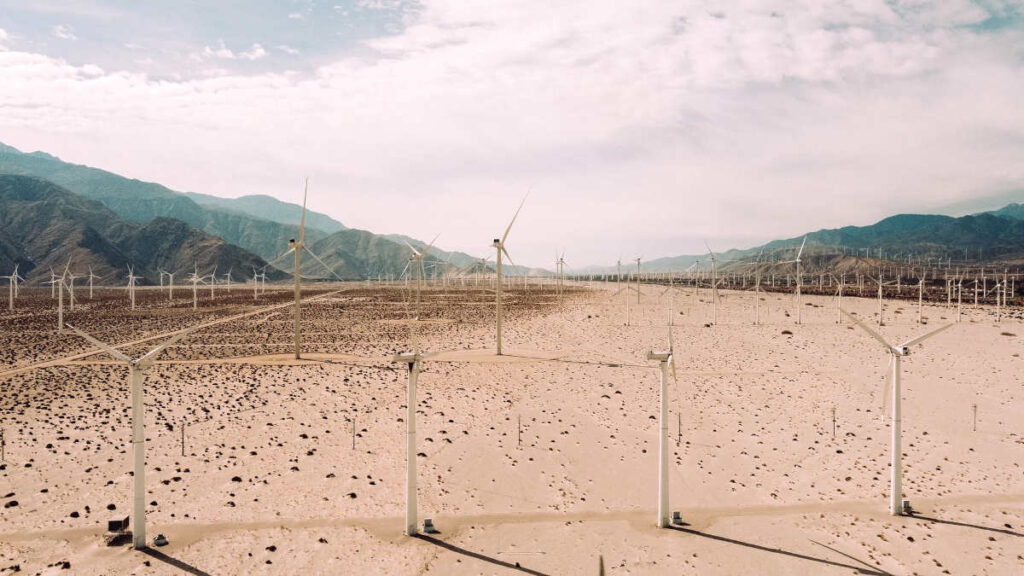 Address: 62950 20th Avenue, Palm Springs , CA, 92262
Website: https://www.windmilltours.com/
18. Brandini Toffee Tour
Brandini Toffee is famous for its handcrafted, buttery toffee. On this tour, you and your family will get an exclusive behind-the-scenes look at the toffee-making process.
Led by friendly guides, you'll witness skilled artisans in action, crafting batches of the finest toffee with love and precision.
The best part? Tasting the mouthwatering toffee! From classic milk chocolate to unique flavor combinations, there's a treat for everyone to enjoy.
Address: 42250 Bob Hope Drive, Rancho Mirage, CA 92270
Website: https://brandinitoffee.com/
19. Eldorado Polo Club
The Eldorado Polo Club is a top-notch destination for polo enthusiasts and families seeking a unique outing.
For families, it's an opportunity to watch thrilling polo matches up close. Cheering on the players and their magnificent horses will leave you in awe of the skill and athleticism on display.
Throughout the season, the club hosts various polo matches and tournaments.
But the fun doesn't stop with polo! The Eldorado Polo Club also offers family-friendly amenities, such as picnic areas and concessions.
For those curious about polo, the club offers lessons and clinics for all levels, giving kids and parents a chance to try their hand at the sport.
Address: 50-950 Madison Street, Indio , CA, 92201
Website: https://www.eldoradopoloclub.com/
20. Fantasy Balloon Flights
Fantasy Balloon Flights offers balloon rides above the beautiful Coachella Valley.
For kids, the hot air balloon flight is an amazing opportunity to experience the wonder of floating through the air like a balloonist from a storybook.
Throughout the flight, your expert pilot will provide insights into the history of ballooning and the surrounding desert region.
Once you touch down, you'll be greeted with a celebratory toast and a personalized flight certificate, commemorating your fantastic journey.
Address: 74181 Parosella St., Palm Desert, CA 92260
Website: https://www.fantasyballoonflight.com/
21. Cabazon Dinosaurs
The Cabazon Dinosaurs feature two iconic dinosaur sculptures, "Dinny" the Brontosaurus and "Mr. Rex" the T-Rex, standing tall and proud along the highway.
Kids will be amazed by the sheer size of these life-size dinosaurs.
Inside "Dinny," families can explore the dinosaur gift shop, where you can find a variety of dinosaur-themed merchandise and souvenirs.
And the adventure doesn't end there! For a small fee, you can climb up inside "Mr. Rex" and experience a bird's-eye view of the surrounding area.
The Cabazon Dinosaurs have a rich history, having appeared in several popular movies and television shows over the years.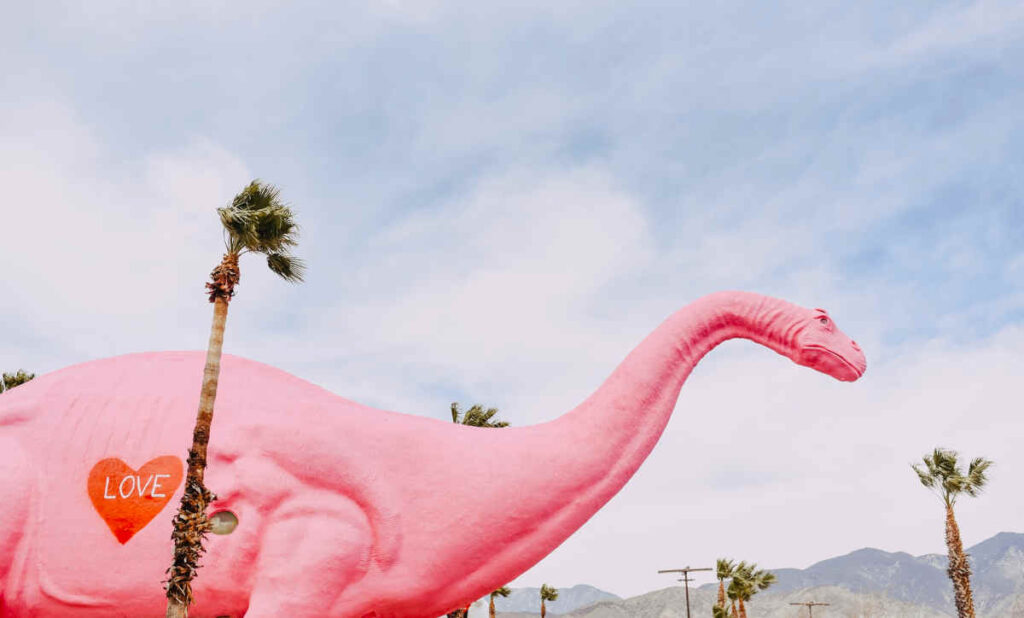 Address: 50770 Seminole Drive, Cabazon, CA 92230
Website: https://www.cabazondinosaurs.com/
22. Biking
Palm Springs offers numerous biking trails and paths suitable for riders of all ages and skill levels.
For families with younger kids, there are easy and flat bike paths that wind through the city and provide a leisurely ride with lovely views of palm trees and desert landscapes.
More adventurous families can explore the rugged trails in the nearby mountains, which offer a challenging and exciting biking experience amidst stunning natural beauty.
Many bike rental shops in Palm Springs offer a variety of bikes, including kids' bikes, so you can easily find the right fit for your family.
Address: 194 S Indian Canyon Drive, Palm Springs , CA, 92262
Website: https://www.bikepsrentals.com/
23. Golf
Palm Springs is renowned for its world-class golf courses, with a wide range of options for golfers of all ages and skill levels.
For families with young golf enthusiasts, there are family-friendly golf courses that cater to beginners and offer a fun and relaxed atmosphere to learn and practice the game.
Many golf courses in Palm Springs provide junior golf programs and clinics.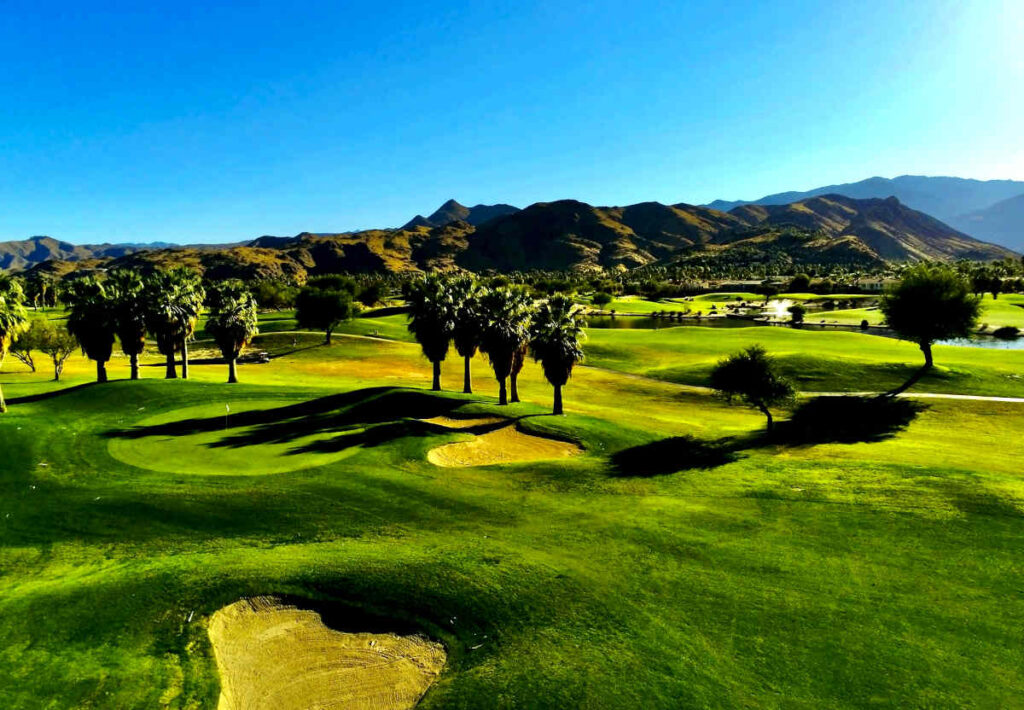 Address: 1885 Golf Club Drive, Palm Springs , CA, 92264
Website: https://tahquitzgolfresort.com/
24. Swimming Pools
Palm Springs abounds with swimming pools that cater to families of all sizes and ages. Many of the resort pools in the area are designed with families in mind, featuring shallow areas and gentle water entry points for little ones to enjoy safely. Water slides and splash pads add to the excitement.
For families looking for a more private swimming experience, there are boutique hotels and vacation rentals that offer charming private pools. Imagine spending a day together in your own private oasis, swimming, laughing, and creating unforgettable memories.
In addition to resort pools, Palm Springs boasts several public swimming pools and water parks that welcome families. The Palm Springs Swim Center is a popular choice, offering a large pool with lap lanes and a separate children's pool, great for family swimming sessions.
For an exciting water park adventure, families can head to Wet 'n' Wild Palm Springs. With water slides, lazy rivers, and wave pools, this water park guarantees a day of wet and wild fun for the whole family.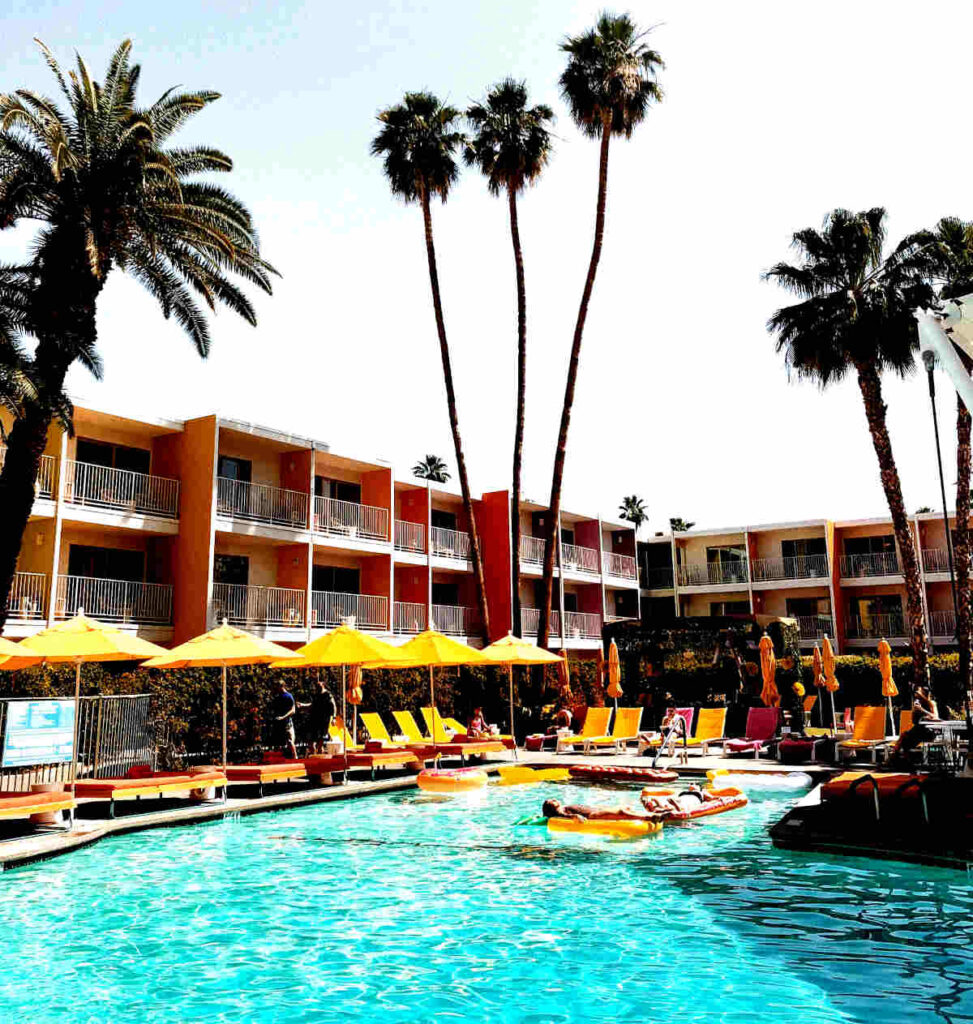 Address: 405 Pavilion Way , Palm Springs , CA, 92262
Website: https://www.palmspringsca.gov/government/departments/parks-recreation/swim-center
25. Boomers Palm Springs
Boomers is the ultimate family entertainment destination! Enjoy miniature golf, go-kart racing, bumper boats, laser tag, kiddie rides, and an arcade filled with games and prizes.
Address: 67-700 E. Palm Canyon Drive , Cathedral City , CA, 92234
Website: https://www.boomerspalmsprings.com/