1. American Museum of Natural History
The American Museum of Natural History (AMNH) is a world-renowned institution that is dedicated to exploring the wonders of nature and human culture.
Spread across 28 interconnected buildings, the museum houses an extensive permanent and rotating exhibits that cover a wide range of topics, from dinosaurs and ancient civilizations to space exploration and biodiversity.
One of the museum's most famous exhibits is the "Hall of Saurischian Dinosaurs," which features impressive fossil displays, including a Tyrannosaurus rex.
The Discovery Room allows young learners to participate in hands-on activities and explore natural history concepts in a fun and immersive way.
And a highlight of any visit is the Hayden Planetarium, which offers shows about space, the universe, and beyond.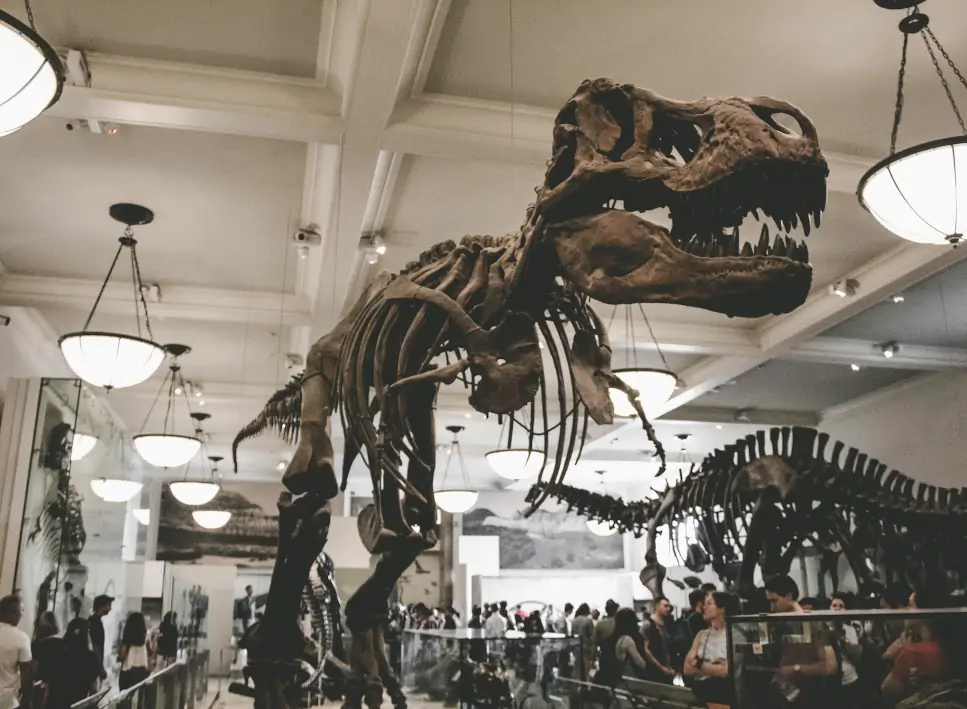 Address: Central Park West & 79th St, New York, NY 10024
Website: https://www.amnh.org/
2. Statue of Liberty
The Statue of Liberty stands tall as an iconic symbol of freedom and democracy.
The statue is located on Liberty Island in New York Harbor. It was a gift from France to the United States in 1886. Designed by French sculptor Frédéric Auguste Bartholdi and engineered by Alexandre Gustave Eiffel, the statue represents liberty and the friendship between the two nations.
Standing at 305 feet (93 meters) from the pedestal's base to the tip of the torch, the Statue of Liberty welcomes visitors from around the world. It holds a torch in one hand, symbolizing enlightenment, and a tablet in the other hand, bearing the date of the American Declaration of Independence.
Visitors can take a ferry from Battery Park in Manhattan to Liberty Island, where they can explore the statue's pedestal and museum. For a more immersive experience, some visitors choose to climb up to the crown, although this requires advance reservations.
The statue offers breathtaking views of New York City's skyline and the surrounding harbor, making it a perfect photo spot for families and tourists alike.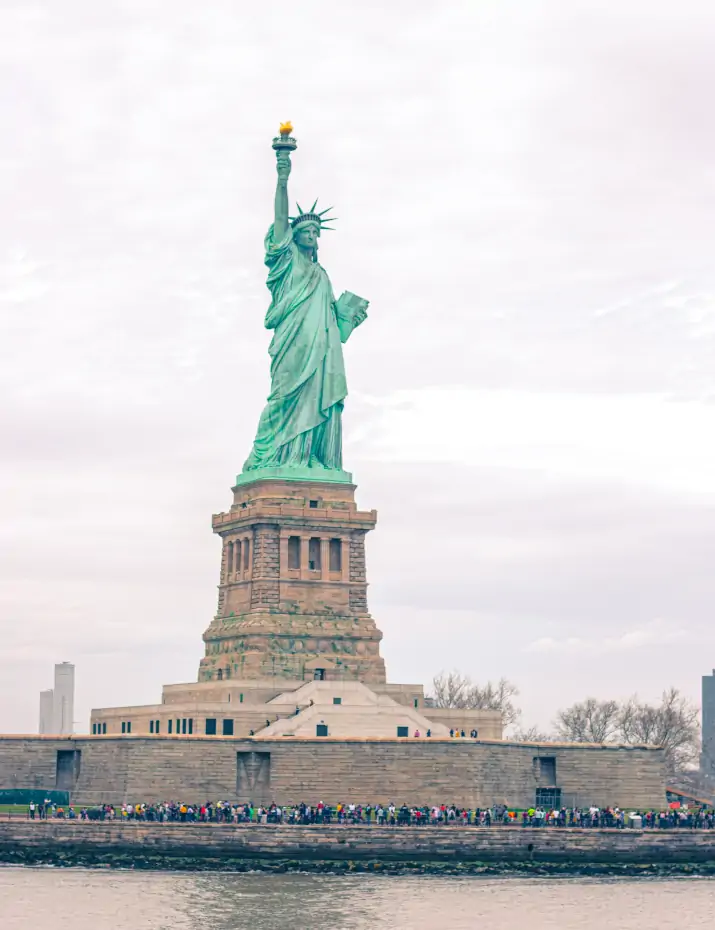 Address: Liberty Island, New York, NY 10004
Website: https://www.nps.gov/stli/index.htm
3. Bronx Zoo
The Bronx Zoo is one of the largest and oldest zoos in the United States. Established in 1899, the zoo covers 265 acres and is home to over 8,000 animals from around the world. It is operated by the Wildlife Conservation Society (WCS) and plays a vital role in wildlife conservation and education.
Visitors to the Bronx Zoo can go on an exciting journey through various exhibits and habitats, each designed to replicate the natural environments of the animals. From the African Plains to the Jungle World, visitors can observe diverse wildlife up close.
The Congo Gorilla Forest is one of the most popular exhibits. It allows visitors to explore a lush rainforest habitat while observing western lowland gorillas, mandrills, and other African species.
The Children's Zoo is another family-favorite, providing interactive and educational experiences for young visitors, including feeding farm animals and exploring animal exhibits specifically designed for children.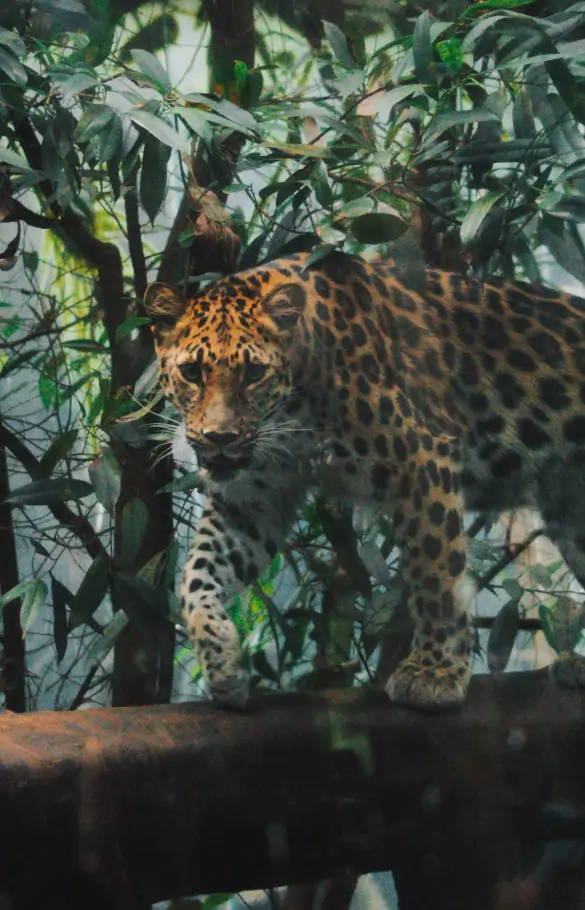 Address: 2300 Southern Blvd, Bronx, NY 10460
Website: https://bronxzoo.com/
4. Empire State Building
The Empire State Building, located in the heart of Manhattan, New York City, is an iconic skyscraper that stands as a symbol of American architectural and engineering prowess. Completed in 1931, this historic building was once the tallest in the world and is still one of the most famous landmarks in the United States.
Soaring to a height of 1,454 feet (443.2 meters) including its antenna, the Empire State Building offers panoramic views of New York City's skyline. Visitors can ascend to the observation decks on the 86th and 102nd floors to marvel at the cityscape, which includes famous landmarks like Central Park, Times Square, and the Statue of Liberty.
The Art Deco-style architecture of the Empire State Building is a sight to behold both during the day and night when it's illuminated with colorful lights, often reflecting different themes and causes. The building's lobby also boasts an elegant design with marble and beautiful art deco details.
For an enhanced experience, visitors can opt for the Empire State Building's multimedia exhibits on the 2nd floor, which provides a historical overview of the construction and the building's significance in popular culture.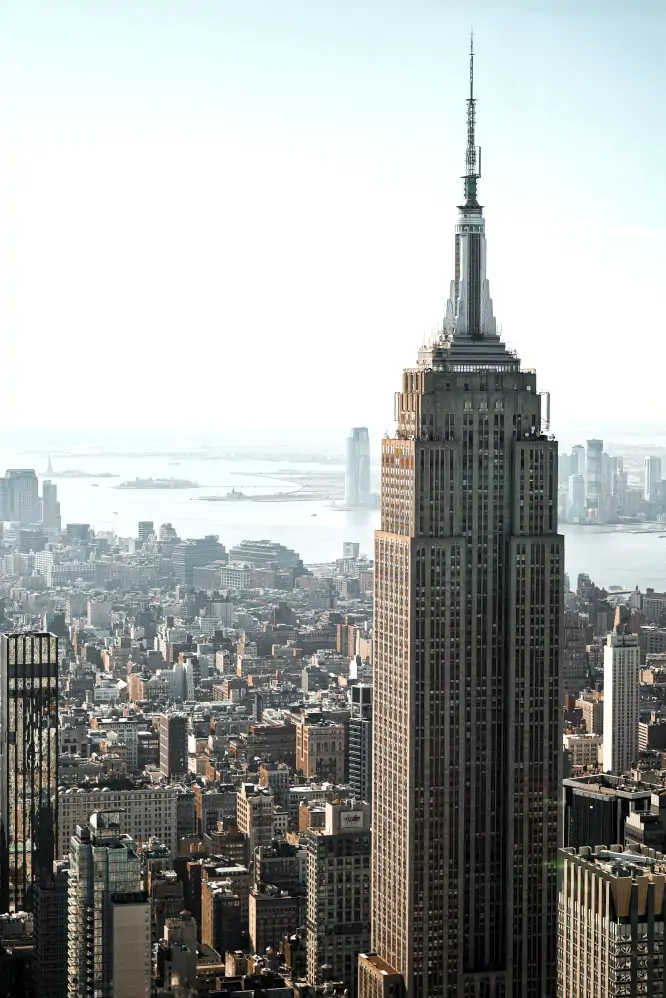 Address: 20 W 34th St, New York, NY 10001
Website: https://www.esbnyc.com/
5. Rockefeller Center Ice Rink
The Rockefeller Center Ice Rink in Midtown Manhattan is a popular winter attraction. Situated within the iconic Rockefeller Center complex, the ice rink offers a magical and festive experience during the holiday season.
The ice rink is open from October to April. Skaters of all ages and skill levels can glide and twirl on the smooth ice, surrounded by the dazzling lights and towering skyscrapers of New York City. It is a quintessential New York City experience, especially during the holiday season when the famous Christmas tree is lit up as a picture-perfect backdrop.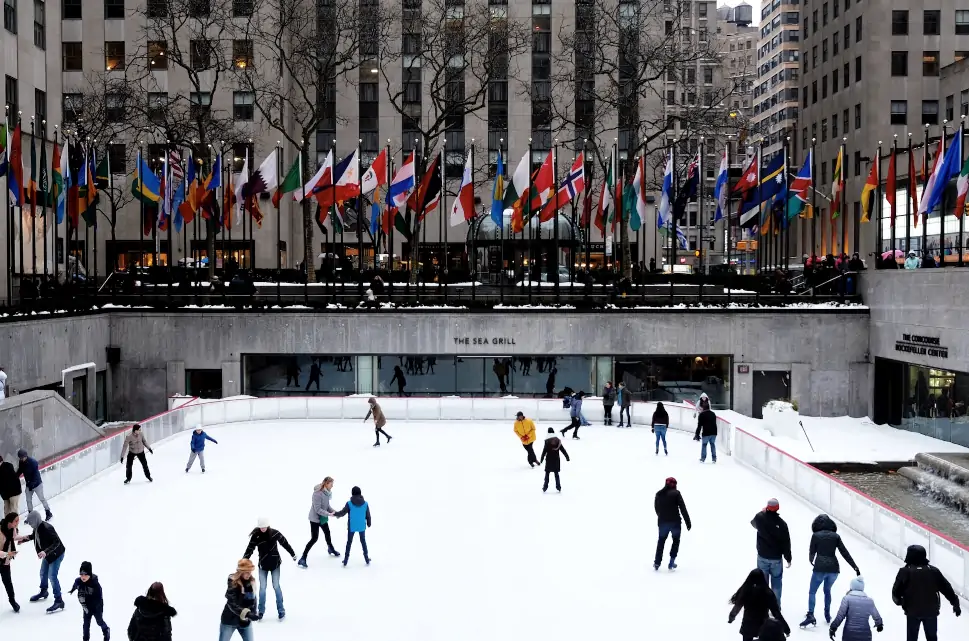 Address: 45 Rockefeller Plaza, New York, NY 10111
Website: https://www.rockefellercenter.com/attractions/the-rink-at-rockefeller-center/
6. Madame Tussauds
Madame Tussauds in New York City is a world-famous wax museum that offers visitors a chance to get up close and personal with lifelike wax figures of celebrities, historical figures, and pop culture icons. Located in the heart of Times Square, the museum is a popular attraction for both tourists and locals alike.
Visitors to Madame Tussauds can walk through various themed galleries, each filled with wax figures that are incredibly realistic. The museum features figures of famous actors, musicians, athletes, world leaders, and historical figures, allowing visitors to take selfies and pose with their favorite stars.
One of the highlights of Madame Tussauds is the "Ghostbusters Experience," where visitors can don proton packs and immerse themselves in the world of the iconic movie franchise. Additionally, the "Marvel 4D Experience" offers an interactive journey into the Marvel Universe, where visitors can meet their favorite superheroes in lifelike settings.
Madame Tussauds also features a "Fashion Experience" that showcases glamorous wax figures of fashion icons and models, providing a taste of the world of high fashion. Visitors can also step into a recreated Broadway theater and pose with wax figures of famous performers from the world of theater and musicals.
Address: 234 W 42nd St, New York, NY 10036
Website: https://www.madametussauds.com/new-york/
7. New York Yankees
The New York Yankees are one of the most iconic and successful baseball teams in Major League Baseball (MLB) history.
The team's home stadium is the famous Yankee Stadium, located in the Bronx borough of New York City.
The Yankees have won a record 27 World Series championships, making them the most successful team in MLB history.
Attending a Yankees game at Yankee Stadium is an unforgettable experience for families and baseball fans.
The stadium's vibrant atmosphere, passionate fans, and iconic traditions, such as the playing of "New York, New York" after each home victory, create a unique and exciting environment.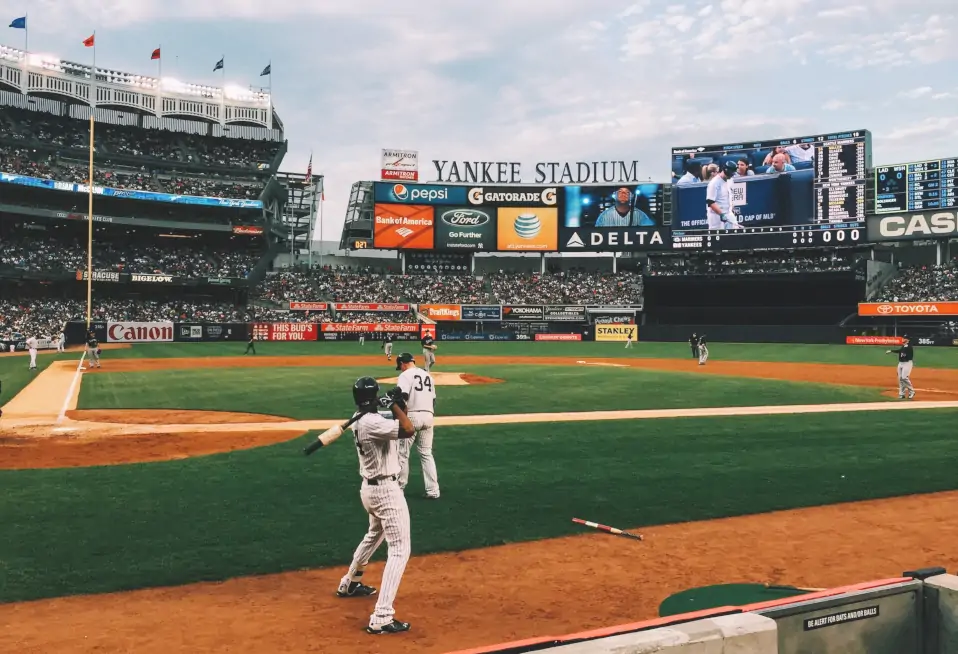 Address: 1 E 161st St, Bronx, NY 10451
Website: https://www.mlb.com/yankees/
8. Central Park
Central Park is an urban oasis in the heart of Manhattan. Covering over 843 acres, it is one of the largest and most famous public parks in the world. The park was established in 1858 and has since become a beloved recreational and cultural hub.
This vast green space offers a variety of activities for families to enjoy. Picnicking on the sprawling lawns, biking along the scenic paths, and taking strolls are popular pastimes. The park is also home to numerous playgrounds, perfect for children to run and play freely.
Families can explore various attractions within Central Park, including the Central Park Zoo, where kids can encounter diverse wildlife. Another highlight is the Central Park Conservatory Garden, a beautifully landscaped area featuring stunning flowers and fountains. The nearby Central Park Carousel, a vintage merry-go-round, provides timeless amusement for young ones. And families can even enjoy a boat ride on the iconic Central Park Lake, where they can rent rowboats and take in the scenic surroundings.
Throughout the year, Central Park hosts various family-friendly events and activities, such as concerts, outdoor theater performances, and seasonal celebrations like the Halloween Pumpkin Flotilla and the Central Park Winter Jam.
The park's picturesque landscapes have made it a popular backdrop for numerous movies and TV shows, adding to its cultural significance.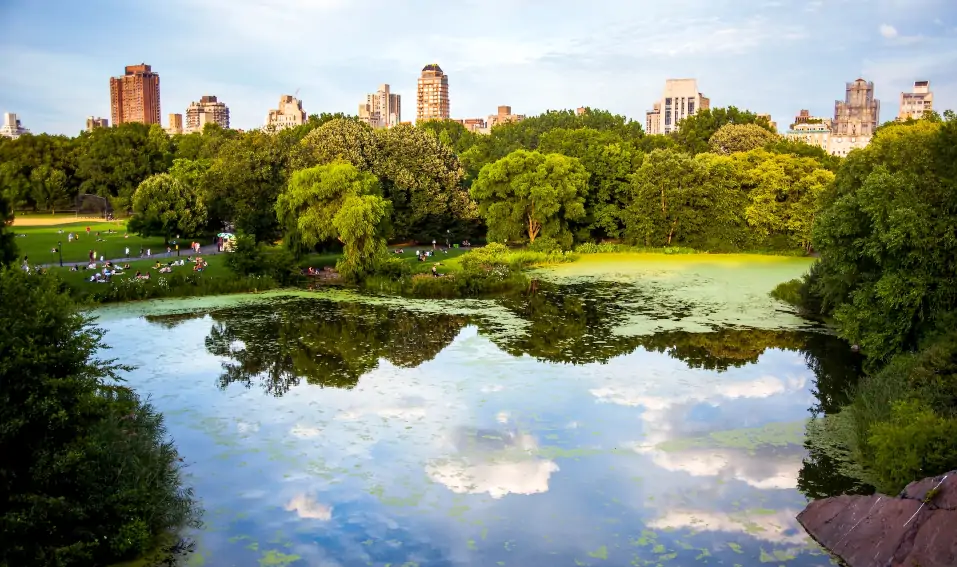 Address: Central Park, New York, NY 10022
Website: https://www.centralparknyc.org/
9. Coney Island
Coney Island is famous for its lively amusement parks, iconic boardwalk, and beautiful sandy beaches.
At the heart of Coney Island is Luna Park, an amusement park that offers rides and attractions suitable for all ages. From classic roller coasters to family-friendly carousels, Luna Park provides an exciting experience for everyone. The nearby Deno's Wonder Wheel Amusement Park features a century-old Ferris wheel, with views of the Atlantic Ocean and the surrounding area.
Families can take a stroll along the famous Coney Island Boardwalk, lined with shops, eateries, and arcades. The boardwalk also hosts various entertainment options, including street performers and live music, adding to the lively atmosphere of the area.
Of course, one of the main draws of Coney Island is its beautiful beach. Families can soak up the sun, build sandcastles, and splash in the waves on hot summer days. The beachfront also has various food vendors selling classic Coney Island treats like hot dogs, cotton candy, and ice cream.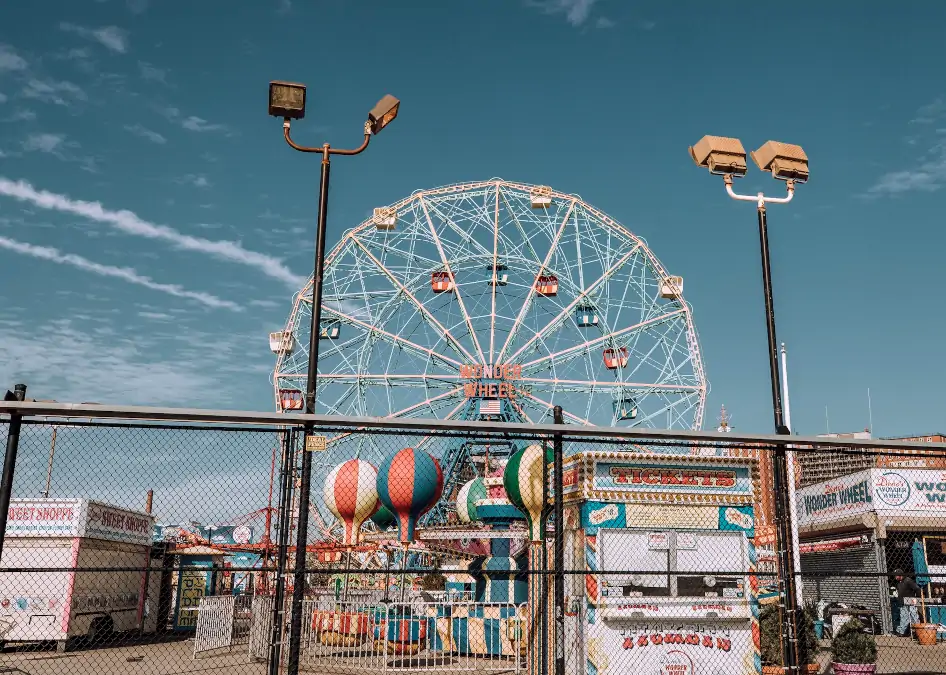 Address: Coney Island, Brooklyn, NY 11224
10. Madison Square Garden
Madison Square Garden, often referred to simply as "The Garden," is a multi-purpose indoor arena in Manhattan. It is one of the world's most famous entertainment venues and has a rich history of hosting many different types of events.
As the home of the New York Knicks (NBA) and the New York Rangers (NHL), Madison Square Garden is a mecca for sports enthusiasts. Families can experience the excitement of cheering on their favorite teams during thrilling basketball and hockey games.
Beyond sports, Madison Square Garden is well known for hosting concerts and live music performances by some of the biggest artists in the world. Families can enjoy unforgettable evenings filled with music, dancing, and a lively atmosphere as they watch their favorite musicians perform on the grand stage.
For an unforgettable experience, families can attend the famous Ringling Bros. and Barnum & Bailey Circus, which has been held at Madison Square Garden for generations, delighting audiences of all ages with awe-inspiring acrobatics, talented performers, and dazzling acts.
With its prime location in Midtown Manhattan, near Penn Station and other popular attractions, Madison Square Garden is easily accessible and offers a wide range of dining options in the surrounding area.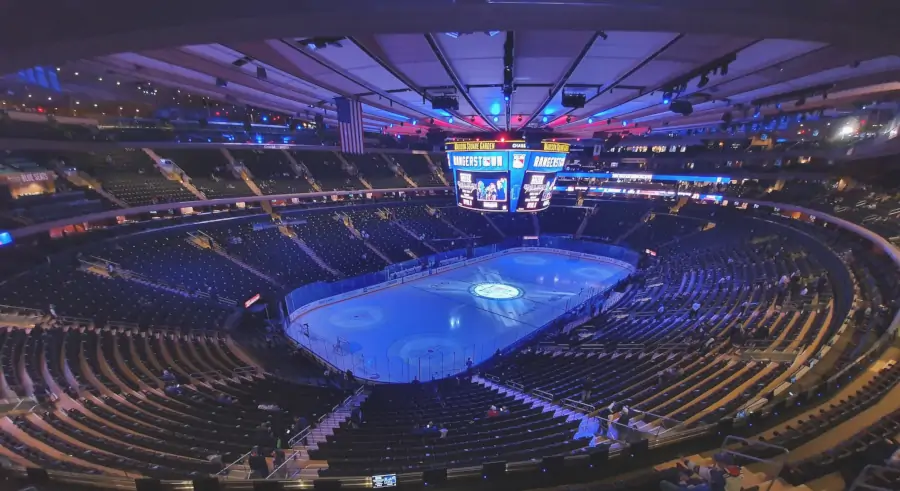 Address: 4 Pennsylvania Plaza, New York City, NY 10121
Website: https://www.msg.com/madison-square-garden
11. Children's Museum of the Arts
The Children's Museum of the Arts (CMA) is an interactive art museum located in the lively SoHo neighborhood. This creative haven is specifically designed to engage and inspire young minds.
At CMA, kids can unleash their imaginations and explore a wide variety of art forms through hands-on exhibits and workshops. The museum offers a diverse range of art-making activities, from painting and drawing to sculpting and digital media. Through these engaging experiences, children can develop their creativity, critical thinking, and problem-solving skills in a fun and supportive environment.
The Children's Museum of the Arts is the WEE Arts program is specially designed for children ages 5 and under. This program offers age-appropriate art projects and interactive play experiences that promote sensory exploration and creative development.
Address: 103 Charlton Street, New York, NY 10014
Website: https://www.cmany.org/
12. FAO Schwarz
FAO Schwarz is an iconic toy store in Manhattan. Established in 1862, it is one of the oldest and most famous toy stores in the world. The store is well known for its vast selection of high-quality toys and interactive displays.
Located on Fifth Avenue, FAO Schwarz boasts an enchanting and whimsical atmosphere that appeals to visitors of all ages. Upon entering the store, guests are greeted by the iconic giant toy soldier guarding the entrance, setting the stage for a magical adventure inside.
The store's interior is a playground of creativity, featuring toys, games, and stuffed animals from classic favorites to the latest trends. From plush toys and dolls to educational games and building sets, FAO Schwarz offers a diverse selection for children of all interests and ages.
One of the highlights of FAO Schwarz is its famous dance-on piano, inspired by the movie "Big" starring Tom Hanks. Visitors can step on the larger-than-life piano keys and create musical masterpieces with their feet, just like in the movie.
In addition to its wide selection of toys, FAO Schwarz also hosts various interactive demonstrations and live performances throughout the day. Children can witness magic shows, puppet performances, and interactive storytimes.
Address: 30 Rockefeller Plaza, New York, NY 10112
Website: https://faoschwarz.com/
13. Legoland
Legoland New York is a popular family-friendly theme park located in Goshen, New York. Opened in 2021, it is the third Legoland park in the United States and the largest one to date. Situated on a sprawling 150-acre property, Legoland New York offers a world of fun and adventure for visitors of all ages, with a focus on creativity, imagination, and, of course, Lego bricks.
The park features a wide array of attractions, rides, and interactive experiences, all centered around the iconic Lego bricks. Families can explore seven themed lands, each offering its unique charm and activities. From the thrilling coasters and rides in "Bricktopia" to the enchanting fairy tale adventures in "Castle Hill," there is something for everyone to enjoy.
One of the standout attractions at Legoland New York is "Miniland." Visitors can marvel at detailed replicas of iconic sites like the Statue of Liberty, Times Square, and the Empire State Building, all painstakingly constructed with Lego bricks.
For younger kids, "Duplo Playtown" provides a safe and interactive space where toddlers and preschoolers can build, play, and explore in oversized Lego blocks.
Address: 1 Legoland Blvd, Goshen, NY 10924
Website: https://www.legoland.com/new-york/
14. New York Aquarium
The New York Aquarium is the oldest continually operating aquarium in the United States.
Situated on the iconic Coney Island boardwalk, the aquarium boasts diverse marine life from various habitats around the globe. Visitors can explore numerous exhibits, each showcasing different marine environments and the fascinating creatures that call them home.
The popular "Ocean Wonders: Sharks!" exhibit, a massive 57,000 square feet facility, features an awe-inspiring 1.15-million-gallon shark tank. Here, visitors can get up close to various shark species, including sand tiger sharks, nurse sharks, and blacktip reef sharks, as they glide gracefully through the water.
The "Glover's Reef" exhibit replicates the vibrant coral reef ecosystems found in the Caribbean. Families can observe colorful reef fish, rays, and even sea turtles as they swim among the intricately designed artificial coral formations.
For those who love playful and intelligent marine mammals, the "Sea Cliffs" exhibit is a must-visit. It is home to California sea lions and harbor seals, and visitors can enjoy watching these animals interact with their trainers during daily shows that highlight their natural behaviors and intelligence.
In addition to the captivating exhibits, the New York Aquarium offers interactive and educational programs for visitors, including behind-the-scenes tours, animal feedings, and opportunities to learn about marine conservation efforts.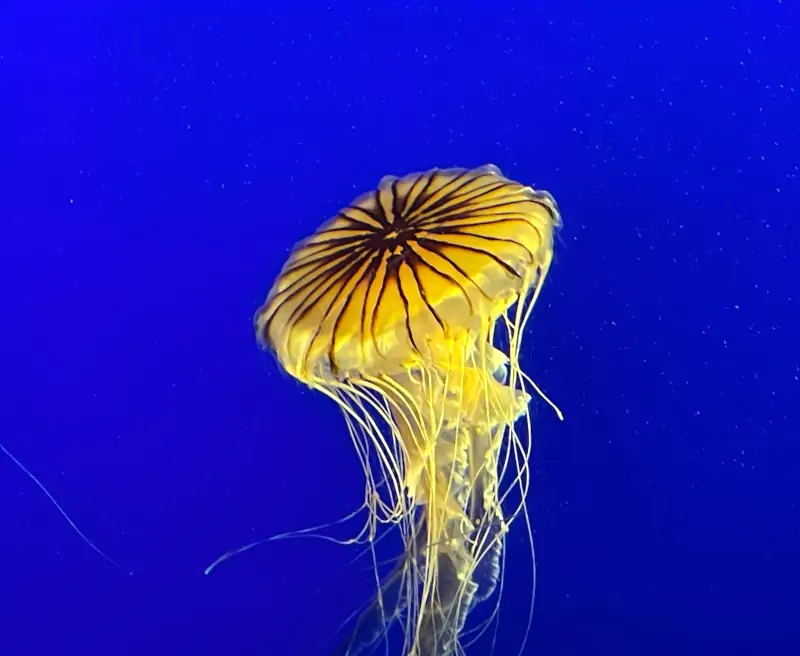 Address: 602 Surf Ave, Brooklyn, NY 11224
Website: https://nyaquarium.com/
15. Broadway
Broadway, the iconic theater district in the heart of bustling New York City, has been a cultural hub for live performances for over a century. Located in the Midtown Manhattan area, Broadway stretches along the famous Broadway thoroughfare.
From classic musicals like "The Phantom of the Opera" and "Les Misérables" to modern hits like "Hamilton" and "Dear Evan Hansen," Broadway showcases productions that cater to various interests and tastes. Alongside the musical extravaganzas, thought-provoking plays like "To Kill a Mockingbird" and side-splitting comedies such as "The Play That Goes Wrong" appeal to audiences with their exceptional storytelling and performances.
For families, there are several shows that hold a special appeal. Beloved Disney classics like "The Lion King," "Aladdin," and "Frozen" bring enchanting tales to life on stage, captivating the imaginations of young theatergoers and sparking joy in parents' hearts. Additionally, the whimsical and magical journey of "Wicked" offers a fresh take on the land of Oz, making it another popular choice for families seeking an enthralling experience together.
Broadway theaters strive to provide family-friendly amenities and services, ensuring that young theatergoers have a comfortable and enjoyable experience. From booster seats to concessions, families can partake in the world of theater without worry.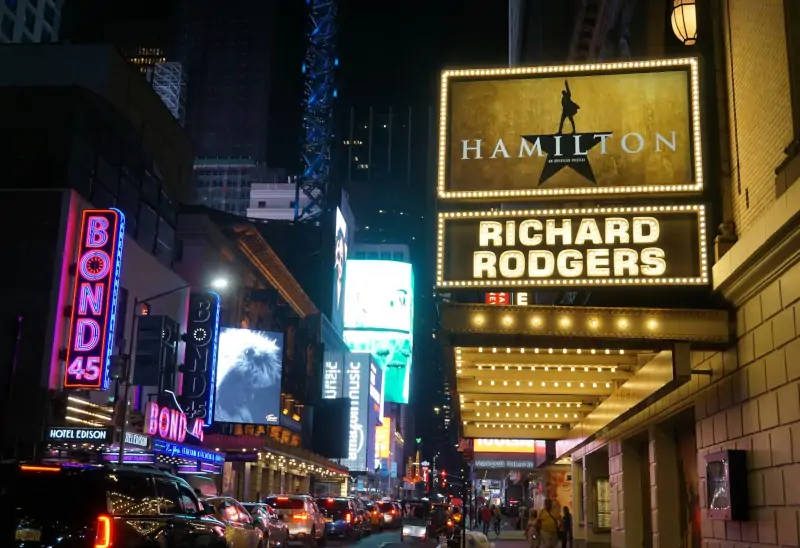 16. Metropolitan Museum of Art
The Metropolitan Museum of Art, better known as "The Met," is one of the world's largest and most esteemed art museums. Its expansive galleries house a diverse collection of over 490,000 artworks spanning over 5,000 years of human creativity and cultural heritage.
Among the myriad attractions at The Met, the Egyptian Art collection remains a popular favorite. Families can embark on a journey through ancient Egypt, exploring artifacts like mummies, sculptures, and exquisite jewelry.
The European Paintings collection offers a chance to marvel at works by renowned artists such as Van Gogh, Rembrandt, and Vermeer, captivating visitors with tales of love, heroism, and everyday life across different historical periods.
For those with a penchant for American art, The Met's American Wing presentsartworks spanning from the colonial era to the 20th century. Visitors can witness the evolution of American artistic expression, from colonial-era portraits to stunning landscapes of the Hudson River School.
The Met extends a warm welcome to families and provides a range of family-friendly amenities and activities. Interactive programs, guided tours, and hands-on workshops engage young minds, encouraging creativity and fostering a deeper appreciation for art and culture.
Located at the edge of Central Park, The Met's prime location allows families to combine their museum visit with a leisurely stroll in the park or explore other nearby attractions.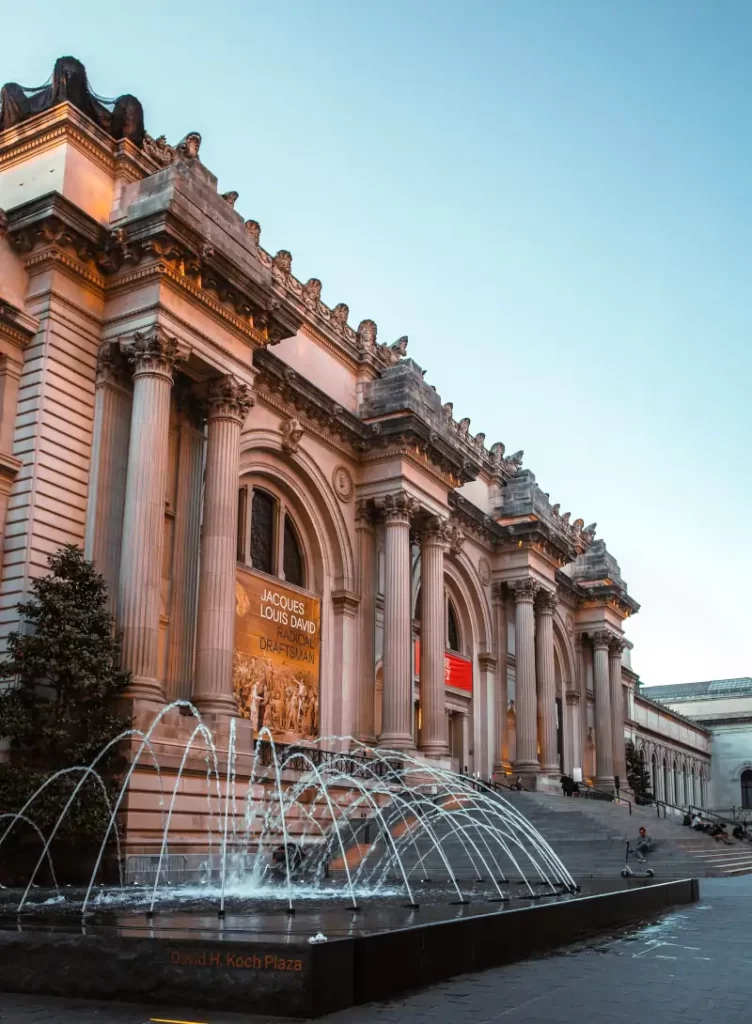 Address: 1000 5th Ave, New York, NY 10028
Website: https://www.metmuseum.org/
17. Roosevelt Island Tramway
The Roosevelt Island Tramway connects Manhattan and Roosevelt Island. It has been soaring above the cityscape since 1976, providing amazing views of the East River and the iconic Manhattan skyline.
Riding the Roosevelt Island Tramway is an adventure in itself. As the cabins glide above the East River, passengers are treated to panoramic vistas of the city, including landmarks like the Empire State Building, the Chrysler Building, and the United Nations Headquarters. The aerial journey offers an unparalleled perspective of New York City, making it a favorite among families seeking a memorable outing.
The Roosevelt Island Tramway makes it easy to access Roosevelt Island. Upon reaching the island, families can explore its unique attractions, including the Franklin D. Roosevelt Four Freedoms Park. Families can also enjoy picnics at the waterfront parks or take a stroll along the scenic paths.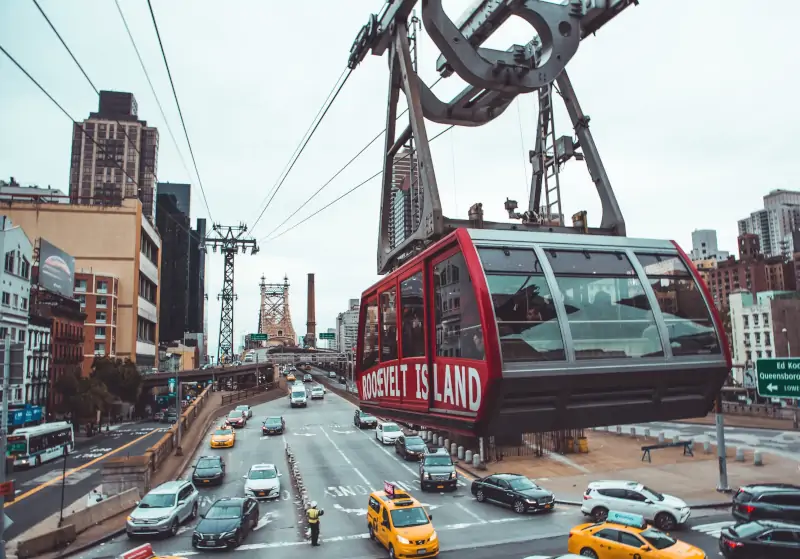 Address: Tramway Plaza, E 59th St & 2nd Ave, New York, NY 10022
Website: https://www.rioc.ny.gov/302/Tram
18. Harry Potter New York
Harry Potter New York offers a magical haven for fans of the beloved wizarding series. Situated in the heart of Manhattan, this store is a dream come true for Harry Potter enthusiasts of all ages, offering a spellbinding experience that brings the wizarding world to life.
Inaugurated in 2021, Harry Potter New York spans three floors and over 20,000 square feet, making it the largest dedicated Harry Potter store in the world. As visitors enter the store, they are greeted by the sight of a 220-square-foot model of Hogwarts Castle, complete with intricate details and magical lighting.
Inside the store, visitors can explore exclusive and official Harry Potter merchandise, including wands, robes, house scarves, and collectibles. Fans can find replicas of iconic props from the movies, allowing them to bring a piece of the wizarding world home with them.
Families visiting Harry Potter New York will find a treasure trove of wonders. Kids and parents alike can enjoy browsing through a wide selection of magical toys, games, and puzzles, providing hours of enchanting fun. The store also offers personalized robes, allowing young witches and wizards to embrace their Hogwarts house identity with pride.
One of the highlights of the store is the Butterbeer Bar, where visitors can savor the famous wizarding world drink in its various forms, including hot, cold, and frozen Butterbeer. The bar provides a perfect spot for families to take a break and share the magic of this signature beverage.
Moreover, Harry Potter New York hosts numerous interactive experiences that immerse visitors in the world of Harry Potter. Families can participate in Wand Magic demonstrations, where they can learn and cast spells with interactive wands. Additionally, the store features photo opportunities with magical backdrops.
Address: 935 Broadway, New York, NY 10010
Website: https://www.harrypotterstore.com/
19. Staten Island Ferry
The Staten Island Ferry shuttles passengers between Manhattan and Staten Island, offering amazing views of the Statue of Liberty, Ellis Island, and the Manhattan skyline.
The ferry service operates 24 hours a day, 365 days a year. The 5.2-mile route takes approximately 25 minutes each way.
The Staten Island Ferry is a budget-friendly option for families looking to experience the beauty of the New York Harbor without breaking the bank. The ferry ride is free, making it an accessible and enjoyable outing for families of all sizes.
Families can also explore Staten Island's cultural attractions, scenic parks, and historic landmarks upon disembarking at the St. George Terminal.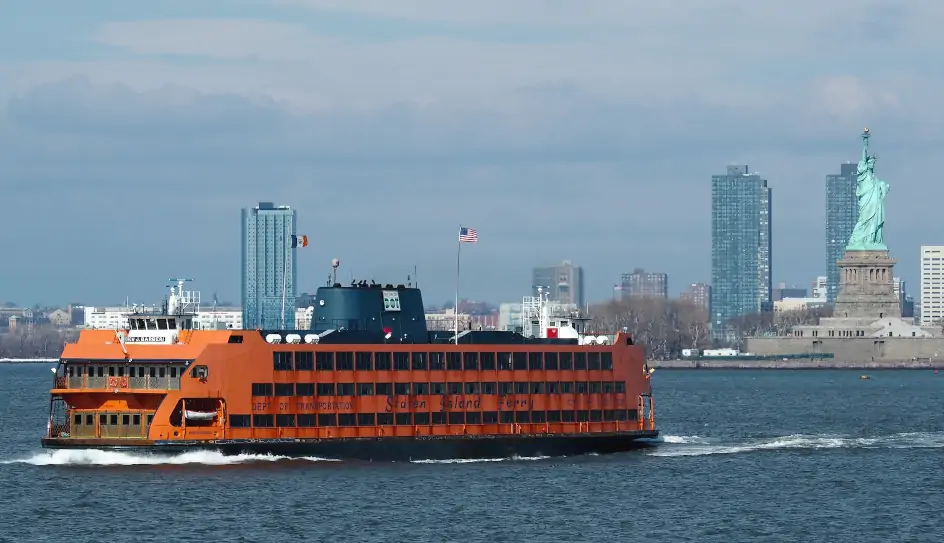 Address: Whitehall Terminal, 4 South St, New York, NY 10004
Website: https://www.nyc.gov/html/dot/html/ferrybus/staten-island-ferry.shtml
20. New York Hall of Science
The New York Hall of Science (NYSCI) in Queen has been open to the public since 1964. The museum's mission is to make science accessible and enjoyable for all ages.
One of the main highlights of NYSCI is the Science Playground, a dedicated area for children to engage in hands-on activities related to science. The playground features water play areas, giant blocks, and inventive structures that encourage children to explore scientific concepts while having fun.
Inside the Great Hall, visitors can witness demonstrations that showcase various scientific principles, including those related to electricity and magnetism. Additionally, the hall features mind-bending optical illusions that challenge the perception of reality, leaving guests in awe of the mind's fascinating abilities.
NYSCI offers a wide range of workshops, live science shows, and interactive theater performances, providing families with unique opportunities to delve deeper into scientific topics and interact with experts in the field. The museum's commitment to STEM education is evident through these engaging programs, inspiring the next generation of innovators.
Address: 47-01 111th St, Queens, NY 11368
Website: https://www.nysci.org/
21. Brooklyn Bridge
The Brooklyn Bridge spans the East River, connecting the boroughs of Manhattan and Brooklyn. A historic landmark and an architectural marvel, the Brooklyn Bridge continues to excite visitors with its grandeur and timeless beauty.
The bridge's promenade, elevated above the traffic lanes, offers pedestrians and cyclists breathtaking views of the Manhattan skyline, the East River, and the Statue of Liberty in the distance.
For families visiting New York City, a stroll across the Brooklyn Bridge is a must-do experience. Walking along the bridge's pedestrian pathway allows families to soak in the vibrant atmosphere of the city while enjoying the ever-changing panorama of sights along the riverbanks.
Families can also explore Brooklyn Bridge Park, located near the bridge's Brooklyn-side terminus. The park offers recreational spaces, playgrounds, and green lawns, making it an ideal spot for a family picnic with the bridge as a stunning backdrop.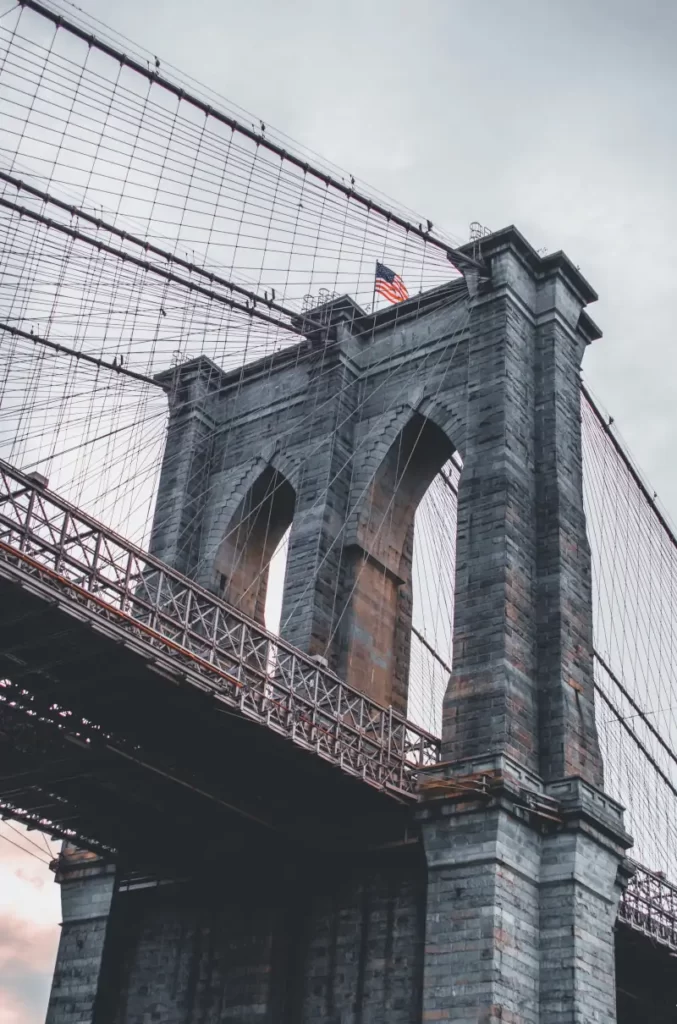 Address: Brooklyn Bridge, New York, NY 10038
22. Intrepid Sea, Air and Space Museum
The Intrepid Sea, Air & Space Museum offers families an opportunity to explore the marvels of aviation, maritime history, and space exploration. Located on the USS Intrepid, an aircraft carrier docked at Pier 86 in New York City, this iconic museum provides a hands-on and immersive experience.
The USS Intrepid itself is a historical gem, having served in World War II, the Cold War, and the Vietnam War. Today, the aircraft carrier is permanently stationed on the Hudson River and serves as the centerpiece of the museum, allowing visitors to step aboard and explore its decks, hangar deck, and flight deck.
One of the highlights of the Intrepid Museum is the impressive collection of aircraft and spacecraft on display. Families can get up close to historic aircraft, such as the A-12 Blackbird, the Concorde, and the Space Shuttle Enterprise. Exploring these iconic machines provides a unique glimpse into the history of aviation and space exploration.
The museum's interactive exhibits further enhance the learning experience. Families can take part in flight simulators, experience the thrill of virtual reality missions, and learn about the life of a sailor aboard an aircraft carrier.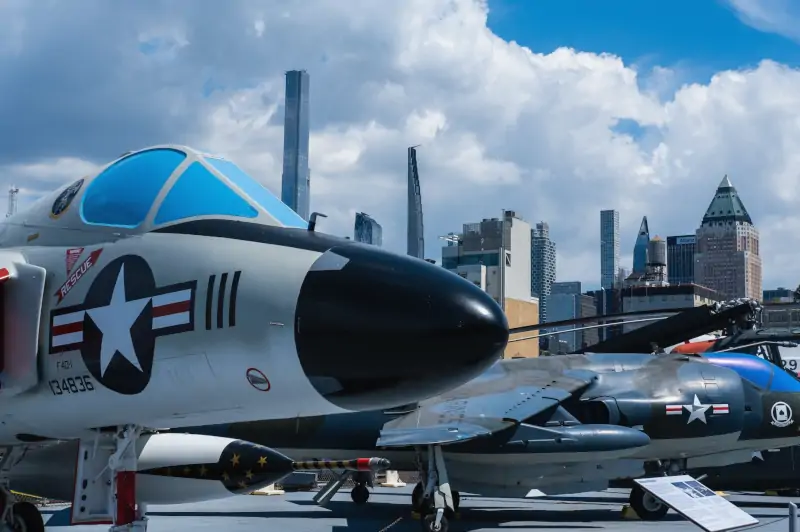 Address: Pier 86, W 46th St & 12th Ave, New York, NY 10036
Website: https://www.intrepidmuseum.org/
23. New York Transit Museum
The New York Transit Museum is the largest museum of its kind in the United States. It showcases the evolution of the city's transit system through engaging exhibits and interactive displays.
The museum's location itself is an attraction. Housed in the historic Court Street subway station, visitors can step back in time as they descend underground into the former station's platforms, which have been transformed into an exhibition space.
One of the highlights is the collection of vintage subway cars dating back to the early 20th century. Families can step inside these restored cars, experience their bygone charm, and imagine what daily commutes were like in the past.
Interactive exhibits at the museum allow visitors to experience what it's like to operate a subway car, control the signals on a train line, and even try their hand at the art of graffiti, a unique form of expression that has been part of New York City's transit culture.
Address: 99 Schermerhorn St, Brooklyn, NY 11201
Website: https://www.nytransitmuseum.org/
24. One World Observatory
Perched atop the iconic One World Trade Center, the One World Observatory offers visitos stunning panoramic views of Manhattan and its surrounding boroughs, making it a must-visit destination for families seeking a bird's-eye perspective of the city.
The journey to the observatory begins with an impressive experience in the Global Welcome Center, where families can learn about the history of the World Trade Center and the spirit of resilience that defines New York City. Immersive displays and touching tributes pay homage to the heroes and the collective strength of the city.
The elevator ride to the top is a highlight in itself. Known as the "Sky Pod," this state-of-the-art elevator whisks visitors up 102 floors in just 47 seconds.
Upon reaching the top, families are treated to 360-degree views of New York City through floor-to-ceiling windows. The observatory's spacious and modern design allows visitors to enjoy unobstructed vistas of iconic landmarks, such as the Empire State Building, the Statue of Liberty, and Central Park, stretching as far as the eye can see.
Interactive exhibits throughout the observatory provide insight into the city's history, culture, and architectural wonders. Families can also use innovative "City Pulse" screens to identify key points of interest and learn fascinating facts about the city's neighborhoods.
For those seeking an even more immersive experience, the Sky Portal offers a virtual walk on a glass disc that provides a view of the city streets below. The sensation of floating above the cityscape adds an exciting element to the visit.
One World Observatory also features dining options, including the Café, where families can savor refreshments while admiring the views. The Observatory's gift shop offers souvenirs and keepsakes, making it an ideal spot to find a memento to remember the visit.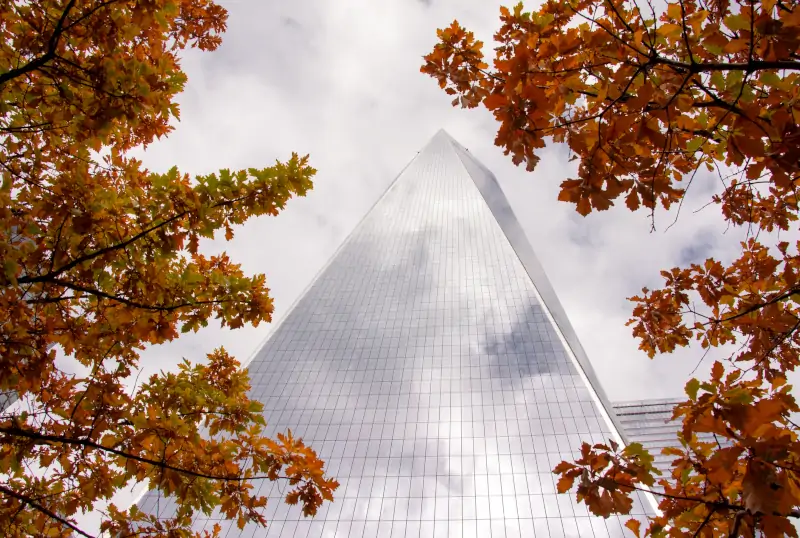 Address: One World Trade Center, 285 Fulton St, New York, NY 10007
Website: https://www.oneworldobservatory.com/
25. Chinatown
New York City's Chinatown is located in Lower Manhattan. As one of the largest and oldest Chinatowns in the United States, this neighborhood has a storied history and offers families an experience filled with exciting sights, sounds, and tastes.
Chinatown's lively streets are adorned with colorful signs, traditional Chinese architecture, and various shops, restaurants, and markets. Families can meander through narrow alleys and bustling markets, where they'll find an incredible assortment of exotic fruits, fresh vegetables, and Asian delicacies that tantalize the taste buds.
One of the highlights of visiting Chinatown is sampling the diverse and authentic cuisine. From traditional dim sum to mouthwatering Peking duck, families can indulge in a delightful culinary adventure. Many eateries feature open kitchens that allow visitors to watch skilled chefs prepare dishes.
For families seeking cultural immersion, Chinatown offers a treasure trove of experiences. Chinatown hosts festivals and events that celebrate Chinese culture and heritage. The annual Chinese New Year Parade is a colorful spectacle that families can enjoy, featuring lion and dragon dances, traditional music, and spirited performances.
While in Chinatown, families can shop for unique souvenirs and gifts at various specialty stores. From traditional Chinese clothing and arts and crafts to herbal remedies and trinkets, there's no shortage of treasures to take home as mementos of this unforgettable cultural journey.
Chinatown's close proximity to other popular New York City attractions, such as Little Italy and the Lower East Side, makes it an ideal destination for families to explore multiple neighborhoods in a single visit.