1. SeaWorld San Antonio
SeaWorld San Antonio is a popular marine-themed amusement park. The park is home to marine animals as well as numerous rides and shows, making it a great destination for a day of family fun and adventure.
Families can get up close and personal with marine animals, including dolphins, sea lions, penguins, and more. The park's various exhibits and presentations provide a unique opportunity for kids to learn about marine conservation and the importance of protecting these creatures and their habitats.
For those seeking excitement, SeaWorld San Antonio offers rides and attrachtions suitable for all ages. From roller coasters and water rides to family-friendly carousels and play areas, there's something for everyone to enjoy.
SeaWorld San Antonio also boasts live shows and performances, starring talented animals and trainers.
In addition to the entertainment, the park offers a variety of dining options, ranging from quick snacks to full-service restaurants.
For those interested in learning even more about marine life, SeaWorld San Antonio provides behind-the-scenes tours that offer a deeper understanding of marine conservation efforts and the park's commitment to animal welfare.
Address: 10500 Sea World Dr, San Antonio, TX 78251
Website: https://seaworld.com/san-antonio/
2. Aquatica San Antonio
Aquatica San Antonio is a water park that offers families a thrilling and refreshing escape from the Texas heat. Owned by SeaWorld Parks & Entertainment, Aquatica is known for its water slides, wave pools, and other water attractions that cater to visitors of all ages.
From exhilarating high-speed slides to gentle, family-friendly rides, there's something for everyone to enjoy.
For younger children, Aquatica features interactive play areas and splash zones. With shallow pools, mini slides, and fun water features, little ones can have a blast splashing and exploring in a safe environment.
Aquatica San Antonio also offers a lazy river, where families can float along on inner tubes, enjoying a relaxing and scenic journey through the park. It's an ideal way to unwind and take a break from the more high-energy attractions.
The park provides ample seating areas, shade structures, and cabana rentals to ensure visitors have a comfortable and enjoyable experience. There are also various dining options available, offering a range of delicious treats and refreshments to keep families fueled for a day of water-filled fun.
Address: 10500 Sea World Dr, San Antonio, TX 78251
Website: https://aquatica.com/san-antonio/
3. San Antonio Zoo
The San Antonio Zoo covers over 56 acres and is home to a diverse collection of animals from around the world.
The zoo is divided into different sections, each representing distinct ecosystems and habitats. As you wander through the exhibits, you'll have the opportunity to see lions, elephants, giraffes, and reptiles, among other incredible creatures. The zoo also offers interactive experiences like feeding giraffes, attending animal shows, and participating in special educational programs.
For families, the San Antonio Zoo offers a host of amenities and services to ensure a comfortable and enjoyable visit. Stroller rentals are available for little ones, and there are various dining options to satisfy hunger during your exploration. Numerous shaded areas, water fountains, and picnic spots are scattered throughout the park to provide a relaxing space for families to take a break.
The Will Smith Zoo School is where kids can engage in hands-on learning and activities related to wildlife and conservation.
Throughout the year, the San Antonio Zoo hosts special events and seasonal celebrations, making each visit a unique experience. Whether it's Boo at the Zoo during Halloween or Zoo Lights during the holiday season, these events add an extra layer of excitement and fun for families.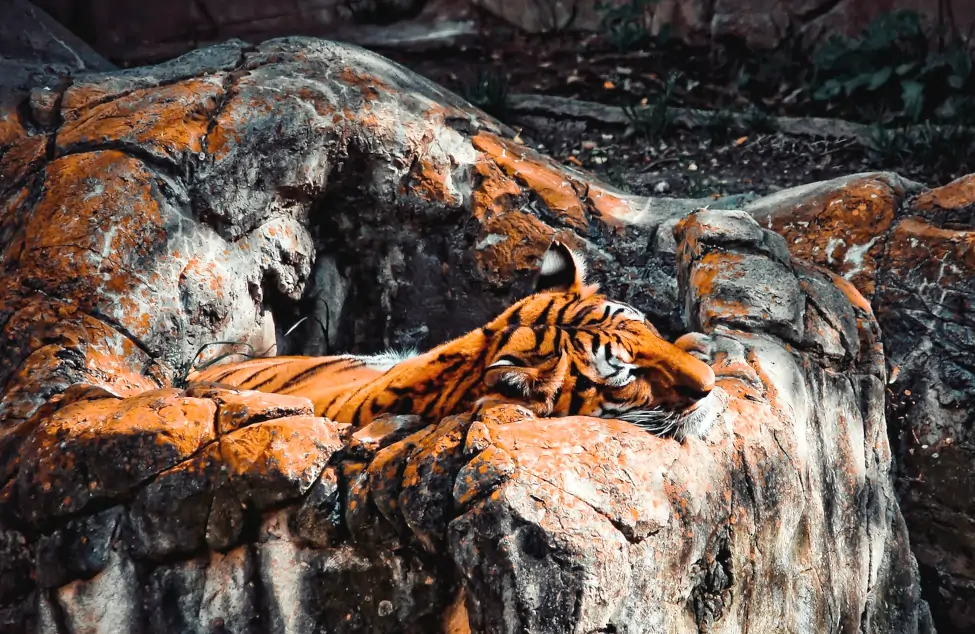 Address: 3903 N St Mary's St, San Antonio, TX 78212
Website: https://sazoo.org/
4. The Alamo
The Alamo is a historic site located in downtown San Antonio, Texas, and holds significant cultural and historical importance in the United States. Once a Spanish Franciscan mission and later a pivotal battleground during the Texas Revolution, the Alamo is now a cherished monument and museum open to the public.
Visiting the Alamo allows families to step back in time and learn about the events that shaped Texas history. The site offers a self-guided tour that includes the mission's chapel, barracks, and other preserved structures, providing a glimpse into the daily lives of the people who once lived and defended the mission.
At the heart of the Alamo is the Shrine, the iconic chapel where a group of Texan soldiers valiantly defended their independence against Mexican forces in 1836. This courageous stand has become a symbol of American freedom and bravery.
The Alamo's museum houses artifacts, documents, and interactive exhibits that shed light on the people and events that shaped Texas. Guided tours are also available, providing a more in-depth understanding of the site's rich history.
In addition to its historical significance, the Alamo's gardens and open spaces make it an excellent spot for families to relax.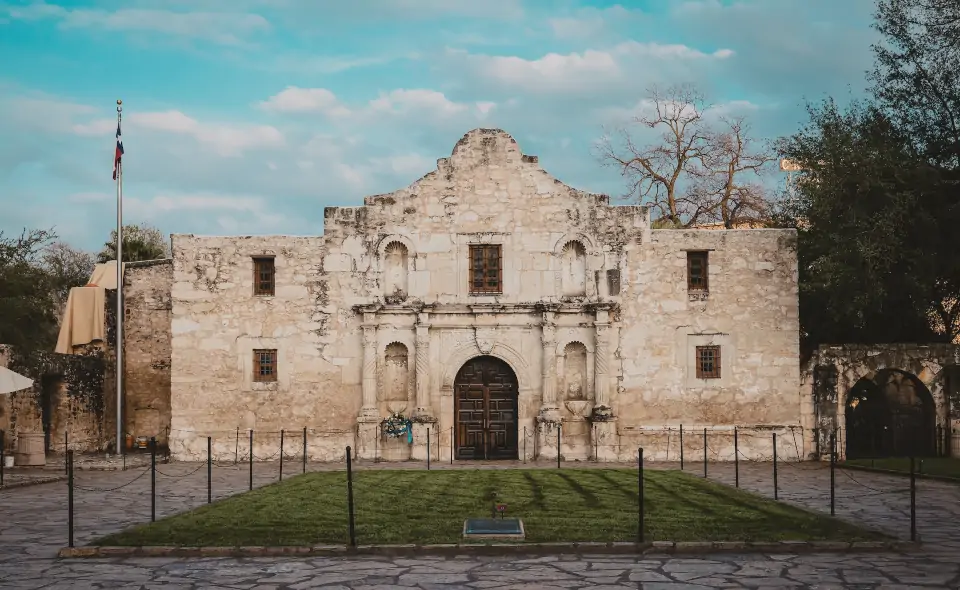 Address: 300 Alamo Plaza, San Antonio, TX 78205
Website: https://www.thealamo.org/
5. Six Flags Fiesta Texas
Six Flags Fiesta Texas is a theme park with a mix of rides, attractions, shows, and entertainment that guarantees a day of unforgettable adventures.
From heart-pounding roller coasters to gentle kiddie rides, there's something for everyone. Adrenaline junkies can brave the twists and turns of popular coasters like the Iron Rattler and Superman: Krypton Coaster, while little ones can enjoy milder rides at Kidzopolis.
The park is not only about thrilling rides; it also features entertaining shows, live performances, and character meet-and-greets. Families can catch jaw-dropping stunt shows, musical performances, and engaging street entertainment throughout the day.
For those looking to beat the Texas heat, Six Flags Fiesta Texas offers a water park, White Water Bay. With water slides, lazy rivers, and splash pads, families can cool off and have a splashing good time under the sun.
Six Flags Fiesta Texas is known for its festive seasonal events, such as Fright Fest during Halloween and Holiday in the Park during the winter holidays. These events feature special decorations, themed attractions, and unique entertainment, adding an extra layer of excitement to the park experience.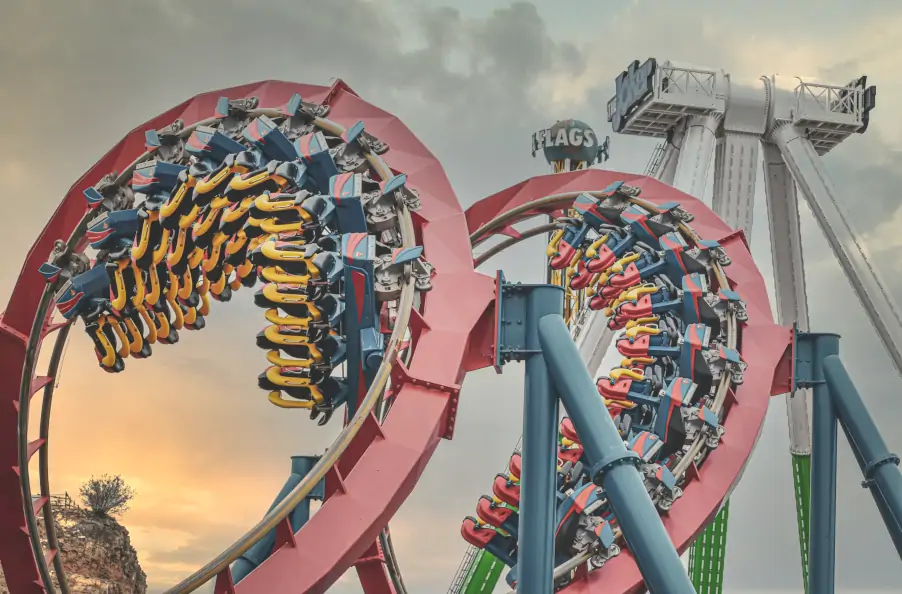 Address: 17000 IH-10 West, San Antonio, TX 78257
Website: https://www.sixflags.com/fiestatexas
6. San Antonio Aquarium
At the San Antonio Aquarium, visitors are immersed in an underwater wonderland filled with a variety of aquatic creatures. From colorful tropical fish to sharks and rays, the aquarium showcases a wide range of marine life in beautifully designed exhibits. Visitors can get up close and personal with some animals, like the touch tanks where they can gently interact with sea stars and other marine invertebrates.
The aquarium also features exhibits, such as the rainforest exhibit, where families can encounter reptiles, birds, and other animals from tropical regions. Additionally, visitors can witness fascinating animal presentations and informative talks by knowledgeable staff members, providing valuable insights into the lives of the animals.
For those seeking more excitement, the San Antonio Aquarium offers special experiences like snorkeling with stingrays and feeding some of the animals. These interactive encounters provide unforgettable memories and a deeper connection with the animal kingdom.
One of the highlights of the aquarium is the 4D theater, where families can enjoy immersive films that combine visuals with special effects like wind, water, and scents.
The San Antonio Aquarium is committed to conservation and education and strives to inspire visitors to care for and protect the world's oceans and wildlife. Throughout the facility, there are educational displays and informative signage about marine conservation efforts and the importance of preserving natural habitats.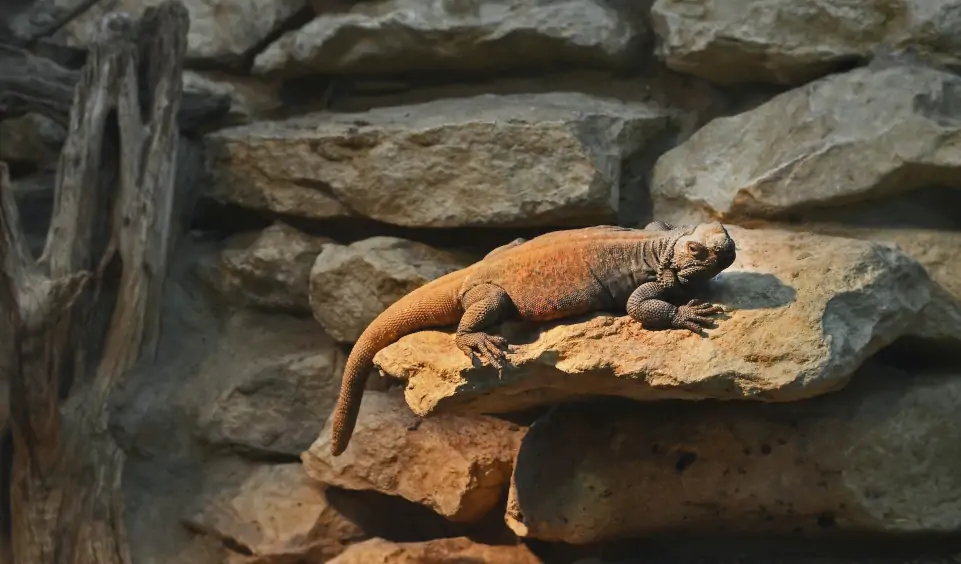 Address: 6320 Bandera Rd, San Antonio, TX 78238
Website: https://sanantonioaquarium.net/
7. Witte Museum
The Witte Museum is dedicated to preserving and celebrating the natural and cultural history of South Texas.
The museum boasts artifacts, specimens, and interactive displays that showcase the rich heritage of the region. From dinosaur fossils to wildlife dioramas and historical artifacts, the exhibits at the Witte Museum provide a comprehensive look at the natural and cultural history of South Texas.
Families can explore the H-E-B Body Adventure, an innovative exhibit that encourages visitors to discover the wonders of the human body through hands-on activities and displays. This interactive space promotes health and wellness in an engaging and entertaining way.
The Witte Museum also features the Robert J. and Helen C. Kleberg South Texas Heritage Center, which highlights the history and culture of South Texas. Visitors can learn about the diverse people, traditions, and events that have shaped the region.
For young learners, the H-E-B Science Treehouse offers an exciting space to engage in scientific exploration and discovery. Kids can learn about physics, chemistry, and the natural world in a fun and interactive way.
Address: 3801 Broadway St, San Antonio, TX 78209
Website: https://www.wittemuseum.org/
8. The Amazing Mirror Maze
The Amazing Mirror Maze is designed to challenge your sense of direction and perception, as you navigate through a labyrinth of mirrors that seem to go on forever. With each twist and turn, you'll encounter endless reflections of yourself and your companions, making it an exciting and interactive adventure for all ages.
Families can work together to find their way through the maze, solving puzzles and overcoming obstacles along the way. It's a fantastic opportunity to bond and collaborate, fostering teamwork and communication skills.
Throughout the maze, you'll discover surprising and exciting features, such as hidden passageways and optical illusions, adding an element of mystery and surprise to the experience. You'll be amazed at the creative designs and mind-boggling illusions that the maze has to offer.
Address: 217 Alamo Plaza, San Antonio, TX 78205
Website: https://www.amazingmazes.com/
9. Animal World and Snake Farm
Animal World and Snake Farm is an interactive animal park that offers up-close encounters with a wide variety of exotic animals, including snakes, reptiles, birds, mammals, and more.
Visitors can explore the park's diverse habitats and learn about different species from knowledgeable and passionate staff members. The park focuses on conservation and education, providing valuable insights into the lives and behaviors of the animals under their care.
From venomous to non-venomous, visitors can witness various snake species and even participate in live snake demonstrations conducted by experts. It's an opportunity to dispel myths and misconceptions surrounding these fascinating creatures.
Aside from snakes, the park also houses other interesting animals, such as alligators, lemurs, porcupines, and more. Families can enjoy guided tours and interactive shows, where they can hold and learn about some of the friendlier creatures under supervision.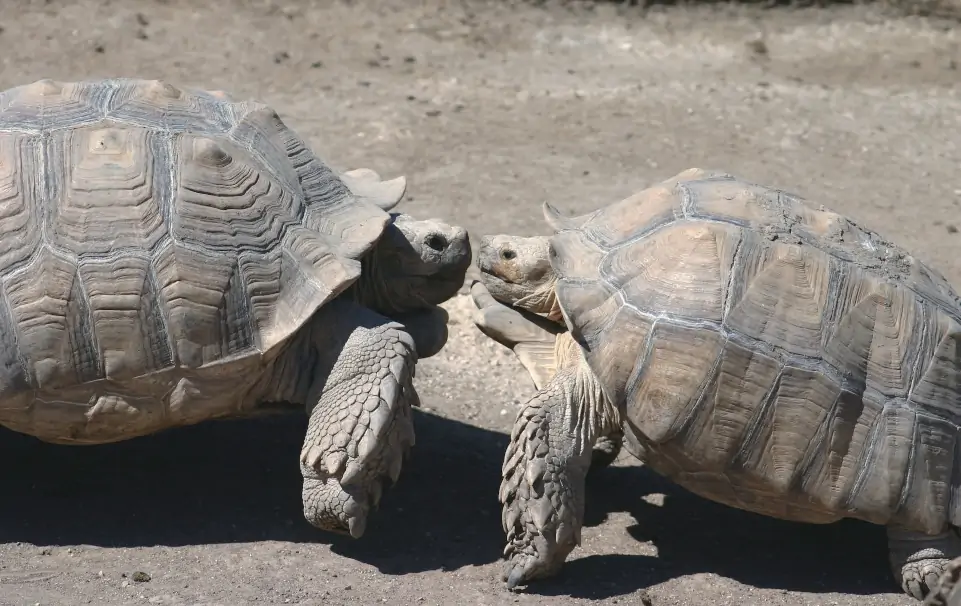 Address: 5640 S Interstate 35, New Braunfels, TX 78132
Website: https://www.awsfzoo.com/
10. Tower of the Americas
The Tower of the Americas is an iconic landmark in San Antonio. Standing at a staggering height of 750 feet, this tower offers panoramic views of the city and its surroundings.
The tower was built as the theme structure for the 1968 World's Fair, known as HemisFair '68. Since then, it has become an integral part of San Antonio's skyline.
One of the main highlights of the Tower of the Americas is the observation deck located at the top. Visitors can take an elevator ride to the topmost level, where they can marvel at the vistas of downtown San Antonio, the historic Alamo, and the vast landscape stretching as far as the eye can see.
Aside from the observation deck, the Tower of the Americas also features a rotating restaurant called Chart House. Families can enjoy a delicious meal while the restaurant slowly revolves, offering a 360-degree view of the city. It's an unforgettable dining experience that complements the stunning scenery.
The Tower of the Americas is not only a prime spot for sightseeing but also an ideal place to learn about the history and culture of San Antonio. Interactive exhibits and displays throughout the tower provide insights into the city's past.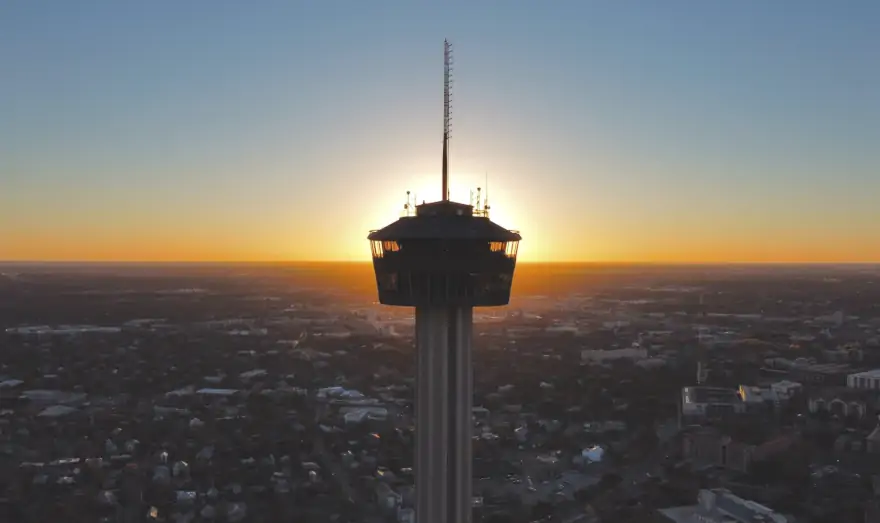 Address: 739 E Cesar E Chavez Blvd, San Antonio, TX 78205
Website: https://www.toweroftheamericas.com/
11. San Antonio Stock Show and Rodeo
The San Antonio Stock Show and Rodeo is typically held in February each year and celebrates the rich heritage of agriculture and western culture. It is one of the largest and most prestigious rodeos in the country, attracting visitors from all over the state and beyond. The event typically takes place over several weeks and includes a variety of activities and attractions for families to enjoy.
Families can watch professional cowboys show off their skills in competitions like bull riding, barrel racing, steer wrestling and more.
In addition to the rodeo, the event also features a livestock show and exhibition, where visitors can see and learn about different breeds of livestock and farm animals. There are educational exhibits, interactive displays, and opportunities for kids to engage with farm animals in a petting zoo setting.
Address: 723 AT&T Center Parkway, San Antonio, TX 78219
Website: https://www.sarodeo.com/
12. Monster Mini Golf
Monster Mini Golf is an indoor entertainment venue that offers a unique twist on the classic game of mini-golf.
The mini-golf courses at Monster Mini Golf feature elaborate monster-themed designs with glow-in-the-dark elements. Players can navigate through challenging holes surrounded by colorful monsters, spooky obstacles, and glowing decorations.
Aside from mini-golf, visitors can enjoy arcade games, laser tag, and other interactive games suitable for all ages. The facility is well-maintained and provides a safe and enjoyable environment for families to spend quality time together.
Address: 2267 NW Military Hwy, San Antonio, TX 78213
Website: https://monsterminigolf.com/san-antonio/
13. Kiddie Park
Kiddie Park is a beloved amusement park that holds the title of being the oldest children's amusement park in the country. Since its opening in 1925, Kiddie Park has been delighting families with its timeless charm and nostalgic rides.
The park features a variety of classic kiddie rides that are perfect for young children. From a colorful carousel and adorable mini Ferris wheel to miniature trains and pint-sized roller coasters, the attractions at Kiddie Park offer a delightful experience for the little ones.
One of the unique aspects of Kiddie Park is its commitment to preserving the authentic feel of a traditional amusement park. The rides maintain their vintage charm and are maintained to ensure a safe and enjoyable experience for all guests.
In addition to the rides, Kiddie Park also offers a variety of classic carnival games that give children the chance to win prizes and experience the excitement of a funfair atmosphere.
Address: 3903 N St Mary's St, San Antonio, TX 78212
Website: https://www.kiddiepark.com/
14. GO RIO San Antonio River Cruises
Go Rio San Antonio River Cruises offers a way to experience the beauty and charm of San Antonio's famous River Walk. This family-friendly attraction provides visitors with a relaxing journey along the San Antonio River.
The river cruises are conducted on colorful, narrated barges that meander through the heart of downtown San Antonio. The knowledgeable guides share fascinating stories and historical facts about the city, its landmarks, and its unique architecture.
Go Rio San Antonio River Cruises offers various options, including daytime cruises and evening cruises, which are particularly popular during special events and holidays when the River Walk is adorned with festive lights and decorations.
Address: 849 E. Commerce Street, San Antonio, Texas 78205
Website: https://www.goriocruises.com/
15. San Antonio Spurs Basketball
The San Antonio Spurs is a professional basketball team based in San Antonio. The Spurs are one of the most successful teams in NBA history, having won multiple NBA championships over the years.
Attending a San Antonio Spurs game is a thrilling experience for families. The electrifying atmosphere in the AT&T Center, the team's home stadium, is filled with cheers, excitement, and the deafening sound of cowbells.
The Spurs' commitment to family-friendly entertainment is evident in their engaging halftime shows and interactive fan experiences.
Address: 1 AT&T Center Pkwy, San Antonio, TX 78219
Website: https://www.nba.com/spurs
16. Natural Bridge Caverns
Natural Bridge Caverns is one of the most extensive cave systems in the state of Texas. The caverns were discovered in 1960 and have since become a popular destination.
Upon entering the Natural Bridge Caverns, visitors are treated to a world hidden beneath the surface. Guided tours take you deep into the limestone formations, showcasing stalactites, stalagmites, flowstones, and other intricate geological wonders. The underground chambers are illuminated and create a magical ambiance that leaves a lasting impression on everyone who explores the caverns.
The caverns offer various tour options to cater to different preferences and abilities. From the Discovery Tour, ideal for families with young children, to the more adventurous Hidden Passages Tour, there is something for everyone to enjoy. Experienced guides lead the tours, sharing fascinating insights into the geology and history of the caverns.
Address: 26495 Natural Bridge Caverns Rd, San Antonio, TX 78266
Website: https://naturalbridgecaverns.com/
17. Natural Bridge Wildlife Ranch
Natural Bridge Wildlife Ranch is an animal sanctuary and drive-through safari park.
The highlight of the Wildlife Ranch is its unique safari-style adventure, where visitors can drive through expansive natural habitats and get up close to free-roaming animals. From giraffes and ostriches to zebras and antelopes, you'll have the opportunity to see and interact with over 500 animals representing more than 40 different species. The open-range environment allows for an authentic and unforgettable wildlife encounter.
The drive-through safari is not only entertaining but also educational. Throughout the journey, informative signs provide fascinating facts about the animals, their habitats, and conservation efforts.
In addition to the drive-through safari, the Natural Bridge Wildlife Ranch offers a walk-through petting zoo known as the Safari Camp. Here, families can interact with friendly and domesticated animals, providing a hands-on and interactive experience that is particularly enjoyable for younger children.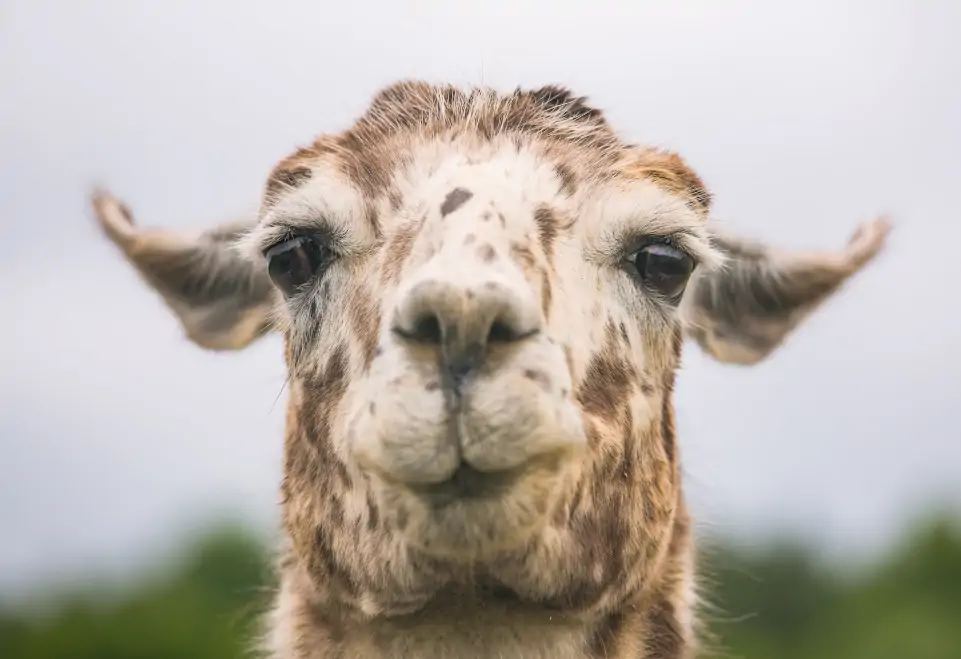 Address: 26515 Natural Bridge Caverns Rd, San Antonio, TX 78266
Website: https://www.wildliferanchtexas.com/
18. Top Golf
Topgolf is an exciting and entertaining golf entertainment venue. It offers a modern twist on traditional golf and provides an enjoyable experience for both avid golfers and newcomers to the sport.
The facility features a multi-level driving range with state-of-the-art golfing bays equipped with advanced technology. Each bay is climate-controlled and can accommodate up to six players, making it a perfect spot for family outings, group gatherings, or friendly competitions. Players can enjoy a variety of golf games and challenges, including hitting targets for points and trying to get the ball into various holes.
No prior golf experience is necessary to enjoy Topgolf. Everyone, regardless of age or skill level, can have a great time swinging away and trying to score points.
Address: 5539 N Loop 1604 W, San Antonio, TX 78249
Website: https://topgolf.com/us/san-antonio/
19. The DoSeum
The DoSeum is a museum designed specifically for children. It encourages kids to explore, play, and learn through hands-on experiences.
The museum features a wide range of interactive exhibits that cover various themes, including science, technology, engineering, arts, and math. Each exhibit is carefully curated to be both educational and fun.
At the DoSeum, kids can engage in activities that promote critical thinking, problem-solving, and collaboration. They can experiment with waterworks, build structures, create art, explore the forces of physics, and even delve into the world of coding and robotics.
At its Sensations Studio, children can engage their senses through various sensory experiences.
The Spy Academy is another popular exhibit that lets young ones unleash their inner detective by solving mysteries and puzzles.
The museum's outdoor play area, called the Backyard, offers plenty of space for kids to enjoy nature-inspired play and physical activities. With gardens, climbing structures, and a musical bridge, it provides a balance of fun and learning in an outdoor setting.
Address: 2800 Broadway, San Antonio, TX 78209
Website: https://www.thedoseum.org/
20. San Antonio Botanical Garden
The San Antonio Botanical Garden spans over 38 acres and houses a diverse collection of plants from around the world.
Families can explore the Texas Native Trail, where they'll discover native plants and wildlife that thrive in the Lone Star State.
The Kumamoto En Japanese Garden transports visitors to the serene beauty of Japan and features traditional elements like waterfalls, bridges, and a koi pond.
The Family Adventure Garden is a favorite among children and families, as it offers interactive exhibits, educational activities, and a treehouse for a memorable outdoor experience. Kids can play in the sand play area, explore the Discovery Maze, and learn about sustainable gardening practices in the culinary garden.
Throughout the year, the garden hosts seasonal events, including butterfly exhibits, outdoor concerts, and holiday displays, adding to the excitement for families visiting the garden.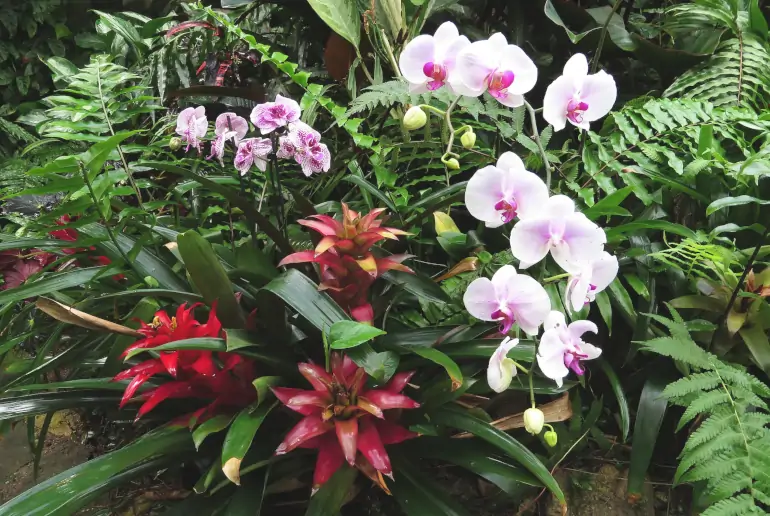 Address: 555 Funston Place, San Antonio, TX 78209
Website: https://www.sabot.org/
21. Japanese Tea Garden
The Japanese Tea Garden is a haven that celebrates Japanese culture and tradition. Situated within Brackenridge Park, this enchanting garden is a popular destination for families.
Originally built as a lily pond in the early 20th century, the garden was later transformed into a Japanese-inspired paradise in 1919. Today, it features stunning landscapes, traditional Japanese architecture, and a serene koi pond adorned with elegant bridges and lush greenery.
The garden also boasts a charming tea house where visitors can savor a delightful cup of tea and Japanese snacks.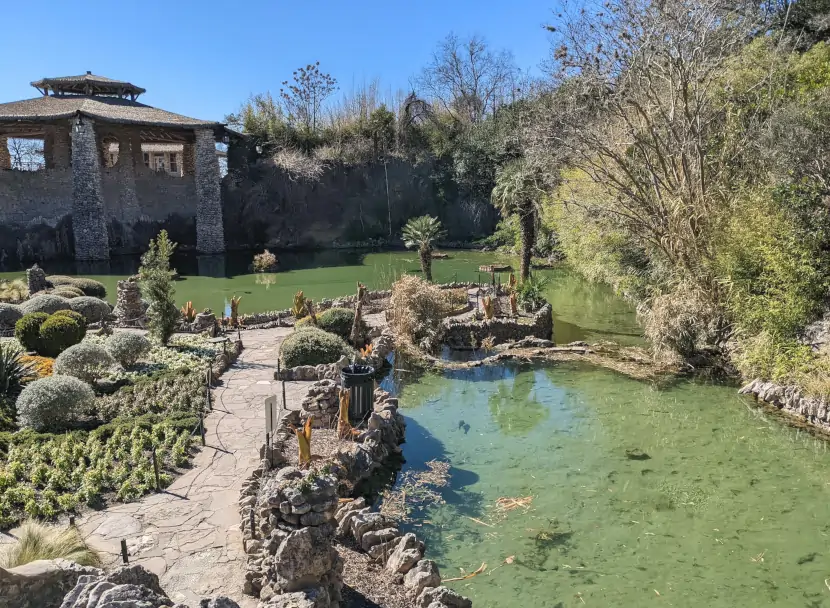 Address: 3800 N Saint Marys St, San Antonio, TX 78212
Website: https://saparks.org/japanese-tea-garden/
22. San Antonio Museum of Art
The San Antonio Museum of Art (SAMA) offers a diverse collection that spans over 5,000 years of art and history.
Housed in a historic building that was once the Lone Star Brewery, the museum itself is a work of art. Inside, visitors can explore rich art forms, including ancient Egyptian artifacts, European paintings, contemporary art, Asian ceramics, Latin American folk art, and much more.
Families visiting SAMA can embark on a journey through various civilizations and cultures and discover masterpieces that reflect the ingenuity and creativity of humanity across centuries.
SAMA's commitment to providing an educational experience for families is evident through its family-friendly programs, workshops, and events. Children can participate in art-making activities, storytelling sessions, and guided tours that bring the collections to life.
In addition to its vast collection, SAMA hosts rotating exhibitions that showcase works from renowned artists and explore contemporary issues through art.
The museum's location along the Museum Reach of the San Antonio River Walk provides families with the opportunity to extend their visit and enjoy a stroll along the riverbank. The beautiful surroundings add to the overall ambiance, making the experience even more memorable.
Address: 200 W Jones Ave, San Antonio, TX 78215
Website: https://www.samuseum.org/
23. Morgan's Wonderland
Morgan's Wonderland is a theme park specifically designed to cater to individuals of all ages and abilities, making it an ideal destination for families seeking a fun and inclusive experience.
Opened in 2010, Morgan's Wonderland was inspired by Morgan Hartman, a young girl with a disability. The park was created with the vision of providing a safe, welcoming, and accessible environment where individuals with special needs could play alongside their able-bodied friends and family members.
The park features a wide range of attractions and activities that cater to various abilities. From the whimsical Wonderland Express train ride to the colorful Sensory Village, visitors can immerse themselves in a world of wonder and delight. The Butterfly Playground offers a fun-filled space for kids to climb, slide, and explore, while the Sensory Garden provides a calming environment with sensory-rich elements.
One of the park's highlights is the unique Morgan's Inspiration Island, which is the world's first ultra-accessible water park. Here, visitors can enjoy splash pads, water play areas, and accessible water attractions designed to accommodate individuals with physical challenges.
The park's staff and volunteers undergo specialized training to ensure that every guest receives the support and assistance they need to fully enjoy their time at Morgan's Wonderland.
With its heartwarming mission and commitment to inclusivity, Morgan's Wonderland stands as a beacon of hope and joy for families looking to create lasting memories in an environment that embraces diversity and celebrates the uniqueness of every individual.
Address: 5223 David Edwards Dr, San Antonio, TX 78233
Website: https://morganswonderland.com/
24. Legoland Discovery Center
Legoland Discovery Center at the Shops at Rivercenter is a destination that provides an unforgettable Lego-themed experience.
Upon entering Legoland Discovery Center, visitors are greeted by Miniland, an impressive exhibit featuring iconic San Antonio landmarks and attractions, all recreated with millions of Lego bricks. From the Alamo to the Tower of the Americas, guests can explore the city's highlights in miniature form.
The center is designed to provide an immersive and hands-on experience for children of all ages. Kids can unleash their creativity in various play zones, including Build & Test, where they can construct and test their Lego creations, and Lego Racers, where they can build and race their custom Lego cars.
For an action-packed adventure, families can hop on the Kingdom Quest ride, an interactive attraction where they can join the quest to rescue the captured princess by shooting targets and defeating villains.
Young visitors can also enjoy the 4D Cinema, where they can watch short Lego-themed movies with exciting special effects that bring the action to life.
One of the center's highlights is the Lego Ninjago City Adventure, a multi-level play area that lets children become ninja warriors as they navigate through obstacles and test their ninja skills.
Address: 849 E Commerce St, San Antonio, TX 78205
Website: https://www.legolanddiscoverycenter.com/san-antonio/
25. SEA Life San Antonio
SEA LIFE San Antonio allows families to dive into the wonders of the ocean. Located at the Shops at Rivercenter, this aquarium offers an experience filled with marine life and interactive exhibits.
Visitors can traverse an underwater tunnel, where they can walk beneath the water and see sharks, rays, and other sea creatures swimming overhead.
One of the highlights of SEA LIFE San Antonio is the touch pool, where children and adults alike can gently interact with starfish and other sea critters, offering an up-close and personal encounter with marine life.
Throughout the day, informative and entertaining talks and feeding sessions are conducted by experienced marine experts as they provide insights into the behaviors and habits of the creatures residing in the aquarium.
Families can also embark on an adventure with the Ocean Explorer Quiz Trail, an interactive experience that challenges visitors to answer questions and solve puzzles while exploring the exhibits.
Address: 849 E Commerce St, San Antonio, TX 78205