1. Loveland Living Planet Aquarium
At the Loveland Living Planet Aquarium, families can embark on a journey through various themed exhibits that showcase a wide range of marine and terrestrial habitats. From the Amazon Rainforest to the Antarctic, each exhibit is thoughtfully designed to provide a special experience.
The aquarium's main attraction is the 300,000-gallon Ocean Explorer exhibit, where families can marvel at sea turtles, sharks, and other mesmerizing marine creatures as they swim gracefully through the vast underwater environment.
One of the highlights for families is the opportunity to participate in interactive activities and hands-on exhibits. Children can touch stingrays, starfish, and other marine animals at the "Discover" touch pools, fostering a deeper connection with the ocean's inhabitants.
In addition, there are other exhibits like the Journey to South America and Expedition Asia, which offer a chance to discover diverse ecosystems, including wild animals such as clouded leopards, komodo dragons, and sloths.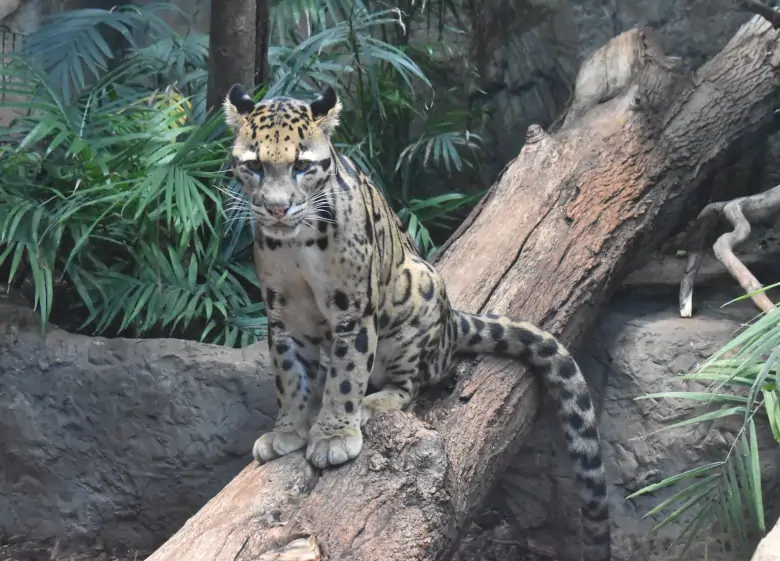 Address: 12033 S Lone Peak Pkwy, Draper, UT 84020
Website: https://livingplanetaquarium.org/
2. Natural History Museum of Utah
The Natural History Museum of Utah, situated on the foothills of the Wasatch Mountains in Salt Lake City, is a premier destination for families seeking to explore the rich natural and cultural history of the region.
The museum's vast collection spans millions of years of history to allow visitors to journey through time and discover the fascinating stories of Earth's past.
One of the highlights of the Natural History Museum of Utah is the "Past Worlds" exhibit, which features life-size dinosaur skeletons, including a Stegosaurus and an Allosaurus.
Families can also immerse themselves in the "Native Voices" exhibit, which celebrates the rich cultural heritage of Utah's Native American tribes. Through interactive displays and artifacts, visitors gain insights into the traditional knowledge, art, and practices that have shaped the lives of indigenous communities in the region.
Address: 301 Wakara Way, Salt Lake City, UT 84108
Website: https://nhmu.utah.edu/
3. Clark Planetarium
The Clark Planetarium is a family-friendly destination that ignites curiosity and wonder about the universe and beyond. With its striking architecture and state-of-the-art facilities, the planetarium offers an educational experience for visitors of all ages.
Inside the Clark Planetarium, families can embark on a cosmic journey through interactive exhibits and engaging displays. The "Cosmic Light" exhibit, for example, explores the science of light and color and allows visitors to interact with prisms, lenses, and mirrors to discover the wonders of optics.
The Hansen Dome Theatre offers a massive screen that surrounds the audience, creating an immersive visual experience. Here, families can enjoy planetarium shows that transport them through space and time, from exploring distant galaxies to witnessing the wonders of our solar system.
The planetarium also offers live presentations and stargazing sessions in its observatory. Expert astronomers guide families through the night sky and help identify constellations, planets, and other celestial objects. It's a special opportunity for families to connect with the vastness of the universe.
Address: 110 S 400 W, Salt Lake City, UT 84101
Website: https://slco.org/clark-planetarium/
4. Olympic Park
This iconic park served as a venue for the 2002 Winter Olympics and continues to excite visitors with its special attractions and family-friendly activities.
The park's Comet Bobsled gives you the chances to experience the rush of hurtling down the actual bobsled track used in the Olympic Games, reaching speeds of up to 60 mph.
If you prefer a tamer adventure, check out the Extreme Tubing lanes, where you can slide down the slopes on inner tubes for a fun-filled time with the whole family. Additionally, the Extreme Zip line lets you soar above the park, offering stunning views of the surrounding mountains and a sense of freedom.
For an Olympic-inspired experience, families can visit the Alf Engen Ski Museum and the George S. and Dolores Doré Eccles 2002 Olympic Winter Games Museum. These museums showcase the history of winter sports and the legacy of the 2002 Winter Olympics.
Address: 3419 Olympic Pkwy, Park City, UT 84098
Website: https://utaholympiclegacy.org/
5. Hogle Zoo
Hogle Zoo is home to over 800 animals representing nearly 250 species from around the world.
Families can embark on a journey through various exhibits, such as the African Savanna, Asian Highlands, and Rocky Shores, where they can witness majestic animals like lions, elephants, giraffes, tigers, and polar bears.
For a more interactive experience, the zoo features the African Savanna Adventure, a safari-themed exhibit that allows kids to get up close and personal with some of the park's residents. Visitors can also participate in daily animal feedings and encounters.
The zoo also hosts various educational programs and events that cater to families. From summer camps and animal encounters to wildlife workshops and conservation initiatives, Hogle Zoo strives to inspire a love for animals and nature in visitors of all ages.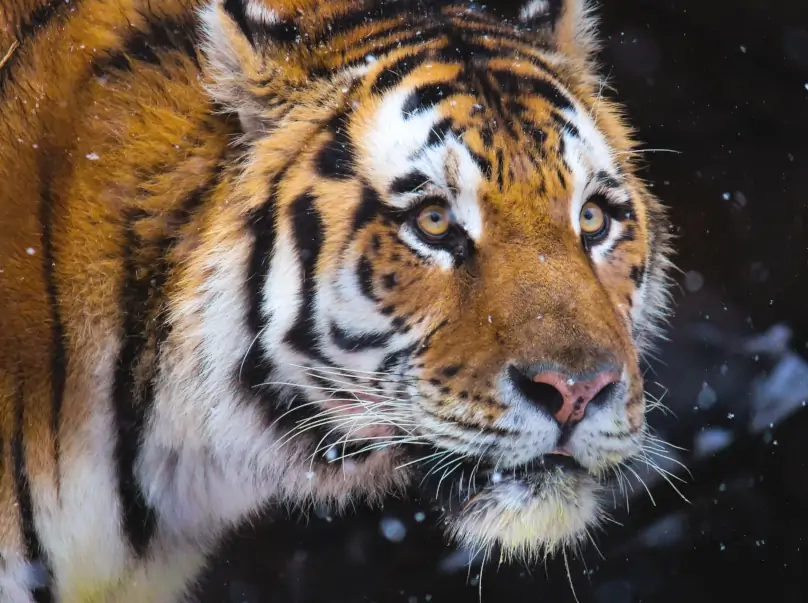 Address: 2600 E Sunnyside Ave, Salt Lake City, UT 84108
Website: https://www.hoglezoo.org/
6. Tracy Aviary
Founded in 1938, this non-profit aviary is one of the oldest and largest in the United States.
Covering over eight acres of lush landscape, Tracy Aviary houses more than 400 birds and nearly 135 species from around the world. Visitors can wander through beautifully landscaped exhibits to encounter birds ranging from colorful parrots and flamboyant flamingos to majestic raptors and graceful waterfowl.
One of the highlights of Tracy Aviary is the South American Pavilion, a vibrant tropical rainforest exhibit where visitors are surrounded by exotic bird species, including toucans, macaws, and tanagers. Additionally, the Owl Forest allows families to get an up-close view of various owl species, each with its unique characteristics and behaviors.
The aviary also offers interactive and educational programs. Daily bird shows and feeding sessions provide an opportunity to learn more about the birds and their natural behaviors.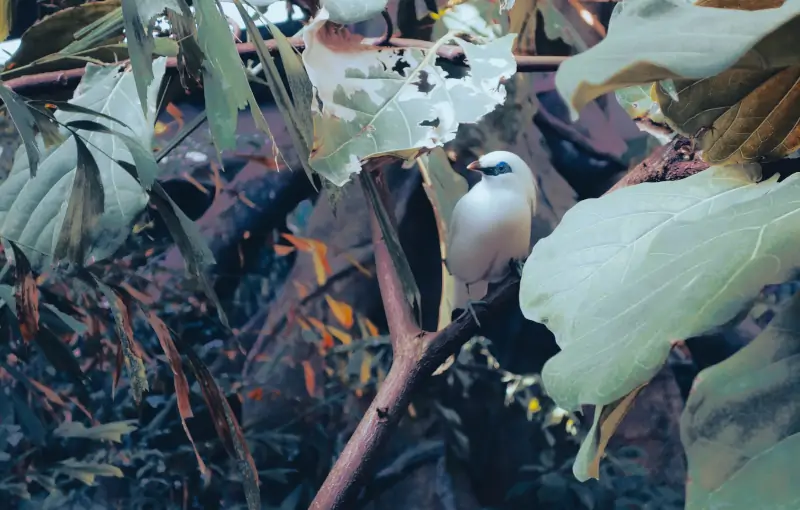 Address: 589 E 1300 S, Salt Lake City, UT 84105
Website: https://tracyaviary.org/
7. Dinosaur Park
Located in Ogden, Utah, Dinosaur Park is a family-friendly destination that takes visitors on a journey back in time to the Mesozoic Era.
Dinosaur Park is home to life-size replicas of various dinosaur species, each crafted to depict their appearance and behavior. Families can embark on a self-guided walking tour through the park's outdoor exhibits, where they can encounter famous dinosaurs such as the mighty Tyrannosaurus rex, the towering Brachiosaurus, and the speedy Velociraptor.
The park also features interactive exhibits and educational displays that provide fascinating insights into the world of dinosaurs. Visitors can learn about their habitats, feeding habits, and the paleontological discoveries that have shaped our understanding of these ancient creatures.
For a hands-on experience, Dinosaur Park offers a unique fossil dig area where young paleontologists can unearth dinosaur replicas buried in the sand. This activity is sure to spark the curiosity and excitement of budding scientists.
Address: 1544 Park Blvd, Ogden, UT 84401
Website: https://www.dinosaurpark.org/
8. Snowbird
Snowbird is a popular year-round resort located in the Wasatch Mountain Range, just a short drive from Salt Lake City.
Famous for its alpine scenery and world-class outdoor activities, Snowbird offers adventures for families seeking a mountain getaway.
During the winter months, Snowbird transforms into a winter wonderland, drawing skiers and snowboarders from near and far. With over 2,500 acres of skiable terrain and an average of 500 inches of annual snowfall, it's a paradise for winter sports enthusiasts of all skill levels. Families can hit the slopes together, take ski or snowboard lessons, or simply enjoy the cozy atmosphere of the lodge.
In the warmer months, Snowbird's mountainous landscape becomes a playground for outdoor enthusiasts. Hiking and mountain biking trails weave through the wildflower-covered meadows and forests and offer scenic views and a chance to spot local wildlife.
Additionally, Snowbird offers exciting activities such as zip-lining, bungee trampolines, and an alpine slide. And the resort's scenic tram ride takes visitors on a journey up the mountainside, with panoramic views of the surrounding peaks and valleys.
Snowbird also boasts numerous dining options, from casual eateries to fine dining restaurants, where families can savor delicious meals and take in the beautiful vistas. The resort's mountain village provides a charming atmosphere for strolling, shopping, and enjoying live music or other entertainment.
Address: 9385 S, Snowbird Center Dr, Snowbird, UT 84092
Website: https://www.snowbird.com/
9. Thanksgiving Point
Thanksgiving Point in Lehi is just a short drive from Salt Lake City. This sprawling 55-acre complex offers a variety of attractions and activities for all ages, making it an ideal spot for a day of fun and exploration.
One of the main highlights of Thanksgiving Point is the Museum of Ancient Life, home to one of the world's largest collections of mounted dinosaur skeletons. Families can embark on a journey through time as they wander among life-size dinosaur exhibits and learn about these fascinating creatures that once roamed the Earth. The museum also features interactive displays, hands-on activities, and a 3D theater for an immersive learning experience.
Adjacent to the Museum of Ancient Life is the Museum of Natural Curiosity, a hands-on children's museum designed to spark curiosity and creativity in young minds. The museum features more than 400 interactive exhibits across five engaging realms, including a Rainforest, Water Works, and the Kidopolis play area. It's a perfect place for kids to learn through play and exploration.
For outdoor enthusiasts, Thanksgiving Point offers the Ashton Gardens, a 55-acre garden with beautifully landscaped grounds and walking paths. The gardens also host seasonal events and activities, such as the Luminaria during the holiday season.
In addition to the museums and gardens, Thanksgiving Point offers other attractions, including a championship golf course, farm experiences, and a variety of dining options. Families can enjoy a meal together at one of the on-site restaurants or explore the shops and boutiques for unique souvenirs.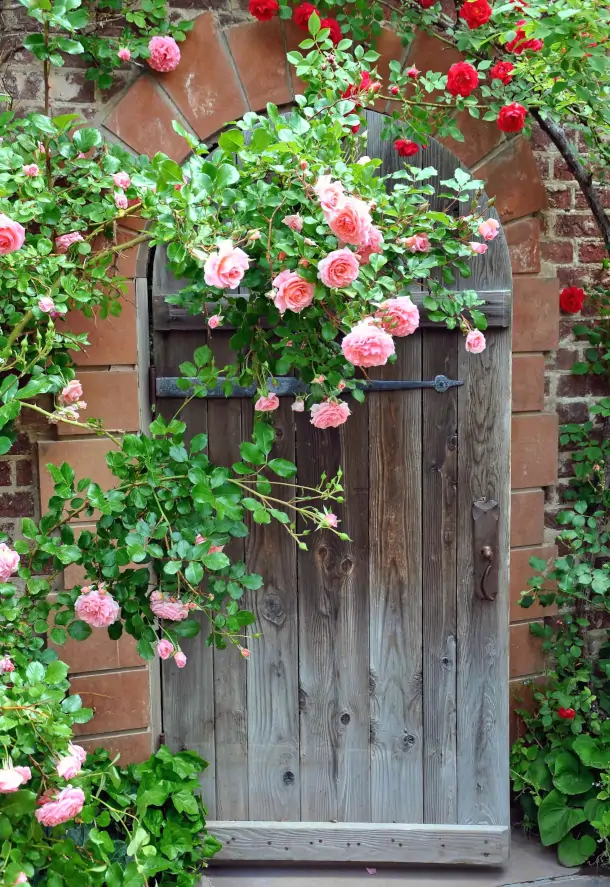 Address: 3003 N Thanksgiving Way, Lehi, UT 84043
Website: https://thanksgivingpoint.org/
10. Temple Square
Temple Square is a historic and iconic landmark in downtown Salt Lake City. It is the spiritual and cultural heart of The Church of Jesus Christ of Latter-day Saints (LDS Church) and attracts millions of visitors each year from all around the world. This 10-acre complex offers a variety of attractions and activities for families to explore.
One of the main highlights of Temple Square is the Salt Lake Temple, a granite structure that took 40 years to complete. While the temple itself is not open to the public, visitors can still admire its impressive architecture and beautiful gardens surrounding it. The Tabernacle, another notable building on the square, is famous for its acoustics and houses the famous Tabernacle Choir at Temple Square, which often performs for visitors.
Families can also visit the Assembly Hall, a beautiful Gothic-style building that offers free organ recitals.
Throughout the year, Temple Square hosts various events and activities, including concerts, holiday celebrations, and the famous Christmas lights display, which attracts visitors from far and wide.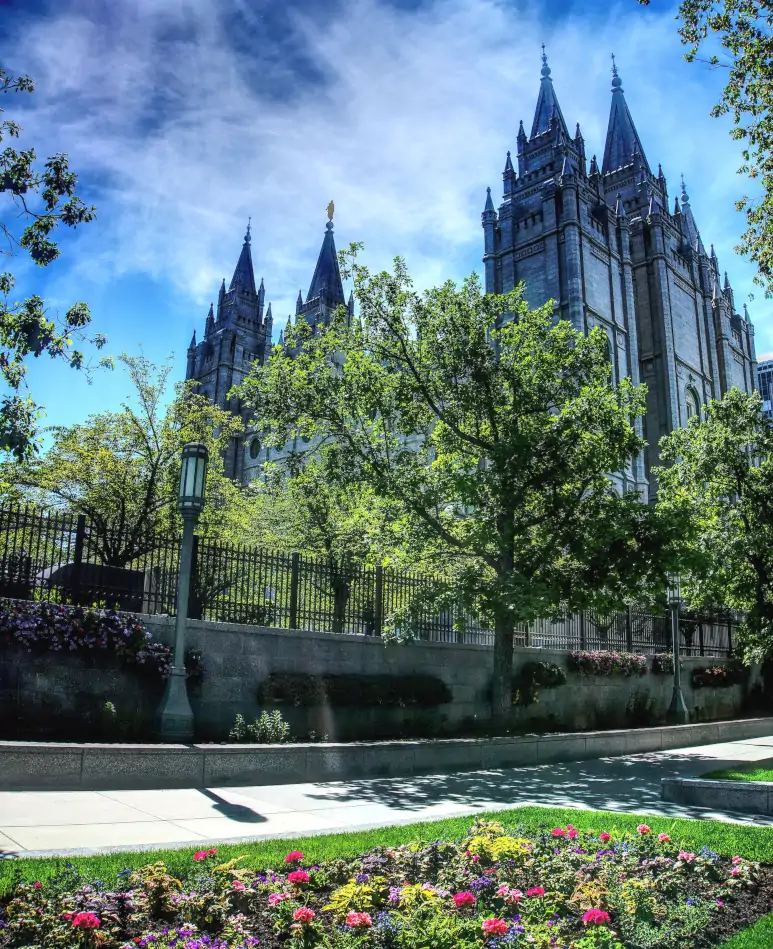 Address: 50 N Temple, Salt Lake City, UT 84150
Website: https://www.churchofjesuschrist.org/feature/templesquare
11. Discovery Gateway Children's Museum
Discovery Gateway Children's Museum is an educational space designed specifically for children. The museum offers a wide range of hands-on exhibits and activities that cater to kids of all ages.
The museum is divided into various themed areas, each focused on fostering children's curiosity and creativity. "The Garden" is a favorite among the younger visitors, providing a safe and stimulating environment for toddlers to explore and play. "The Studio" encourages artistic expression and imaginative play, while "The Story Factory" sparks a love for reading and storytelling.
One of the main highlights of Discovery Gateway is the "Water Play" exhibit, where children can engage in exciting experiments and learn about the properties of water. The "Kid's Eye View" section offers an opportunity for children to experience the world from a unique perspective, giving them insights into different professions and roles.
Another popular attraction is the "The Children's Theatre," where kids can participate in interactive performances and unleash their creativity on stage. There are also regular workshops, classes, and special events that provide additional learning opportunities for families.
Address: 444 W 100 S, Salt Lake City, UT 84101
Website: https://www.discoverygateway.org/
12. SeaQuest Utah
SeaQuest Utah is an aquarium located in Layton, Utah. It allows visitors of all ages to get up close and personal with a variety of marine life, birds, reptiles, and more.
Upon entering SeaQuest, visitors are transported to different aquatic and wildlife environments from around the world. They can explore the Amazon Rainforest, the Caribbean Cove, and even the Egyptian desert, all within the confines of the aquarium.
At SeaQuest visitors get the opportunity to interact with the animals. Visitors can feed tropical birds, touch and hold stingrays, and even swim with reef sharks in a safe and controlled environment. This hands-on experience makes the visit exciting and educational for kids and adults alike.
Address: 1201 N Hill Field Rd, Layton, UT 84041
Website: https://visitseaquest.com/utah/
13. Lagoon Park
Lagoon Park is a popular amusement park located in Farmington, Utah, just a short drive from Salt Lake City. It offers various rides, shows, and attractions.
The park features an impressive collection of roller coasters. From classic wooden coasters to modern high-speed rides, there is something for everyone. Some of the most popular roller coasters include the Cannibal, Wicked, and Colossus: The Fire Dragon.
For younger visitors, Lagoon Park features a dedicated area called "Kiddie Land" with age-appropriate rides and attractions designed for children. Families can enjoy gentle carousels, mini roller coasters, and interactive play areas, ensuring that even the littlest ones have a great time.
In addition to the rides, Lagoon Park offers a variety of shows and entertainment throughout the day. From live music performances to magic shows, there's always something happening to keep the whole family entertained.
Visitors can also cool off during the hot summer months at Lagoon-A-Beach, the park's water park area. It features water slides, wave pools, and lazy rivers, to provide a respite from the Utah heat.
Lagoon Park is open seasonally, typically from late March to early October.
Address: 375 Lagoon Dr, Farmington, UT 84025
Website: http://www.lagoonpark.com/
14. Red Butte Garden
Red Butte Garden is a beautiful botanical garden located in Salt Lake City, Utah. Situated on the foothills of the Wasatch Mountains, the garden offers over 100 acres of cultivated gardens, walking paths, and natural areas.
Visitors can explore a diverse range of themed gardens, including the Fragrance Garden, Rose Garden, Herb Garden, and Water Pavilion Garden, each showcasing a unique array of botanical wonders.
Families can also enjoy the many walking trails that wind through the garden and provide scenic views of the surrounding landscapes and opportunities for wildlife spotting.
The Orangerie and Greenhouses offer an indoor oasis where visitors can explore tropical and desert plants, no matter the weather.
Red Butte Garden hosts various family-friendly events throughout the year, including concerts, art exhibits, and educational programs. The "Family Backpacks" program is especially popular among young visitors.
Address: 300 Wakara Way, Salt Lake City, UT 84108
Website: https://www.redbuttegarden.org/
15. Utah Jazz Basketball
The Utah Jazz are a professional basketball team based in Salt Lake City and a member of the Western Conference Northwest Division of the National Basketball Association (NBA).
The Jazz play their home games at the Vivint Arena, located in downtown Salt Lake City.
Over the years, the Utah Jazz has been home to many talented players, including basketball legends like Karl Malone and John Stockton. The team has made numerous playoff appearances and has earned a reputation for their competitive spirit and strong team dynamics.
In addition to the thrilling game action, the Vivint Arena offers a range of amenities and family-friendly services to enhance the fan experience. The KidZone, located on the upper concourse, is a popular area for young fans and features interactive games, activities, and opportunities to meet Jazz Bear, the team's beloved mascot.
Throughout the NBA season, the Utah Jazz organizes various family-oriented events, including special game nights, giveaways, and youth basketball programs, fostering a sense of community and camaraderie among fans of all ages.
Address: 301 S Temple, Salt Lake City, UT 84101
Website: https://www.nba.com/jazz
16. The Leonardo
The Leonardo is an innovative museum that is dedicated to exploring the intersection of science, technology, art, and creativity.
At The Leonardo, families can embark on a journey of discovery through various exhibits and hands-on activities. The museum features interactive displays and installations that encourage visitors to think critically, problem-solve, and unleash their creativity. From exploring the wonders of space and virtual reality to understanding the intricacies of human anatomy, The Leonardo offers exhibits that captivate and inspire.
The "Flight" exhibit is where visitors can delve into the history of aviation and aerospace technology. They can also experience flight simulations and learn about the principles of aerodynamics in an engaging and fun way.
Another fascinating exhibit is "Pixel Play," which focuses on digital art and interactive technology. Families can learn more about digital media, create their own digital art and experiment with cutting-edge technology.
The museum's location in the heart of Salt Lake City makes it easily accessible for families and visitors. Its proximity to other attractions, dining options, and cultural venues allows for a full day of exploration and entertainment in the city.
Address: 209 E 500 S, Salt Lake City, UT 84111
Website: https://theleonardo.org/
17. Antelope Island State Park
Antelope Island State Park is located just outside of Salt Lake City. It is situated on the largest island in the Great Salt Lake and offers a diverse landscape for visitors to explore. The park is known for its amazing views, abundant wildlife, and outdoor recreational opportunities.
The island is home to a variety of animals, including bison, pronghorn antelope, bighorn sheep, mule deer, and many species of birds. Families can enjoy wildlife viewing and birdwatching as they explore the island's scenic trails and viewpoints.
The park also offers several hiking and biking trails that cater to different skill levels. Visitors can hike to viewpoints overlooking the Great Salt Lake, walk along the shoreline, or explore the island's interior with its rolling hills and rocky terrain.
For families who love water activities, the park's beaches along the Great Salt Lake provide opportunities for swimming, picnicking, and sunbathing. The lake's high salinity makes for a unique swimming experience, allowing visitors to effortlessly float on the water's surface.
In addition to outdoor activities, Antelope Island State Park also has a visitor center where families can learn about the island's history, geology, and ecology. The center features exhibits and information about the island's wildlife and cultural significance.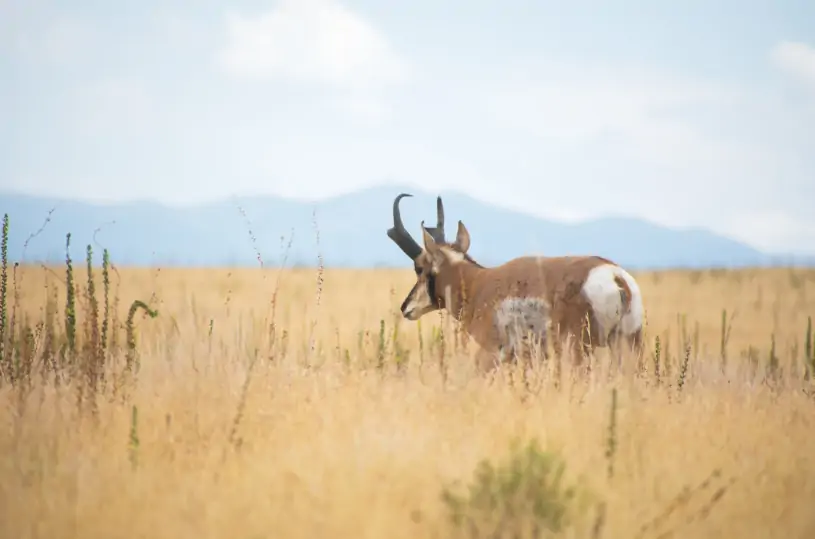 Address: Antelope Island State Park, 4528 W 1700 S, Syracuse, UT 84075
Website: https://stateparks.utah.gov/parks/antelope-island/
18. Timpanogos Cave National Monument
Timpanogos Cave National Monument in the Wasatch Mountains is just a short drive from Salt Lake City. The monument is known for its limestone caves.
Visitors can explore three interconnected caves: Hansen Cave, Middle Cave, and Timpanogos Cave. These caves are filled with beautiful stalactites, stalagmites, helictites, and other special formations, which have been formed over thousands of years. Guided cave tours are available and offer families an opportunity to learn about the cave's geology, history, and the delicate ecosystem within.
To reach the caves, families can go on a scenic hike along the Timpanogos Cave Trail. This moderately strenuous trail winds through a forested canyon and offers spectacular views of Mount Timpanogos and the surrounding landscape. The hike is approximately 1.5 miles long.
In addition to the cave tours and hiking, the monument offers a variety of ranger-led programs and activities suitable for families. These programs may include wildlife spotting, stargazing, and educational talks about the local flora and fauna.
The monument also provides a visitor center, where families can learn more about the area's history, geology, and wildlife through interactive exhibits and displays. The center also has a gift shop where visitors can purchase souvenirs and educational materials.
Address: Timpanogos Cave National Monument, American Fork, UT 84003
Website: https://www.nps.gov/tica/index.htm
19. Top Golf
Topgolf is a popular entertainment venue in Midvale, Utah. It offers a fun experience to enjoy golfing in a social setting.
The venue features a modern driving range with technology-enhanced golf balls. What sets Topgolf apart is its suitability for all ages, making it an ideal activity for families with kids. Even the youngest members can have a blast swinging the club and aiming for the targets.
For young golf enthusiasts, Topgolf offers junior golf clinics and lessons.
Address: 920 Jordan River Blvd, Midvale, UT 84047
Website: https://topgolf.com/us/salt-lake-city/
20. Big Cottonwood Canyon
Big Cottonwood Canyon in the Wasatch Mountains near Salt Lake City offers a plethora of outdoor activities and scenic beauty. The canyon is famous for its landscapes, including towering cliffs, dense forests, and cascading waterfalls.
ig Cottonwood Canyon offers numerous hiking trails available for all skill levels. Families can embark on scenic hikes that lead to amazing viewpoints, serene lakes, and meadows, with an opportunity to connect with nature and spot local wildlife.
In the winter, the canyon transforms into a winter wonderland, attracting skiers and snowboarders to its world-class resorts, such as Brighton and Solitude.
For a more relaxing experience, families can enjoy a leisurely drive through the canyon and admire the beauty of the surroundings from the comfort of their vehicle. There are also several picnic areas and campgrounds scattered throughout the canyon that allow families to enjoy a lovely outdoor meal amidst the natural splendor.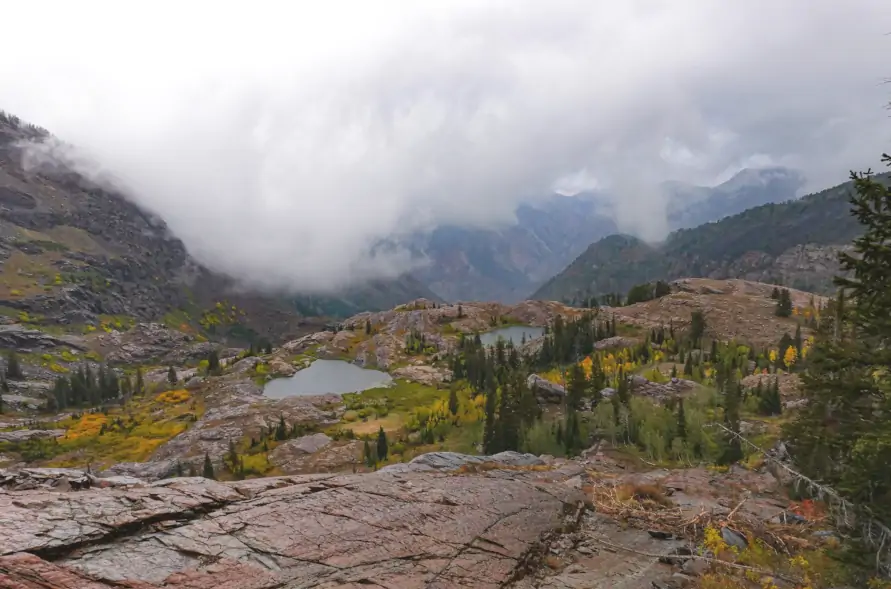 Address: Big Cottonwood Canyon Road, Salt Lake City, UT 84121
21. This Is The Place Heritage Park
This Is The Place Heritage Park offers a journey back in time to the pioneer era of the mid-19th century. It was established to commemorate the arrival of the Mormon pioneers in the Salt Lake Valley in 1847. Families visiting this park can experience a delightful mix of history, culture, and scenic beauty.
The park covers over 450 acres and features an authentic replica of an early pioneer settlement, complete with log cabins, shops, and farmsteads. Visitors can explore the heritage buildings, interact with costumed interpreters, and participate in hands-on activities.
The Native American Village allows families to learn about the region's original inhabitants and their rich cultural heritage.
The park also houses the Deseret Village, showcasing life in a typical 19th-century Mormon settlement.
Children will be thrilled to hop on the Heritage Park Railroad, which takes passengers on a scenic train ride through the park.
The park also hosts exciting events and demonstrations, including blacksmithing, candle making, and traditional music performances, adding to the special experience.
Address: 2601 E Sunnyside Ave, Salt Lake City, UT 84108
Website: https://www.thisistheplace.org/
22. Brigham Young University
Brigham Young University (BYU) is a prestigious educational institution located in Provo, Utah.
BYU's campus is surrounded by the stunning Wasatch Mountains and offers various recreational facilities, including beautiful gardens, playgrounds, and open spaces.
Families visiting BYU can take advantage of numerous cultural and artistic events, including concerts, theater performances, and art exhibitions. The university also hosts family-oriented activities and workshops, providing opportunities for learning and bonding.
One of the highlights of BYU for families is the Monte L. Bean Life Science Museum, which features fascinating exhibits on animals, plants, and ecosystems. Children will be excited to see the diverse collection of animal specimens.
For sports enthusiasts, attending a BYU Cougars game can be a thrilling experience for the whole family. The university's sports teams compete in various intercollegiate sports.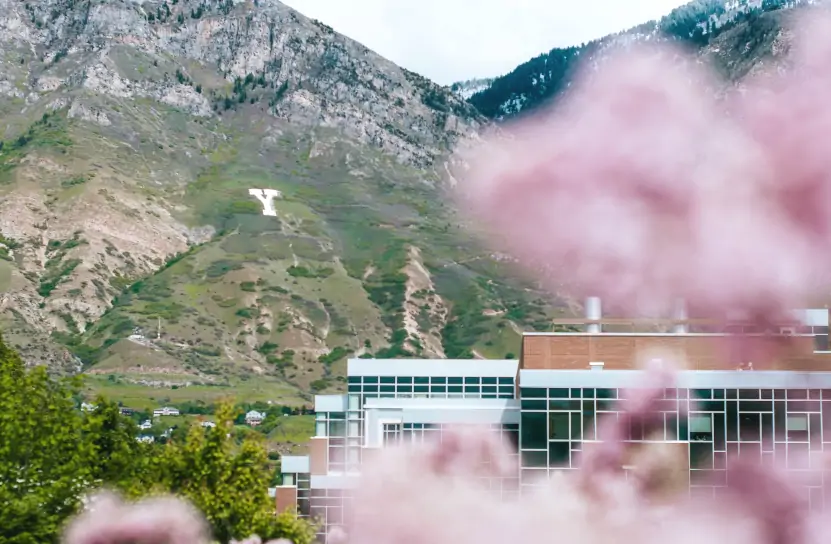 Address: 5005 University Pkwy, Provo, UT 84604
Website: https://www.byu.edu/
23. Great Salt Lake
The Great Salt Lake is a natural wonder located in northern Utah, just west of Salt Lake City. As the largest saltwater lake in the Western Hemisphere, it offers a special experience for families visiting the area.
The lake is famous for its high salinity, giving it a salt content far greater than that of the ocean. This characteristic allows visitors to float easily on the surface of the water, a fun experience for both kids and adults.
The Great Salt Lake also serves as a vital habitat for a variety of bird species. Families can witness impressive bird migrations and observe various bird species, including pelicans, seagulls, and other waterfowl.
Antelope Island State Park, situated within the Great Salt Lake, offers families the opportunity to explore stunning landscapes and encounter native wildlife such as bison, pronghorns, and mule deer.
Visiting the Great Salt Lake is a fantastic way to learn about the unique geological and ecological aspects of this iconic landmark. The lake's salt flats and pink sunsets create a surreal and beautiful backdrop.
Families can also visit the Great Salt Lake Marina, which offers boat rentals and sailing experiences on the lake. Exploring the waters by boat offers a different perspective and allows families to see more of the lake's diverse landscape.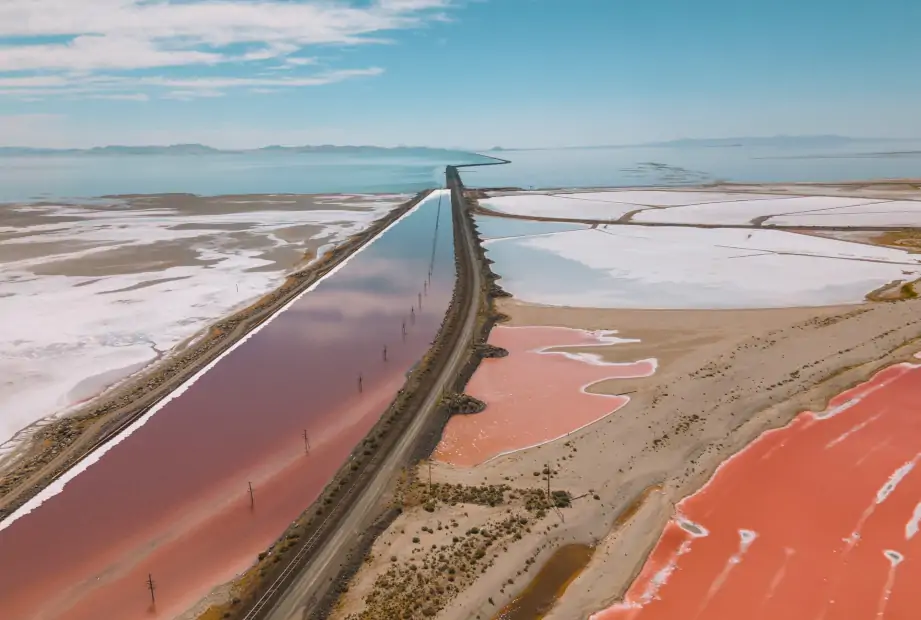 Website: https://stateparks.utah.gov/parks/great-salt-lake/
24. Gilgal Gardens
Gilgal Gardens features over 70 sculptures, carvings, and engravings, all thoughtfully integrated into the landscape. These sculptures depict a range of subjects, from biblical figures to whimsical creatures, and they are surrounded by lush greenery and beautiful flowers.
One of the most iconic features of Gilgal Gardens is the "Sphinx," a massive sculpture with the face of Joseph Smith, the founder of the Mormon faith. The garden also includes a striking sculpture called the "Vision of the Eternal," which represents the artist's beliefs in the afterlife.
Families can stroll along meandering paths, admire the unique sculptures, and enjoy a serene escape from the urban environment.
The garden is open to the public and offers a free admission.
Address: 749 E 500 S, Salt Lake City, UT 84102
Website: https://gilgalgarden.org/
25. Scales and Tails Utah
Scales and Tails Utah is an interactive facility dedicated to promoting appreciation and understanding of reptiles, birds, and other exotic animals.
At Scales and Tails, families can get up close and personal with a wide variety of fascinating creatures, including snakes, lizards, tortoises, birds of prey, and more. The knowledgeable staff provides informative presentations and interactive shows that allow visitors to touch and hold some of the animals.
One of the highlights of Scales and Tails is their thrilling live reptile shows, where skilled handlers demonstrate the natural behaviors of various reptiles, dispel myths, and share interesting facts about these often misunderstood creatures.
The Bird of Prey show is another must-see experience at Scales and Tails. Families can witness majestic raptors like owls, hawks, and falcons in flight, showing off their impressive hunting and flying skills.
In addition to the shows, Scales and Tails offers hands-on encounters, where families can touch and interact with some of the animals under the guidance of experienced staff.
Address: 4944 W 6200 S, Kearns, UT 84118
Website: https://scalesandtailsutah.com/