1. Santa Barbara Zoo
The Santa Barbara Zoo is a wild and wonderful destination for families seeking a fun-filled day surrounded by wild animals! With over 500 animals representing 146 species, the Santa Barbara Zoo offers a special experience.
Kids will be thrilled to get up close to some of the animals at the "Giraffe Feeding" and "Lorikeet Encounter" experiences, creating magical memories with these gentle creatures. The "Discovery Pavilion" offers engaging and hands-on activities that teach kids about the natural world and conservation.
And don't miss the "California Trails" exhibit, highlighting the native wildlife of California and giving families a chance to learn about and appreciate the beauty of the local ecosystem.
The zoo hosts various family-friendly events and special programs throughout the year, from "Zoo Camp" for the little animal lovers to "Zoo Brew" for the adults, ensuring there's always something exciting happening.
With its beautiful location overlooking the Pacific Ocean, the Santa Barbara Zoo provides a beautiful backdrop for a day of adventure and exploration.
Address: 500 Ninos Dr, Santa Barbara, CA 93103
Website: https://www.sbzoo.org/
2. Circle Bar B Stables
Circle Bar B Stables offers a horseback riding adventure amid the natural beauty of the Santa Barbara region!
The friendly and knowledgeable wranglers at the stables ensure a safe and enjoyable ride for both experienced riders and beginners, catering to individual skill levels and preferences.
Kids will be thrilled to ride on gentle and well-trained horses.
The horseback riding trails take you through majestic canyons, peaceful meadows, and along the scenic coastline, offering breathtaking views and a chance to connect with nature.
In addition to horseback riding, Circle Bar B Stables offers guided nature hikes and wildlife spotting activities.
After a day of horseback riding and exploration, you can unwind and enjoy a delicious and hearty ranch-style meal at the stables' charming lodge.
Address: 1800 Refugio Rd, Santa Barbara, CA 93117
Website: https://circlebarbstables.com/
3. Santa Barbara Botanic Garden
The Santa Barbara Botanic Garden is a serene oasis, where families can explore the beauty of native plants and enjoy a day of fun-filled activities!
Spanning over 78 acres, the garden is a haven for native California plants, including rare and endangered species. Kids will be amazed by the vibrant wildflowers and majestic oak trees as they explore the garden's winding trails.
Young explorers can embark on a garden adventure with the "Garden Exploration Backpacks," filled with tools and activities that make learning about nature a blast!
Don't miss the "Butterflies Alive!" exhibit, where colorful butterflies flutter around in a specially designed enclosure, offering a magical experience for the whole family.
The "Pritzlaff Conservation Center" engages visitors with interactive exhibits on native plants and wildlife conservation.
And the garden's viewpoints provide the perfect backdrop for a family picnic or a moment of tranquility amidst the Santa Ynez Mountains and the Pacific Ocean.
With seasonal events and family-friendly festivals happening year-round, the Santa Barbara Botanic Garden is always buzzing with excitement.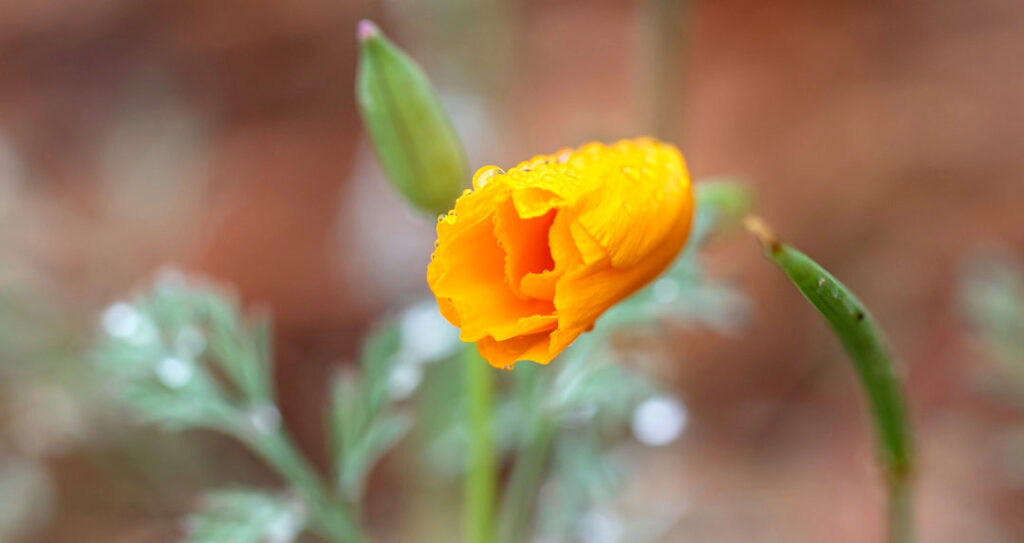 Address: 1212 Mission Canyon Rd, Santa Barbara, CA 93105
Website: https://www.sbbg.org/
4. Mission Santa Barbara
Founded in 1786, Mission Santa Barbara showcases stunning Spanish colonial-style architecture with twin bell towers, creating a pleasant setting for your family's exploration.
Take guided tours to learn about the Franciscan friars and Native American Chumash people who lived and worked here, offering a glimpse into the past.
Kids will be enchanted by the beautiful church with its ornate altar and artwork and get a chance to learn about religious and artistic history.
Your family can stroll through lush gardens and serene courtyards, great for a family walk.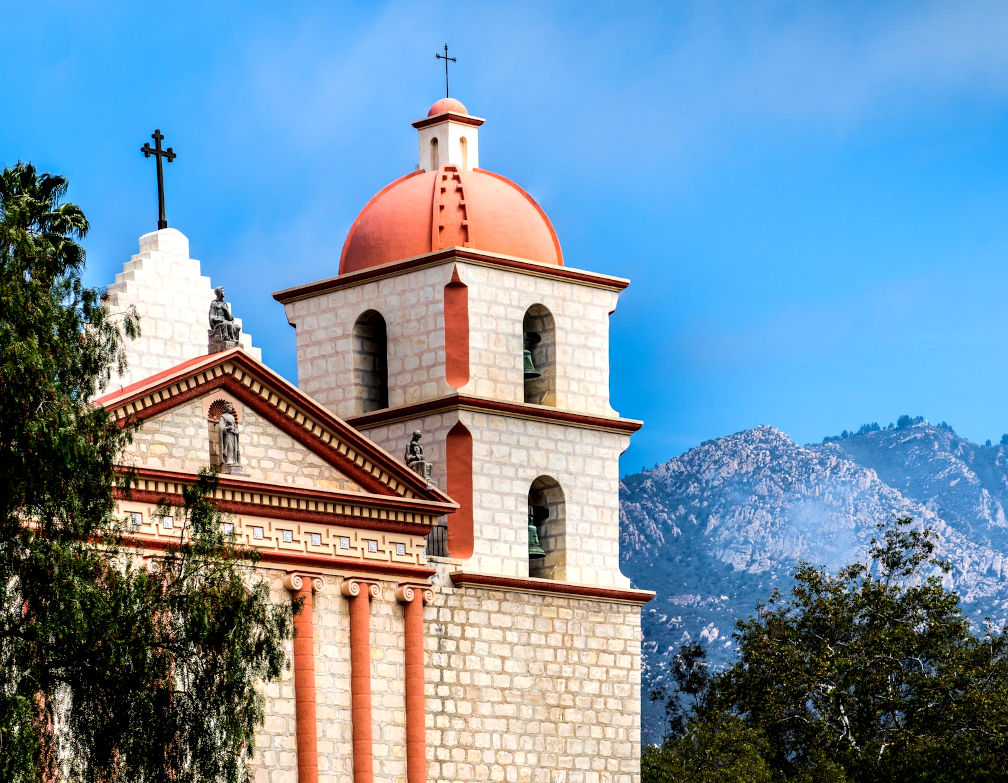 Address: 2201 Laguna St, Santa Barbara, CA 93105
Website: https://www.santabarbaramission.org/
5. MOXI (The Wolf Museum of Exploration + Science)
MOXI, The Wolf Museum of Exploration + Innovation in Santa Barbara, CA is an interactive museum perfect for families!
At MOXI, you'll discover a dynamic space that blends science, technology, engineering, arts, and mathematics (STEAM) to inspire curious minds of all ages.
Kids will love the hands-on exhibits that encourage creativity and problem-solving skills.
From building structures in the Fantastic Forces Courtyard to creating art with cutting-edge technology in the Interactive Media Theater, there's something exciting for everyone.
The Speed Track exhibit lets young scientists explore motion and velocity.
There's also the spectacular rooftop garden, which offers views of Santa Barbara's landscape and a perfect spot for family photos.
With its prime location near the waterfront and downtown, MOXI makes for a great addition to your Santa Barbara adventure.
Address: 125 State St, Santa Barbara, CA 93101
Website: https://www.moxi.org/
6. Stearns Wharf
Stearns Wharf is the oldest operating wharf in California and a family-friendly destination!
This iconic landmark stretches into the Pacific Ocean and offers views of the Santa Barbara coastline that will take your breath away.
Stroll along the wooden planks and enjoy the fresh sea breeze while exploring a variety of shops, boutiques, and galleries for unique gifts and souvenirs.
Foodies will be delighted with a diverse selection of dining options, from delicious seafood to mouthwatering ice cream treats.
Keep an eye out for playful sea lions that often lounge on the docks or swim gracefully in the waters below.
For adventure-seeking families, the wharf offers exciting activities such as deep-sea fishing excursions and thrilling boat rides.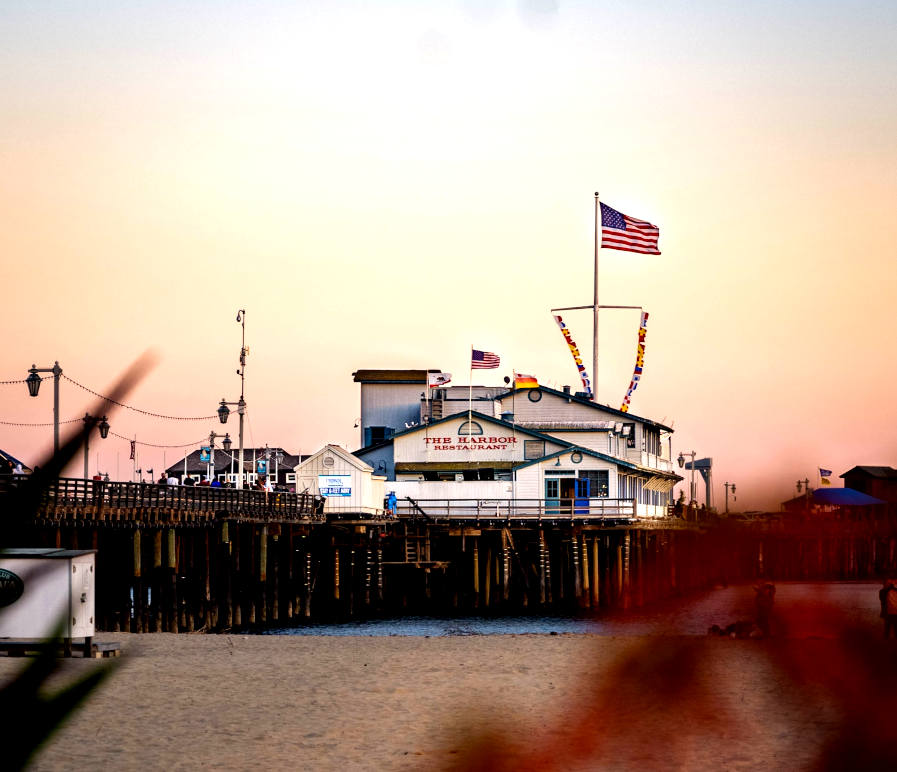 Address: 219 Stearns Wharf, Santa Barbara, CA 93101
Website: https://stearnswharf.org/
7. Lotusland
Lotusland is a 37-acre estate filled with gardens that showcase an extraordinary collection of rare and exotic plants from around the world.
The gardens are meticulously curated and feature an impressive variety of plants, including rare cacti, succulents, palms, and lotus flowers.
Families can go on a self-guided tour to explore the themed gardens. From the whimsical Topiary Garden to the vibrant Butterfly Garden, each corner of Lotusland offers a different experience.
Kids will be thrilled by the garden's playful surprises, like hidden pathways, sculptures, and water features.
The theatre garden, with its dramatic sculptures and vibrant flora, will leave families mesmerized by the artistry of the landscape.
Due to its popularity, advance reservations are required to ensure a good experience for every visitor.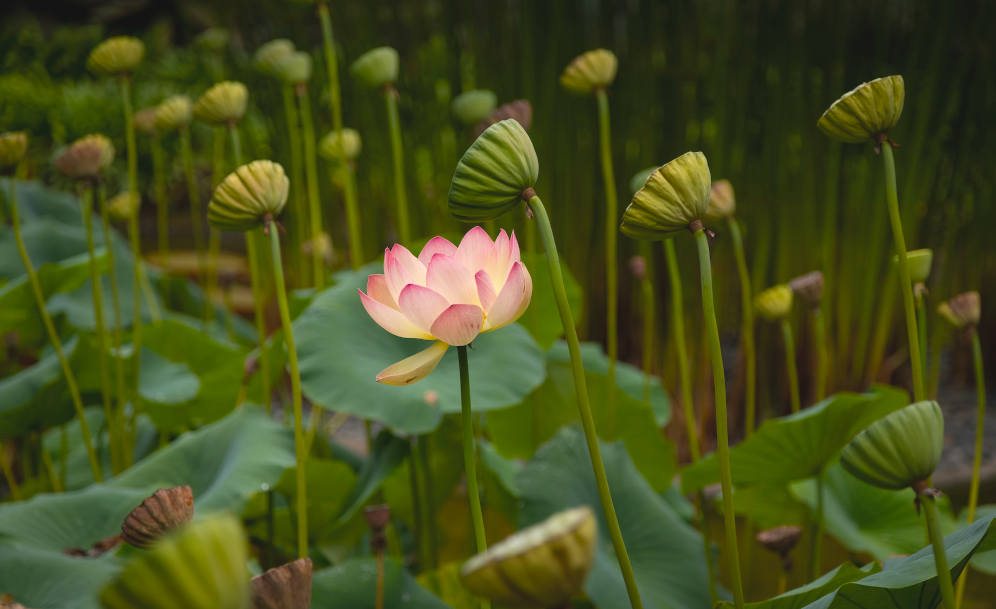 Address: 695 Ashley Road, Santa Barbara, CA 93108
Website: https://www.lotusland.org/
8. Santa Barbara Museum of Natural History
Step into a world of discovery as you explore the exhibits at the Santa Barbara Museum of Natural History, displaying the rich biodiversity and natural history of the Santa Barbara region and beyond.
Families can go on an educational journey through the museum's interactive displays, providing a fun and informative experience for visitors of all ages.
Kids will be delighted by the hands-on activities and discovery zones that spark their curiosity about the natural world.
The museum's beautiful grounds include the Butterfly Pavilion, where families can marvel at the vibrant colors and graceful movements of these enchanting creatures.
Address: 2559 Puesta del Sol, Santa Barbara, CA 93105
Website: https://www.sbnature.org/
9. Santa Barbara Museum of Art
At the Santa Barbara Museum of Art, you can explore a diverse collection of artwork from around the world, including paintings, sculptures, and decorative arts.
Kids will love the family programs, offering hands-on art projects and interactive exhibits to spark creativity and imagination.
In addition, the museum hosts special exhibitions and cultural events throughout the year.
Conveniently located in downtown Santa Barbara, the Santa Barbara Museum of Art is a great addition to a family outing in the area.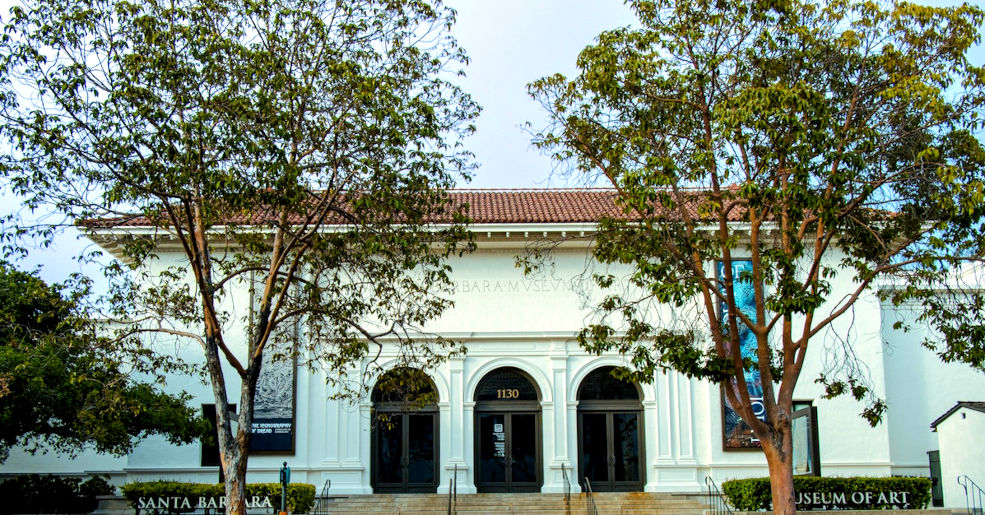 Address: 1130 State St Santa Barbara, CA 93101
Website: https://www.sbma.net/
10. University of California, Santa Barbara
Explore the beautiful UCSB campus with views of the Pacific Ocean and Santa Ynez Mountains, ideal for a family walk and photo ops.
UCSB hosts various events and cultural activities to provide opportunities for families to engage with the university community and experience campus life.
You can enjoy the campus's diverse food options, from food trucks to dining halls, catering to different tastes and preferences.
Be sure to visit the UCSB Bookstore and pick up some university merchandise and souvenirs to remember your visit.
You can also take a self-guided tour of the campus and discover the various academic buildings, research centers, and state-of-the-art facilities.
If you have older kids, they can explore potential academic interests and learn about UCSB's renowned programs.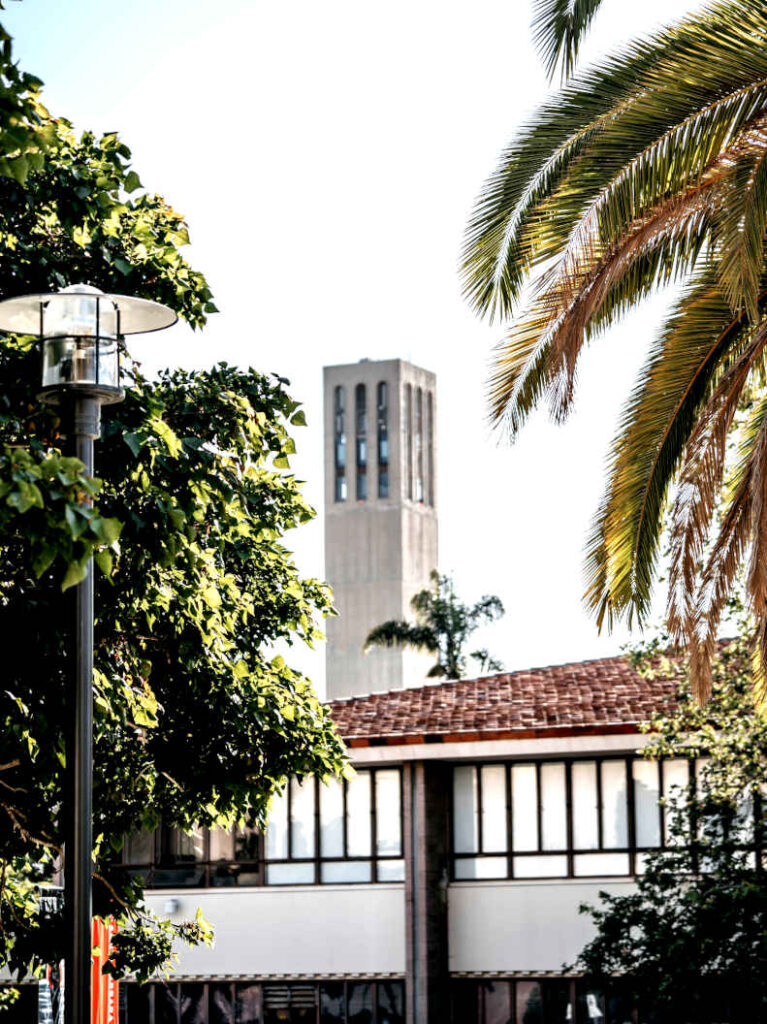 Address: University of California, Santa Barbara, Santa Barbara, CA 93106
Website: https://www.ucsb.edu/
11. Montecito
Montecito is an upscale community that offers beautiful landscapes and beaches for sun-soaked family adventures.
Kids will love exploring the Montecito Butterfly Preserve, where they can spot native butterflies in their natural habitat.
Take a stroll through the village to discover boutique shops, art galleries, and gourmet restaurants that cater to all tastes.
Enjoy a family day at Butterfly Beach, where you can bask in the sun, splash in the waves, and witness sunsets.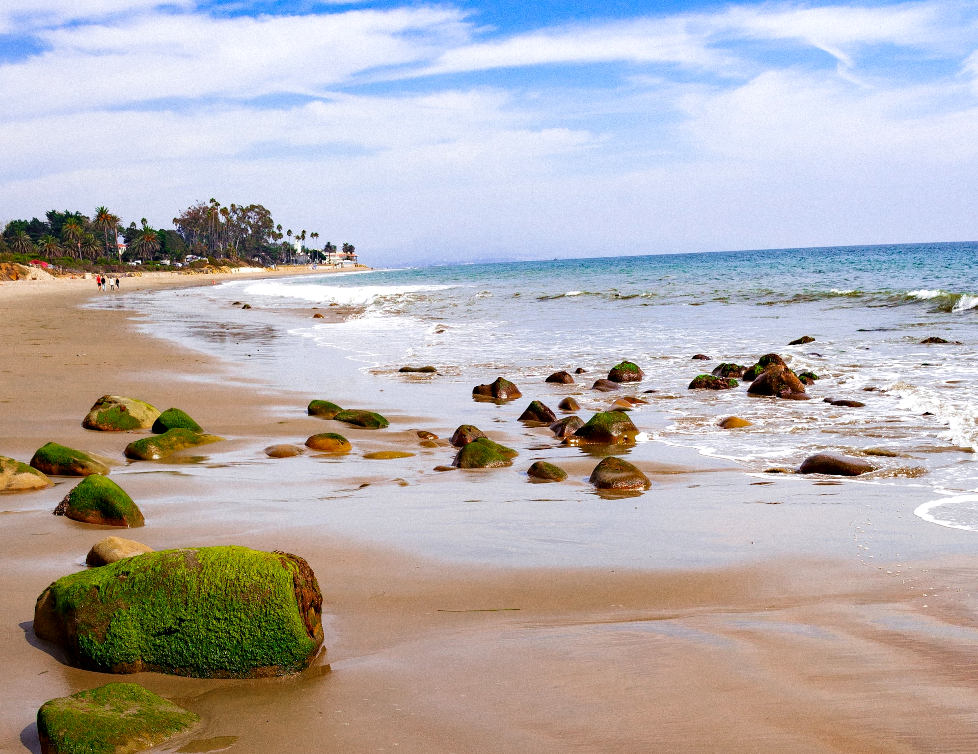 Address: Montecito, CA
12. San Luis Obispo
San Luis Obispo makes for an unforgettable day trip from Santa Barbara!
As you venture northward from Santa Barbara, you'll discover the beauty of the Central Coast, where San Luis Obispo awaits with its unique blend of history, culture, and natural wonders.
Start your day with a visit to the iconic Mission San Luis Obispo de Tolosa, a historic mission that offers a glimpse into the region's past with beautiful Spanish colonial architecture.
Stroll through downtown San Luis Obispo, known for its vibrant atmosphere, boutique shops, and delightful eateries. And when you do, don't miss the famous Bubblegum Alley, a quirky and colorful sight that's sure to delight kids and adults alike.
For a family-friendly adventure, head to the San Luis Obispo Children's Museum, where interactive exhibits and hands-on activities spark curiosity and creativity in young minds.
Nature enthusiasts will love a hike up Bishop Peak, one of the area's iconic peaks, offering panoramic views of the city and surrounding landscapes.
Before you head back to Santa Barbara, treat the family to some sweet treats at the historic Madonna Inn, known for its whimsical decor and delectable cakes.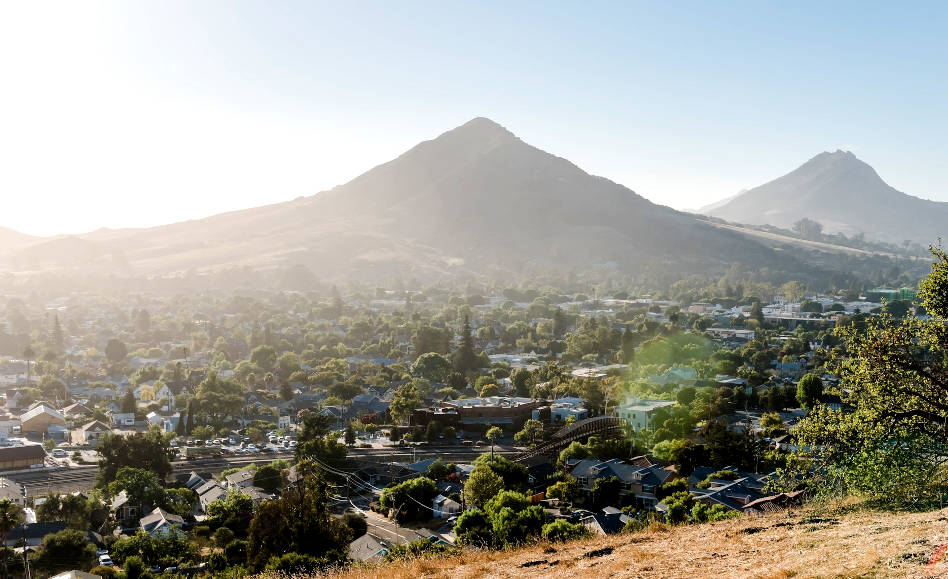 Address: San Luis Obispo, CA
13. Channel Islands
The Channel Islands are just a short boat ride away from Santa Barbara. Getting to the Channel Islands from Santa Barbara is convenient and accessible. Several tour companies offer boat transportation and guided tours to the islands, making it easy for families to explore this destination.
Island Packers Cruises is one of the main tour operators offering transportation to the islands. Island Packers Cruises offers day trips to several of the Channel Islands, including Santa Cruz Island, Anacapa Island, and Santa Rosa Island.
Each island has its own unique landscapes, wildlife, and activities to make it an exciting and diverse experience for families.
Kids will love spotting playful seals, dolphins, and seabirds in their natural habitats, for a fun and educational experience with marine life.
Explore hiking trails leading to viewpoints and secluded beaches, ideal for family adventures.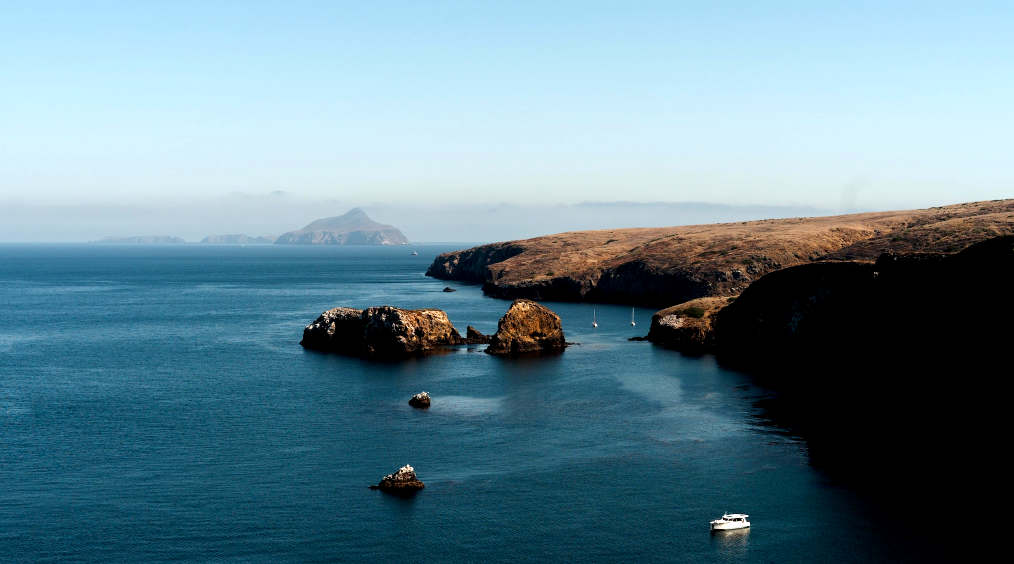 14. Alameda Park
Located in the heart of the city, Alameda Park offers a blend of lush greenery, playgrounds, and picnic areas.
Kids will love the playgrounds with swings, slides, and climbing structures for endless fun.
Enjoy picnics on the open grassy spaces, surrounded by lush greenery.
Stroll through the beautiful rose garden for a serene and relaxing experience.
Its central location makes it a good starting point to explore downtown Santa Barbara.
Address: 1400 Santa Barbara St, Santa Barbara, CA 93101
Website: https://www.santabarbaraca.gov/gov/depts/parksrec/parks/features/playgrounds/kidsworld.asp
15. Wheel Fun Rentals
Located near the beautiful shoreline of Santa Barbara, Wheel Fun Rentals offers a variety of recreational equipment, great for exploring the city's scenic pathways and beaches.
Families can choose from an array of rental options, including bikes, specialty cycles, kayaks, stand-up paddle boards, and more!
Hop on a beach cruiser, pedal along the picturesque coastline and feel the refreshing ocean breeze as you ride along the palm-lined streets.
For a unique and exciting experience, try out the specialty cycles, such as the tandem bikes or the four-wheel Surrey.
Wheel Fun Rentals also provides kayaks and stand-up paddle boards, allowing families to explore the stunning waterfront and get up close to the marine life.
Address: 24 E. Mason St., Santa Barbara, California 93101
Website: https://wheelfunrentals.com/ca/santa-barbara/mason/
16. Santa Barbara Beach Horseback Rides
Book your guided horseback ride along the picturesque coastline of Santa Barbara.
Kids will love bonding with gentle and well-trained horses and this is sure to be a memorable experience for the whole family.
Address: Summerland, CA
Website: https://www.sbbeachrides.com/
17. Celebration Cruises
Celebration Cruises offers a variety of scenic cruises, providing families with the opportunity to explore the coastline and surroundings of Santa Barbara.
Embark on a harbor cruise to witness the charm of the Santa Barbara waterfront, where you'll be treated to views of the city's iconic landmarks and majestic mountains.
Kids will be delighted to spot playful dolphins, sea lions, and seabirds that often frolic in the waters alongside the boat.
For a unique experience, hop on the sunset cruise and watch as the sun dips below the horizon.
Address: 237 Stearns Wharf, Santa Barbara, CA 93101
Website: https://www.celebrationsantabarbara.com/
18. Santa Barbara Trolley
Get on the iconic red Santa Barbara Trolley for a fun-filled journey through the scenic streets of Santa Barbara.
The trolley offers narrated tours, providing insights into the city's history, architecture, and local landmarks.
It allows you to hop on and off at your own pace, giving you the flexibility to explore the city's attractions and attractions that catch your eye.
With its nostalgic charm and open-air design, the trolley promises a fun-filled experience for the whole family.
Address: 1 Garden Street, Santa Barbara, CA
Website: https://sbtrolley.com/